Trier Germany Photos - Trier Germany Map, Europe Maps Germany Map Information
Trier is a city in Germany on the banks of the Moselle. It is the oldest city in Germany, founded in or before 16 BC. In fact, it was once the capital of the Roman province of Gallia Belgica, as well as the Roman prefecture of Gaul.

One of the most interesting sites in Trier is the Porta Nigra, the best preserved Roman city gate north of the Alps. The name Porta Nigra originated in the Middle Ages due to the darkened color of its stone; the original Roman name has not been preserved. Locals commonly refer to the Porta Nigra simply as Porta.

Another important site is the Trier Cathedral, a Roman Catholic church which dates back to Roman times and is home to the Holy Tunic, a garment with a recorded history back to the 12th century, in Catholic tradition said to be the robe Jesus was wearing when he died. It is only exhibited every few decades, at irregular intervals.

Finally, on the list of most visitors to Trier is the Basilica of Constantine, a Roman palace basilica built by the emperor Constantine at the beginning of the 4th century.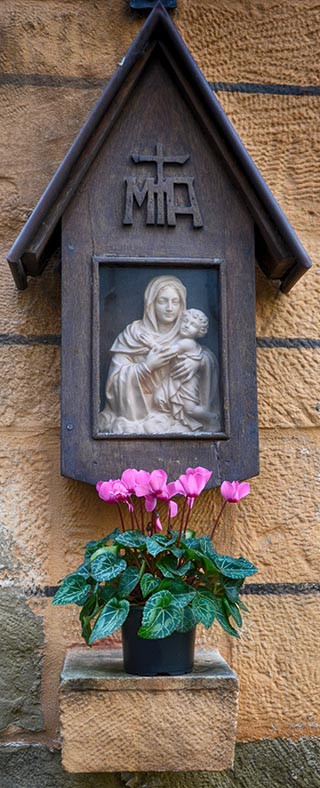 A stunning Madonna in Trier.


Historic Roman Porta Nigra ruins in Trier.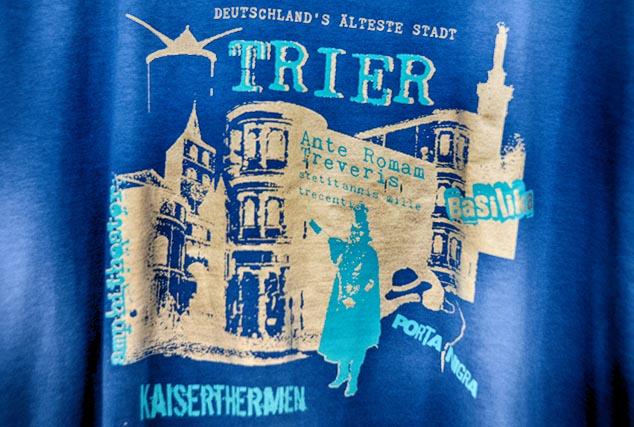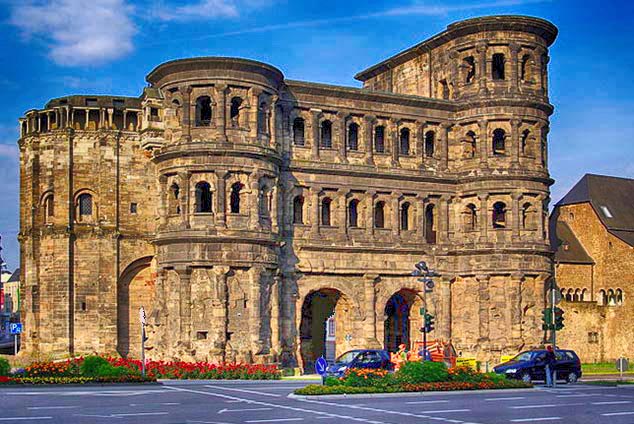 The Roman Porta Nigra was built in grey sandstone between 186 and 200 AD. The gate was used for several centuries until the end of the Roman era in Trier. Of the four original city gates only the Porta Nigra still exists today.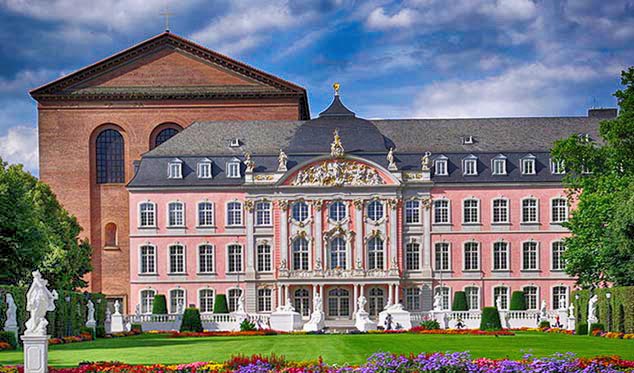 The Electoral Palace of Trier is considered one of the most beautiful rococo palaces in the world. On occasion, concerts are performed in the Grand Chamber of the rococo wing, or summer open-air concerts in the courtyard.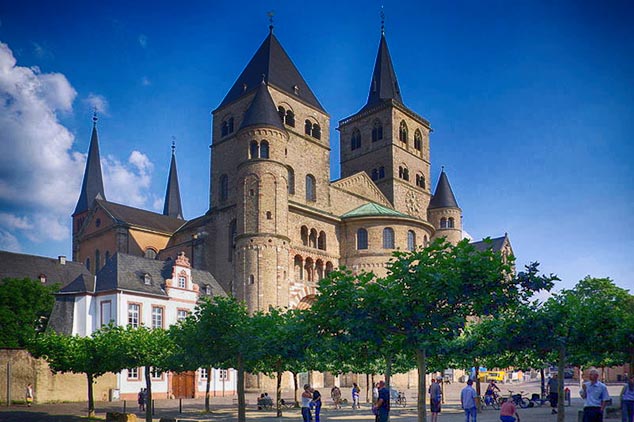 The Cathedral of Saint Peter is a Roman Catholic church in Trier. It is the oldest cathedral in the country. In 1986 it was listed as part of the Roman Monuments, Cathedral of St. Peter and Church of Our Lady in Trier UNESCO World Heritage Site.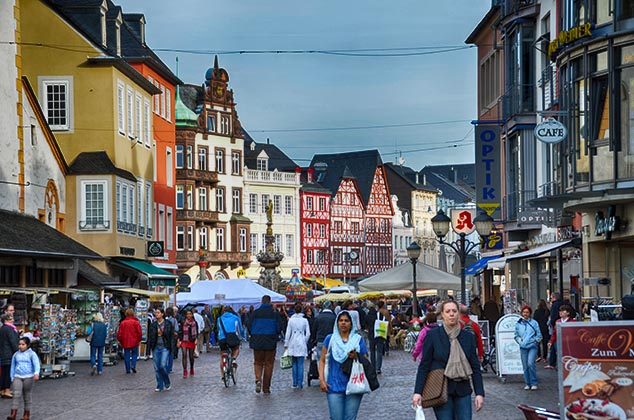 Trier's beautiful marketplace, the Hauptmarkt, is a focal point of the town and contains many of its finest old buildings.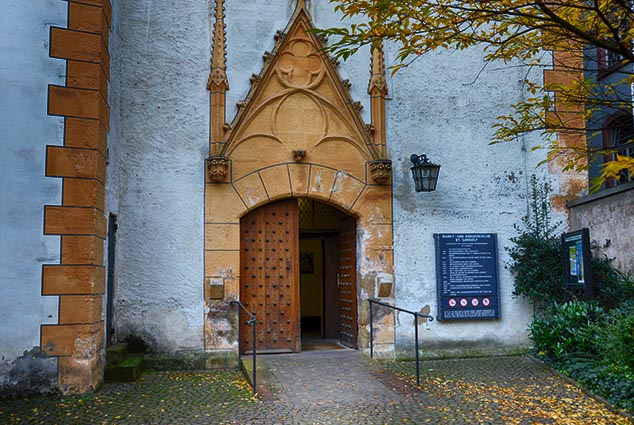 St. Gangolf's church is a Roman Catholic church in Trier, Germany. It is dedicated to St. Gangulphus. After Trier's Cathedral, it is the oldest church building in the city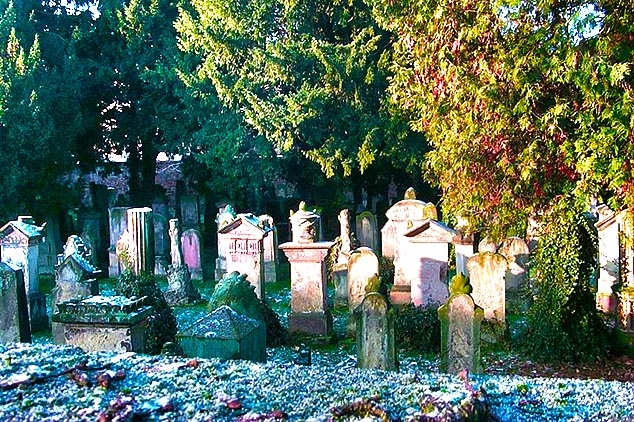 Positioned close to the city center of Trier is the old Jewish cemetary where. There is no entrance, and the concrete walls surrounding it have been increased in height such that you'd never even know it was there. Except, that is, from the courtyard of one residential house, where the wall is low and you can look in.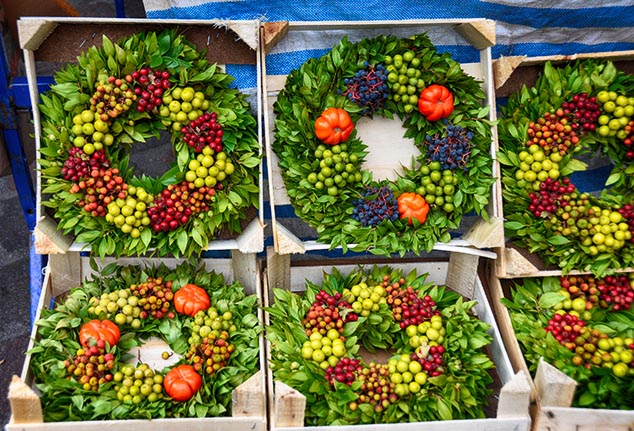 Beautiful wreaths for sale in Trier's Hauptmark.