People listed are almost always native to the country. We do (on occasion) include those that have either lived within the country for most of their adult life, or have made a significant contribution to the country in their personal endeavors.
L
Giorgi Latsabidze pianist
Giorgi Leonidze poet, prose writer, literary scholar
Konstantin Leselidze Soviet colonel-general
David Lordkipanidze anthropologist, archaeologist
M
Mukhran Machavariani poet
Shalva Maglakelidze politician, military commander
David Magradze poet
Badri Maisuradze opera singer
Avtandil Makharadze actor
Kote Makharadze sports commentator
Merab Mamardashvili philosopher
Erosi Manjgaladze actor
Kote Marjanishvili theater director
Keti Matabeli artist
Giorgi Mazniashvili mlitary general
Guram Mchedlidze palaeobiologist
Leri Mchedlishvili philosopher
Elie Melia orthodox priest, church historian
Giorgi Melikishvili historian
Katie Melua singer
Aka Morchiladze author
N - O
Zurab Nadarejshvili composer
Kolau Nadiradze poet
Natalia Nasaridze archer
Niko Nikoladze publicist, enlightener
Merab Ninidze actor
Irma Nioradze ballet dancer
Irakli Ochiauri sculptor, artist
Vakhtang Oniani sculptor
Petre Otskheli theater set and costumer designer
P
Grigol Pakourianos general in the Byzantine service
Zakharia Paliashvili composer
George Papashvily sculptor, author
Vladimer Papava economist, educator
Ia Parulava actress
Badri Patarkatsishvili politician
Grigol Peradze theologian
Pharnavaz I of Iberia king of the Georgian kingdom of Iberia
Niko Pirosmani artist
R
Luka Razikashvili poet, author
Guram Rcheulishvili author
Grigol Robakidze author, publicist
Shota Rustaveli poet
S
Giorgi Saakadze military commander, politician
Mikhail Saakashvili president
Karlo Sakandelidze actor
Eldar Shengelaia film director, screenwriter
Eduard Shevardnadze former president
Zurab Sotkilava opera singer
Joseph Stalin former premier of the Soviet Union
Robert Sturua theater director
Nino Suguladze opera singer
T
Titsian Tabidze poet, leader of symbolist movement
Ekvtime Takaishvili historian, archaeologist
Otzr Taktakishvili composer, conductor
Tamar of Georgia queen regnant of Georgia
Mose Toidze artist
Alexander Toradze pianist
Radish Tordia artist
Akaki Tsereteli poet
Giorgi Tsereteli scientist
Irakli Tsereteli politician
Mikheil Tsereteli historian, philologist, sociologist
Vasil Tsereteli physician
Zurab Tsereteli sculptor, architect
Sulkhan Tsintsadze composer
Nikolai Tsiskaridze ballet dancer
Lela Tsurtsumia singer
David Turashvili author
U - Z
Levan Uchaneishvili actor
Levan Urushadze artist
Zurab Urushadze biophysicist
Dimitri Uznadze psychologist, philosopher
Ilia Vekua mathematician
Dini Virsaladze pianist
Eliso Virsaladze pianist
Noe Zhordania journalist, politician
Is a famous person missing from this page?
Submit your Famous Georgian
Georgia's Information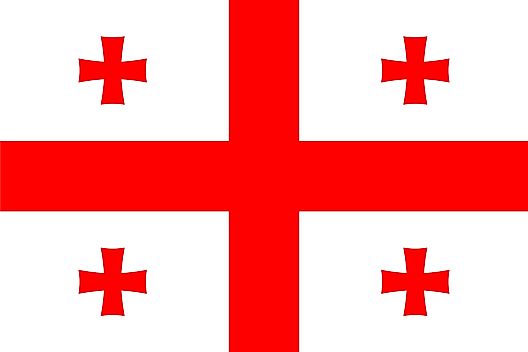 | | |
| --- | --- |
| Land Area | 69,700 km2 |
| Total Area | 69,700km2 (#119) |
| Population | 4,928,052 (#122) |
| Population Density | 70.70/km2 |
| Government Type | Semi-presidential Republic |
| GDP (PPP) | $37.27 Billion |
| GDP Per Capita | $10,100 |
| Currency | Lari (GEL) |
| More Information | Georgia |
This page was last updated on April 7, 2017.