People listed are almost always native to the country. We do (on occasion) include those that have either lived within the country for most of their adult life, or have made a significant contribution to the country in their personal endeavors.
G
Gigo Gabashvili artist
Revaz Gabashvili politician
Nodar Gabunia composer, pianist
Vakhtang Gabunia artist
Levan Gachechiladze founder Georgian wine company
David Gamkrelidze politician
Tamaz Gamkrelidze linguist, orientalist
Konstantine Gamsakhurdia author
Zviad Gamsakhurdia first elected president of Republic of Georgia
Nona Gaprindashvili chess grandmaster
Ensemble Georgika music group
George V the Brilliant former king
Beka Gochiashvili pianist
Iakob Gogebashvili educator, author, journalist
Marina Goglidze-Mdivani pianist
Jemal Gokieli conductor
Hamlet Gonashvili tenor
Otar Gordeli composer
Levan Gotua author
Terenti Graneli poet
Ioseb Grishashvili poet, historian
Lado Gudiashvili artist
Gia Gugushvili artist
David Guramishvili poet
Guranda Gvaladze botanist
I
Natela Iankoshvili artist
Paolo Iashvili poet
Jaba Ioseliani politician
Otar Ioseliani filmmaker
Otia Ioseliani author
Yaroslav Iosseliani submarine commander, Soviet Union hero
Tamar Iveri opera singer
J
Nikoloz Janashia historian
Simon Janashia historian
Ivane Javakhishvili historian
Mikheil Javakhishvili author
K
David Kakabadze artist
Sargis Kakabadze historian, philologist
Jansug Kakhidze conductor
Ana Kalandadze poet
Mikhail Kalatozov film director
Vladimer Kandelaki artist
Meliton Kantaria Soviet Union hero
Alexander Kartveli aircraft engineer, designer
Makvala Kasrashvili opera singer
Leo Keresselidze military figure, politician, journalist
Sopho Khalvashi musician
Akakl Khorava actor
David 'Dato" Khujadze singer
Marlen Khutsiev (Khutsishvili) filmmaker
Vakhtang Kikabidze singer
Zurab Kikaleishvili ballet dancer
Shalva Kikodze artist
David Kldiashvili author, playwright
Mikheil Kobakhidze screenwriter, director
Otar Koberidze actor
Merab Kokochashvili filmmaker
Alexander Korsantia pianist
Merab Kostava dissident, musician, poet
Guga Kotetishvili movie set designer
Nutsa Kukhianidze actress
Zviad Kvachantiradze diplomat
Bidzina Kvernadze composer
Giorgi Kvinitadze military commander
Is a famous person missing from this page?
Submit your Famous Georgian
Georgia's Information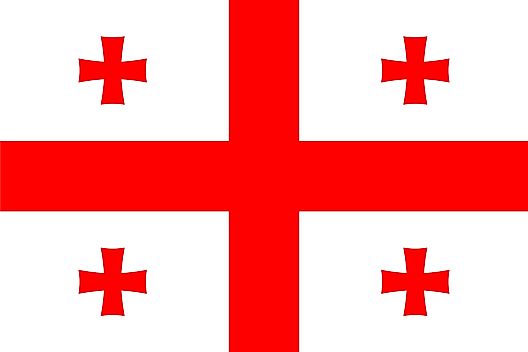 | | |
| --- | --- |
| Land Area | 69,700 km2 |
| Total Area | 69,700km2 (#119) |
| Population | 4,928,052 (#122) |
| Population Density | 70.70/km2 |
| Government Type | Semi-presidential Republic |
| GDP (PPP) | $37.27 Billion |
| GDP Per Capita | $10,100 |
| Currency | Lari (GEL) |
| More Information | Georgia |
This page was last updated on April 7, 2017.