Daily Journal From the World Atlas Journey Around Ports in Northern Europe
Northern Europe Trip Page...
(including photos)
Chris' Previous Journal
September 1, 2010, Honningsvag, Norway

Where did this summer go? It's hard to believe it's September 1 already.

We arrived in Honningsvag, the world's most northernmost village (although this is disputed by Hammerfest, Norway, Barrow, Alaska and Longyearbyen, Svalbard - (an archipelago under Norwegian sovereignty).

Honningsvag is on the Mageroya Island, and is a port for cruise ships. The North Cape, on the northern side of the island, is a popular tourist destination.

Although tourism is an intergral part of the economy here, the main industry for Honningsvag is fishing - primarily brisling, which is a small herring.

Today was one of the most interesting days we've had on our trip -- and not because Honninsvag is a huge, bustling metropolis. In fact, Honningsvag has a population of around 5,000. It was interesting because we noticed such a marked difference between the way they live here and what we are used to in the USA (more on this later).

When we arrived at the port, we were able to walk off the ship and we were in the middle of town. We went to the visitors' center to inquire about a car service that could take us to a place or places to see reindeer. The young woman told us there is no particular place they gather - they're all over the island and on occasion, will wander into town.

So, we set off on foot to see what Honningsvag has to offer. We were dressed for an arctic day - considering we are far north of the Arctic Circle . Within a few minutes of walking around, I had to loosen my scarf and partly unzip one jacket layer. John had to unzip his outer jacket also. The temperature was surprisingly mild.

During our walk, we found a day care center with about 25 toddlers - they were having a great time outdoors, climbing rocks in the back yard, swinging and using the slide in the side yard and playing in a huge sand box. These kids were adorable, and not one bit afraid of smiling at a stranger.

John asked one of the day care workers about the climate - especially in winter. It's not too bad. Temperatures in January - March are in the high 20s to low 30s F with lots of rain, and some snow. But, the problem here is that it never really warms up. Summer temperatures are usually in the mid 50s and that's only in July and August. I guess if we lived here, we'd be in sweaters and jackets year-round. Much too cold for us.

We noticed behind some of the homes, that there were fences staggered behind them - coming down from the mountain tops. They are used to protect the town in case of a snowy winter and potential avalanches. We learned that it's impossible to determine how much snow has fallen in the mountains because they're in permanent darkness during the winter.

After leaving the day care, we walked a couple blocks and came across an elementary school. We were totally amazed (and in shock) that the schoolyard gates were open, and we could easily enter the area where the children were playing. If that were to happen in the US, the school would be sued by a parent or two, the principal fired. Obviously, crimes against children here are non-existent.

We passed the major grocery store so decided to pop in and see if they had any lefse...John was getting low. Finding the lefse was no problem, so we took a look around at some of the other items. Wow! One six-pack carton of eggs was Krone 25.90. Since the dollar is worth about 16 cents here, in US currency, those six eggs would cost over $4.00. I then noticed pre-packaged seasoned BBQ ribs - one kilo (2.2 pounds) was Krone 139.00, or in US dollars: a little over $22.00.

As we were leaving the store, we saw this sign posted: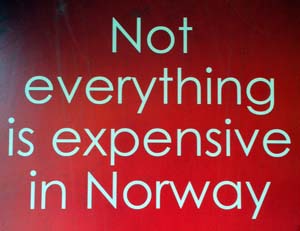 That is not true.....everything is expensive!

We found a local restaurant for lunch. It was packed with locals, sitting at the tables, drinking coffee and conversing with friends.

While we were waiting for our food to arrive, a group of three women and two men came in and sat at the table next to us. We were in awe when they all left the table to go outside to smoke and the women left their purses at the table with no one around to watch them. Can you imagine leaving your purse unattended at a restaurant? No way. There must not be a lot of purse snatching here.

We enjoyed our lunch - both of us eating baked salmon with steamed vegetables and new potatoes.

After lunch, we walked to the other side of town (less than five minutes) and then returned to visit the souvenir shop and to take a couple more photos. Thankfully, we were near the ship as it began to rain and we decided since it was already mid-afternoon, it was time to go back on board.

Some of our "new" friends onboard had taken a ship's tour to North Cape. They said it was very interesting and they enjoyed it, but much too crowded. The tour this morning had over 900 people sign up, so it was very busy. The people who went on the same tour in the afternoon didn't have as good an experience due to the rain.

Tomorrow, we will visit Tromso, the capital of Norway's high north and the Gateway to the Arctic.

More info about Norway
Northern Europe Trip Page... (including photos)
Note that there are two trip maps,
as this journey include two (back-to-back) 12 day cruises. The map of Norway is found below the UK map.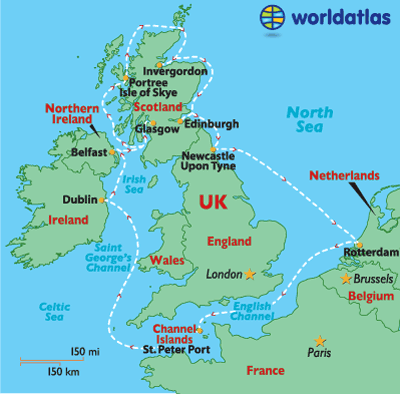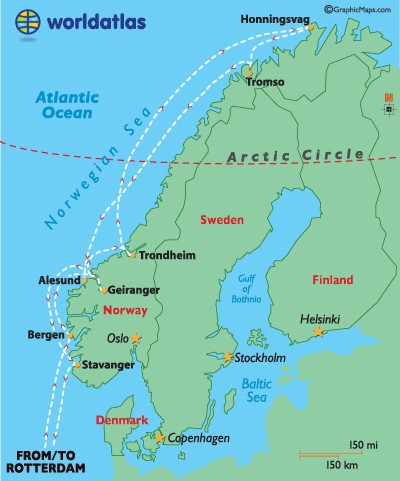 About the Author
John Moen is a cartographer who along with his wife are the orignal founders of worldatlas.com. He and his wife, Chris Woolwine-Moen, produced thousands of award-winning maps that are used all over the world and content that aids students, teachers, travelers and parents with their geography and map questions. Today, it's one of the most popular educational sites on the web.
This page was last updated on July 13, 2016.