Daily Journal From the World Atlas Journey Around Ports in Northern Europe
Northern Europe Trip Page...
(including photos)
Chris' Previous Journal
August 31, 2010, Crossing the Arctic Circle, Norway
We crossed the Arctic Circle around 5:30am this morning. There was no welcome sign, nor was there a line in the water indicating the exact spot of the latitude, so we just had to take the Captain's word!
The land on the Arctic Circle includes Norway, Sweden, Finland, Russia, the USA (Alaska), Canada, Denmark (actually) Greenland and Grimsey Island, an island just north of Iceland.
Northern Norway, where we will spend the next couple days is the land of the midnight sun and the Northern Lights. I'm very happy we're not here in the winter when the sunlight disappears entirely. It reappears around New Years and we're told there are lots of festivities and celebrations to celebrate the arrival.
Summer solstice is June 21, when the sun is at its peak and doesn't set at all. Obviously, one is able to sleep a lot in the winter and not much at all in the summer.
Northern Norway is a very popular tourist destination. Travelers make their way here to fish in the sea and the rivers, join in on whale and seal safaris and bird watching expeditions, cave walking, mountain hiking and enjoying the distinctive landscapes.
During our morning, we were fortunate to be able to cruise through the Lofoten Islands - which are six large and numerous smaller islands off the Norway coastline.
The islands are the center of cod fisheries, especially in the winter, as they migrate south from the Barents Sea and gather in the islands to spawn.
The islands are beautiful -- mountains and peaks, sheltered inlets and stretches of beaches.
It's so amazing to me that the temperatures, for the most part, in the winter remain above freezing. This anomaly is due to the warming from the Gulf Stream. The mountains have substantial snowfalls and in some winters, avalanches come down the steep slopes.
Visitors to the Lofoten Islands are primarily interested in rock and mountain climbing, cycling, fishing and whale safaris.
There's a cycling event every summer - the Lofoten Insomnia Cycling race. Since the islands experience 24 hours of daylight during the summer months, it's easy to understand why insomnia may occur.
We feel fortunate that we have experienced such good weather and relatively calm seas thus far.
Tomorrow, we will be in Honningsvag, Norway on Mageroya Island.
More info about Norway
Northern Europe Trip Page... (including photos)
Note that there are two trip maps, as this journey include two (back-to-back) 12 day cruises. The map of Norway is found below the UK map.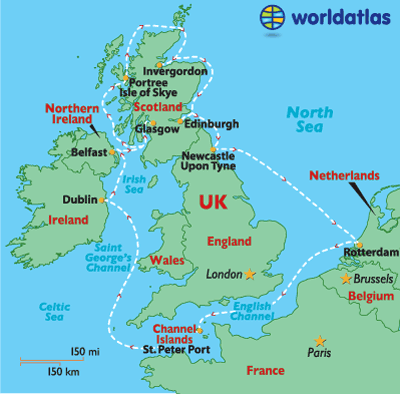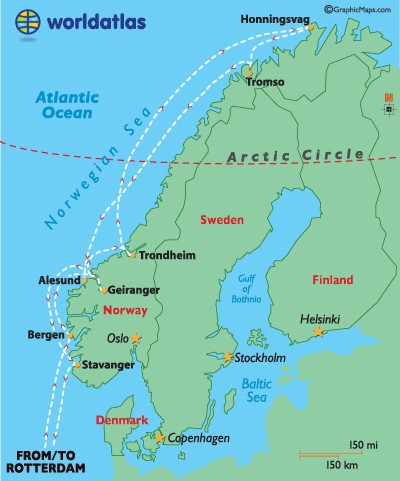 This page was last updated on July 12, 2016.