Daily Journal From the World Atlas Journey Around Ports in Northern Europe
Northern Europe Trip Page...
(including photos)
Chris' Previous Journal
August 28, 2010, Bergen, Norway
It was a spectacular day in Bergen. What an absolutely delightful city. Bergen is located on the southwestern coast of Norway. It's the second largest city in the country with a population of approximately 250,000.
Bergen is surrounded by fjords, thus its nickname the fjords' "capital city". Bergen is oozing with charm and atmosphere: the old streets and alleyways to the many museums and galleries, the town centre funicular offering a view of the seven mountains surrounding the city, it's a photographer's paradise.
This is a great description that I read in one of the tourist information guides: "small wooden houses lie higgledy-piggledy".
Bergen is believed to have been settled by King Olav Kyrre, in 1070, just four years after the end of the Viking Age. But, recent discoveries indicate that a trading settlement was already here as early as 1020 to 1030.
With its harbor setting, Bergen was the largest city in the country for over 600 years. Today, its economic activities are primarily centered on the oil industry in the North Sea.
We dressed warmly for the day, as the forecast was for intermittent showers and a high temperature of 57°F. It was damp and chilly. In fact, we bought gloves at one of the street markets as our fingers were so cold.
Bergen's winters are relatively mild, and summers are cool. Temperatures in the winter are in the high 30's F and only in the mid-60's in the summer. This area receives plenty of winter snow - last year there was snow cover for 91 consecutive days. We're total wimps - the weather here is way too cold for us.
The pier where we docked was a five-minute walk from the city centre, so off we went. We wandered through the old neighborhoods with homes, shops, cafes, churches and an old cemetery.
After an hour or so, we decided it was time to get a coffee and warm up a bit. The very exciting thing for me was right on the menu was gluten-free bread. So, we ordered a pastry for John, gluten-free toast for me and two cappuccinos. Absolutely delicious. And, absolutely expensive. The tab in Norwegian krone was 158. In U.S. dollars, that converts to $25.12.
John's heritage is Norwegian, his ancestors are from Bergen. So, off we went next to find lefsa. Lefsa (in my opinion) resembles a tortilla. Lefsa is primarily made from potatoes. The local grocery store had plenty of it in the same area as the bread. Fortunately, it was packaged so John could bring it on board the ship. Now, we just have to get him some butter from the dining room and he'll be able to consume it to his heart's content.
It's a good thing we purchased the lefsa today, as Norwegian food stores are not allowed to open on Sundays.
We visited a beautiful park, by the lake, Lille Lungegardsvann, near the main city centre. It offered several interesting attractions: a bird sanctuary, a large silver cube which was erected this year, and a current exhibit which is a circle filled with shoes acting as flower pots. Beautiful. John asked a woman who was admiring the flowers if she knew about the exhibit. It is an annual exhibition, to raise funds to plant trees in Africa. It was very unusual and a good way to put old shoes to use.
Edvard Grieg, the composer, was from Bergen, born here in 1843. The city takes great pride in being his home. There are statues of him in the city and his home, Troldhaugen (the Hill of the Trolls), is now a museum. He and his wife, Nina, are buried in a tomb on the grounds.
Bergen is also proud of two more famous musicians - composer Harald Saeverud and the violon virtuoso Ole Bull. Both of their homes are also museums and are worth visiting.
Next stop, the Fish Market (Fisketorget). This is definitely one of the most interesting places in the city. Booth after booth of fish merchants with fresh and smoked fish, seafood salads, caviar. John sampled smoked whale, which he declared to be delicious, along with smoked salmon and caviar. It was obvious they are used to dealing with cruise ship passengers, as they will vacuum-pack the smoked fish and it will keep for 14 days at room temperature or a couple months if refrigerated.
The crab legs were enormous. In several of the booths, there was a fish called the "hel fish". (A photo can be seen here). It certainly is named correctly as it looks like it's been to hell and back again.
Seeing all that fresh seafood made us quite hungry, so off we went to search for a lunch. The seafood salads in the fish market were tempting, but we wanted a place to sit down and eat that was warm and cozy. The picnic benches outside the fish market didn't offer those amenities.
After reading some of the menu signs on the outdoor boards of various cafes and restaurants, I was even happier that I don't eat meat. One menu board included "filet of reindeer" and "medallion of elk". I am sure they're just delicious, but how will Santa deliver gifts at Christmas if all the reindeer are consumed?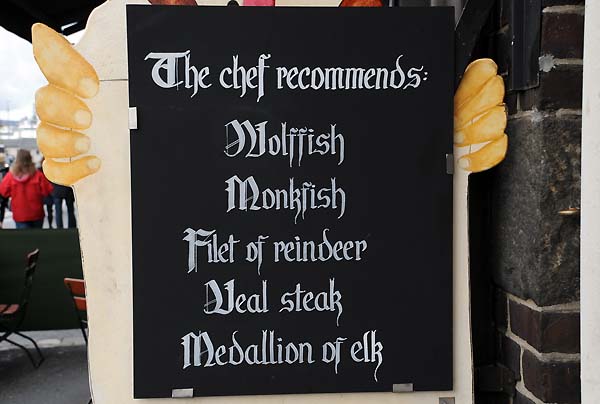 We found a pub/restaurant facing the harbor that appeared to be a good place to have a bite and people watch. The tables outside seemed nice enough and the gas heaters were on, but we wanted to dry off and really warm up, so we sat inside by the window.
John ordered mussels, which were outstanding - in a wine cream sauce. I was boring, as usual, and ordered a salad. The salad was delicious - everything was very fresh. We have been to Norway before and remember how expensive the food is, but getting the bill at the end of the meal is still "sticker shock".
We visited some of the souvenir shops and were so amused by the various trolls available. All different shapes and sizes, all with different facial expressions.

As we were headed in the general direction of the ship, we saw a large tall ship arriving with lots of Navy personnel on board. A little further along the waterfront, we came across a large crowd, a Navy band and several other branches of the Norway armed services.
There was some type of competition taking place. It appeared to be between the various services members. They were taking turns with hand made amphibious contraptions that were loaded onto a high ramp, and then they would slide down the ramp into the water. One of the people in the contraption would then swim (brrrr) to ring a bell. It was a timed competition. Unfortunately, we couldn't watch all of it, as the ship's boarding time was 4:30 for a 5:00pm departure. The competition wasn't ending until 5:00pm with awards at 6:00.
When our tablemates arrived at dinner this evening, one of them, Phyllis, was wearing a shoulder sling. She had fallen when preparing to board the funicular and broke her shoulder. She said she was fortunate in that it's a clean break, but will have to wear the sling for at least two weeks.
Obviously, she garnered much sympathy from all of us.
We are on our way to Geiranger, which is at the head of the Geirangerfjord.
More info about Norway
Northern Europe Trip Page... (including photos)
Note that there are two trip maps, as this journey include two (back-to-back) 12 day cruises. The map of Norway is found below the UK map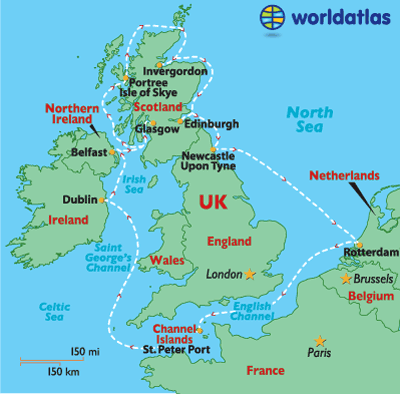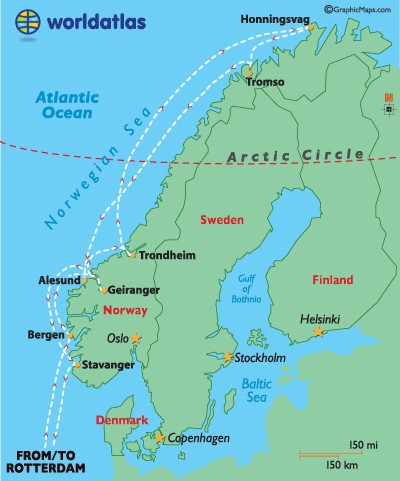 About the Author
John Moen is a cartographer who along with his wife are the orignal founders of worldatlas.com. He and his wife, Chris Woolwine-Moen, produced thousands of award-winning maps that are used all over the world and content that aids students, teachers, travelers and parents with their geography and map questions. Today, it's one of the most popular educational sites on the web.
This page was last updated on June 16, 2020.