Daily journal from the World Atlas journey around ports in northern Europe
hris' Previous Journal
August 14, 2010, Rotterdam, Netherlands

Our departure point for our northern Europe voyage.

After spending five weeks in The Netherlands capital city, Rotterdam and spent three days aboard the Cruise Hotel SS Rotterdam. The SS Rotterdam, known as "The Grande Dame", was launched by Queen Juliana in September, 1958. It was the last great Dutch "ship of state" and sailed for 40 years, retiring in the fall of 2000.

After refitting and refurbishing, the SS Rotterdam returned to Rotterdam and opened as a hotel and museum this past February (2010).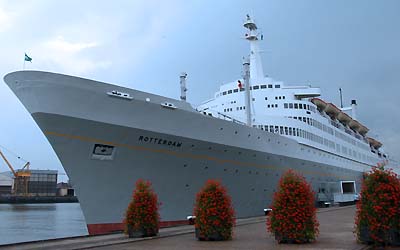 SS Rotterdam

It was a delightful experience to stay onboard this historic hotel and fueled our excitement for boarding the Holland America's Westerdam today.

We enjoyed Europe", as it is the largest port in Europe and until 2004, it was the busiest port in the world. Rotterdam is on the banks of the Nieuwe Maas (New-Meuse) River and at the end of the Rhine-delta.

Of all the cities in German army invaded The Netherlands and Rotterdam was bombed. The heart of the city was destroyed, 900 civilians were killed, and over 80,000 left homeless.

Since that time, the city gradually rebuilt - with a diverse and somewhat open architectural policy, resulting in new styles of apartments, office buildings and public facilities.

One of the most unusual complexes is the Cubic Houses, in Dutch: "Kubuswoning". The city asked architect, Piet Blom, to design a housing complex on top of a pedestrian bridge. Blom tried to use each cube to depict an abstract tree so that the entire village would represent a forest.

We visited one of the Cubes while here, and although very unique and interesting in design, a bit too small for our needs. Each house has three levels - living room and kitchen on first, the middle area is the master bedroom and the top is an extra bedroom or could be used as a den or office space.

Rotterdam is located near Brussels in The Netherlands. With this close proximity to two major centers of government, along with the port, the city has a very large expat community - nearly 60% of the residents are either non-Dutch or Dutch who were born abroad and have relocated here.

We have so enjoyed our time in Zaanse Schans with its still-working windmills and wooden shoe factory and museum.

Amsterdam is a great gateway for travel to other nearby cities in USA.

Tomorrow, we shall spend the day in St Peter Port, English Channel.

More info about Rotterdam

Northern Europe Trip Page... (including photos)
JOURNALS

Note that there are two trip maps, as this journey include two (back-to-back) 12 day cruises. The map of Norway is found below the UK map.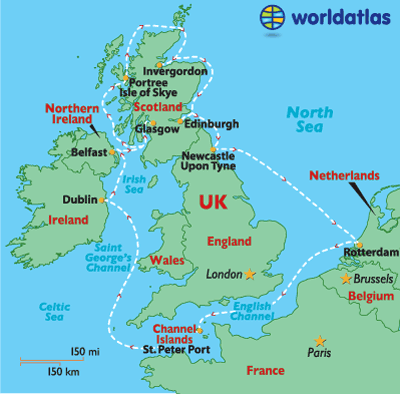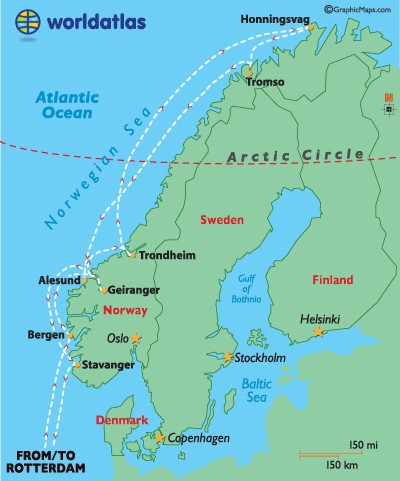 This page was last updated on July 8, 2016.