People listed are almost always native to the country. We do (on occasion) include those that have either lived within the country for most of their adult life, or have made a significant contribution to the country in their personal endeavors.
P
Frantisek Palacky historian, politician
Ivan Passer film director, screenwriter
Frantisek Patocka microbiologist, serologist
Jan Patocka philosopher
Ota Pavel author, journalist
Frantisek Perina fighter pilot
Ferdinand Peroutka journalist
Libor Pesek conductor
Eduard Petiska poet, playwright, translator
Sylva Petrova educator, curator, researcher
Josef Ladislav Pic archaeologist
Jan Pinkava film director
George Placzek physicist
Frank Plicka photographer
Karel Plihal musician, songwriter
Bretislav Pojar puppeteer, animator
Julius Pokorny linguist
Petr Pravec astronomer
Jan Svatopluk Presl natural scientist
Karel Borivoj Presl botanist
Georg Prochaska physiologist, anatomist, ophthalmologist
Stanislaus von Prowazek zoologist, parasitologist
Vlastimil Ptak mathematician
Jan Evangelista Purkyne physiologist, anatomist
R
Joseph Radetzky von Radetz nobleman
Alfred Radok stage director
Emanuel Radl biologist, science historian
Karel Reisz filmmaker
Vladimir Remek cosmonaut
Josef Ludvik Frantisek Ressel designer of ship propeller
Bohuslav Reynek poet, author, translator
Antonin Rezek historian
Karel Roden actor
John of Rokycan theologian
Karel Rokytansky physician, pathologist
Teodor Rotrekl illustrator
Zuzana Ruzickova harpsichordist
Jan Jakub Ryba composer
S
Martina Sablikova speed skater, Olympic medalist
Zdena Salivarova author, translator
Jan Saudek art photographer
Roman Sebrle decathlete, Olympic medalist
August Sedlacek historian, archivist
Otakar Sedlon artist
Josef Seger composer, organist
Jaroslav Seifert poet, journalist, nobel laureate
Alexander Seik photographer
Bohumil Sekla biologist
Otakar Sevcik violinist
August Seydler physicist, astronomer
Petr Sgall linguist
Borek Sipek architect
Josef Skoda physician
Frantisek Skroup composer, conductor
Josef Skvorecky author, publisher
Bohdan Slama film director
Leo Slezak tenor
Bedrich Smetana composer
Ladislav Smoljak film, theater director
Johann Stamitz composer, violinist
Wilhelm Steinilz chess champion
Jiri Stivin flute player, composer
Ferdinand Stoliczka paleontologist
Karel Strakaty opera singer
Frantisek Josef Studnicka mathematician
Jan Stursa sculptor
Josef Sudek photographer
Josef Suk composer, violinist
Helena Sukova tennis player
Bertha von Suttner author, pacifist, first woman nobel laureate
Jan Svankmajer filmmaker
Eva Svankmajerova artist
Josef Svejk "The Good Soldier" fictional soldier
Jan Sverak film director
Ludvik Svoboda army general, politician
Jan Syrovy army general, former prime minister
T
Vaclav Talich conductor, violinist
Vilem Tausky conductor, composer
Karel Teige graphic artist, photographer
Jana Ticha astronomer
Milos Tichy astronomer
Jachym Topol playwright, poet, translator
Mirek Topolanek former prime minister
Toyen "Marie Cerminova" artist
Jan Triska actor
Viktor Trkal physicist, mathematician
Jiri Trnka puppet maker, illustrator, animator
Zoja Trofimiuk sculptor
Jan Matzal Troska author
Ivana Trump model, socialite
Svatopluk Turek author
Hermina Tyrlova stage designer, animator
V
Josef Vachal author
Ales Valenta free-style skier, Olympic medalist
Miloslav Valouch mathematician, physicist
Vladislav Vancura author
Johann Baptist Vanhal (Jan Krtite Vanhal) composer
Vladimir Vasicek artist
Otakar Vavra film director, screenwriter
Jaromir Vejvoda composer
Michal Viewegh author
Tatiana Vilhelmova actor
Lea Vivot sculptor
Eduard Vojan actor
Petr Vopenka mathematician
Jan Vaclav Vorisek composer
Jiri Voskovec actor, playwright
Antonin Vranicky violinist, composer
Pavel Vranicky composer
Jaroslav Vrchlicky poet
Ladislav Vycpalek composer, violist
W - Z
Albrecht von Wallenstein supreme commander Habsburg Monarch armies
Jindrich Wankel paleontologist, archaeologist
Wenceslas I Bohemian duke
Saint Wenceslas patron saint of Bohemia
Jan Werich actor, playwright
Ivan Wernisch poet, editor, collage artist
Otto Wichterle chemist, inventor contact lens
Zikmund Winter author, historian
Jiri Wolker poet, journalist, playwright
Jan Zabrana author, translator
Jan Zach composer, musician
Hana Zagorova singer
Karel Zahradnik mathematician
Sarka Zahrobska alpine ski racer, Olympic medalist
Vojtech Zamarovsky author
Antonin Zapotocky former communist prime minister, former president
Frantisek Zaviska physicist
Stella Zazvorkova actor
Jan Dismas Zelenka composer
Jan Zelezny javelin thrower, Olympic medalist
Karel Zeman film director, animator
Julius Zeyer prose writer, poet, playwright
Cenek Zibrt historian
Otakar Zich composer, aesthetician
Ladislav Zivr sculptor
Jan Zizka general, Hussite leader
Olbram Zoubek sculptor
Vladimir Zoubek geologist
Jan Zrzavy artist
Petr Zuman chemist
Is a famous person missing from this page?
Submit your Famous Czech
Czech Republic's Information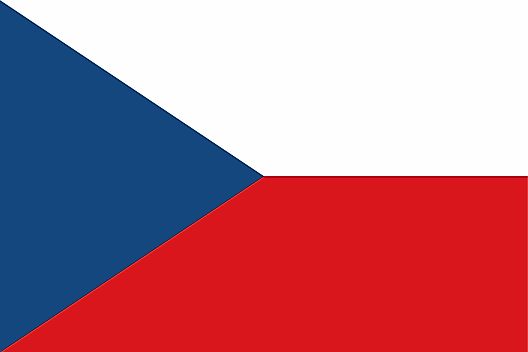 | | |
| --- | --- |
| Land Area | 77,247 km2 |
| Water Area | 1,620 km2 |
| Total Area | 78,867km2 (#114) |
| Population | 10,644,842 (#86) |
| Population Density | 137.80/km2 |
| Government Type | Parliamentary Republic |
| GDP (PPP) | $351.00 Billion |
| GDP Per Capita | $33,200 |
| Currency | Koruna (CZK) |
| More Information | Czech Republic |
This page was last updated on April 7, 2017.