Bosnia and Herzegovina's Information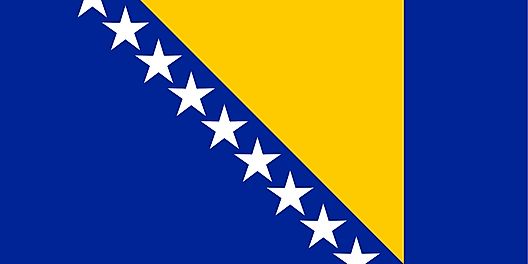 | | |
| --- | --- |
| Land Area | 51,187 km2 |
| Water Area | 10 km2 |
| Total Area | 51,197km2 (#125) |
| Population | 3,861,912 (#129) |
| Population Density | 75.45/km2 |
| Government Type | Parliamentary Republic |
| GDP (PPP) | $42.53 Billion |
| GDP Per Capita | $11,000 |
| Currency | Marka (BAM) |
| More Information | Bosnia and Herzegovina |
| Largest Cities | |
The region of Bosnia and Herzegovina was incorporated into the Independent State of Croatia, and under the Nazi rule, rampant persecutions occurred.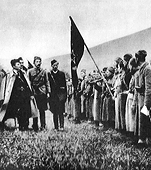 At the end of World War II, the Federal People's Republic of Yugoslavia was established, and Bosnia and Herzegovina became one of six integrated into the new state.
As a whole, Bosnia and Herzegovina's presence within the reformed Yugoslavia was peaceful and prosperous.
They thrived culturally and socially alongside the Yugoslavian doctrine of "brotherhood and unity," and their use of natural resources greatly stimulated industrial development.
However, by the late 1980's the Soviet Union began to crumble, and with it began the break-up of Yugoslavia.
For Bosnia and Herzegovina, this fueled the desire for independence, and in February of 1992 the country held a referendum (boycotted by the Serbs) declaring their own state with Sarajevo as the capital.
On March 3, 1992 Bosnia and Herzegovina received their long-sought independence.
It didn't take long for conflict to arise within the new country, as Serb paramilitary forces invaded Bosniak villages around Capljina on March 7, 1992.
As the Bosnian War raged through the next year, a majority of the country fell under Serbian control.
This unwanted transition proved brutal for Bosnians, as Serbia moved forward with ethnic cleansing and civil rights violations against non-Serbs.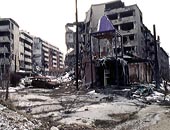 It wasn't until December of 1995, with the signing of the Dayton Agreement, that an end finally came to that bloody warfare.
Unfortunately, for all involved, it was three years too late, as nearly 250,000 people were killed, and over 2 million displaced.
Since then Bosnia and Herzegovina has moved forward into the 21st century, and in recent years it's been one of the leaders in eastern European tourism growth.
With its vibrant mountain backdrops and major rivers suitable for rafting and kayaking, Bosnia and Herzegovina is easily becoming one of the go-to spots for those with a desire for outdoor adventure.
Not to be missed, of course, is the capital city of Sarajevo, with its timeless history, outdoor cafes, religious icons and world class shopping
This page was last updated on July 12, 2016.