People listed are almost always native to the country. We do (on occasion) include those that have either lived within the country for most of their adult life, or have made a significant contribution to the country in their personal endeavors.
M
Pandeli Majko former prime minister
Pjeter Malota actor
Mirela Manjani Olympic medalist, javelin thrower
Violeta Manushi actress
Rudolf Marku poet
Ndoc Martini artist
Leke Matrenga (Luca Matranga) poet
Nevin Mecaj actor
Laureta Meci singer
Din Mehmeti poet
Rexhep Meidani former president
Aleksander Meksi former prime minister
Esad Mekuli poet
Hysni Milloshi communist party leader
Vangjush Mio artist
Rrok Mirdita archbishop
Ndre Mjeda poet
Alfred Moisiu former president
Inva Mula opera singer
Sejfulla Myftari (Cekja) comedian
N - P
Frederick Ndoci singer, songwriter
Millosh Gjergi Nikolla poet, author
Fan S. Noli author, scholar, diplomat, historian
Onufri artist
Nexhmije Pagarusha singer
Shani Pallaska actor
Tedi Papavrami violinist
Essad Pasha army officer, politician
Ibrahim Pasha general of Egypt
Kara Mehmed Pasha Ottoman statesman
Numan Pasha grand vizier Ottoman Empire
Ali Pashe military ruler
Gramoz Pashko economist, co-founder Albania Democratic Party
Turhan Pasha Permeti former prime minister
Enver Petrovci actor, director
Lasgush Poraderi poet
Hasan Bej Prishtina former prime minister
Sander Prosi actor
Q - R
Rexhep Qosja politician, literary critic
Erkand Qerimaj weightlifter
Edi Rama politician, publicist
Hava Rexha oldest woman in Albania at her death
Bajram Rexhepi former prime minister
Kadri Roshi actor
Shpetim Rroqi politician
Ibrahim Rugova first president of Kosovo
S
Anri Sala artist
Fatmir Sejdiu former president of Kosovo
Luan Shabani Olympic medalist, weightlifter
Anjeza Shahini singer
Mehmet Shehu communist politician
Parashqevi Simaku singer
Thoma Simaku composer
Gjergi Kastriot Skanderbeg national hero
Ramadan Sokoli ethnomusicologist, musician
Venton Surroi politician, publicist
Donald Suxho volleyball player
T
Mother Teresa noble laureate, beatified nun
Queen Teuta Illyrian queen
Hashim Thaci prime minister of Kosovo
Jozefina Topalli politician
Gert Trasha weightlifter
Theoharis Trasha weightlifter
Kasem Trebeshina author
Petrika Troja microbiologist, physician
V - Z
Jul Variboba (Giulio Variboba) poet
Pashko Vasa (Wassa Effendi) poet
Shefqet Verlaci former prime minister
Agim Vinca poet, educator
Eqrem Viora politician, signer Albanian Declaration of Independence
Azem Vllasi politician
Spiro Xega artist
Koci Xoxe politician
Xhafer Ypi politician
Cesk Zadeja composer
Moikom Zeqo author, poet
Ahmet Zogu former king of Albania
Is a famous person missing from this page?

Albania's Information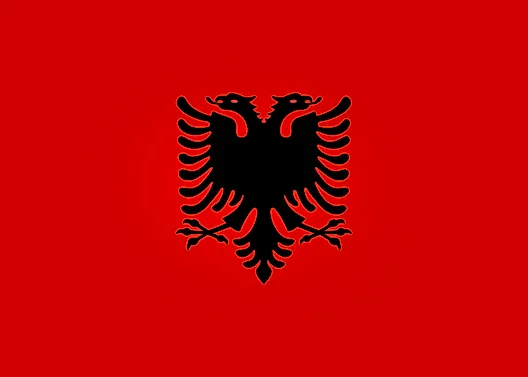 | | |
| --- | --- |
| Land Area | 27,398 km2 |
| Water Area | 1,350 km2 |
| Total Area | 28,748km2 (#140) |
| Population | 3,038,594 (#137) |
| Population Density | 110.91/km2 |
| Government Type | Parliamentary Republic |
| GDP (PPP) | $33.90 Billion |
| GDP Per Capita | $11,900 |
| Currency | Lek (ALL) |
| More Information | Albania |