People listed are almost always native to the country. We do (on occasion) include those that have either lived within the country for most of their adult life, or have made a significant contribution to the country in their personal endeavors.
K
Bayantomoriin Khaisan politician
Agiyamal Khan former emperor of the Mongul Empire
Buyantu Khan former emperor Renzong of Yuan
Genghis Khan founder and emperor of Mongul Empire
Guyug Khan former emperor
Kublai Khan general, statesman, former emperor
Ogedei Khan former emperor
Luvsandandar Khangai diplomat
Zunduin Khangal classical composer
Khongorzul singer
Chuluuny Khulan actress
L - N
Losolyn Laagan politician
Chadraabalyn Lodoidamba writer
Erdenechimeg Luvsannorov ethnomusicologist, researcher
Dargvin Luvsansharav composer
Khatanbaatar Magsarjav general, leader in independence movement, former prime minister
Minjinsor singer
Yumjiriin Monkh-Amgalan professor
Luvsanjambyn Mordorj composer
Jigjid Munkhbat Olympic medalist, wrestler
Tsetsegee Munkhbayar environmentalist
Luvsanjyamts Murdorj composer
Tuvshinbayar Naidan Olympic medalist, judoka
Togs-Ochiryn Namnansuren former prime minister
Ts. Namsraijav composer
Janlavyn Narantsatsralt former prime minister
Dashdorjiin Natsagdorj poet, writer, playwright
Nominjin singer, songwriter
Namjilyn Norovbanzad singer
Tugstsogt Nyambayar Olympic medalist, boxer
O - R
Punsalmaagiin Ochirbat former president
Zevegin Oidov Olympic medalist, wrestler
Sanjaasurengiin Oyuun politician, geologist
Altangerel Perle paleontologist
Serdamba Purevdorj Olympic medalist, boxer
Byambyn Rinchen translator, linguist
Sengge Rinchen nobleman, general
O - R
Sansargereltekh Sangidorj composer
Sarantuya singer
Saya Sayantsetseg pianist, music professor
Hadaa Sendoo poet, critic, essayist, translator
Serchmaa singer
Byambasuren Sharav composer, pianist
Marzan Sharav painter
Bazaryn Shirendev historian, academician, statesman
Dumaagiin Sodnom former prime minister
Damdin Sukhbaatar military leader
T - Z
Galsan Tschinag writer
Yumjaagiin Tsedenbal former prime minister
Balingiin Tserendorj former prime minister
Urna Chahar Tugchi singer
Nyam-Osoryn Tuyaa former prime minister
Sonomyn Udval politician, writer
Jamyangiin Urantogs singer
Wuyuntana singer
Urjingiin Yadamsuren artist
Sukhbaataryn Yanjmaa politician
Begziin Yavuukhulan poet
Undur Geghen Zanabazar sculptor, spiritual leader of Tibetan Buddhism
Sanjaasurengiin Zorig politician
Is a famous person missing from this page?

Submit your Famous Mongol
Mongolia's Information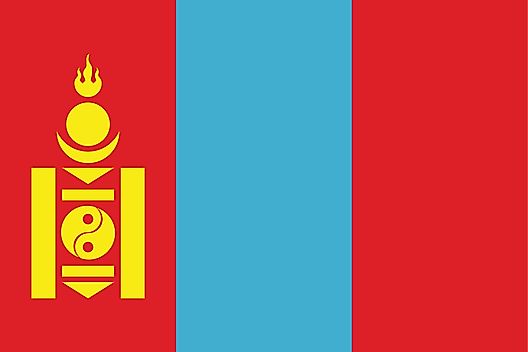 | | |
| --- | --- |
| Land Area | 1,553,556 km2 |
| Water Area | 10,560 km2 |
| Total Area | 1,564,116km2 (#18) |
| Population | 3,031,330 (#138) |
| Population Density | 1.95/km2 |
| Government Type | Semi-presidential Republic |
| GDP (PPP) | $37.00 Billion |
| GDP Per Capita | $12,200 |
| Currency | Tugrik (MNT) |
| More Information | Mongolia |
This page was last updated on April 7, 2017.