People listed are almost always native to the country. We do (on occasion) include those that have either lived within the country for most of their adult life, or have made a significant contribution to the country in their personal endeavors.
P
Judea Pearl computer scientist, philosopher
Shahar Pe'er tennis player
Mattityahu "Matti Peled military leader, scholar, peace activist
Nurit Peled-Elhanan peace activist, educator
Shimon Peres president (born in Belarus)
Shahar Perkiss tennis player
Itzhak Perlman violinist, conductor
Isaac Perlmutter financier
Amir Pnueli computer scientist
Eyal Podell actor
Natalie Portman actress
Q - R
Ahmed Qurei former prime minister Palestinian National Authority
Yitzhak Rabin former prime minister, statesman, Nobel laureate
Sheizaf Rafaeli researcher, author, journalist
Idan Raichel singer, songwriter, musician
Ilan Ramon astronaut, fighter pilot
Eyal Ran tennis player
Shulamit Ran composer
Dahlia Ravikovitch poet, translator, peace activist
Ilana Raviv artist
Joseph Raz philosopher
Yoni Rechter singer, composer, pianist, arranger
Yissachaar Dov Rokeach II leader Hasidic dynasty
Pnina Rosenblum model, media personality
Esther Roth-Shahamorov track and field athlete
Ariel Rubinstein economist
S
Moshe Safdie architect, urban designer
Shmuel Safra computer scientist
Uri Savir diplomat, politician
Zahara Schatz artist
Dan Schechtman physicist, Nobel laureate
Inbal Segev cellist
Nathan "Nati" Seiberg theoretical physicist
David "Dudi" Sela tennis player
Hagai Shaham violinist
Meir Shalev writer
Zeruya Shalev author
Gilad Shalit soldier
Adi Shamir cryptographer
Moshe Shamir author, playwright
Yitzhak Shamir former prime minister (born in Belarus)
Michael Shani cellist
Ehud Shapiro computer scientist
Moshe Sharett former prime minister (born in Ukraine)
Ariel Sharon former prime minister, statesman
Saharon Shelah mathematician
Naomi Shemer singer, songwriter
Mati Shemoelof poet, editor, journalist, activist
Noam Sheriff composer, conductor, arranger
Gil Shohat composer, conductor, pianist
Gil Shwed programmer, entrepreneur
Gene Simmons (born Chaim Weitz) musician, singer
Hillel Slovak musician
Shay-Oren Smadja Olympic medalist, judoka
Yizhar Smilansky (S. Yizhar) writer
Yosef Chaim Sonnenfeld chief rabbi, writer
Avner Strauss music producer, musician, singer
Tal Stricker swimmer
Elia Suleiman film director, actor
Zeev Suraski programmer, co-founder Zend Technologies
T
Israel Tal Israel Defense Forces general
Yoav Talmi composer, conductor
David Tartakover graphic designer, artist
Ninet Tayeb singer, actress
Chaim Topol theatrical, film producer, actor
Amos Nathan Tversky cognitive, mathematical psychologist
U - Y
Raviv "Ricky" Ullman actor, musician
Eithan Urbach swimmer
Aaron Valero physician, author
Arie Vardi pianist
Joseph "Yossi" Vardi high-tech entrepreneur
Moshe U. Vardi professor, computer scientist, author
Ilana Vered pianist
Eliezer Waldenberg rabbi
Chaim Walder author, rabbi
Chaim Azriel Weizmann first president
Avi Wigderson mathematician, computer scientist
Yigael Yadin archeologist, politician
Abraham B. "Bulli" Yehoshua novelist, playwright
Ada E. Yonath crystallographer
Ovadia Yosef scholar, spiritual leader (born in Iraq)
Z
Ishtar Zach singer
Ariel Za'evi Olympic medalist, judoka
Amotz Zahavi evolutionary biologist
Hagai Zamir Paralympics champion
Rika Zarai singer, songwriter
Rehavam "Gandhi" Ze'evi politician, historian, founder Moledet party
Daron Zeilberger mathematician
Nir Zidkyahu drummer
Benny Ziffer author, journalist
Haim Zinovitch "Zino" musician
Naor Zion comedian, actor
Jacob Ziv computer scientist
Shahar Zubari Olympic medalist, windsurfer
Pinchas Zukerman violinist, violist, conductor
Ayelet Zurer actress
Is a famous person missing from this page?
Submit your Famous Israeli
Israel's Information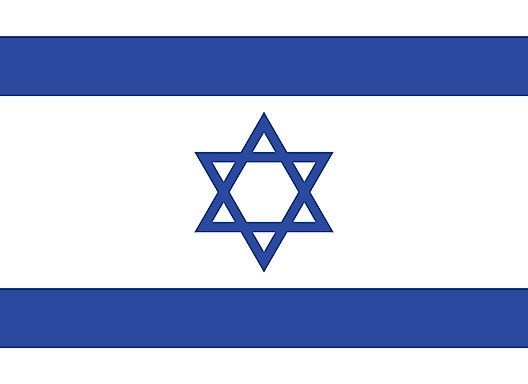 | | |
| --- | --- |
| Land Area | 20,330 km2 |
| Water Area | 440 km2 |
| Total Area | 20,770km2 (#149) |
| Population | 8,174,527 (#98) |
| Population Density | 402.09/km2 |
| Government Type | Parliamentary Democracy |
| GDP (PPP) | $297.00 Billion |
| GDP Per Capita | $34,800 |
| Currency | Shekel (ILS) |
| More Information | Israel |
This page was last updated on April 7, 2017.