People listed are almost always native to the country. We do (on occasion) include those that have either lived within the country for most of their adult life, or have made a significant contribution to the country in their personal endeavors.
F - G
David Faitelson TV sports journalist
Oded Fehr actor
Hagar Finer boxer
Danielle Frenkel high jumper
Gal Fridman Olympic medalist, windsurfer
Aviv Geffen musician, singer, songwriter, producer
Yehonatan Geffen author, journalist, playwright
Uri Geller psychic
Moshe Gershuni painter
Dudu Geva artist, writer, cartoonist, illustrator
Amos Gitai filmmaker, author
Ivry Gitlis violinist
Shlomo Glickstein tennis player
Eliyahu Moshe Goldratt physicist
Gideon "Gidi" Gov singer, tv host, actor
Roman Greenberg boxer
Shlomo Gronich singer, arranger, composer
David Grossman author
Eran Groumi swimmer
Batya Gur writer
Andi Gutmans programmer, co-founder Zend Technologies
Rivka Guver social worker
H
Emile Habibi writer
Amir Hadad tennis player
Sarit Hadad singer
Matt Haimovitz cellist
Michael "Mickey" Halika swimmer
Yotam Halperin basketball player
Dan Halutz Israeli Air Force general
Ofra Harnoy cellist
Amira Hass journalist, author
Ofra Haza singer
Netanel Hochberg agronomist
Eli Hurvitz industrialist
I - J
Gavriel Iddan electro-optical engineer, inventor
Yoseph Imry physicist
Eliahu Inbal conductor
Jezebel queen
Joseph saint, earthly father of Jesus Christ
K
Benjamin Kahn marine biologist
Daniel Kahneman psychologist, economist, Nobel laureate
Sharon Kam clarinetist
Shmaryahu Yosef Chaim Kanievsky rabbi, posek
Dani Karavan sculptor
Nissim Karelitz rabbi, chairman rabbinical court
Michael I. Karpin broadcast journalist, author
Sayed Kashua journalist, author
Moshe Katsav former president (born in Iran)
Amir Katz pianist
Etgar Keret writer, scriptwriter
Elias Daoud Khoury lawyer
Mordechai "Moti" Kirschenbaum media personality, documentarian
Amos Kollek film director, writer
Theodor "Teddy" Kollek politician (born in Hungary)
Elyasaf Kowner artist
L
Sigalit Landau video artist, sculptor
Yosef "Tommy" Lapid politician, journalist, presenter
Hana Laszlo actress, comedian
Daliah Lavi actress, singer
Smadar Lavie anthropologist, author
Keren Or Leibovitch Paralympic world champion swimmer
Alex Levac photojournalist
Hanoch Levin dramatist, theater director
Sara Levi-Tanai choreographer
Alexander Levitzki biochemist
Har'el Levy tennis player
Elon Lindenstrauss mathematician
Joram Lindenstrauss mathematician
Ranan Luri editorial cartoonist, journalist
Rod Lurie film director, screenwriter
M
Ehud Manor songwriter, translator, radio and tv host
Amos Mansdorf tennis player
Avishai Margalit philosopher, educator
Amihai Mazar archaeologist
Benjamin Mazar historian, archaeologist
Eilat Mazar archaeologist
Golda Meir former prime minister (born in Ukraine)
Mordecai Meirowitz inventor board game Master Mind
Yona Metzger rabbi
Arnon Milchan film producer
Benny Morris historian
Joel Moses computer scientist
Yoram Moses mathematician, author
Amal Murkus singer
N - O
Ohad Naharin dancer, choreographer, artistic director
Yuval Ne'eman theoretical physicist, politician
Nehemiah rebuilder of Jerusalem
Benjamin "Bibi" Netanyahu prime minister
Achinoam Nini singer
Chanoch Nissany automobile racer
Tzipora Obziler tennis player
Abi Ofarim dancer, musician
Esther Ofarim singer
Eli Ohana football striker
Ayelet Ohayon foil fencer
Noam Okun tennis player
Ehud Olmert former prime minister
Guy Oseary entertainment manager
Amos Oz writer, novelist, journalist
Is a famous person missing from this page?
Submit your Famous Israeli
Israel's Information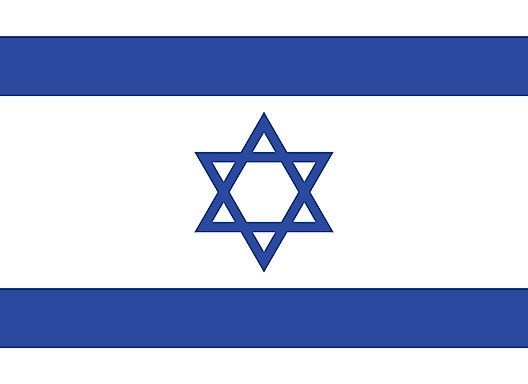 | | |
| --- | --- |
| Land Area | 20,330 km2 |
| Water Area | 440 km2 |
| Total Area | 20,770km2 (#149) |
| Population | 8,174,527 (#98) |
| Population Density | 402.09/km2 |
| Government Type | Parliamentary Democracy |
| GDP (PPP) | $297.00 Billion |
| GDP Per Capita | $34,800 |
| Currency | Shekel (ILS) |
| More Information | Israel |
This page was last updated on April 7, 2017.