Pilanesberg Game Reserve South Africa Photos - African Maps, Africa Maps, South Africa Map Information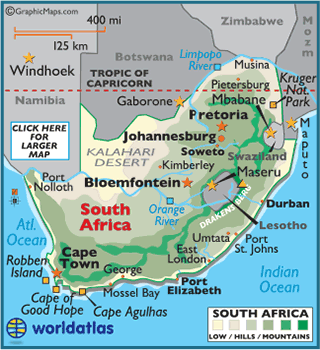 Pilanesberg Game Preserve, South Africa
The Pilanesberg Game Reserve is located in northern South Africa, directly west of Pretoria. The park has a rich array of southern African wildlife including the Big Five - the five most dangerous game animals in Africa.
The bird life diversity is excellent with over 360 species having been recorded. Though some are migrants, most others are permanent inhabitants. Their food sources vary with some eating carrion or live prey, others eat seeds, fruit or tiny water organisms.
It sits atop a crater of a long extinct volcano and the result of eruptions some 1,200 million years ago. In fact, it is one of the largest volcanic complexes of its type in the world, the rare rock types and formations make it a unique geological feature.
Scattered throughout the park are various sites that originate from the Iron age and Stone age and show the presence of man from those periods in these areas.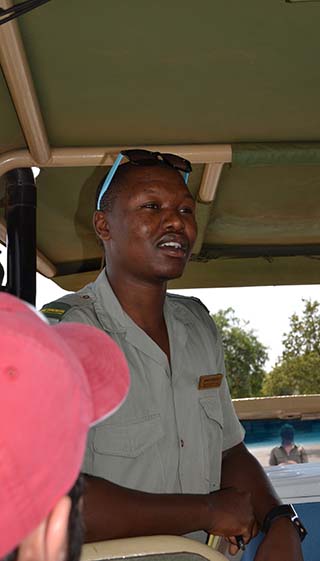 Pilanesberg Game Reserve tour guide.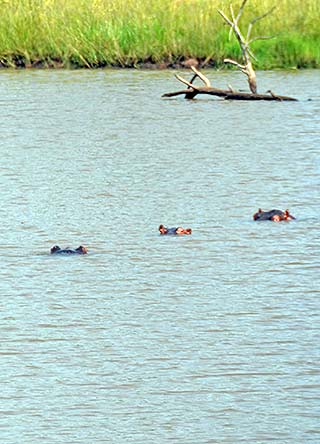 Submerged hippos in a park lake.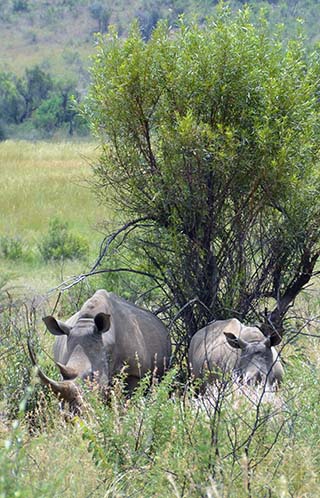 White rhinoceros in the bush.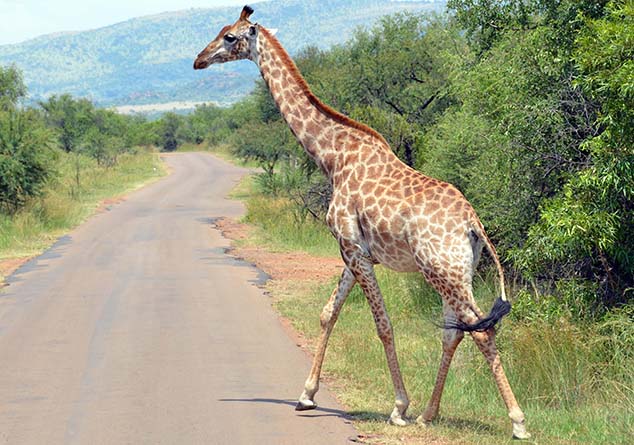 In the Pilanesberg Game Reserve today live most of the animal species of southern Africa, including lions, elephants, black & white rhinoceros, African buffaloes, leopards, zebras, hyenas, giraffes, hippos and crocodiles. As far as the "Big Five" go, on a rather short tour we only spotted white rhinoceros; see below.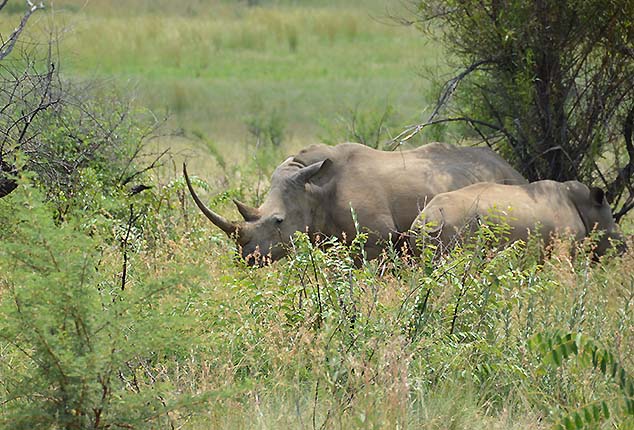 White rhinoceros within a few feet of the tour vehicle. The white rhinoceros or square-lipped rhinoceros is one of the five species of rhinoceros that still exist. It has a wide mouth used for grazing and is the most social of all rhino species.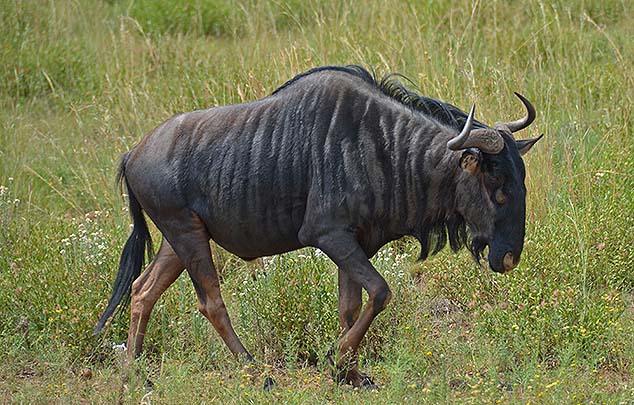 Wildebeest, also called the gnu, always look tired to me; maybe it's because of the time spent avoiding lions.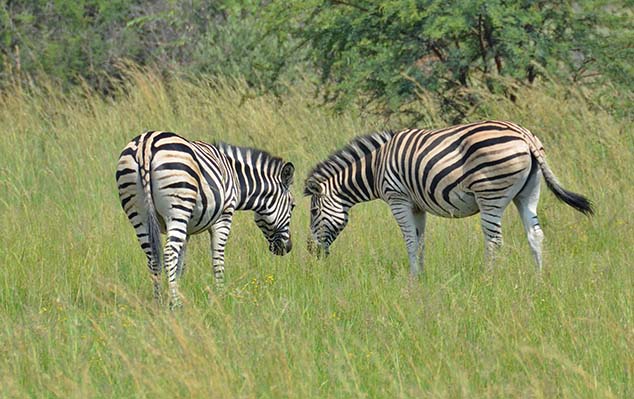 The group behaviour of zebras is quite fascinating. They live in small family units of up to 20 members, led by a stallion. The families stay together for many years. If an animal gets lost, the group can spend days looking for it.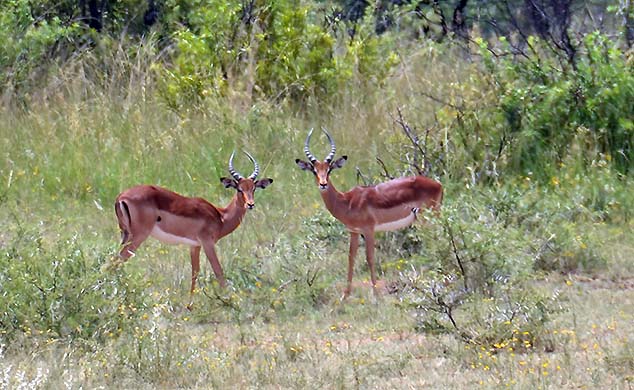 The antelope family is one of the largest in the animal kingdom. Though antelopes do not exude the sexy aura of the "Big Five," they are very successful and are fully paid up members of the African wilderness.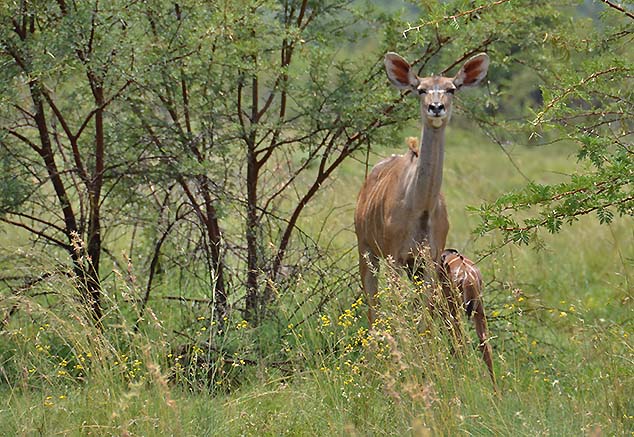 For protection, impalas are very often seen with groups of Giraffe, Kudu, Zebra, Wildebeest and Baboons. However, Impala avoid that association when the lambs are born, as Baboons are known to prey on young Impala Lambs.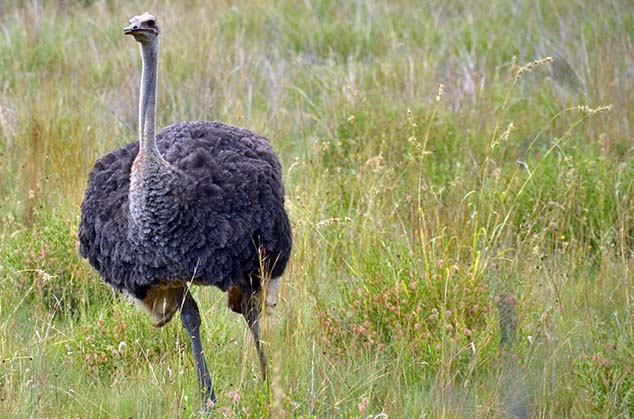 Ostrich live in nomadic groups which contain between five and fifty birds. When threatened, the Ostrich will either hide itself by lying flat against the ground, or will run away. If cornered, it can attack with a kick from its powerful legs.