People listed are almost always native to the country. We do (on occasion) include those that have either lived within the country for most of their adult life, or have made a significant contribution to the country in their personal endeavors.
G continued
Retief Goosen professional golfer
Nadine Gordimer writer, political activist, Nobel Prize winner
Norman Gordon cricketer
Bob Gosani photographer
Tony Greig commentator
H
Bryan Habana rugby union player
Andrew Hall cricketer
Thomas Hamilton-Brown boxer
Ronald Harrison artist
Ronald Harwood author, playwright and screenwriter
Nantie Hayward cricketer
Claude Henderson cricketer
Llewellyn Herbert athlete
Steven Herzberg cricketer
James Barry Munnik Hertzog Boer general, politician
Johan Heyns theologian
Penny Heyns swimmer, Olympic gold medalist
Josias Hoffman politician, statesman
Jan Hendrik Hofmeyr politician
T.O. Honiball cartoonists
Gavin Hood filmmaker, screenwriter, producer, actor
Dan Hugo triathlete
Robbie Hunte professional road racing cyclist
I
Trevor Immelman professional golfer
Daryl Impey road cyclist
J
Hennie Jacobs musician, songwriter, actor
Fanie de Jager operatic tenor, singer
Butch James rugby union player
David James actor
Sid James actor, comedian
Nkosi Johnson child known for raising awareness against AIDS
Claire Johnston musician
Danny Jordaan politician, president of SAFA
Petrus Jacobus Joubert soldier, politician
K
Dinuzulu kaCetshwayo former king of the Zulu nation
Solomon kaDinuzulu former Zulu king
Jacques Kallis cricketer
Adhir Kalyan actor
Zibhebhu kaMaphitha Zulu chief
Cetshwayo kaMpande former king of the Zulu kingdom
John Kani actor, director, playwright
Sigananda kaSokufa Zulu aristocrat
Dingane kaSenzangakhona former king of the Zulu kingdom
Cyprian Bhekuzulu kaSolomon former king of the Zulu nation
Ahmed Kathrada politician, anti-apartheid activist
William Kentridge artist
Alan Khan media and radio personality
Khoisan X political activist
Doctor Khumalo footballer (soccer)
Gary Kirsten cricketer
Peter Kirsten cricketer
Frederik Willem de Klerk politician
Ilana Kloss former professional tennis player, tennis coach
Lance Klusener cricketer
Kallie Knoetze retired heavyweight boxer
David Kramer singer, songwriter, playwright, director
Johan Kriek professional tennis player
Alice Krige actress, producer
Frantz Kruger discus thrower
Paul Kruger politician
Alf Kumalo photographer, photojournalist
L
Pius Langa judge
John Langalibalele Dube essayist, philosopher, educator, politician, publisher, editor, novelist, poet
C. J. Langenhoven author
Grant Langston motocross world champion
Maggie Laubser painter, printmaker
Tony Leon politician
Neville Lewis artist
David Lewis-Williams scholar
Patricia de Lille politician
Paul Lloyd Jr "Justin Gabriel" professional wrestler
Albert Luthuli politician
M
Winnie Madikizela-Mandela activist, politician
Jeremy Maggs journalist, television, radio host
Peter Magubane photographer
Mahlathini mbaqanga singer
Miriam Makeba singer, civil rights activist
Thabo Makgoba archbishop
Adolph Malan fighter pilot
Daniel François Malan soldier, politician, former Prime Minister
Magnus Malan politician, military chief
Nelson Mandela activist, politician, philanthropist, freedom fighter, lawyer
Winston Ngozi Mankunku musician
Manfred Mann musician
Jeremy Mansfield radio and television personality
Trevor Manuel politician
Hugh Masekela musician
Gwendolyn Masin violinist
Victor Matfield rugby union player
"Baby" Jakes Matlala boxer, junior flyweight champion
Dalene Matthee author
Dave Matthews singer-songwriter, musician, actor
Lindiwe Mazibuko politician
Thabo Mbeki politician, former President
Benni McCarthy footballer (soccer)
Conor Mccreedy artist, entrepreneur, philanthropist, conservationist
Neil McKenzie cricketer
Frew McMillan former professional tennis player
Thebe Medupe astrophysicist
Fatima Meer writer, anti-apartheid activist
Hans Merensky geologist, prospector, scientist, conservationist, philanthropist (born in Germany)
John X. Merriman politician, former Prime Minister
Deon Meyer novelist
Roelf Meyer politician
Gcina Mhlope activist, actor, storyteller, poet, playwright, director, author
Sean Michael actor, writer, singer
Brian Mitchell former professional boxer
Phumzile Mlambo-Ngcuka politician
Mpande monarch of the Zulu Kingdom
Makobo Modjadji Rain Queen
Gerard Moerdijk architect
Aaron Mokoena footballer (soccer)
Shaun Morgan musician
Albie Morkel cricketer
Morné Morkel cricketer
Kgalema Motlanthe politician, former President
Patrice Motsepe mining magnate
Elias Motsoaledi anti-apartheid activist
Phaswane Mpe poet, novelist
Chief Mqalo Amakhuze chief
Karen Muir swimmer
Mbulaeni Mulaudzi middle distance runner
Andrew Murray writer, teacher, minister
Brett Murray artist
Gordon Murray designer of Formula One race cars and the McLaren F1 road car
Elon Musk business magnate, investor, inventor
Victoria Mxenge anti-apartheid activist
Patrick Mynhardt actor
Mzilikazi king of Matabeleland
N
Steve Nash professional basketball player
Beyers Naudé cleric, theologian, leading Afrikaner anti-apartheid activist
Jozua François Naudé politician
Welcome Ncita former professional boxer
Jeremy Nell cartoonist, satirist, social commentator
Ryk Neethling swimmer, Olympic gold medalist
Mbongeni Ngema writer, lyricist, composer, director
Lilian Ngoyi politician, anti-apartheid activist
Is a famous person missing from this page?
South Africa's Information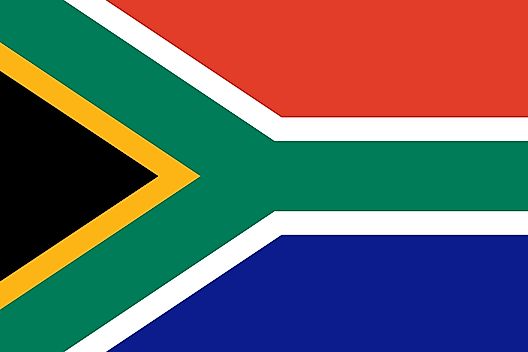 | | |
| --- | --- |
| Land Area | 1,214,470 km2 |
| Water Area | 4,620 km2 |
| Total Area | 1,219,090km2 (#24) |
| Population | 54,300,704 (#25) |
| Population Density | 44.71/km2 |
| Government Type | Parliamentary Republic |
| GDP (PPP) | $739.00 Billion |
| GDP Per Capita | $13,500 |
| Currency | Rand (ZAR) |
| More Information | South Africa |
This page was last updated on April 7, 2017.