Mauritania's Information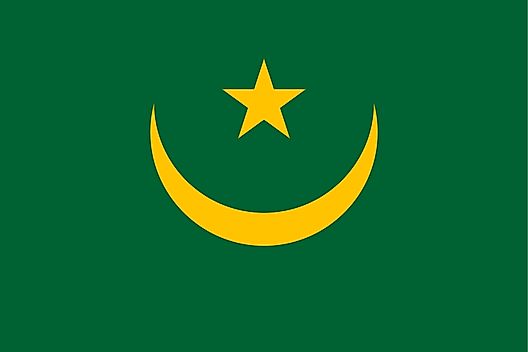 | | |
| --- | --- |
| Land Area | 1,030,700 km2 |
| Total Area | 1,030,700km2 (#28) |
| Population | 3,677,293 (#131) |
| Population Density | 3.57/km2 |
| Government Type | Presidential Republic |
| GDP (PPP) | $16.71 Billion |
| GDP Per Capita | $4,400 |
| Currency | Ouguiya (MRO) |
| Largest Cities | |
People listed are almost always native to the country. We do (on occasion) include those that have either lived within the country for most of their adult life, or have made a significant contribution to the country in their personal endeavors.
A
Dimi Mint Abba musician
Sidi Ould Cheikh Abdallahi former president
Dah Ould Abdi diplomat, politician
Ahmad ibn al-Amin al-Shinqiti author
Mohamed Ould Abdel Aziz president
B
Adama Ba footballer
Sid Ahmed Ould Bneijara former prime minister
Sidi Mohamed Ould Boubacar former prime minister, ambassador
Ahmed Ould Bouceif military leader, former prime minister
Messaoud Ould Boulkheir politician
C - D
Ahmed Ould Daddah economist, politician
Moktar Ould Daddah former president
Moussa Diagana writer
Drissa Diallo footballer
Thiam Diombar politician
E - G
Moussa Ould Ebnou novelist
Aicha Fall runner
Abdoulaye Sileye Gaye footballer
Birama Gaye football manager
Tene Youssouf Gueye writer
Diallo Guidileye footballer
Mohamed Lemine Ould Guig former prime minister
H
Mohamed Khouna Ould Haidalla army officer, former prime minister
Saleh Ould Hanenna army soldier, politician
Mohamed Salem Ould Harouna football coach
Mintata Mint Hedeid politician
Abdallahi Hassen Ben Hmeida diplomat, politician
Zeidane Ould Hmeida politician
Mohamed Abid "Med" Hondo film director, producer, screenwriter
I - L
Tijani Ould Kerim teacher, diplomat
Cheikh El Avia Ould Mohamed Khouna former prime minister
Moulaye Ould Mohamed Laghdaf prime minister
Mohamed Mahmoud Ould Mohamed Lemine politician
Mohamed Saleck Ould Mohamed Lemine diplomat, politician
Mahfoud Ould Lemrabott jurist
Mohamed Mahmoud Ould Louly former president
M
Mohamed Ould Maaouya politician
Ba Mamadou dit Mbare politician
Sghair Ould M'Bareck former prime minister
Ahmed Baba Miske writer, diplomat, politician
Jidou El Moctar runner
Souleyman Chebal Moctar track athlete
Boulah Ould Mogueye ambassador
Mohamed Ali Ould Sidi Mohamed politician
Mohamed Mahmoud Ould Mohamedou scholar, politician

O - R
Ahmedou Ould-Abdallah diplomat, politician
Ibn Razqa poet, scholar
S
Mustafa Ould Salek former president
Moustapha Sall football coach
Ibrahima Moctar Sarr journalist, politician
Ahmed Ould Sid'Ahmed diplomat, politician
Abderrahmane Sissako film director, producer
Anziza Salema singer
Bruce Samazan actor
Samoela singer, songwriter
Mama Sana singer, songwriter, musician
Jo Schlesser race car driver
Senge music group
Claude Simon novelist, Nobel laureate
Madagascar Slim guitarist
Jean de Dieu Soloniaina boxer
Josiane Soloniaina wrestler
Albert Sylla physician, politician
Jacques Sylla former prime minister
T
Hmeida Ould Ahmed Taleb politician
Maaouya Ould Sid'Ahmed Taya former president
Dahmed Ould Teguedi footballer
Khalid Oumar Timbo footballer
Mohamed Ould Tolba politician
Doudou Toure footballer
U - Z
Ely Ould Mohamed Vall military leader, politician
Yahya Ould Ahmed El Waghef former prime minister
Zeine Ould Zeidane former prime minister, economist
Is a famous person missing from this page?
Submit your Famous Mauritanian
This page was last updated on April 7, 2017.