People listed are almost always native to the country. We do (on occasion) include those that have either lived within the country for most of their adult life, or have made a significant contribution to the country in their personal endeavors.
Mahmoud Hassan Olympic medalist, weightlifter
Ahmed Hassanein explorer, diplomat, politician
Hatchepsut pharaoh
Abd El Aziz Muhammad Hegazi former prime minister
Tarek Heggy writer
Ahmed Helmy actor, comedian
Hemiunu architect, priest, vizier
Hassan Heshmat sculptor
Ahmed Abdel Muti Hijazi poet
Soad Hosny actress
Tamer Hosny singer, composer
Taha Hussein writer
I - K
Hassan Ibrahim military officer, founder free officers movement
Ineni architect
Salah Jahin poet, lyricist, playwright, cartoonist
Ezzat el Kamhawi novelist, journalist
Maged El Kedwany actor
Kamel Keilany writer
Khakheperresenb scribe, writer
Amr Khaled television preacher
Mustafa Khalil former prime minister
Khaled Al Khamissi novelist, writer, producer, director
Arif Khudairi poet, novelist, folklorist, translator
L - M
Yosra El Lozy actress
Nadia Lutfi actress
Abdel Moneim Madbouly actor, comedian, playwright
Christopher Maher chef, actor
Naguib Mahfouz Nobel laureate
Ali Lutfi Mahmud former prime minister
Manetho historian, priest
Mahmoud Mekki vice-president
Mahmoud el Meliguy actor, screenwriter
Hesham Mesbah Olympic medalist, judoka
Michael Mina chef
Ferdoos Mohammed actress
Ahmad Fuad Mohieddin former prime minister
Zakaria Mohieddin former prime minister
Mahmoud Mokhtar sculptor
Mohamed Morsi president
Leila Mourad actress, singer
Salama Moussa journalist
Ibrahim Moustafa Olympic medalist, wrestler
Hosni Mubarak military commander, former vice-president, former president
Suzanne Mubarak former first lady
N - O
Ibrahim Nagi poet
Muhammad Naguib former president
Narmer pharaoh
Suad Nasr actress
Gamal Abdel Nasser former president
Ahmed Nazif former prime minister
Nefertiti political leader, former queen
Ahmed Fouad Negm poet
El Sayed Nosseir Olympic medalist, weightlifter
Ibrahim Orabi Olympic medalist, wrestler
P
Abdel Fattah Yahya Pasha former prime minister
Abdel Khaliq Sarwat Pasha former prime minister
Adli Yakan Pasha former prime minister
Ahmad Aiwar Pasha former prime minister
Ahmad Mahir Pasha former prime minister
Ali Mahir Pasha former prime minister
Hassan Sabry Pasha former prime minister
Hussein Rushdi Pasha former prime minister
Hussein Sirri Pasha former prime minister
Isma'il Pasha former Khedive
Mahmoud an-Nukrashi Pasha former prime minister
Muhammad Mahmoud Pasha former prime minister
Muhammad Said Pasha former prime minister
Muhammad Tawfiq Nasim Pasha former prime minister
Mustafa Kamil Pasha lawyer, journalist, nationalist activist
Q - R
Hesham Qandil prime minister
Ramesses II pharaoh
Ahmed Rami poet, songwriter, translator
Ahmed Ramzy actor
Gehan Rateb actress, singer, composer
Amina Rizk actress
Hind Rostom actress
Zaki Rostom actor
S
Seti I pharaoh
Amr Shabana squash player
Ahmed Zaki Abu Shadi poet, publisher, physician
Hussein el-Shafei former vice-president
Mahmoud Shaker commander Egyptian air force
Mahmoud Mahamed Shaker writer, poet, journalist, scholar
Ibrahim Shams Olympic medalist, weightlifter
Essam Sharaf former prime minister
Omar Sharif actor
Farid Shawki actor, screenwriter, producer
Ahmed Shawqi poet, playwright
George Sidhom comedian
Farid Simaika Olympic medalist, diver
Mohamed Sobhi actor
Saleh Soliman Olympic medalist, weightlifter
Omar Suleiman former vice-president
T - W
Sufi Abu Taleb former acting president
Mohamed Hussein Tantawi politician
Thutmose III military leader, pharaoh
Khedr El Touni Olympic medalist, weightlifter
King Tut former king
Anwar Wagdi actor, writer, director, producer
Mohammed Abdel Wahab singer, composer
Youssef Wahba former prime minister, jurist
Youssef Wahbi actor, director
Ibrahim Wasif Olympic medalist, weightlifter
Y - Z
Magdi Yacoub physician
Ismail Yasin actor, comedian
Menassa Youhanna priest, historian, theologian
Bassem Youssef television host
Saad Zaghloul former prime minister, revolutionary, statesman
Ahmed Zaki actor
Ahmed Zewail Nobel laureate
Is a famous person missing from this page?
Submit your Famous Egyptian
Egypt's Information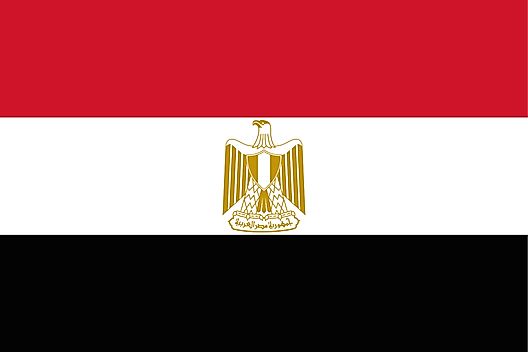 | | |
| --- | --- |
| Land Area | 995,450 km2 |
| Water Area | 6,000 km2 |
| Total Area | 1,001,450km2 (#29) |
| Population | 94,666,993 (#15) |
| Population Density | 95.10/km2 |
| Government Type | Presidential Republic |
| GDP (PPP) | $1,110.00 Billion |
| GDP Per Capita | $12,100 |
| Currency | Pound (EGP) |
| More Information | Egypt |
This page was last updated on April 7, 2017.