Bridgetown, Barbados Trip Journal
Chris' (Previous) Daily Journal
March 19, Bridgetown, Barbados
It was a very busy morning at the port – there were five cruise ships arriving all about the same time. However, it didn't take long for the Captain to dock our ship. Earlier than scheduled, we heard the announcement that the ship had been cleared by the local authorities and we were free to disembark.
The ship offered a shuttle to the main terminal building, so we hopped aboard. Our photographer was right on time to pick us up, so off we went.
Ronnie, the photographer showed us some of his works – very impressive. He has lived in Barbados all his life and had many interesting things to tell us.
Bridgetown is the capital of Barbados and the population is about 97,000 – 1/3 of the entire island's population. Bridgetown was originally founded in 1628 by British settlers. Barbados became self-governing in 1961. Today, there is still British influence – especially driving. Even though we've been in countries where driving is on the opposite side of the road from what we are used to, it's still disconcerting at first to see the driver sitting on the right side of the vehicle.
Barbados, years ago, was primarily supported by its exportation of sugar. In the past, over 300,000 tons were exported annually, now they export about 30,000 tons. There are still some sugar cane fields and refineries on the island, but today tourism is the number one industry..
Due to Barbados being the furthest east Caribbean island, it is able to avoid most of the hurricanes and tropical storms. The last hurricane that hit was in 1955 and it was not real severe.
Cost of living is very high. Ronnie told us that the other day he purchased a honey dew melon and it was $5.61 in U.S. dollars. A dozen eggs generally run about $4.80. Gasoline – a gallon- is about $10.00. Obviously, a gas guzzler would not be the appropriate car here. Speaking of cars – due to traffic, narrow roads and to avoid pollution, the government discourages big vehicles and imposes high taxes. For example, a car that is over $20,000 in U. S. dollars will be taxed at a minimum of 110%.
Driving along we could see glimpses of the Caribbean from high up on the interior hills. Our first stop was at a chattel house. These homes were originally for plantation workers. They were built of wood and set on blocks, so they could be taken apart and moved from one plantation to another.
The roof design is a steep gable and is constructed of corrugated iron. The way the roof angles helps deflect the wind versus providing an overhang that cannot be easily lifted off.
From there, we drove to an overlook of the beautiful beaches. The landscape was absolutely breathtaking. It's also interesting to note that the air here is free of pollution. As Ronnie explained to us, it comes 3,000 miles over the ocean with no chance of picking up pollutants. Barbados has one of the highest populations of elderly of any place in the world. It's attributed to the air, the diet, the sea and exercise. I'm thinking we will need to move here!
As we turned to enter the vehicle, we were treated to a herd of sheep along with the lambs. When we first saw the sheep, we called them goats due to their strong resemblance. However Ronnie told us that the sheep and goats are almost identical in looks – to tell the difference, look at the tails. If the tail is long and hangs down, it's a sheep; a short tail that goes up is a goat. The sheep here are not raised for their wool, they're raised for mutton.
As we continued our drive, Ronnie pointed out the many churches to us. And, three doors down, was always a rum house.
Our last stop for the day was one of the typical rum houses. One thing that is not expensive in Bridgetown is the rum punch. And, one cannot be visit here without trying one. They were only $2.00 U.S. We learned how to make punch and the formula for the proportions is quite simple. One of sour (lemon juice); two of sweet (simple syrup); three of strong (rum); four of weak (juice – preferably orange). The punch was very delicious and goes down easily. And, one was plenty!
We headed back to the ship and decided since we still had the entire afternoon, we would hire a taxi and go somewhere in the local vicinity for lunch.
Another couple from the ship, Audrey and Paul, joined us and we found a taxi. Our driver, Winston, didn't like the restaurant we said we wanted to visit, and said he knew of a much better one just a bit further away. He would take us there for $7.50 per person each way, and would wait for us. Winston was quite a character and John, of course, got into the humor. John introduced himself as Camel, told Winston that Paul was Chesterfield and that I was Salem and that Audrey was Kool. Winston really got a good laugh.
We drove along the "Gold Coast" of Bridgetown – beautiful condos and hotels line the beach. Winston showed us the hotel, Sandy Lake, where Tiger Woods was married. He said it was extremely expensive. I did some research later in the day to see how expensive – and he was right. A standard room for one night was $1,150. U. S. There was a deluxe room for $1,700 per night.
Our lunch was delicious. John and Paul ordered the local favorite, flying fish.
Winston drove us back to the port where we took advantage of our additional free time and looked around in some of the shops. Even though we'll be back in the U.S. soon, there were a few items I was running low on, so stocked up.
This was our first visit to Barbados and a place we have on our list to definitely return – and spend a lot more time. Beautiful, lots to see and do and most important – friendly and welcoming residents.
Tomorrow is a day at sea as we head for Ponce, Puerto Rico, and our last port of call on this fabulous journey.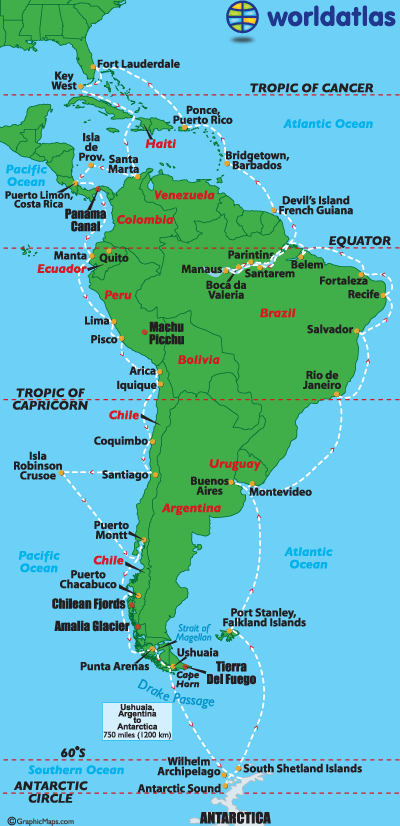 About the Author
John Moen is a cartographer who along with his wife are the orignal founders of worldatlas.com. He and his wife, Chris Woolwine-Moen, produced thousands of award-winning maps that are used all over the world and content that aids students, teachers, travelers and parents with their geography and map questions. Today, it's one of the most popular educational sites on the web.
This page was last updated on July 12, 2016.