Fortaleza, Brazil Trip Journal
Chris' (Previous) Daily Journal
March 6, Fortaleza, Brazil

We opted today to join our tour group with Cruise Specialists as the trip sounded interesting and again, gave us an opportunity to experience other aspects of the Brazilian countryside.
We had quite the adventure. We left right on time and soon left Fortaleza behind. All of a sudden, our driver pulled into a gasoline station and a mechanic came over to check an engine noise. Within a few minutes, it appeared to be repaired and off we went.
Shortly, we noticed the air conditioning was not blowing cold air – it was quite warm. Dennis, our guide, checked with the driver to see if he could adjust the temperature. Well, there was only one way to adjust it – and that was to turn it off and open the bus windows. Yes, the air conditioner had gone out. Dennis called the office and they promised to send a new bus to our first stop.
It wasn't miserably hot, so it wasn't all that bad and the opened windows did help create some cross ventilation.
This area of Brazil is undergoing a lot of work on their roads – and they need lots and lots of work. Potholes everywhere creating a very rough and bumpy ride. On one of the two-lane highways, we met a truck coming the opposite direction. Both vehicles came to a stop and pulled the rear view mirrors on the drivers' sides in so we could all continue on our trek.
Our first stop was a farm about an hour and a half outside Fortaleza. It was beautiful. The people who own it inherited it from family so they have much pride in it. Upon arrival, we were offered a spread of all kinds of fresh fruits, cakes and plenty of juices, coffee and ice cold water. The repast was well received by all.
We then took a walking tour of some of the farm area. It is no longer a working farm – it is now more of a vacation spot for people who want tranquility and relaxation. There are 12 chalets – a mixture of one and two bedrooms, all with air conditioning. In the main house, there are rooms – all with balconies overlooking various parts of the property.
Because of the location in the middle of the countryside, the price per night includes the room, three meals per day, use of the horses for riding, swimming pool, tennis courts or just hiking in the area. The cost is 120 Brazilian Reais per night (about $57.00 U.S.) per person.
As promised, the new bus arrived, so off we went in cool, air-conditioned comfort.
Our next stop was at a sugar cane refinery where various types of liquors are made. It was quite the procedure to enter – first we all received a wristband to signify we were to have lunch, next was the museum admission badge on a strap to wear around our neck. When we reached the turnstile entrance, our guide had to punch in his telephone number for each of us in order for the lever to turn to allow entry.
Before entering the museum, we were given a small glass with sugar cane juice. YUCK!! It was so sweet. I found the women's bathroom, so poured mine down the sink. I noticed that hardly anyone took more than a sip.
We were a bit disappointed in that our guide at the museum said "no photos". However, once we started on the tour, we didn't see anything that would have warranted a photo. Lots of interesting pictures and displays, but nothing that would be a National Geographic award-winning photo!
The best part of the tour? The tasting, of course. They offered a couple different types of the sugar cane liquor – almost a brandy flavor. The most popular, by far, was chocolate liquor – so thick and sweet, it was like drinking chocolate syrup. Quite a few of the passengers purchased bottles of the chocolate.
We then proceeded to the lunch area where we were treated to a buffet. There were various salad items, rices (white and the specialty: brown rice, black beans and cheese), potatoes (French fried and fried sweet potatoes), several types of meats and a selection of desserts. Every one appeared to enjoy their food.
In order to leave the museum grounds, we had to go to a set of windows and have them scan our badges. If anyone purchased the liquors or other items, this is where they also paid. If the badge wasn't scanned, the turnstile would not let us exit. It seemed to be quite a complicated, cumbersome system just to go to a museum and have lunch.
We then boarded the bus and began our trip over the bumpy roads back to Fortaleza. We stopped at an old prison, which is now a shopping area. Because Fortaleza, located in the state of Ceara, is well-known for lace, there were many shops carrying all types of lace products. We purchased a couple t-shirts (non-lace).
Our trip back to the ship was short but included a nice scenic drive by the beach area. Very beautiful.
We were surprised by all the modern high rise hotels, condos and office buildings in the city center. Fortaleza means fortress, but most of the strongholds built in the 17th century by the Portuguese are gone.
Dennis, our guide, told us that Fortaleza is growing rapidly – nearly 2 million people now and it's continuing to grow. The reason for the growth is because Rio and Sao Paolo are now so big and so expensive, many companies and individuals are investing in Fortaleza.
Another interesting day. Tomorrow is a day at sea while we travel to Belem.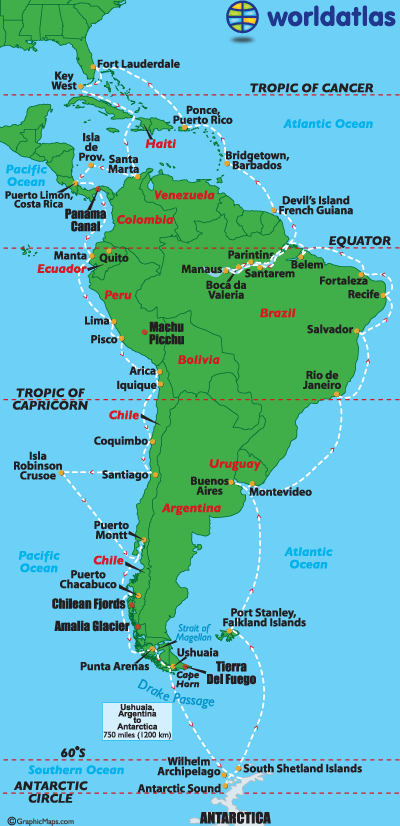 About the Author
John Moen is a cartographer who along with his wife are the orignal founders of worldatlas.com. He and his wife, Chris Woolwine-Moen, produced thousands of award-winning maps that are used all over the world and content that aids students, teachers, travelers and parents with their geography and map questions. Today, it's one of the most popular educational sites on the web.
This page was last updated on July 12, 2016.