Recife, Brazil Trip Journal
Chris' (Previous) Daily Journal
March 4, Recife, Brazil

Recife, (meaning "reef" in Portuguese) is better known as the "Venice of Brazil" as it is built on islands with rivers, canals and has over 50 bridges within the city.
We joined a small tour today that took us to the outlying areas of Recife. We thought it would be interesting to visit other, more rural areas as we've concentrated so much of our time to datw on the large cities.
We drove from the port to Igarassu which is a suburb north of Recife. Our visit to Igarassu included a stop to see a 15th century church that is still being used - the São Cosme e Damião. It was small and plain, but very well maintained. One of the side rooms contained a wall of crypts from many years ago. The courtyard was beautiful, with palms and many flowering plants.
We visited two sites in the city of Itamaracá, which is also an island. The first settlements date back to 1508, making it one of the oldest cities in Brazil. Itamaracá's economy depends largely on tourism. The beaches are very popular – especially for people from Olinda and Recife, many of whom maintain beach homes.
After arriving in Itamaracá, we visited a manatee rehabilitation facility. They had two mothers and three babies in one tank and a couple males in another. Unlike the manatees that are killed in Florida by boats, these are killed for food. One of the roles of the facility is to educate the local population not to kill them, as they are becoming endangered. Leaving the tanks, we passed through a museum with skeletons and other artifacts. Unfortunately, all the signs were in Portuguese, so made it difficult for us English-only speaking visitors. However, since we are visitors to their country, we should not expect everything to be interpreted just for us.
One of Itamaracá's most important landmarks is the historic Forte Orange – a fortress. It was built by Dutch invaders in 1631 who used it for the invasion and occupation of Olinda, another nearby community. The name, Forte Orange was named after the national color of Holland, with is orange.
After a tour of the fort, we crossed the street to an area where there were many thatched-roofed bars, restaurants and souvenir shops. Definitely a rustic setting, but we could see the bay. We were warm, so John got a cold beer and since they had either beer or whiskey (no wine), I ordered a bottled mineral water. It was just delightful to sit in the shade as a gentle breeze blew, looking at the bay and at the locals as they were offering all types of things for sale – including sugar cane, coconut candies and handmade jewelry.
During our drives, we noticed in this part of Brazil, there is a marked difference between those who "have" versus those who "have not".
Some of the areas we drove through today were depressing. We take so much for granted in the United States. Most of the homes had tanks on the roofs to catch rain water. That's because the water system is so poor that the city only pipes water into homes one day per week. The rest of the week is dependent upon rain water or buying from a water truck.
There is no central sewer system, so each home has a septic tank. However, when it rains hard, the tanks overflow and the waste runs into the streets.
The minimum wage in the Recife area is 540 Brazilian Reais per month. In U. S. dollars, that's about $257.00 per month.
The unemployment rate is high – around 25%. For those who are able to find employment, most work in the sugar cane fields – the biggest industry in this part of Brazil.
Over 60% of the population does not even have an elementary education. Children are taken from schools and put to work to help feed the family. The most many of them can do is sign their name.
We also noticed, while traveling, quite a few hotels with some very interesting names – Nightly Love, Love In Hotel, and a few others. John heard our guide talking to one of the other tour members and he explained they are "convenience hotels" – instead of a room for the night, they're available for a couple hours. I guess people in Recife and this part of Brazil don't need much sleep!
On the return to the ship, we passed a hillside cemetery. Interesting fact – dead can only be buried in the cemetery for two years and one day. At that time, the bones are given to the relatives. The plot is then sold to someone else for the same period of time. Cremation is not allowed.
John asked our tour leader what the people in this part of Brazil, who are obviously very poor, think about Rio hosting the 2016 Olympics. The guide told John that most of the people in this area probably weren't even aware of the Olympics, and if so, didn't really understand what it entailed.
We can tell we're getting closer to the Equator – temperatures are rising and so is the humidity. Fortunately, we're not bothered by either, having lived in south Texas and in Florida.
We returned to the ship early afternoon – in time to have lunch in the Lido dining room. It was very busy – obviously a lot of people returned to the ship around the same time.
One of the funniest shore excursion tour stories I've heard yet occurred today. The tour title read: "Venice of Brazil and Catamaran Cruising". The people who booked it thought they were going to be on a Catamaran boat. Imagine their surprise when they boarded a flat-bottomed boat and asked: "Where's the Catamaran?" And, the answer: "You are on it". The boat's name is Catamaran. Since I wasn't on the tour, I thought the whole thing quite amusing.
We enjoyed our visit to Recife, but at our dinner table, we all agreed that this (to date) was our least favorite stop. However, we all also agreed that if only one out of 23 stops thus far on our journey has not been to our liking, we have absolutely nothing to complain about.
We heard from a friend today that friends of hers who are on another cruise line, on the exact opposite itinerary of us, were robbed at knife-point in Rio this week while their ship was in port. Crime is high and we were repeatedly warned by our ship's personnel to not wear any expensive, flashy jewelry or to wander off into areas not in the main part of the city unless we were in a large group. We're very sorry for them, but thankful they weren't injured.
Tomorrow is a day at sea as we head to Fortaleza, Brazil. Soon…..the Amazon River!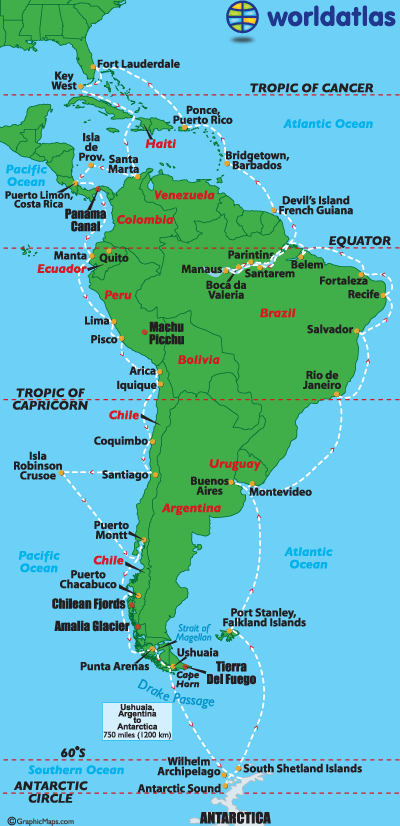 About the Author
John Moen is a cartographer who along with his wife are the orignal founders of worldatlas.com. He and his wife, Chris Woolwine-Moen, produced thousands of award-winning maps that are used all over the world and content that aids students, teachers, travelers and parents with their geography and map questions. Today, it's one of the most popular educational sites on the web.
This page was last updated on June 16, 2020.