Salvador da Bahia, Brazil Trip Journal
Chris' (Previous) Daily Journal
March 2, Salvador da Bahia, Brazil

We had originally scheduled a tour outside the city for today, but received word it had been cancelled. And, we were extremely happy about it, as we had read more about Salvador and had wished we were going to have time to visit the city. So, with the tour cancellation, our wish was granted.
The full name for this city is São Salvador da Bahia de Todos os Santos – how would you like to have to write that down for your address? For many years, it was known(and is still referred to) as Bahia and/or Salvador. Bahia is one of the oldest cities in Brazil. Over 80% of the population has Black African ancestry and that influence is seen in much of the art and cultural aspects of the city. Unfortunately, Black Bahians are subject to major discrimination.
H. Stern, a well-known chain of jewelry stores in South America, in several of our stops, offers a complimentary shuttle service from the port to their store. There's no obligation to buy. Obviously, the shuttle service is a great form of advertising for them.
We took advantage of the H. Stern service and within 10 minutes were deposited at their store in the upper city.
The way the city is divided, it almost feels like two separate cities. There's the "upper town" and the "lower town". The main cathedral and most of the governmental operations, along with many unique shops, restaurants and artists are in the upper city. To connect the two sections, there is an elevator or funicular. It was the first one installed in Brazil – in 1873. The cost to take it is .15 Reaia or .07 cents U.S. Pretty good deal!
The upper city is a UNESCO World Heritage Site and a national monument.
When we stepped off the shuttle bus, a Bahian woman in traditional costume approached us and offered to let us take a picture with her – so we took advantage of the offer. Her dress was absolutely beautiful and with John looking very cool in his Panama hat, the two of them were quite a photo opportunity. I took a picture with her next – I definitely think John's turned out the best.
After perusing the beautiful jewels in H. Stern, we headed out to explore and absorb the local color. And, was there a lot of color. Wall hangings and bright artwork, scarves, hats and t-shirts. Everywhere we looked, there was vibrancy. The plazas were also very interesting as many of the Carnaval decorations were still in place, adding an almost festival atmosphere.
We wandered around and found an old church – initially we thought it was a church. We soon discovered it was a museum, the Museu Da Veneravel Ordem Terceira De Sao Francisco (don't ask for pronunciation). The entry fee was 3 Brazilian Reais per person. The exchange rate was 2.1 Reais to the U.S. dollar, so we paid a total of a little over $3.00 U.S. for the visit. Some of the tile work in the museum was incredible. We almost felt like we were at the Delph factory. The tiles were done is such a way they told a story. The museum was filled with religious artifacts and furnishings. We enjoyed visiting all three levels, but with no air conditioning in the building, we were soon back out on the street seeking cooler air – or at least a breeze.
We wondered around the upper city, snapping photos, looking around the souvenir shops and people watching. It started to sprinkle a bit, and we neglected to bring our umbrellas, so purchased a couple at one of the local stores. It's a good thing they were less than $10.00 U.S. because they were really, really poorly made. And, they only had bright "femmy" colors. I wish I had snapped a photo of John with his girly umbrella – however, the peach color was rather complimentary of his Panama hat and skin tones! John thought the umbrella was just "peachy keen". When the rain stopped, I carried the umbrellas as John wanted nothing to do with them.
We were approached by quite a few women in the Bahian dresses to take a picture – but, they wanted to be paid. Since we already had our photos, we declined. There were also quite a few beggars – all ages.
We weren't sure where to have lunch, so went back to the H. Stern store and asked. They recommended a restaurant about a block and a half away. We found it with no problem. It was absolutely fantastic. John ordered cod baked in a potato pie and I had grilled shrimp with risotto. I'm not sure what the seasonings were, but my food was absolutely delicious. It was a bit on the expansive side, but we don't eat off the ship that much, so enjoyed the treat. Now, I can't decide if my best lunch was in Panama City or in Bahia. For now, it's a tie.
Around 2:30, we headed back to H. Stern and caught the shuttle back to the ship, so we could check emails and download photos.
Everyone was back at dinner this evening, so we had quite a lively conversation among us discussing the last couple days' activities and what is coming up next.
Tomorrow is a day at sea as we sail to Recife, Brazil.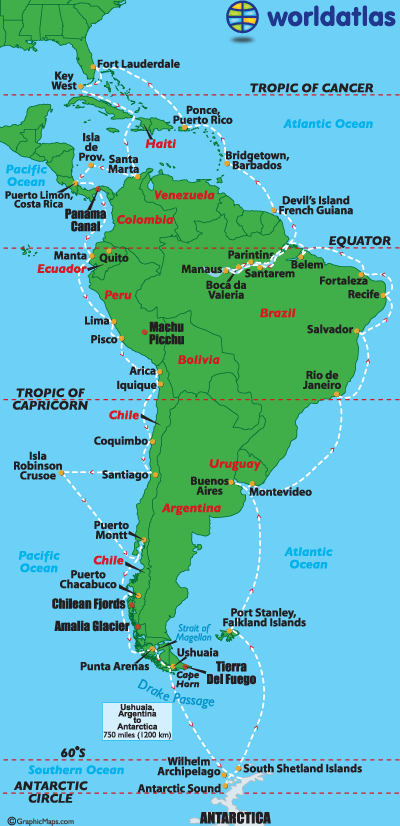 About the Author
John Moen is a cartographer who along with his wife are the orignal founders of worldatlas.com. He and his wife, Chris Woolwine-Moen, produced thousands of award-winning maps that are used all over the world and content that aids students, teachers, travelers and parents with their geography and map questions. Today, it's one of the most popular educational sites on the web.
This page was last updated on July 12, 2016.