Buenos Aires, Argentina Trip Journal
Chris' (Previous) Daily Journal
February 22, Buenos Aires, Argentina

We arrived around 8am this morning, as scheduled. By 9:30, the Argentinean officials had verified the passengers' passports and the ship's documents, and we were cleared to leave the ship. There are two other ships in port today, the Oceania Insignia and the Costa Magica. Both appear to be larger than ours.
John and I took advantage of the complimentary shuttle offered by H. Stern Jewelry into the city center. We went into the store and certainly admired the beautiful jewelry they offer – and at all price ranges. However, jewelry wasn't the focus today – it was exploration and discovery.
We headed down Florida Street where there are blocks and blocks of stores, coffee shops, sweet shops and many, many telephone stores. We also saw small shopping centers and a very large downtown mall.
Buenos Aires does something we haven't noticed in any other major city – their street signs are sponsored. We saw sponsorships from Sony Eriksson, Nokia, Hotel Intercontinental, American Express – to name just a few. Very unusual.
After walking around the city center, taking pictures of the crazy traffic jams, the obelisk and a few other items of interest, we hailed a taxi and headed to the chic, trendy section of La Boca. It's an amazing part of town. Cobblestoned streets, brightly colored buildings, restaurants and shops, and on most every balcony there's a statue of a cartoon-type character. The cobblestoned streets reminded me of our neighborhood in Rome – Trastevere. .
We were supposed to meet our friends, Patsy and Ed, for lunch. However, the time got away from us (maybe we were not paying enough attention) and then the rain began. So, we found a great restaurant in Boca and enjoyed a meal there. T-shirts were obtained, so we decided to head back to the city center and use the shuttle service back to the ship. When we were leaving downtown earlier this morning, one of the shopkeepers told us that we should only take taxis that had Radio Taxi on them – that is the official taxi. Even though the others look like the taxi, they are privately owned vehicles and there have been problems with robberies, etc. br>
So, of course, what do we take leaving La Boca? The unofficial taxi. He took a new route back to city center and honestly, I didn't feel real comfortable. We passed the ghetto area of Buenos Aires and in looking out the windows, it didn't appear there was any escape route, if one needed it. However, we did arrive at our destination – and it was about 10 pesos more than our ride to La Boca. They obviously charge a higher fee. br>
Buenos Aires looks very European, which is understandable considering it is a melting pot of cultures and nationalities – Spanish, Italian, German, Portuguese, Polish, Irish, French, Croatian, English and Welsh. In the 1990's, immigration from Romania and Ukraine was very high. During the last 50 years of the 20th century, migration from Bolivia, Peru and Paraguay added to the local flavor.
We went to a tango show and dinner at Senor Tango's with the group from Cruise Specialists. Senor Tango's is the premier tango theater in Buenos Aires and they can seat over 1,000 for dinner.
We had our choices of steak or chicken for our main course. John and I opted for chicken - the other eight people at our table ordered steak. Those steaks were huge – hardly anyone came close to finishing theirs.
The dancers were absolutely fantastic. I should be so lucky to be able to move like they do!
We were disappointed with the fact that we could not take photos during the show. The information given to us about the show, in advance, did not say anything about not taking photos. Our guide told us after we had arrived, with our big cameras in hand.
Then, there was a serious announcement in Spanish and English, that no photos, no filming, no audio recordings were allowed. Then, the show began. And, what happened? 1,000 point-and-shoot cameras (with flash) all went off almost simultaneously. Tourists!
The owner of Senor Tango's has a fantastic voice and entertained the crowd with some solo performances, then a trio with two of the lady singers. Very well done, but I got the impression that most of our group felt he could have sung a few less songs, as we all came for the tango dancing.
We were very late arriving back at the ship – after 1am. Our guide told us the show began at 10:15 – it didn't start until after 11pm, so didn't finish until 12:30am or so.

We'll be in Buenos Aires again tomorrow, then off for Montevideo, Uraguay.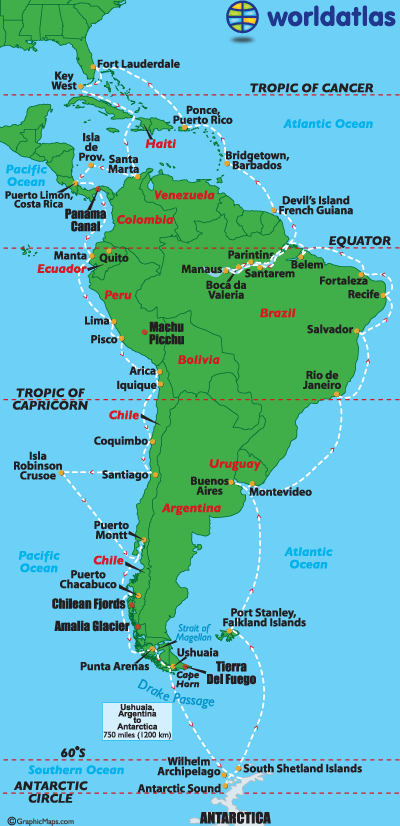 About the Author
John Moen is a cartographer who along with his wife are the orignal founders of worldatlas.com. He and his wife, Chris Woolwine-Moen, produced thousands of award-winning maps that are used all over the world and content that aids students, teachers, travelers and parents with their geography and map questions. Today, it's one of the most popular educational sites on the web.
This page was last updated on July 12, 2016.