Travel to Buenos Aires Trip Journal
Chris' (Previous) Daily Journal
February 20, Day at Sea
Travel to Buenos Aires

We love days at sea. They're so productive. John worked on updating pictures most of the day. I researched some items for upcoming ports. We are returning to Europe this summer, and have preparations and research to conduct well in advance, so we're working on those plans also.
The weather is warming up. We were able to resume our daily walks on deck 7 today. The gym is well-equipped, but we love the fresh air and seeing the ocean. The seas were not rough at all, so the walk was enjoyed.
In reading about Buenos Aires, it was quite interesting (and amusing) to learn that there are more psychiatrists per head there than in Manhattan in New York City. One of the explanations is that the Portenos (people of the port) are renowned for their contradictions – obsessed with style and they love theater, public debates and the spectacle of politics. If their politics are anything like the U.S., no wonder they need psychiatrists. Actually, come to think about it, politicians are spectacles in just about every country.
Buenos Aires "the Paris of South America" has as much, if not more, energy than New York City.
Argentina is the second-largest country in South America and eighth-largest in the world. It's also the sixth-largest consumer of wine in the world. Approximately 50 types of wine are produced here and a lot is exported from the chief wine-growing region: Mendoza. The U.S. is one of the largest foreign consumers. Can't wait to try some.
There are all kinds of activities aboard the ship (actually all ships offer a myriad of activities) – especially on the days at sea. Today, for example, activities included: Tai Chi and Qigong, mass and devotionals, the morning chat with the cruise director, shore excursions lectures about upcoming ports, various games, speakers on multiple subjects, bridge, spa lectures, tournaments in the casino, mah jongg, knit and needlework, dance classes, arts and crafts, afternoon tea, fitness classics and of course, the on-going evening entertainment in various places throughout the ship. The library is open all day, every day, with plenty of room to sit and read along with a very impressive selection of books. No one could possibly be bored.
Tonight at 10:30 in the Lido Restaurant was the Chocolate Dessert Extravaganza. When I read the selections to John this morning, we both gained a couple pounds just imagining the decadence of it all. Chocolate covered fruits, chocolate martinis, chocolate cakes and the chefs' classic favorite chocolate desserts will all be available. We didn't go. We decided the temptation would be overwhelming.
We will arrive in Buenos Aires on Monday around 8am and will stay until Tuesday evening at 8pm. We are looking forward to our time there.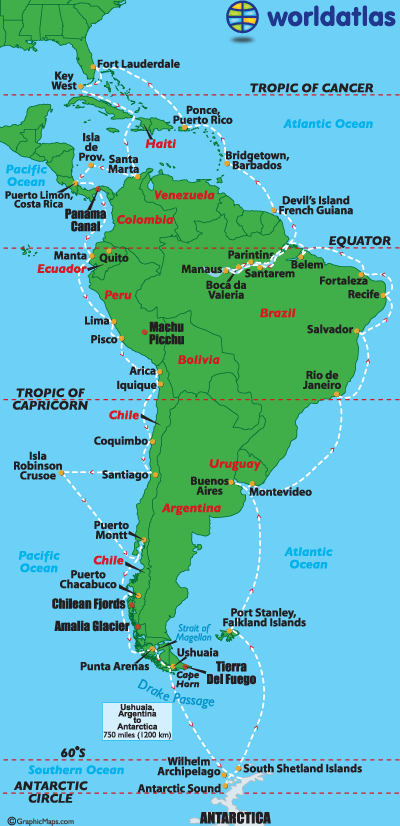 This page was last updated on July 12, 2016.