Stanley, Falkland Islands Trip Journal
Chris' (Previous) Daily Journal
February 19, Stanley, Falkland Islands

Stanley (also known as "Port Stanley") is the capital and only true city in the Falkland Islands. It's a quaint city – small – population is just over 2,000. We arrived as scheduled this morning into Port Stanley. We were lucky – seas were relatively calm and the tenders were lowered to take us into town.
First, we headed off to Bluff Cove to see the Gentoo Penguins. It was strongly advised that if one had back or mobility problems, one should not go here. And, we can definitely vouch for the warning. We rode a bus for about 20 minutes outside of Stanley, then met up with our driver and his four-wheel drive vehicle. Off we went over the muddy bogs. And, were they ever muddy. And, rocky and extremely rough. There were a couple times that it looked as though we might get stuck or worse – just tip over. I was hoping we wouldn't have to get out and push out of the mud! As we were approaching the rookery, our driver said "only 100 more bumps and we're there". I didn't actually count them, but I don't think he was too far off.
At the Bluff Cove rookery, there are about 1,000 breeding pairs of the Gentoo Penguins. The Falklands is home to about 300,000 breeding pairs – 30% of the entire world's Gentoo population. The adults are the 3rd largest penguin, standing about 30 inches high and weighing approximately 12 pounds. They live for about eight years. Each October, they lay two eggs in shallow ground nests, with the parents taking turns sitting on the eggs. The nesting time is 35 days.
We also saw a few King Penguins, but they were incubating their eggs, so they were not moving around and were quite a distance from our observation area.
After taking hundreds of penguin pictures, we walked down the hill to a small coffee shop, where they served us complimentary teas or coffees, along with homemade pastry items. The hot drinks were greatly appreciated, as it was quite cold at the rookery.
While speaking with one of the penguin guides, I told him I wished we had more time to spend in Stanley and the Falklands. He said many people come back for a week – but that it's very expensive. Especially fresh fruits. He said that if you compare the price of an apple versus a house, one might think the house is cheaper – and it lasts longer!
Keith, our driver, picked us up after about an hour and we went off again through the bog back to the highway where we caught up with the bus. Keith told us that one never ventures out into the bogs alone. It's too risky. We were in a caravan with three other four-wheel drive vehicles. If one of them has a problem, the others are there to assist.
We were amazed today as we drove by the former battlefields where the conflict between Argentina and Great Britain occurred in 1982. There are still many mines in fields. Thankfully, the minefields are well marked. There were several work crews still actively searching for mines for removal – 28 years after the conflict.
We asked the bus driver about a dentist and she took us to the hospital, where the dental clinic is located. We lucked out. We arrived at the hospital at 11:30 and in less than 25 minutes and $200 later, my crown that had fallen off at dinner two nights ago, was glued back on and we were out the door. They were extremely nice and helpful.
After leaving the hospital, we walked around Stanley, enjoying the small town atmosphere, the colorful homes, the very friendly people and the stores offering many items made in the Falkland Islands.
Our bus driver told us 2010 has been off to a tough start for Stanley – so far (and it's only February) 11 scheduled cruise ships could not make it in due to the weather. Plus, it's been way too wet and they have not yet been able to shear the sheep. She said they were very happy we made it in today.
At this time, all the electrical power for night is generated by wind power. They are in the process of building three more wind turbines and once they are completed, the Falklands will be self-supporting of electrical needs by the wind power.
Trudi, our bus driver also told us that one doesn't spend a lot of time surfing the internet. The reason is that in addition to the monthly connection fee, it's 8 pence per minute (12 cents US)while connected. Wow! We would have very high internet service fees. She said she has friends in other part of the world who send the cute cartoons and videos that take forever to download, so her internet bill is quite high at times.
The currency is the Falkland Pound. The U.S. dollar was worth about 60 cents to the Falkland Pound. We didn't have to worry about converting dollars to pounds – they happily took dollars and quickly determined the exchange rate.
An absolutely delightful day. Stanley and the Falkland Islands may be small, but so charming and interesting that I would love to pay another visit sometime.
We will spend the next two days at sea and on Monday, we will be in Buenos Aires for two days. I think we can now pack up our heavier clothes. We shouldn't have cold weather any more.

< More info about Falkland Islands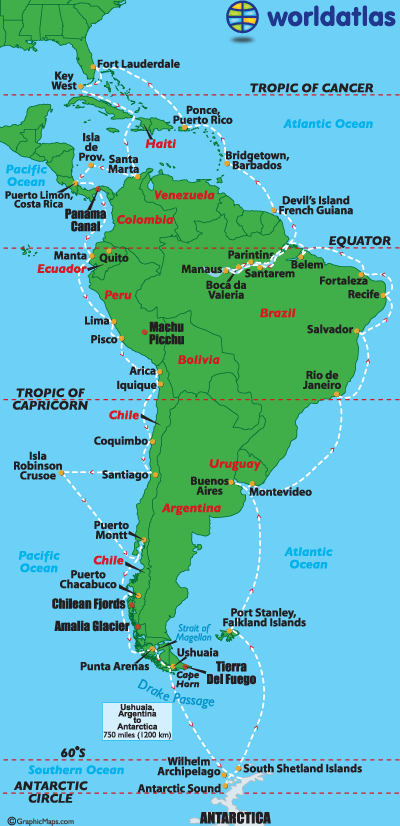 About the Author
John Moen is a cartographer who along with his wife are the orignal founders of worldatlas.com. He and his wife, Chris Woolwine-Moen, produced thousands of award-winning maps that are used all over the world and content that aids students, teachers, travelers and parents with their geography and map questions. Today, it's one of the most popular educational sites on the web.
This page was last updated on June 16, 2020.