Punta Arenas, Chile Trip Journal
Chris' (Previous) Daily Journal
February 12, Punta Arenas, Chile

We arrived in Punta Arenas this morning around 7am and left shortly after for Magdalena Island and the home of the Magellanic penguins.
We boarded a ferry for a two-hour ride to Magdalena Island across the Magellan Strait. The ferry was very comfortable – four seats together – two across from each other with a table in the middle. Big windows to look out. We sat with two of our dinner tablemates – Marilyn and Tom. None of us realized that the Magellan Strait was so wide. Enroute to the island, we saw lots of penguins swimming as well as birds of all types.
When we arrived at the island, we felt like we were being greeted by a welcoming committee – penguins everywhere. It was absolutely unbelievable.
Magdalena Island is now a natural national monument created in 1966 and is inhabited only by the penguins. There are an estimated 69,000 mated couples living there – plus innumerable offspring. Our guide said the average population is about 200,000 penguins.
The Magellanic Penguin is small – and it's extremely difficult for novice penguin watchers to discern the difference between male and female. The secret is that the male is longer (a little) and weighs a bit more. Most males weigh about 9 pounds while females weigh approximately 7 pounds. A little difficult to check weights when you're looking at thousands and thousands of them. At least the babies were easy to spot – most of them were molting. The male and female are mated for life. It was interesting to learn that when the children leave in April, there's no "family reunion" later. Once they're on their own, they may never see their parents again. One must ask: Is that a good thing or a bad thing? At least they're not moving back in with mom and dad or asking to borrow money!
We were totally surprised how the penguins just pretty much ignored us. They just went about minding their own business. We were asked to respect them – not to make loud noises, not to try to touch them, avoid rapid movements that might frighten them, and most important – if they are crossing the path in front of us, we were to stop and let them have the right of way.
The penguins arrive at Magdalena Island in September and start laying their eggs(two) in October. There's about a 40-day incubation period. They leave in April, but always return to Magdalena Island. They also return to the same burrow.
We were so fortunate in having good weather. The temperatures were in the low 50's F, the wind wasn't too bad and we didn't get rained on. Our guides repeatedly said what a wonderful day it was. They described the weather in this region as three months of winter and nine months of bad weather. All I can say is, if this is their summer, I sure don't want to be around in the winter.
After returning to the ship, we had time to freshen up and grab the shuttle bus into the city of Punta Arenas. Punta Arenas is a fair sized city – around 100,000 residents. Its claim to fame is the "world's southernmost city". From the Mirador La Cruz promontory, in the downtown area, is a panoramic view of the Strait of Magellan and the island of Tierra del Fuego off in the distance. Punta Arenas is also a perfect starting point for excursions into Chile's wilderness and for expeditions to Antarctica.
We learned that the city really flourished during the California Gold Rush as it was a stop for steamers as they rounded the Cape.
Punta Arenas was quite different from some of the other Chilean cities we've visited – very clean, well maintained, lots of green space, much more modern. The difference here is primarily due to the oil industry – there's a large methanol plant just outside the city, along with Chile's principal oil and gas reserves. There is very little unemployment.
The central plaza downtown, Plaza Munoz Gamero, was just beautiful – and very large. Lots of vendors set up with various goods for sale – beautiful handmade sweaters, wraps, vests. If one lives in a cooler climate, these items are ideal.
Before returnng to the ship we had a delicious late lunch at a local restaurant. Sadly, this was our last stop in Chile, as tomorrow we will be in Ushuaia, Argentina.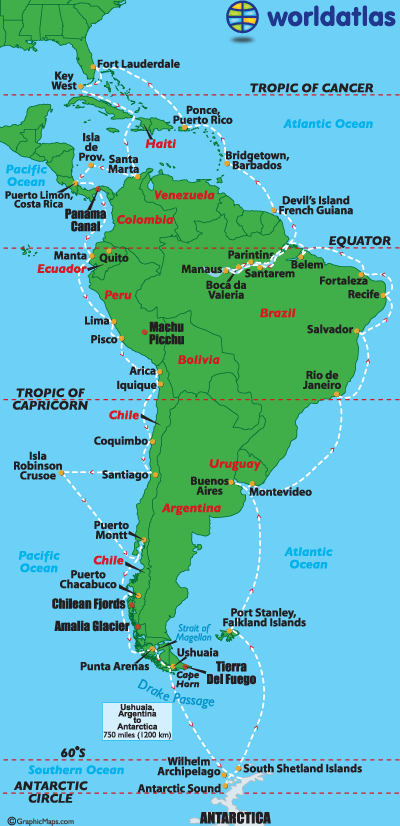 About the Author
John Moen is a cartographer who along with his wife are the orignal founders of worldatlas.com. He and his wife, Chris Woolwine-Moen, produced thousands of award-winning maps that are used all over the world and content that aids students, teachers, travelers and parents with their geography and map questions. Today, it's one of the most popular educational sites on the web.
This page was last updated on July 12, 2016.