Montevideo Uruguay Photos
Montevideo, Uruguay
With a population on nearly 1.9 million, Montevideo, the capital of Uruguay, is the country's largest city, main port and tourism center.
Populated over the years by a mixture of African, European and Latin American cultures, Montevideo is a noisy melting pot of those influences, combined with the modern world.
Although it has suffered though some tough economic times and has what's been described as an "elegantly shabby" look, the city retains remnants of its wonderful colonial architecture, all mixed in with a growing collection of art galleries, stylish cafes and shops.
Montevideo is famous for its beef, its beaches, its passion for soccer, and the quantities of maté tea that's consumed by much of the population. I really liked Montevideo, and will visit again.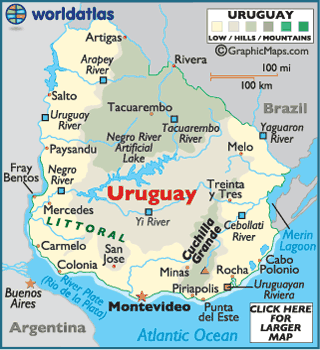 This piece of street art depicts the Uruguayan's passion (and need) to enjoy maté (or Yerba maté) a tea-like drink brewed from the dried leaves of an evergreen plant. Note the man to the right...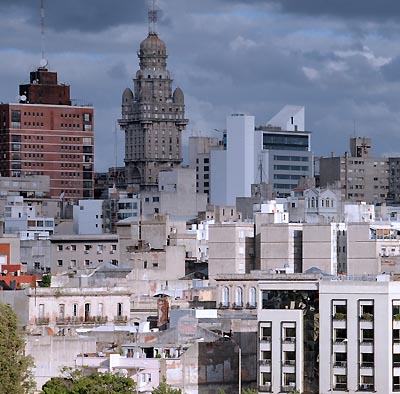 This is a small slice of Montevideo's skyline. The tall, somewhat unattractive skyscraper (center-left) is known as the Palacio Salvo. This landmark structure can be seen from most parts of the city. One international travel website described it by saying: "It looks like it's been airlifted in from Cuba, Romania, or from some city in the former Soviet Union."
Montevideo is somewhat hilly, and this is a typical city street.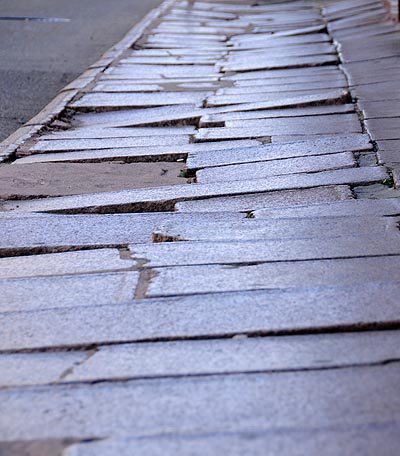 Almost all of the inner-city sidewalks are giant cobblestone pathways, and as you can tell from the photo, they're very uneven.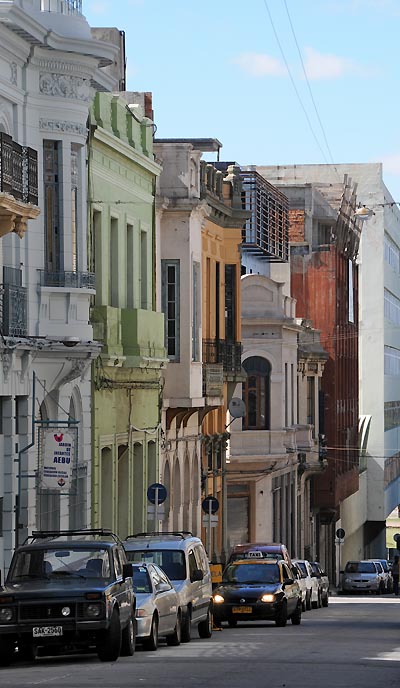 Almost everywhere you look in Montevideo, buildings still reflect their European architectural heritage.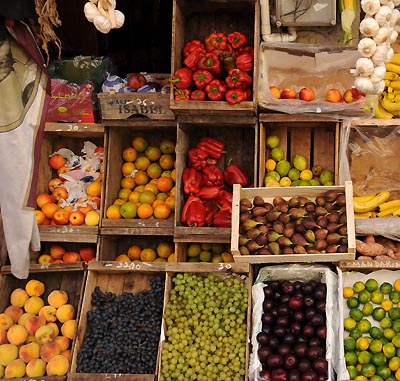 Outdoor markets are the norm in South America, and the fruit and veggies in this one all looked fresh to me.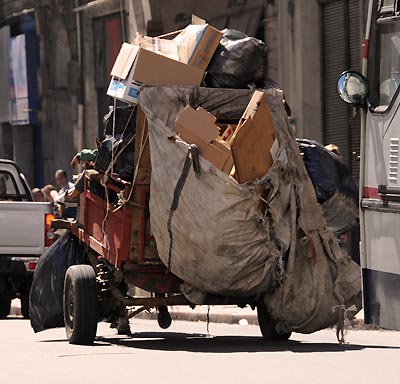 This mule-drawn cart, making its way through morning traffic, seemed to carry just about everything, and I just couldn't resist a picture.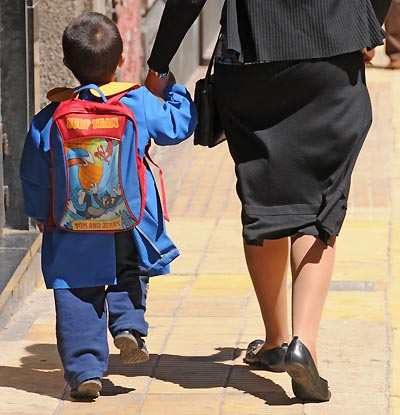 Coming home from school with grandchild in hand. Priceless!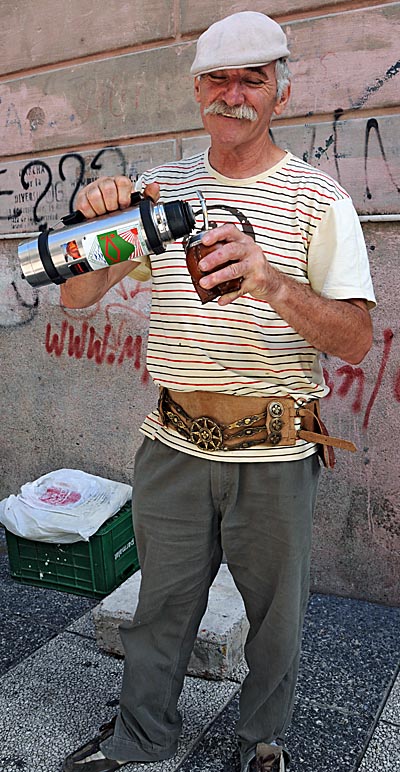 This man carries a hot water thermos (or flask) that he uses to pour water into a drinking gourd known as a culha. Inside that gourd are evergreen plant leaves that produce a stimulating brew called maté. On one of the main streets in Montevideo, it seemed to me that more than one third of the adults were engaged in this practice. The drink is often flavored with lemon, or sugar, and for some, iced maté is their drink of choice. Like a pack of cigarettes, maté addicts carry their gourd and thermos everywhere they go.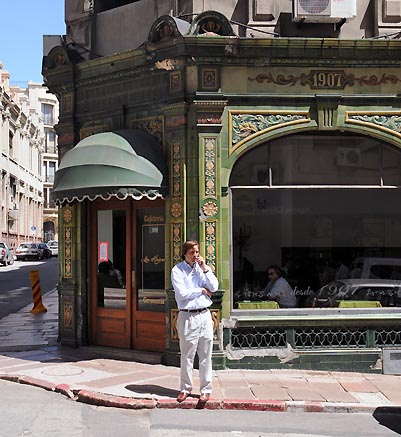 This is a corner cafe in Montevideo. Note the colorful building details and especially the wooden doors.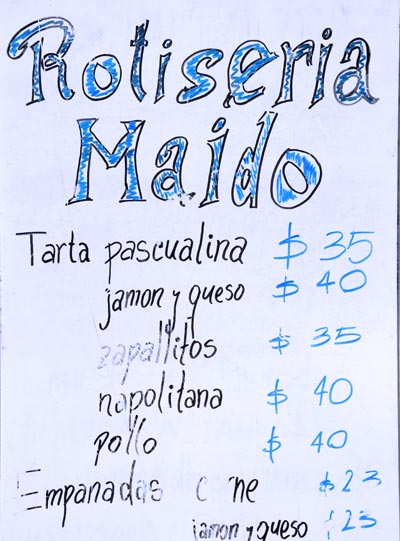 I show this street menu so you can get an idea on prices in Montevideo. Note the pollo (or chicken). The quoted price is $40. That amount is displayed in Uruguayan pesos. The exchange rate was 20 Uruguayan pesos to $1 US, so the roasted chicken dinner was only $2 US, and very tasty I might add.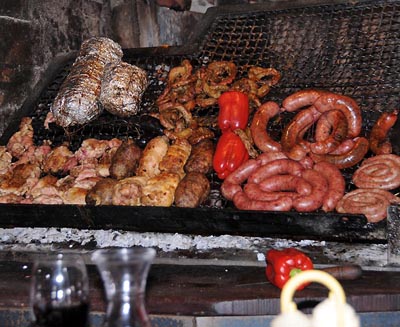 Within the port area of Montevideo, numerous restaurants offer an asado (or barbecue). Meats of all description are on display, with an occasional roasted vegetable thrown in for good measure. The aromas are irresistible, the beer is cold, and the prices are very cheap. Buon Appetito!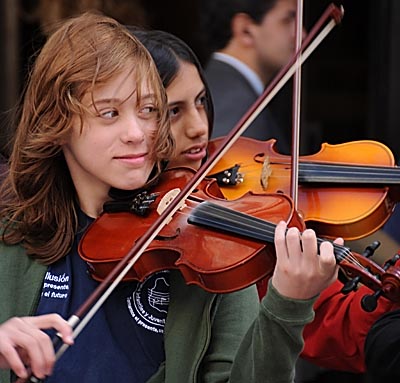 In Montevideo's Plaza Independencia, a group of talented young people were giving a concert in an effort to raise money for a trip to Madrid, Spain. Contributions were accepted (even requested) so we did our part.

As a point-of-interest, the first instrument I brought home from school was the violin. When my dad heard my first attempts to make music in my upstairs bedroom, he proclaimed, "You take that squeaky thing back to school and never bring it home again." I did just that.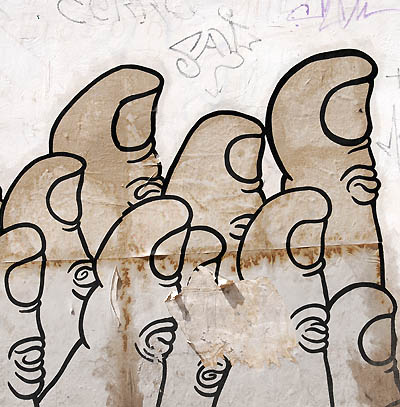 Street art is something I seek out, as much of it is very clever and well done. According to a local I met, this poster was designed to remind the population to vote in the last election.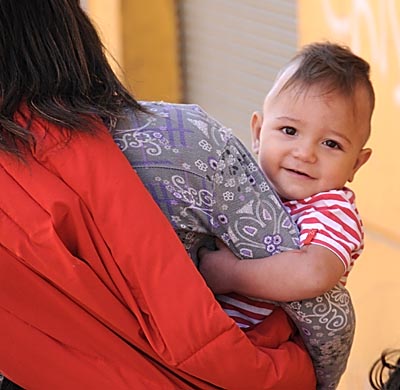 My absolute favorite photography subjects are animals and children, and this little guy (girl?) was an easy target. I loved the hair.
As we left Montevideo (end of day) on our two-day journey to Rio, I noticed Montevideo's Navy at rest in the port. In any country that desperately needs funds for infrastructure and social programs, military expenditures seem such a waste to me.
About the Author
John Moen is a cartographer who along with his wife are the orignal founders of worldatlas.com. He and his wife, Chris Woolwine-Moen, produced thousands of award-winning maps that are used all over the world and content that aids students, teachers, travelers and parents with their geography and map questions. Today, it's one of the most popular educational sites on the web.
This page was last updated on July 12, 2016.