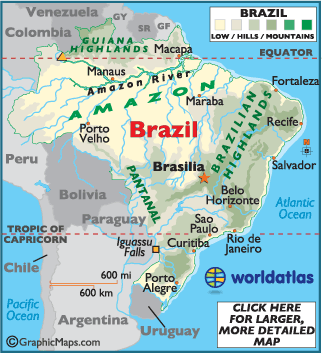 Manaus, Brazil
Manaus, Brazil, nearly 1,000 miles inland from the Atlantic Ocean, is a modern city (literally) surrounded by the Amazon rainforest.
Positioned at the confluence of the Amazon, Negro and Solimoes rivers, it's a hectic cosmopolitan area where the daily life of its population revolves around those rivers, and the hundreds of ferries that travel the local waters.
From its busy port (on ferries stuffed to the rafters), animals, people and products of all description travel up and down the rivers 24/7, and there is no other choice....as conventional roads are few and far between.
In the 19th century fortunes were made in this part of Brazil from rubber trees that grew (only) in the Amazon. Manaus was ground-zero for those rubber barons, and the city became known as the "Paris of the Tropics." Remnants of that era remain today, with the city's opulent Opera House its most famous symbol.
This page was last updated on July 12, 2016.