A South American Journey:
From Small Villages to Industrialized Cities
A Meeting of Cultures

Fresh from a two-month voyage circumnavigating South America, a pair of avid travelers returns with a suitcase full of stories, photos and vivid memories. Chris and John Moen embarked on this voyage as a combo of pleasure and info-gathering for their geography website, Worldatlas.com. John shot photos and Chris kept a journal of their experience.

This was a journey of contrasts: visits to large modern South American cities, as well as more intimate experiences with local culture in remote villages. The two learned about the lifestyles of many South American countries enjoying the food and festivities of so many locations:

This article weaves journal excerpts with South American imagery, presenting a look into a sultry, mysterious continent. Though their first-hand experience far surpasses this tale, the photography and stories give those of us who stayed behind something to dream about. The travel map displayed below shows locations the travelers visited.

Read on for Part 1 of our 3 part series.

South America Itinerary Map (With stops at nearby islands and Antarctica)
South America Countries
>Peru
South America Territories
South America Maps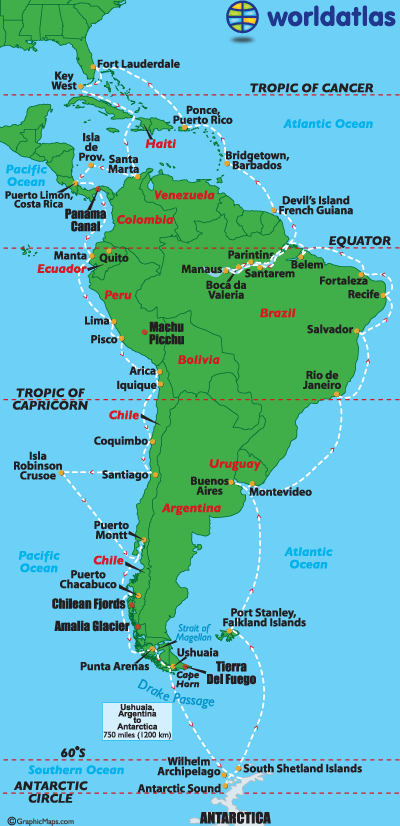 Part 1
Columbia: Setting a Different Pace & Standard From the fast pace of American living to the sedate Colombian way of life.
The Spanish language has a verb specifically for eating lunch (as well as breakfast and dinner!).



In today's North American culture, time is 'of the essence.' People feel that every 'free' moment, must be occupied in some way or another.



The more relaxed pace the Moens' experienced during their South American journey is a fundamental cultural difference that affects all aspects of daily life. What are considered 'acceptable living conditions' on this continent also differ radically from northern neighbors. The couple has visited many European countries and other areas of the world, so they have seen similarities in the way non-North Americans live. They found some of these familiar traits in Columbia:

"Our drive around Santa Marta offered such contrasts - from shacks on the side of the mountains to high-rise hotels and condominiums. Trash was strewn everywhere - trash bins are virtually non-existent. It reminds us of Rome where we have to look long and hard to find a trash can on the streets.



Colombians are not in a hurry - they seem to have their own time system. Manana (tomorrow) can mean anytime in the future…not necessarily tomorrow. If you ask (for example) "when is the bus coming?" the answer is aorta viene, meaning it's coming. However, that could also mean anything from a few minutes to a few hours. Obviously, patience is a good attribute."

Santa Marta, Colombia, January 17, 2010
An interesting detail of this quote from Chris's
South America trip
blog is her praise of patience. Often, visitors get frustrated by the laidback Latin or European lifestyle, but she makes a point to value the cultural difference. It's amazing how quickly travelers actually learn to just slow down.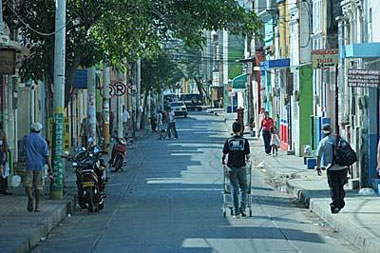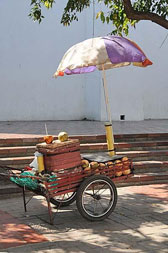 Panama: You Can't Really Understand a Culture Until you Try the Food

A basic Spanish course includes the verb "comer" as the appropriate word to use when speaking of eating in general. This is not the case in many Spanish-speaking cultures, as there are specific terms to identify which meal is being eaten. For example, "almorzar" means to eat lunch; "desayunar" means to eat breakfast; and "cenar" means to eat dinner.


This illustrates the cultural importance of every meal and the South American rituals of eating together. Lunch is typically the most important meal of the day. Workers leave their jobs to return home for a two to three hour period to relax and enjoy a large meal with family and friends. It is common to dine out and order an abundance of 'tapas', or small portions of multiple types of food. On this day in Panama City, Chris and John got the full tapas experience, which lasted the typical two hours.
"There were a couple highlights of the day: The first, of course, was shopping… Worldatlasman (John) was quick to purchase an essential item when one is visiting the tropics: the famed Panama hat. I think he looked quite spiffy. The second highlight: Lunch! One of the shops we visited recommended a restaurant, Manolo Caracol, a cocina con amor… When our waiter came over, he said there is no menu - it's the chef's choice of what will be offered each day… $25.00 [per person for 4 of us] which included multiple tapas courses… it was either try it or leave. So, we stayed.



Wow, was it fabulous! They started us off with plantains, followed by watermelon with crushed cashews on top, then sashimi, red peppers stuffed with rice, sautéed mushrooms, shrimp and pineapple, chicken with a green sauce, beef on a skewer, asparagus, fish and dessert, which was three items: chocolate ice cream, flan and a fig. Even though tapas are small portions, we were completely full (in fact, couldn't even eat all the food). Lunch, of course, took nearly two hours and we enjoyed every single minute and every delicious bite. I would certainly eat here again."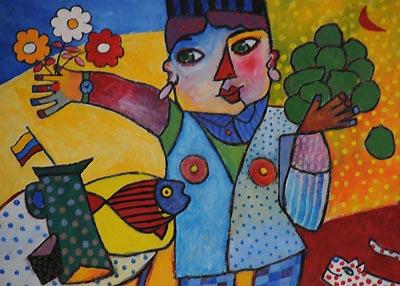 Peru: Exploring Educational Entertainment
Comparing gender roles and historical weavings from the past to the present

This trip included plenty of standard globetrotting activities, like visiting museums and other site seeing. However, the Moens also took time for the simple joys of life in South America. While driving along the ocean en route to the archaeological museum in Peru, they noted 'an abundance of green space with beautiful flowers' along the road Chris found it hard to imagine how it stayed so green, as Lima does not receive much rainfall.

Once they reached the museum, Chris noticed the skill of ancient weavers and the emphasis on masculine adornment in pre-Columbian times.
"The [Rafael Larco Herrera] Archaeological Museum was fascinating - it contains one of the world's largest collections of pre-Columbian pottery. There are more than 50,000 pieces on display. In addition to the pottery are collections of silver and gold jewelry - nose rings and earrings - were the most interesting. Men wore the jewelry - some of the nose rings covered the lower part of the face. One section of the museum contained the Paracas textiles - one piece has nearly 400 thread-per-inch weaving. Imagine doing that by hand, as they obviously didn't have any machinery in those days."
January 27, 2010, Callao (Lima) Peru
Impressed by the lack of technology involved in creating elaborate designs in the weavings, Chris wrote that the museum was 'fun, interesting and educational'.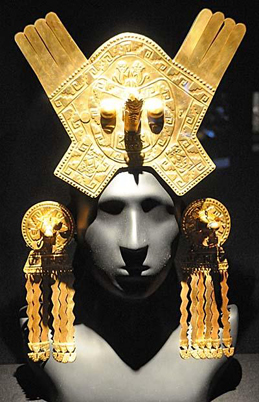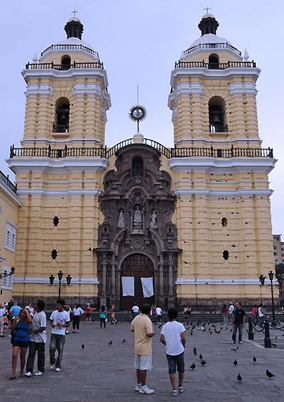 Until next time.... (Stay tuned for part 2 of 3)