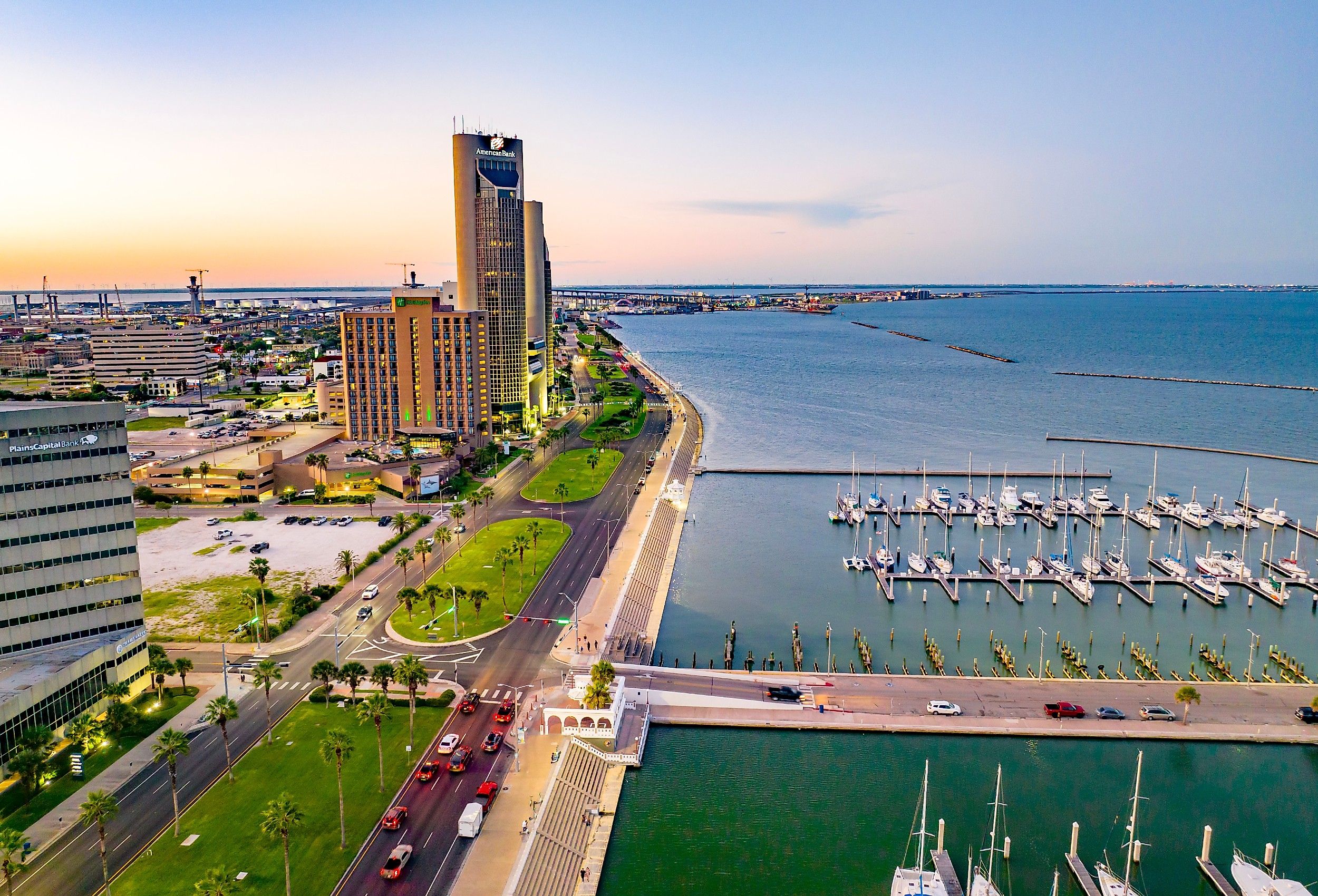 11 Ideal Destinations for a 3-Day Weekend in Texas
Texas, the Lone Star State, is renowned for its vast landscapes, rich history, and diverse culture. With its expansive deserts, picturesque coastlines, bustling cities, and charming small towns, Texas offers a multitude of ideal destinations for a memorable 3-day weekend getaway. Texas has something to offer everyone, whether you are seeking outdoor adventures, cultural experiences, or indulgent relaxation. Enjoy your journey through the state's ideal destinations, each with unique charm and attractions that will make your weekend escape unforgettable.
Fredericksburg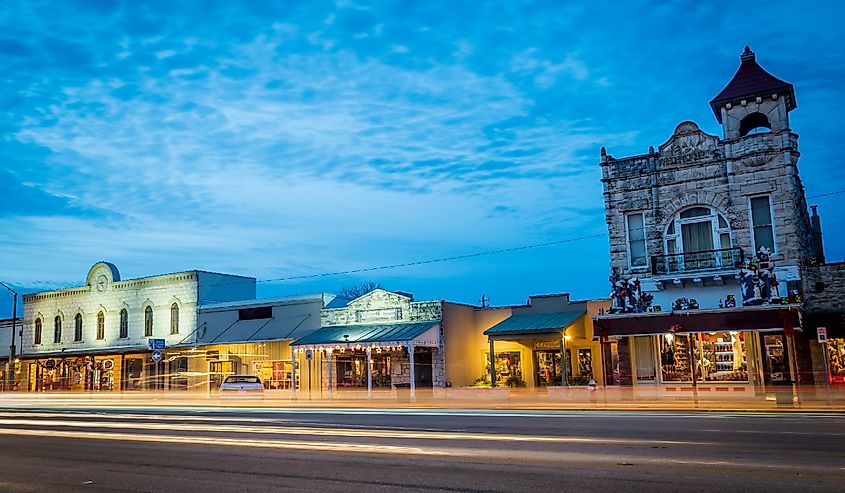 Fredericksburg, located in the heart of Texas Hill Country, is a charming town with a rich German heritage and many attractions to explore. Start at Enchanted Rock State Natural Area, a massive pink granite dome that offers stunning panoramic views of the surrounding Hill Country. Hiking to the summit is popular with outdoor enthusiasts and nature lovers. Next, hit Fredericksburg's Main Street, a vibrant hub with unique shops, boutiques, art galleries, and restaurants. It is a great place to wander and explore the local culture and craftsmanship.
A visit to Fredericksburg is incomplete without sampling the local wines. Fredericksburg Winery is one of the prominent wineries in the area, offering a range of award-winning wines produced from Texas-grown grapes. Next, for an authentic German culinary experience, visit Der Lindenbaum. This restaurant serves delicious German cuisine, including bratwurst, schnitzel, and sauerkraut, providing a taste of the town's German heritage. Finally, hit the National Museum of the Pacific War. Dedicated to preserving the history of World War II in the Pacific, the museum is a comprehensive complex that includes the Admiral Nimitz Museum, the George HW Bush Gallery, and the Pacific Combat Zone.
Jefferson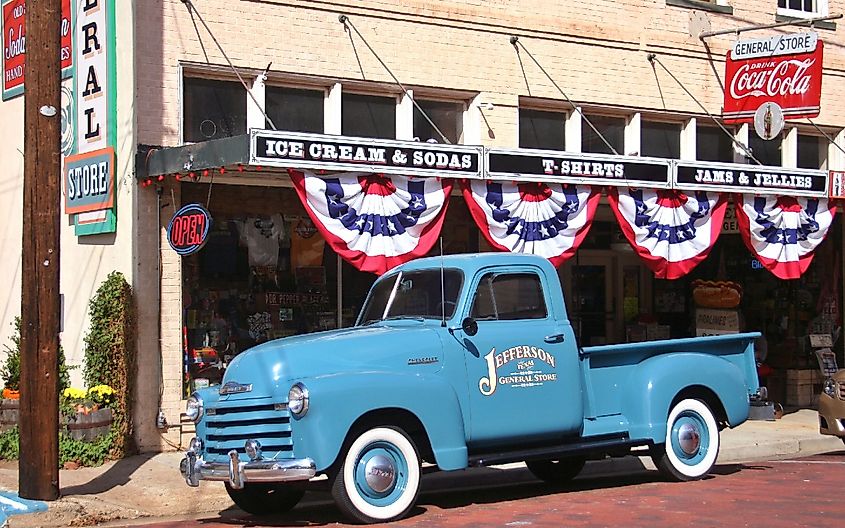 Jefferson, a historic town in Texas, is known for its rich history and charming atmosphere. There is no shortage of points of interest, unique shops, and must-visit stops in Jefferson. The entire town of Jefferson is a designated landmark district boasting well-preserved 19th-century architecture. Stroll along the streets to admire the beautiful buildings housed in a former post office, including the Jefferson Historical Museum. Visit Big Cypress Bayou, providing scenic boat tours and fishing opportunities. Explore the waterways and immerse yourself in the natural beauty of the area.
Next up, take a step back at the Jefferson General Store, a nostalgic shop offering a wide range of goods, including old-fashioned candies, souvenirs, and unique gifts. It is a perfect spot to pick up local treats and souvenirs. Visit Singleton's Virginia Cross Home, a historic house museum that provides a glimpse into the life of a prominent Jefferson family. Explore the beautifully restored rooms and learn about the town's past. Close your trip with The Grove, an antebellum mansion and museum that offers guided tours showcasing the grandeur and history of Jefferson. Admire the stunning architecture and immerse yourself in the stories of the families who lived there.
Port Aransas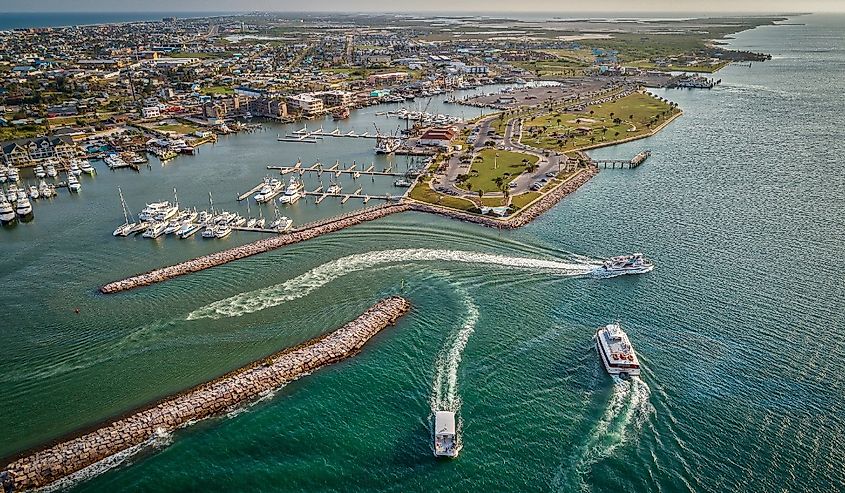 Port Aransas, located on Mustang Island along the Texas Gulf Coast, offers a delightful beachside getaway with various attractions. Spend a relaxing day sunbathing, swimming, or building sandcastles along the pristine shoreline. It is a perfect spot for beach lovers and water enthusiasts. Take a day to explore the Port Aransas Nature Preserve, a 1,217-acre coastal sanctuary with scenic trails, birdwatching opportunities, and educational exhibits. Discover the diverse wildlife and ecosystems that thrive in this protected area.
For a nice rest or to enjoy the local fares, indulge in delicious Caribbean-inspired cuisine at Irie's Island Food. This vibrant restaurant offers flavorful dishes like jerk chicken, fresh seafood, and tropical cocktails, providing a unique dining experience in Port Aransas. Next, visit The Port Aransas Art Center, a community-driven art space showcasing the work of local artists. Browse through the exhibits, participate in workshops, and admire the creativity that thrives in this coastal town. Finally, the ferry from Port Aransas to nearby San José Island, a pristine barrier island known for its serene beaches and abundant seashells. Enjoy a day of beachcombing, birdwatching, and picnicking in this natural paradise.
Wimberley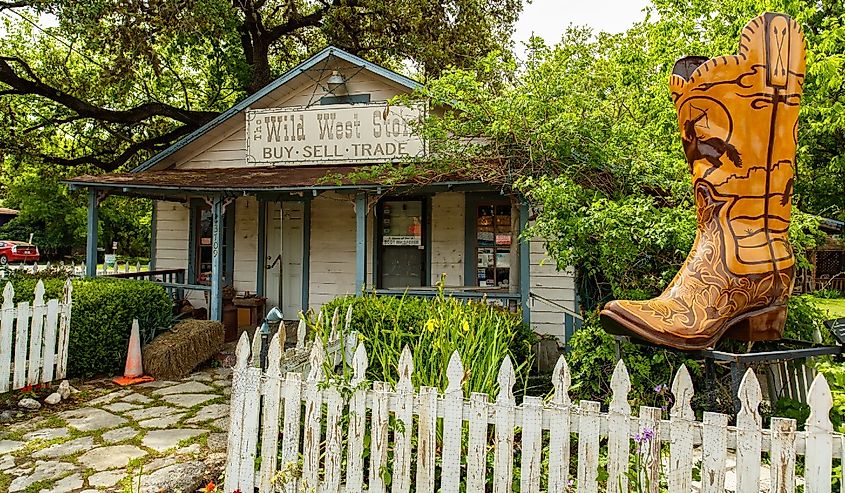 Wimberley, nestled in the Texas Hill Country, is a picturesque town known for its natural beauty and artistic community. Blue Hole is a stunning swimming spot along Cypress Creek. Its crystal-clear waters and lush surroundings offer visitors a refreshing oasis to relax, swim, and enjoy nature's beauty. Next, stroll through the charming Wimberley Square, filled with boutique shops, art galleries, and local eateries. Discover handmade crafts, artwork, and unique souvenirs that reflect the town's artistic spirit.
For a taste of adventure, Jacob's Well is a natural spring that leads to a deep underwater cave. The surrounding area offers hiking trails, picnic spots, and opportunities to observe the local flora and fauna. To top off the day, taste local wines at The Wimberley Valley Winery, known for its handcrafted wines made from Texas-grown grapes. Enjoy a wine-tasting experience amidst the scenic vineyard views. Experience the arts at the EmilyAnn Theatre and Gardens, a cultural hub hosting outdoor performances and events during your trip. Stroll through the beautiful gardens and immerse yourself in the vibrant local arts scene.
Alpine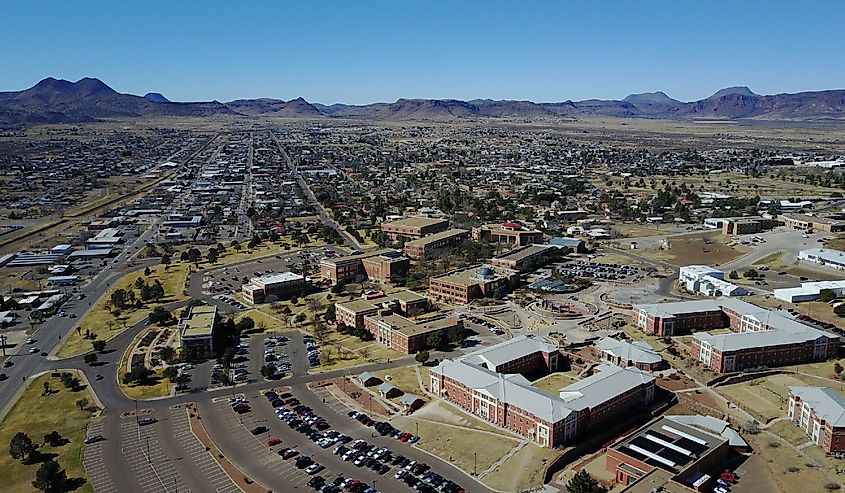 Alpine, located in the rugged Big Bend region of Texas, offers a unique blend of natural beauty, cultural heritage, and outdoor adventures. Stop at Big Bend National Park and explore the Park's diverse ecosystems, hike scenic trails, witness stunning desert landscapes, and marvel at the towering Chisos Mountains. Next, discover the rich history and culture of the region at the Museum of the Big Bend, located on the Sul Ross State University campus. The museum showcases exhibits on Native American history, pioneer life, and the area's natural wonders.
Browse the shelves of Front Street Books, a charming independent bookstore in downtown Alpine. Explore various books, including local and regional literature, and enjoy the cozy atmosphere. Then, take a short drive from Alpine to the quirky town of Marfa, known for its art installations and unique vibe. Finally, venture nearby Davis Mountains State Park, where you can hike scenic trails, go camping, and enjoy panoramic views from Skyline Drive. The Park also offers opportunities for birdwatching and stargazing.
San Antonio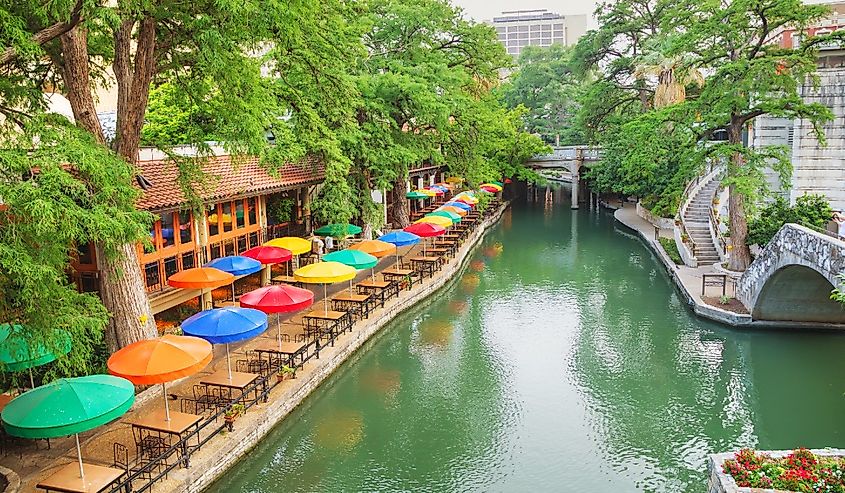 San Antonio, the vibrant city in south-central Texas, is renowned for its rich history, diverse culture, and captivating attractions. There are plenty of must-visit stops in San Antonio for an ideal getaway. Immerse yourself in history at The Alamo, a symbol of Texas' fight for independence. Explore the historic mission and learn about the Battle of the Alamo in 1836. Stroll along the famous San Antonio River Walk, a scenic pedestrian pathway lined with shops, restaurants, and charming cafes. Enjoy a boat tour, dine al fresco, or soak up the vibrant atmosphere.
Discover Mexican culture and vibrant colors at Market Square, also known as El Mercado. Explore the shops selling traditional Mexican crafts, clothing, and artwork, and savor delicious Tex-Mex cuisine. Visit the trendy Pearl District, a revitalized area known for its culinary scene, boutique shops, and iconic Hotel Emma. Enjoy farm-to-table dining, browse through artisanal goods, and attend cultural events. Finish off the trip by exploring the San Antonio Missions National Historical Park, a UNESCO World Heritage site that preserves four Spanish colonial missions. Learn about the region's colonial past and enjoy the scenic trails.
Austin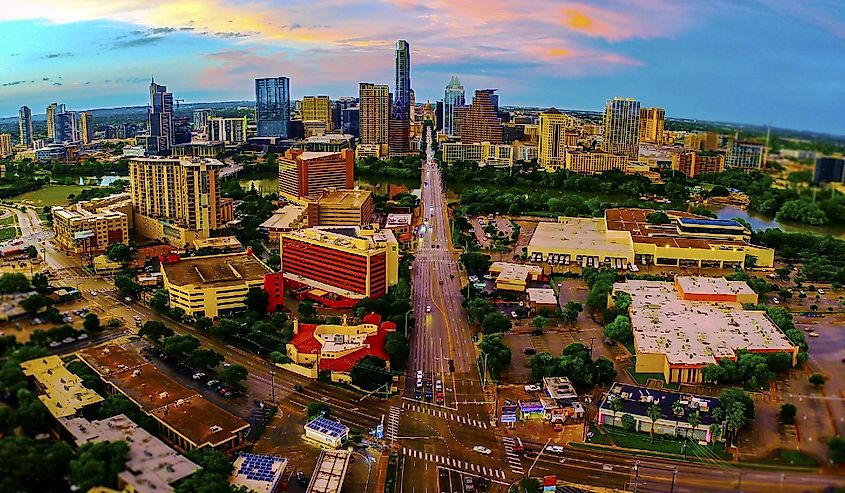 Austin, the capital of Texas, is a vibrant and eclectic destination known for its live music scene, outdoor activities, and thriving food culture. Enjoy the natural beauty of Lady Bird Lake, a picturesque reservoir located in the heart of the city. Rent a kayak or paddleboard to explore the calm waters, or take a leisurely walk or bike ride along the lake's scenic trails. Stroll down South Congress Avenue, a bustling street known for its trendy shops, vintage boutiques, and local eateries. Discover unique clothing stores, artisanal shops, and indulge in delicious food from food trucks and restaurants.
Cool off at Barton Springs Pool, a natural spring-fed pool within Zilker Park. This popular spot offers a refreshing oasis for swimming, sunbathing, and people-watching. The water sits around 68 degrees Fahrenheit (20 degrees Celsius) year-round. For an exciting experience, explore the vibrant campus of The University of Texas at Austin. Take a self-guided tour to admire the architectural gems, visit the Blanton Museum of Art, and catch a Longhorns sporting event if there is a game happening. To top it off, experience the unique atmosphere of Rainey Street, a historic neighborhood transformed into a lively entertainment district. This street has charming bungalow-style houses converted into bars, restaurants, and live music venues.
Galveston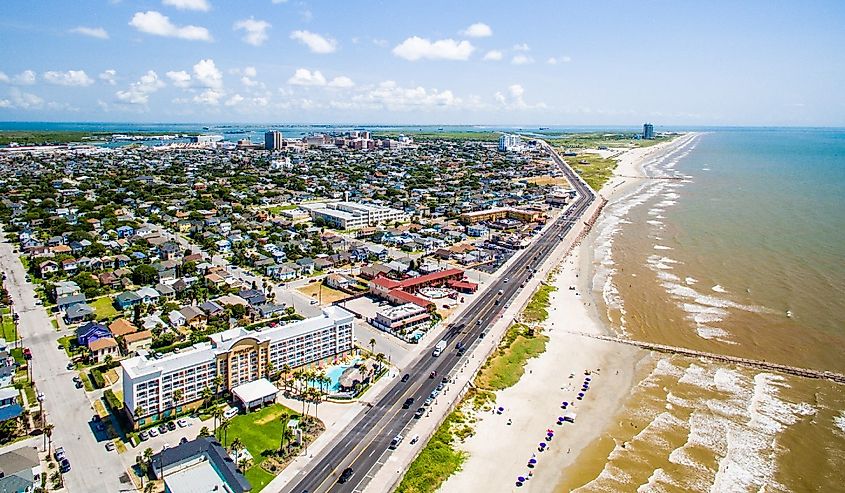 Galveston, located on the Gulf Coast of Texas, is a charming island city known for its historic architecture, sandy beaches, and family-friendly attractions. Galveston is rich for those seeking adventure. Experience thrilling rides and games at the Galveston Island Historic Pleasure Pier. This iconic landmark offers panoramic views of the Gulf of Mexico, delicious food options, and fun-filled entertainment for all ages. Then explore The Strand, a historic district lined with Victorian-era buildings that house shops, restaurants, and art galleries. Discover unique boutiques and antique stores, and indulge in delectable seafood at local eateries.
Galveston Island State Park is an excellent escape into a 2,000-acre coastal oasis. Enjoy birdwatching, hiking, fishing, and camping in this scenic Park that showcases the island's diverse ecosystems. Visit Moody Gardens, a sprawling entertainment complex that features a variety of attractions, including a rainforest pyramid, an aquarium, and a discovery museum. It offers interactive exhibits and educational experiences for the whole family. Finally, relax and soak up the sun on Galveston's sandy beaches. Stewart Beach and East Beach are popular choices for swimming, sunbathing, and beachfront activities.
Corpus Christi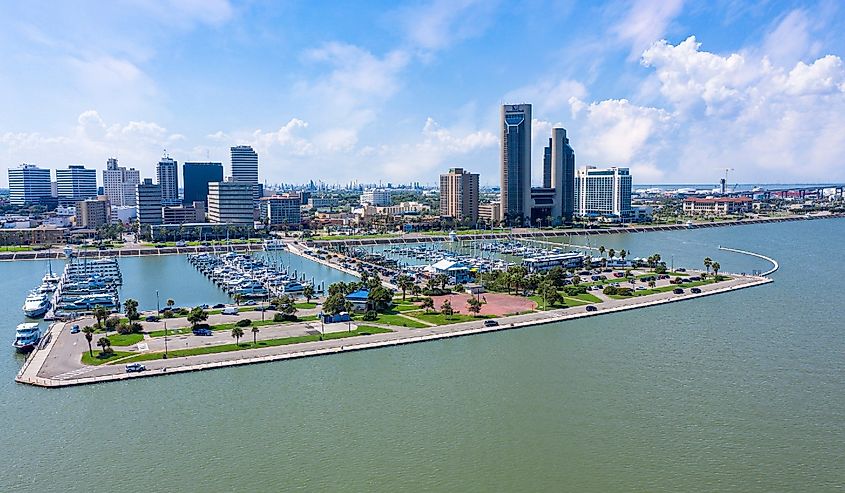 Corpus Christi, situated on the Gulf Coast of Texas, is a vibrant city known for its beautiful beaches, rich history, and diverse cultural attractions. Explore the stunning Padre Island National Seashore, a barrier island known for its pristine beaches, dunes, and diverse wildlife. It offers opportunities for swimming, fishing, birdwatching, and even sea turtle hatchling releases during nesting season. Next, immerse yourself in the wonders of marine life at the Texas State Aquarium. Discover interactive exhibits showcasing Gulf of Mexico habitats, touch tanks, dolphin shows, and educational programs for all ages.
Stroll along the scenic Corpus Christi Bayfront, a picturesque area with parks, marinas, and the iconic Corpus Christi Watergardens. Enjoy stunning views of the bay, take a harbor tour, or dine at waterfront restaurants. Then, escape into nature at the South Texas Botanical Gardens and Nature Center. Explore the lush gardens and walking trails and encounter a variety of plant and animal species, including butterflies and hummingbirds. Finally, discover the downtown area of Corpus Christi, filled with historical sites, art galleries, boutique shops, and local eateries. Visit the Corpus Christi Museum of Science and History, explore the Art Museum of South Texas, and dine on fresh seafood at waterfront restaurants.
Fort Worth
Fort Worth, a city in North Texas, is known for its rich Western heritage and thriving arts scene. Experience the Old West at the Fort Worth Stockyards, a historic district that preserves the city's cowboy culture. Witness the daily cattle drive, visit the Stockyards Museum, explore western-themed shops, and catch a rodeo or live music performance. To experience more, discover Sundance Square, a vibrant downtown district filled with shops, restaurants, and entertainment venues. Stroll through the beautifully landscaped plaza, explore the boutique shops, dine at local eateries, and catch a show at Bass Performance Hall.
Next, immerse yourself in art at the Kimbell Art Museum, renowned for its European masterpieces and architectural beauty collection. Admire works by artists such as Michelangelo, Caravaggio, and Monet, and explore the museum's stunning galleries. Escape to nature at the Fort Worth Botanic Garden, one of the oldest botanical gardens in Texas. Explore the lush gardens, including the Japanese Garden, Rose Garden, and Native Texas Boardwalk, and enjoy the serene atmosphere. Finally, visit the Fort Worth Zoo, home to many animal species worldwide. Explore themed exhibits like the African Savannah and Australian Outback and learn about wildlife conservation efforts.
El Paso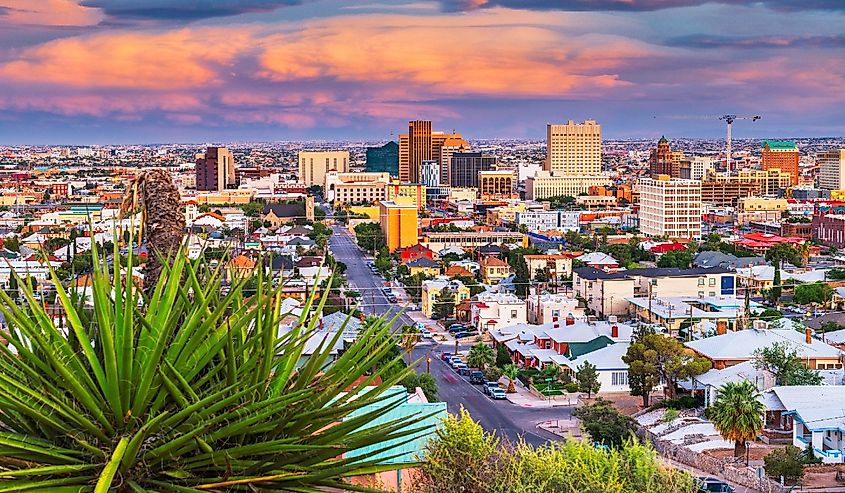 El Paso, located in West Texas along the border with Mexico, offers a unique blend of cultures, stunning natural landscapes, and a vibrant arts scene. There is plenty to do in El Paso, like visit Franklin Mountains State Park, the largest urban Park in the United States. Enjoy hiking, mountain biking, and rock climbing while taking in breathtaking panoramic views of the city and surrounding desert. Channel your history buff with El Paso Mission Trail, a nine-mile route that connects three Spanish colonial missions: Ysleta Mission, Socorro Mission, and San Elizario Presidio Chapel. Explore the beautifully preserved churches and learn about the region's cultural heritage.
Experience the grandeur of the historic Plaza Theatre, a beautifully restored performing arts venue in downtown El Paso. Attend a live performance, concert, or film screening in this iconic theater that showcases stunning Spanish Colonial Revival architecture. Next, indulge in retail therapy at The Outlet Shoppes at El Paso. Shop for designer brands and enjoy discounts at this outdoor shopping center that offers a variety of stores and dining options. Immerse yourself in art and culture at the El Paso Museum of Art. Explore its diverse collection from ancient to contemporary art, including works by renowned artists like Diego Rivera and Georgia O'Keeffe.
Texas offers a wealth of options for a memorable 3-day weekend getaway. Whether you are seeking natural beauty, historic charm, or coastal relaxation, the Lone Star State has it all. From the enchanting small town of Fredericksburg and the bustling cities of San Antonio and Austin to the coastal retreats of Galveston and Corpus Christi, each locale offers diverse experiences and attractions. So pack your bags, hit the road, and explore the state's diverse and fascinating destinations and a chance to experience the rich Texan culture.