After traveling through eight countries stretched across two continents, and experiencing the incredible wonders of unique cultures and jaw-dropping landscapes, Katja, a young Austrian woman and Momo, her dog, arrived in Thailand on February 28, 2019. In Thailand, Katja and Momo relaxed by the gorgeous beaches at Hat Chao Lao and Rayong and explored the bustling metropolis of Bangkok.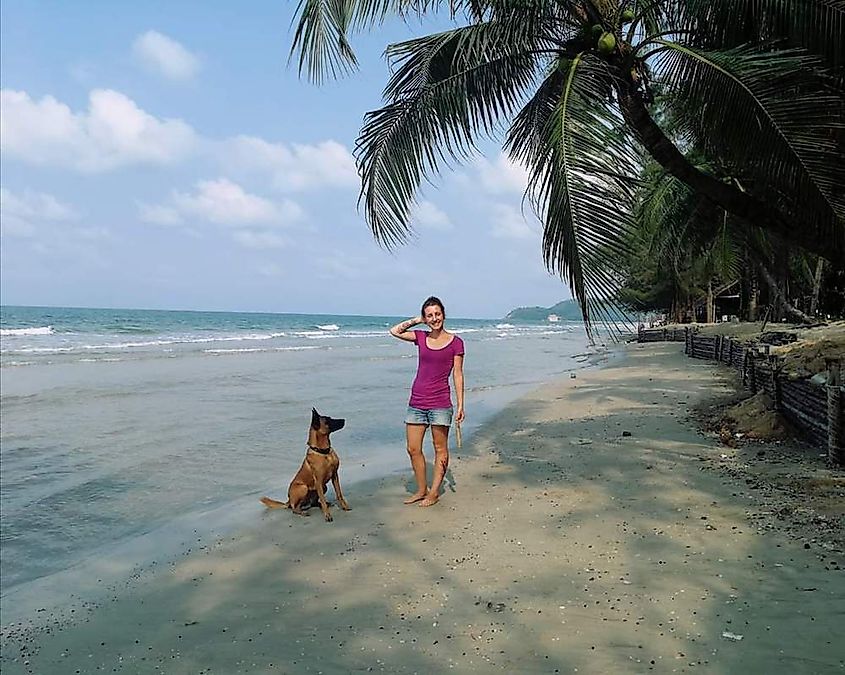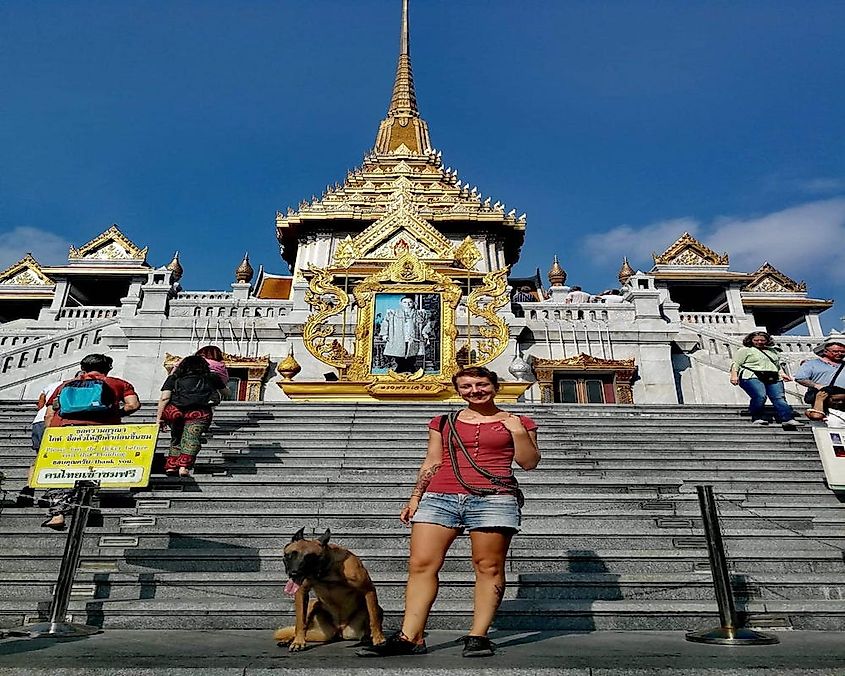 Image: Katja and Momo in Bangkok
From here on, their venture continued into other unfamiliar territories in new countries. Together, they sailed through all the adversities they faced to unravel life in its varied and vibrant forms across exotic locales in Asia. This part of their story provides a peek into their adventurous encounters in Myanmar, India, Pakistan, Iran, and Turkey, and the challenges they faced during their 15-month long tryst with foreign cultures.
Myanmar Tales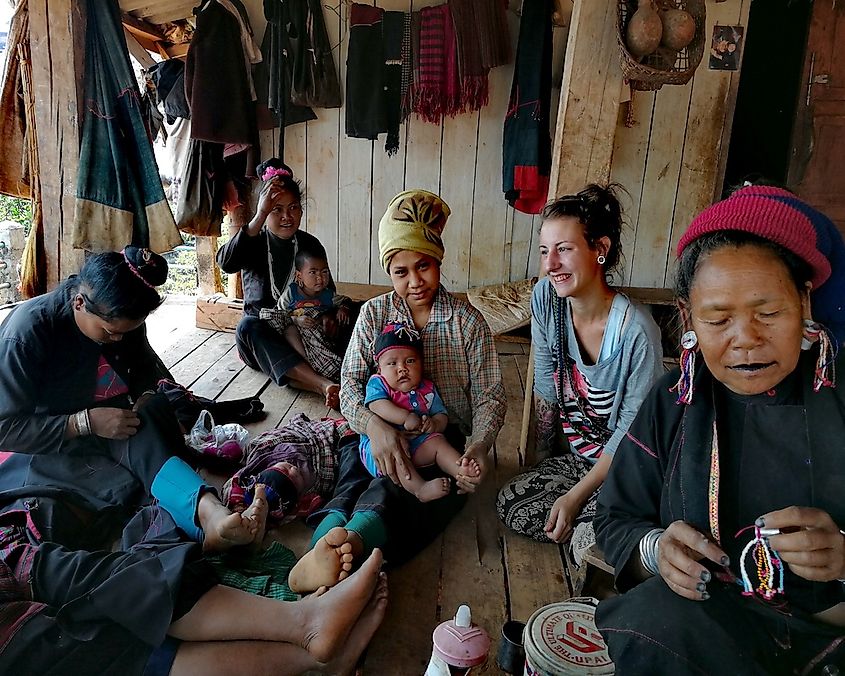 Image: Katja chatting with the Burmese women in an indigenous Burmese village.
The fabulous twosome, Katja and Momo, entered Myanmar on March 19. Here, a new burst of adventures was awaiting them!
In Myanmar, minority cultures fascinated Katja the most. While visiting the small town of Kyaing Tong in the Shan Plateau, she discovered that the surrounding mountains were home to a diversity of minority communities with distinct cultures. She decided that she simply must visit them!
"On a motorbike with a tour guide, and with Momo running beside us, we visited some indigenous villages in the region," said Katja. 
"Initially, the road we drove through was in good condition. Wide rice fields flanked the road on both sides. But as we approached the mountains, the state of the road worsened until we could ride no more and had to walk to the nearest ethnic village."
Image: Katja and Momo taking some rest on their way up the mountains in a traditional Burmese hut.
"Old wooden houses, men riding water buffaloes, and women in traditional garbs greeted our eyes. We, I mean Momo and I, were the only tourists visiting them at that time."
 After a brief but engaging interaction with the villagers who appeared to be excited about their visit, they continued to hike up the mountains and into the jungle to visit yet another native village.
"Soon, right in the middle of the jungle, we arrived at the 'Village of people with black teeth'," informed Katja. 
"And it does indeed live up to its name! The villagers, mostly the aged ones, had nearly completely dark teeth and lips indicating their addiction to betel-chewing. While there, I sat and chatted with the local women and children (my guide was an excellent translator), as the village men were busy building a house. I tried the betel myself (and it tasted terrible!) and everyone had a good laugh about it! I gifted the villagers some cookies and strawberries and got some beautiful earrings from the women. Now that I recollect my memories, it was one of the nicest times I had spent on my tour."
Troubles On The Way
After the great experience at Kyaing Tong, Momo and Katja traveled to Yangon where they had to face some trouble. Momo developed a health issue that prevented her from eating and drinking properly. With help from local vets, however, Momo recovered fast. The duo also faced severe hurdles while traveling through Myanmar which prevented them from exploring more of the fascinating place.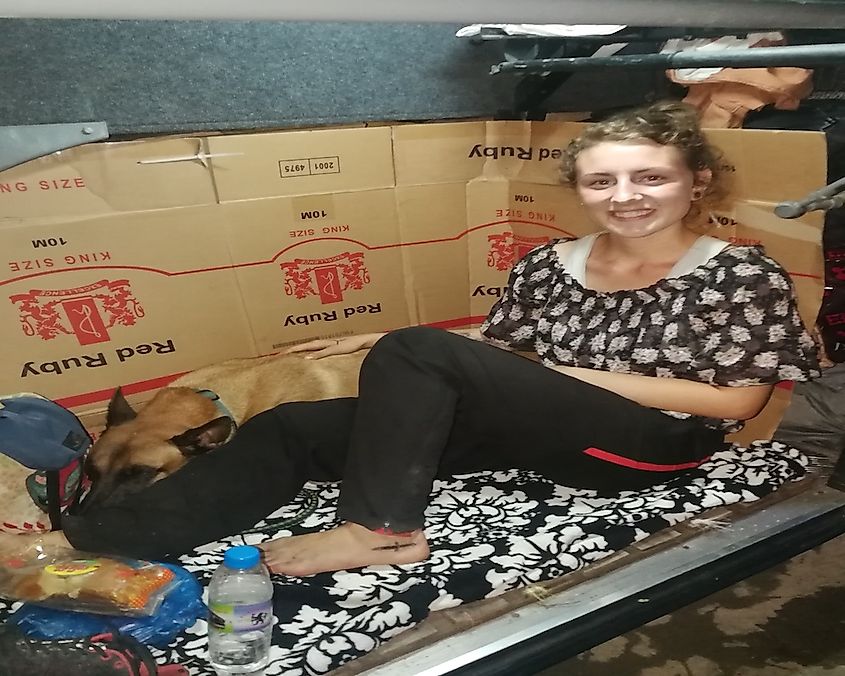 Image: Traveling was not always very comfortable for the duo, but they managed to sail through with bright smiles.
"It was quite difficult to travel with a dog in all the countries I had visited till now. Myanmar was the hardest. Trains refused us completely and numerous bus companies as well," said Katja. 
 However, the duo also collected some sweet memories during such times of hardship. 
"In Myanmar I got to know an amazing family who let us wait and shower at their place while waiting about 10 hours for our bus. They cooked for us and showed me how to make and use the traditional make-up and sun protection which looks like mud for Austrian people!"
Adventure Continues Into Incredible India!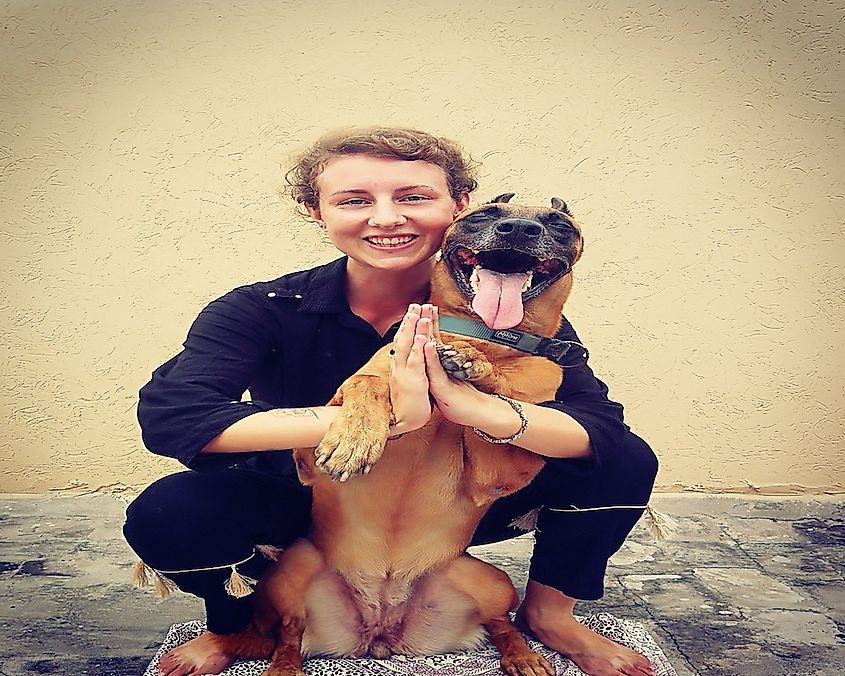 India was just a border across from Myanmar, and on April 10, a super-excited Katja and Momo set their foot on Indian soil. They entered the country through Manipur in Northeast India. 
"From Yangon to the Indian border (close to Imphal, Manipur) we took two busses and they only accepted Momo in the luggage room. I didn't know how the temperature, the noise, etc., was in there, so I decided to sit together with her in the luggage room. Two times we sat there for more than 12 hours each ride!!" exclaimed Katja.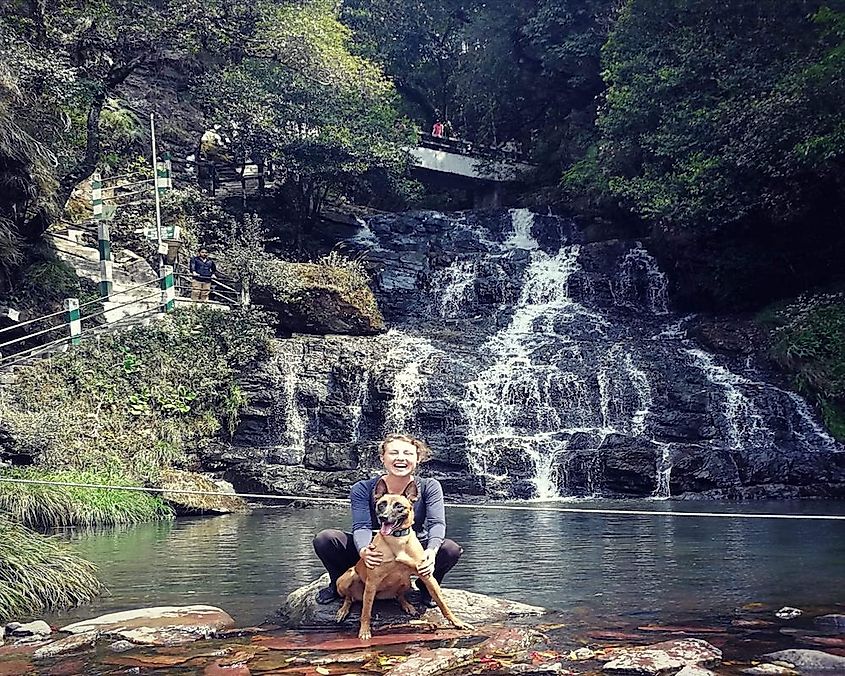 Image: Katja and Momo having fun by a waterfall in Shillong, India.
After crossing the border, the two traveled through the Imphal Valley, Manipur, to Shillong, Meghalaya, in northeast India and then into northern India. Here, their route took them through Varanasi, Agra, New Delhi, Chandigarh, Kasol, Srinagar, Sonamarg, and Amritsar. 
 Katja presents some of her most memorable accounts of India.
A Tryst With Spirituality In Varanasi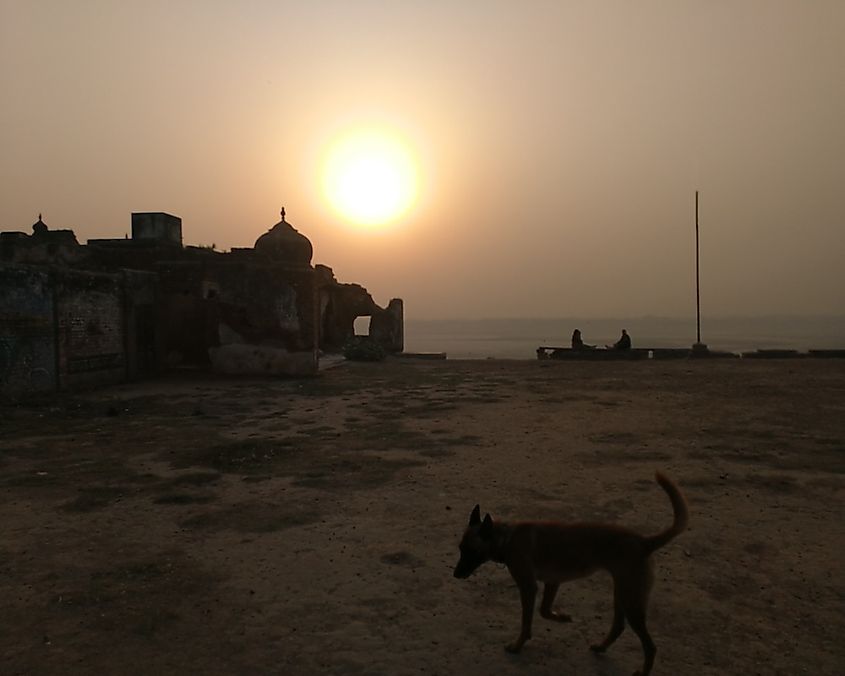 Image: Watching the sun set by the Ganges River in Varanasi.
 "My first impression of Varanasi - noisy traffic, an overwhelming number of street dogs, extremely narrow alleys, decrepit houses, and a lot of dirt! However, the more I experienced this place, the more it captured my attention. It is charming because of its cultural extravaganza. The massive number of temples dotting the shores of the Ganges river, the vibrant traditional ceremonies held along the river, and the innumerable number of pilgrims, tourists, and locals, all made a chaotic but colorful and lively scene that is unforgettable," described Katja.
"In the old town, I visited the famous 'Blue Lassi' shop where I drank the typical yogurt drink (lassi). From this locality, I also saw three corpses in an interval of only half an hour. They were wrapped in white cotton cloth, laid on wooden stretchers, and carried by men on their shoulders to the banks of the Ganges for cremation as per Hindu rights of passage."
Home In The Waters In Srinagar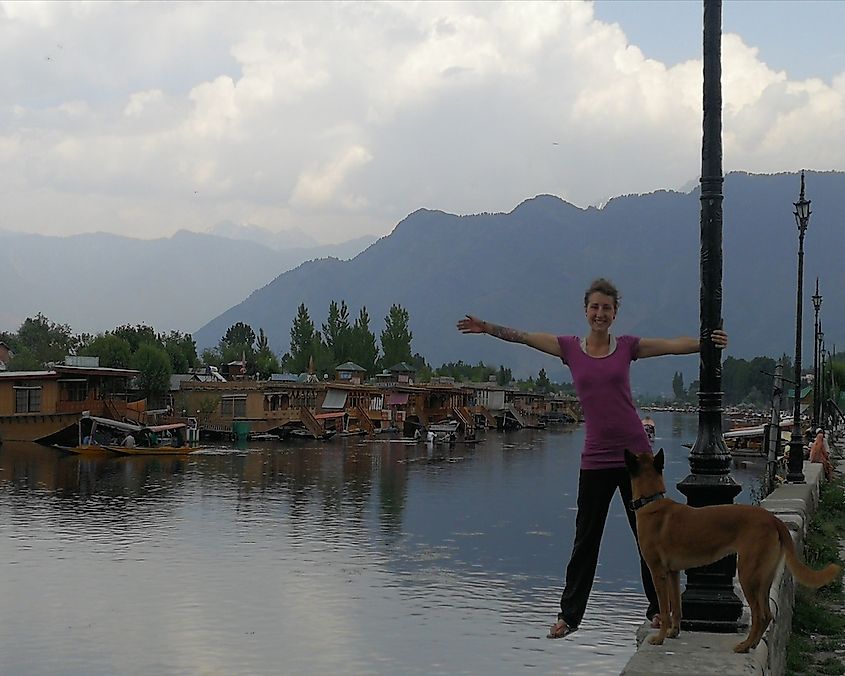 Image: Katja and Momo at the Dal Lake in Srinagar, India.
In Srinagar in the northernmost Indian state of Jammu and Kashmir, Katja and Momo experienced great fun. They lived on a houseboat in the Dal Lake and bought their food at floating markets.
"Srinagar was simply ethereal! I was so incredibly impressed. It is a calm and peaceful city. After a few days, everybody knew Momo and me already – the locals found it very interesting when I threw a stick into the water and Momo jumped into the lake to bring it back," said Katja.
After spending a tranquil time in Srinagar, the duo was now ready for some real action.
 A Grand Himalayan Adventure!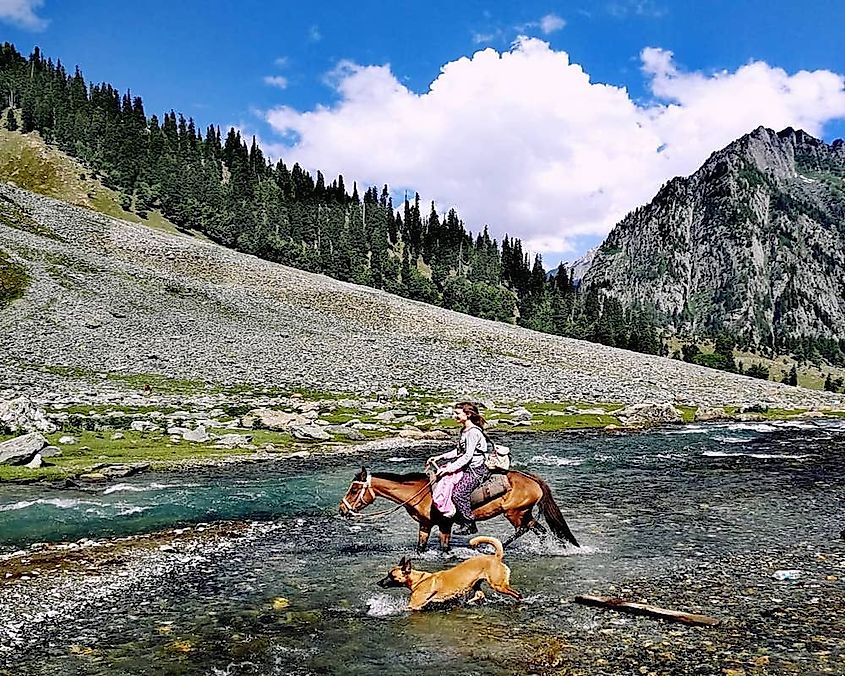 "If I would have to describe my three days trek to the Vishansar Lake near Sonamarg in Kashmir Valley in one word, it would have been 'incredible'!" expressed Katja. 
"We were four creatures on this adventure - me, Momo, my guide, and Shanti, the horse. We started from Sonamarg and had a lot of stuff with us (gas cooker, dishes, food, tent, sleeping bags, and more). Shanti carried all of it, he was my hero! The first day, we didn't go far but we went high! It was hard for me and I even got a little bit dizzy," mentioned Katja.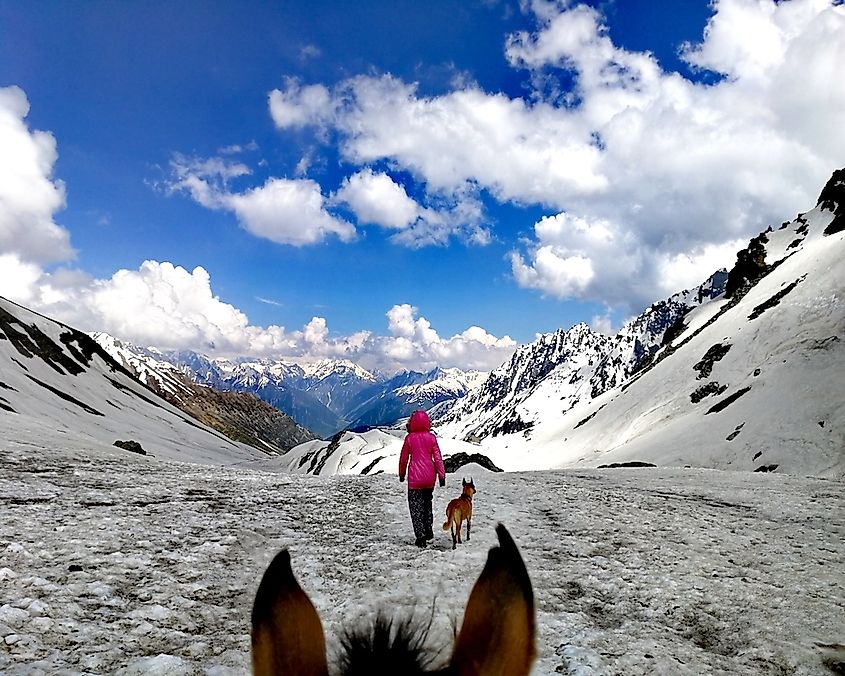 That night the four rested at a place called Tabletop where they set up their camp along with two other groups. 
 "The next day, we started again," continued Katja. 
"We had only limited food and water with us. The path was not the easiest, sometimes extremely rugged and steep, and the closer we came to the Ninchnai Pass, the more slippery snow we had to face. We all fell at least once - yes, even Momo. It was a treacherous trek but soon I realized, it was worth it. When we reached the Nichnai Pass which is about 4,100m high (we started from 2730m the day before), the view was stunning - surreal!"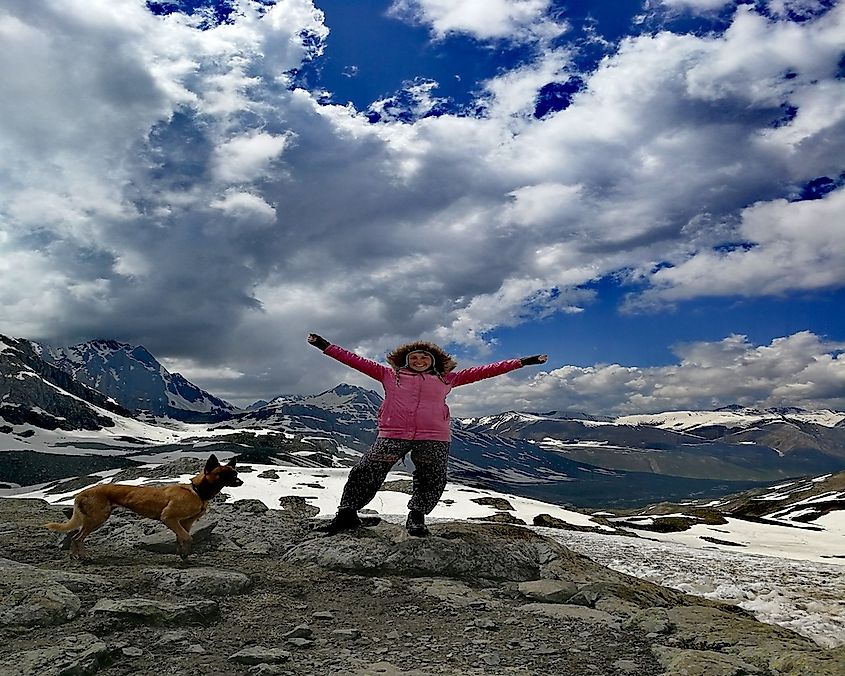 From the Ninchai Pass, the four began their descent. Soon, they came to a valley that appeared right out of a fairy tale book. An untamed mountain river flowed past a vast meadow covered by a carpet of vibrant wildflowers. After treading through snow and rock, the sight of the lush valley was a pleasant surprise for Katja. 
Another major attraction on their trek was the high-altitude oligotrophic Vishansar Lake (3,700 m). The picture-perfect sight of the lake and fresh breeze were a boon for the tired travelers.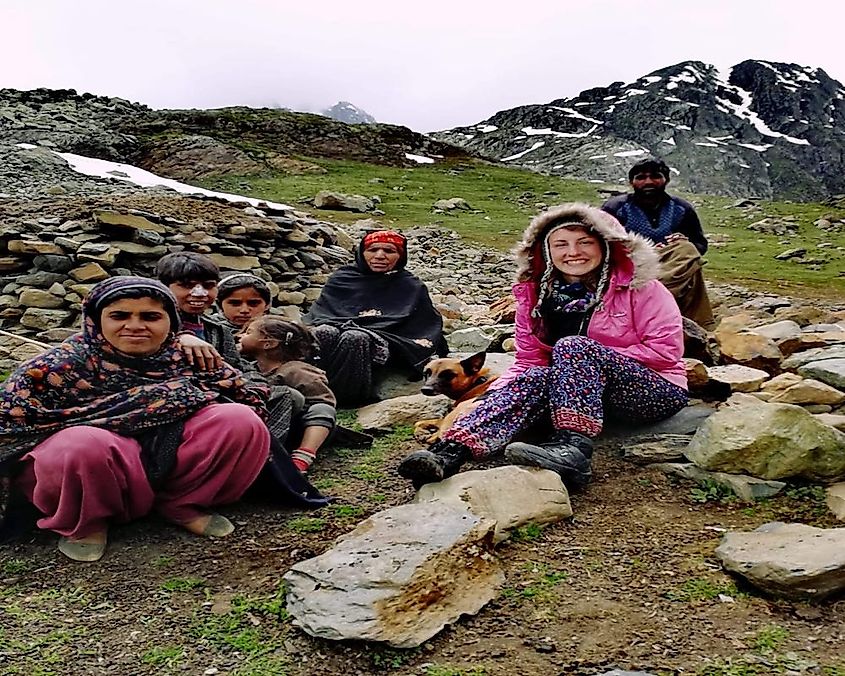 "On our way back we stopped at the home of a local family where we had some rest and were treated with warm tea. After 11 hours of trekking on this day, and with only tiny breaks, we returned to our sleeping spot - the Table Top. It felt like we were in different worlds in just one day."
Picking Up Positivity At Golden Temple, Amritsar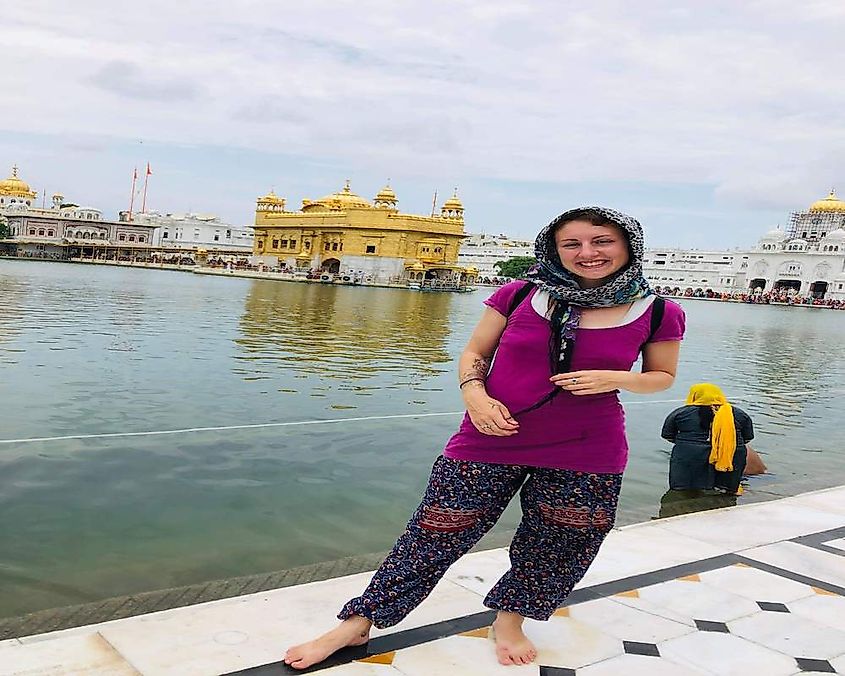 Image: Katja at the Golden Temple in Amritsar, India.
After their Himalayan adventure, Katja and Momo headed to the Indian state of Punjab where they visited the Golden Temple in Amritsar, regarded as the holiest site of the Sikh religion. 
"I was at the golden temple in Amritsar with two local friends. It's one of the most fascinating sightseeing attractions I have seen. It's not just the beauty of the temple that is impressive, there was such a good energy at the site, and the charitable work they are doing there is outstanding! They have many rooms where people from all over the world and all kinds of religion can stay. There are also three massive dining halls where people can eat and drink - and everything is for free! Many people used this offer. And of course hundreds of others who volunteered to make all this possible!" exclaimed Katja.
"India was different," mentioned Katja.
"In the other countries, I usually had to ask about 30 bus companies to find one which took Momo with them. But in India, it was very simple to find one that would take her. The people there just wanted to sell tickets. Not always, but often they didn't care about the dog, as long as I bought (at least) two tickets. It was great!"
Pakistani, Iran, And Turkey: Unique Experiences And Epic Adventures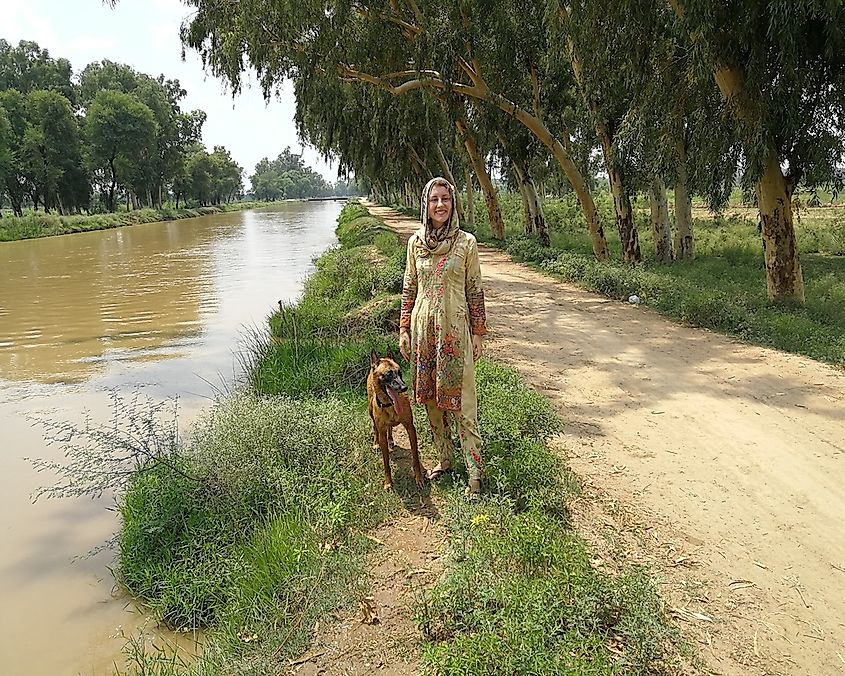 Image: Katja and Momo in Pakistan.
Katja and Momo left India with a ton of memories to visit Pakistan on July 30.
In Pakistan, they stayed with a friend who they met in Cambodia. The two stayed with his family in the countryside, ate typical Pakistani homemade food, witnessed a mud-wrestling event, and engaged in deep talks about religion with the family. 
Transport troubles once more surfaced when Katja and Momo entered Iran. No public transportation accepted them. No hotel in Tehran would also open their doors to them as dogs were not allowed.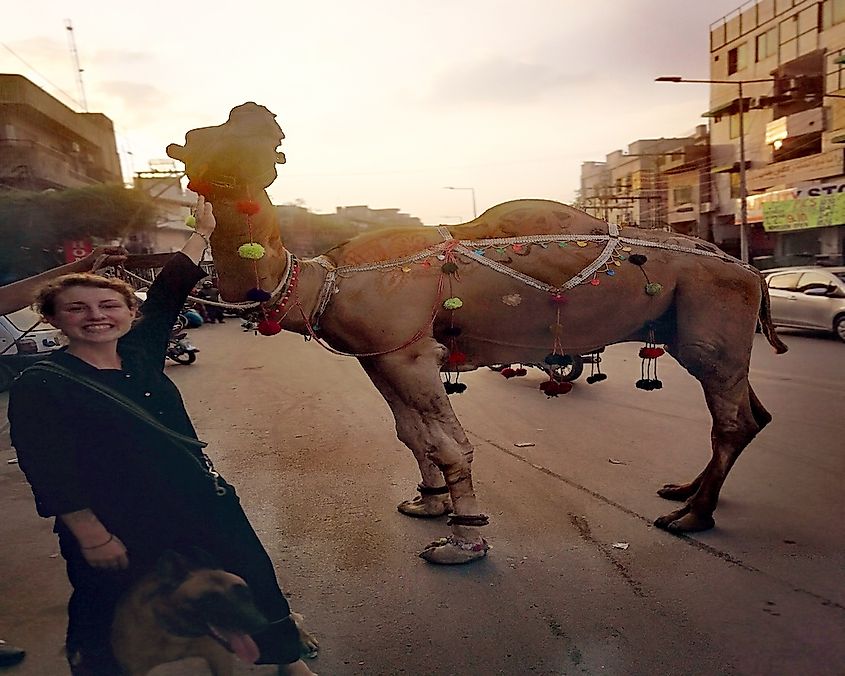 "I drove through the whole country of Iran in taxis (the fares are very cheap here compared to my country), and I was also hitch hiking. I met a family again and they let me stay at their house for nearly a week. Living with them gave me an insight of life in Iran. In no time, the family felt like my own people," said Katja. 
After crossing into Turkey, Katja and Momo traveled extensively with truck drivers.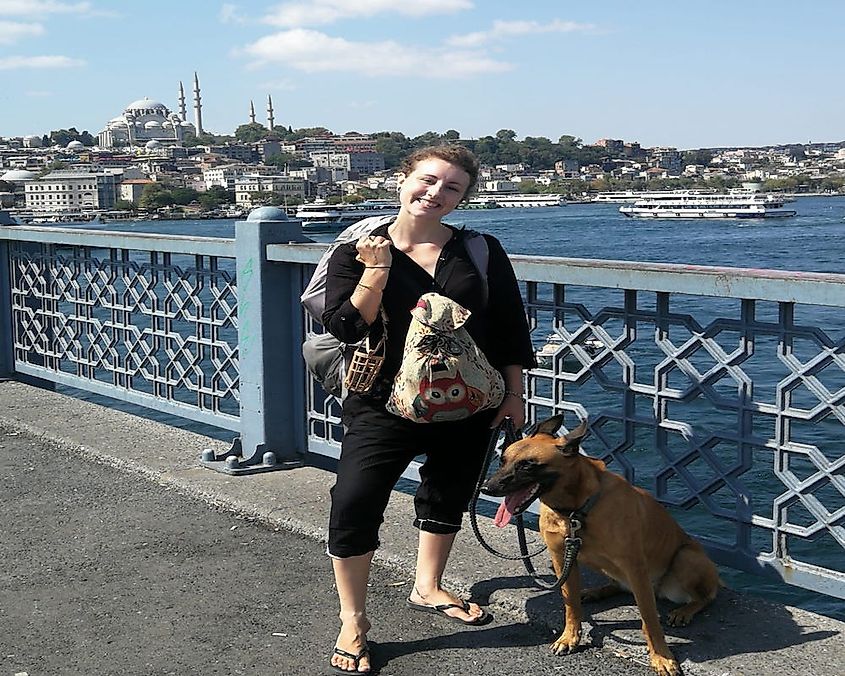 Image: Katja and Momo in Istanbul, Turkey.
"After reaching Istanbul, I thought it will be finally easy with Momo (because a part of it is already European), but I was wrong. The train and the busses still refused us. So, I requested some truck drivers again to take us with them," she said.
Return To Home, Sweet Home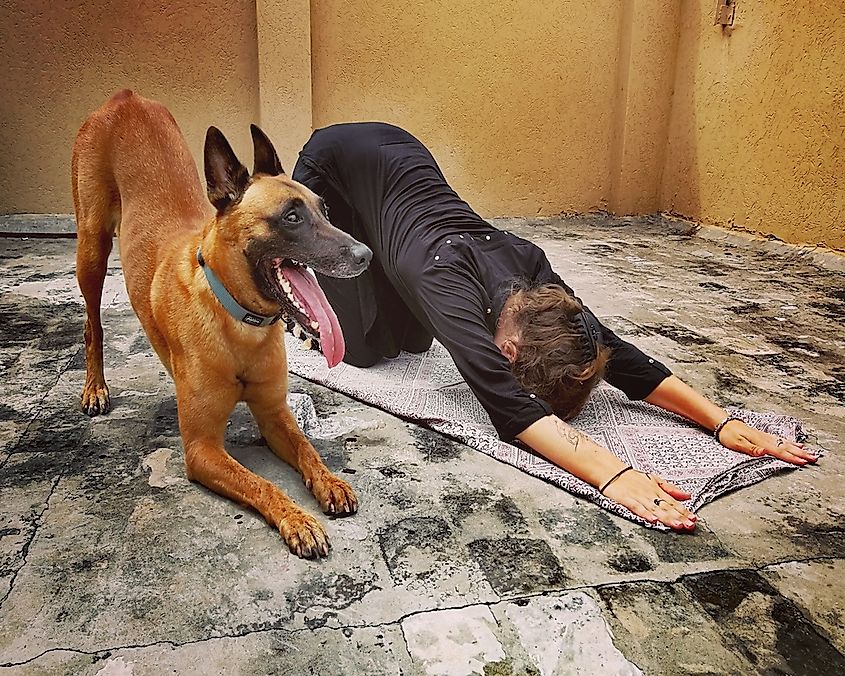 From Turkey, Katja and Momo traveled through Bulgaria, Serbia, Croatia, and Slovenia with the help of five different truck drivers on their trucks, to finally return home in Austria on September 6.
Homecoming was definitely great for the duo. Although their trip was a dream come true, it was also riddled with challenges. Katja and Momo had to get used to the heat in places like Delhi, long transportations, countless streetdogs, and more. 
"It was definitely not always cakewalk for us," mentioned Katja. "However, I protected Momo from free-ranging dogs and sometimes people who were not so nice. I did everything what a leader of a pack has to do – like guarding and caring for the pack (which is only me and Momo). She usually walks without a leash, she is a free dog and she decides day by day that she wants to be at my side."
"Today, I am very proud of her. She was so brave and tireless the whole trip. She is a different dog now and I am definitely a changed woman," continued Katja."
"Momo and I are both happy to be back, we both missed some safety and stability. So right now, I don't have plans for another trip like this, maybe only short trips in Europe. We still need to process the last 15 months. I definitely will write a book about my travel experiences and book presentations are also planned."