World
The Secret Of The World's Oldest Family Revealed: Porridge

The surviving siblings of the Donnelly clan range in age from 72 to 94.
Published On

July 31, 2017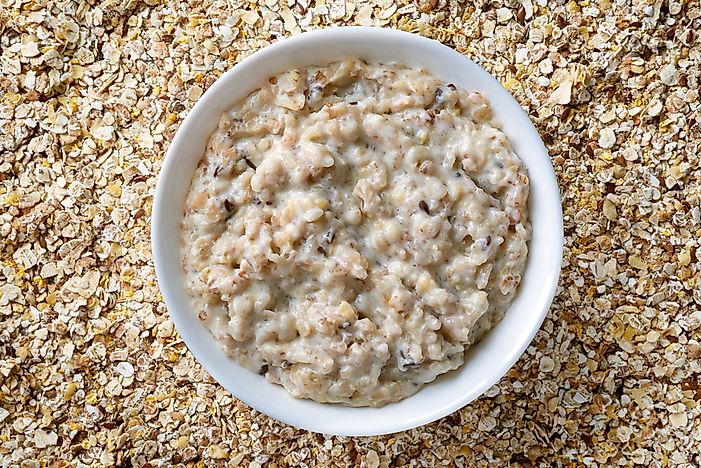 The 13 Donnelly siblings of Northern Ireland's County Armagh can proudly claim to be the world's oldest family. The sum total of their ages is 1,075 years and 68 days. They have even set a Guinness world record for their impressive lifespan. So, what has kept this family so strong and healthy over the years?
Porridge.
A Surprising Claim
What the family believes is a big surprise to all. They are convinced that their habit of consuming porridge for both breakfast and supper is the secret reason for their longevity.
According to the family's youngest sibling, the 72-year-old Leo, "The key is that you need to get your oats at night".
The family always prefers to consume locally sourced ingredients. Having grown up on a farm, most of what they eat is grown or reared by them.
The parents of the Donnelly siblings, Peter and Ellen, established their family farm in the area in 1921. They were the parents of 16 children, although three died in early life. The 13 surviving siblings currently have ages ranging from 72 to 93.
Ellen Donnelly, who lived until 94, would also steer clear of alcohol with the only exception being the consumption of a bottle of Buckfast fortified tonic wine after the birth of each of her children.
The siblings picked up their food habits from their parents when young. They are also teetotalers. The family handpicked the fruits they would eat, cook vegetables grown in their backyard, consume eggs of poultry reared by them, and slaughter their own farm-raised pigs for bacon. They processed their own grains with thrashers, and also fed their farm animals with the thrashed grains. Thus, they maintained a totally natural food cycle.
The Donnelly's Recipe For a Long Life
The Donnelly family believes that the recipe for a long life is based on a diet of porridge for breakfast (at 7 am) and supper (at 10 pm). Porridge is usually served with homemade seasonal jam. Lunch at 1 pm would include cooked seasonal vegetables, homemade bread, and cups of tea. Dinner at 6 pm would involve meat on weekends, served with seasonal vegetables or potatoes. On other days, lunch would be a simple combination of seasonal vegetables and fruits, soup, and homemade bread. The healthy snacks consumed by the family were limited to apples from their farm, homemade bread, and several cups of tea.
Health Benefits Of Porridge Well Documented
The world's oldest family's reliance on oats has prompted researchers at the International Longevity Centre (ILC) to study their diet.
Previous research has suggested that porridge consumption can help combat diabetes, reduce cholesterol and lower blood pressure. It also protects the body against cardiac diseases.
A scientific study in the US has discovered that people who consumed wholegrain oats were 15% less likely to perish than those who consumed refined and white varieties.
Research has also revealed that porridge is loaded with avenanthramides which are antioxidants that help maintain the cardiac system in good shape.
Consumption of a bowl of porridge one hour prior to exercise also helps maintain healthy blood sugar levels during the workout.
The research manager at ILC, George Holley-Moore claims that the longevity of the Donnelly family is an example of UK's longevity revolution. Now we know that a healthy lifestyle and diet, accompanied with frequent exercise, can ensure a healthy older age and reduce risks to several diseases. The Donnelly family is one of the best examples of this fact.