Travel
How India's Heritage Hotels Are Helping to Conserve History

India's palaces turned heritage hotels offer guests a unique opportunity to live like royals.
Published On

February 5, 2018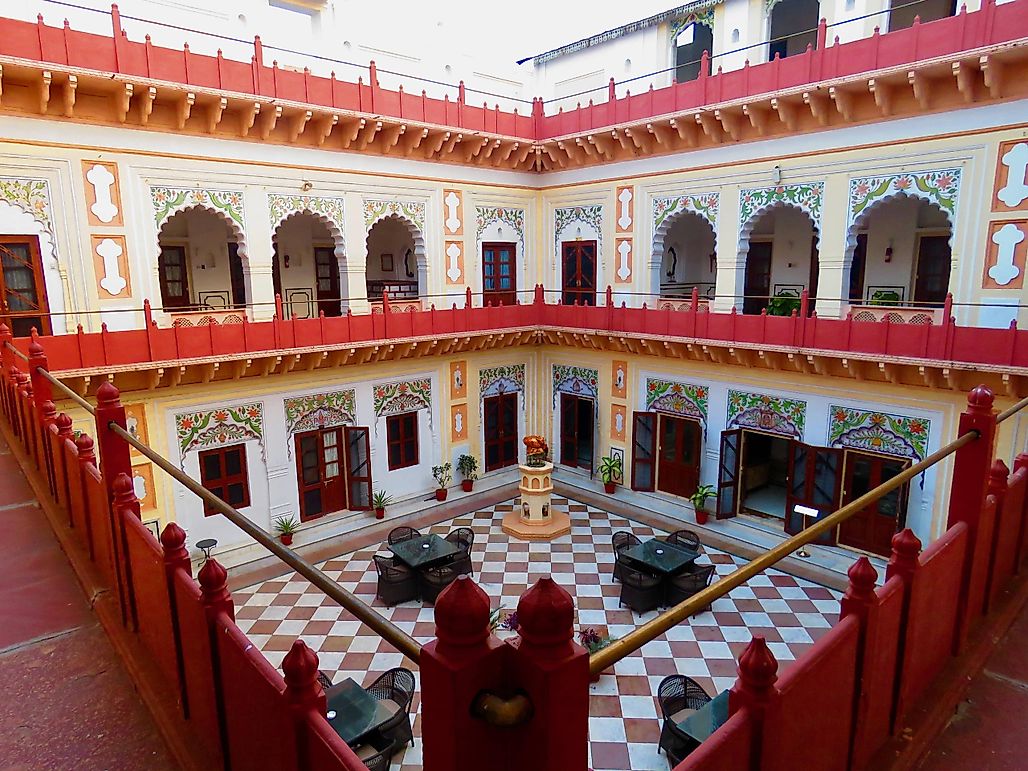 To live life "like a king" - it's a figure of speech that most of us are familiar with. However, what would emulating the life of a royal really look like in today's society? For visitors to India, it's now a reality that is easier to imagine than ever. Thanks to the country's amazing palaces turned heritage hotels, more and more guests are able to experience life just as if they were a maharajah.
A Brief History of Indian Palaces
The word "maharajah", which literally translates to "great king", may conjure up the image of an Indian king bedecked in flamboyant jewelry and living in the lap of ultimate luxury in palaces that are unabashedly magnificent in scale.
Such palaces were at one time witness to extravagant ceremonies where royal guests of repute would feel greatly privileged at being invited to attend the gala celebrations with the royal families who dwelled in such palaces. Travellers of the time would recount their amazing tales of India's royal charm, grandeur, and prosperity, and their accounts would inspire awe in societies in other parts of the world.
Even today, seventy years into India's independence from colonial rule, Indian royalty continues to thrive and welcome guests to their royal residences, many of which have been converted to heritage hotels or home-stays.
Historic Palaces Turned Extravagant Hotels
So why exactly is it that India's royals have opened their homes to strangers? World Atlas caught up with Meenal Kumari, a royal resident of the Dhenkanal Palace, to learn more about how these palace-converted-hotels are helping to conserve the country's rich heritage and culture.
The Dhenkanal Palace is a palace-converted heritage hotel in Orissa, a state in eastern India. When asked what it was that inspired her family to offer their palace as a royal retreat to guests from around the world, Meenal had the following to say:
"With India's independence, and the privileges gone, the erstwhile rulers struggled to maintain their palaces and other properties. Once I moved into Dhenkanal Palace after my marriage, my husband and I realized that the palace was in immense need of restoration and repair. With the condition worsening by the day and with our minimal resources, we knew that it would soon be a white elephant for us."
Meenal, who comes from a royal family in western India, where the process of converting palaces to hotels was already in vogue, knew that only revenue from tourism could help retain and restore the glory of the beautiful palace where she currently resides.
However, to attract the guests to the palace, much needed to be done.
"Restoring, let alone maintaining, an ancient palace is a daunting task. The funds involved are enormous and resources are limited. In a small town like Dhenkanal finding the right labor, artisans, material and every other thing was a great challenge."
Following India's independence from colonial rule and the establishment of a democratic nation, the country's royal families lost all their official powers, titles, and privileges. Without a constant source of income, maintaining the sprawling palaces thus became nearly impossible. However, by converting their palaces to hotels by opening their doors to strangers, these royals managed to save their heritage properties.

The Dhenkanal royal family is just one of the many Indian royal families whose extravagance of vision and ingenious planning helped save their crumbling palaces in time.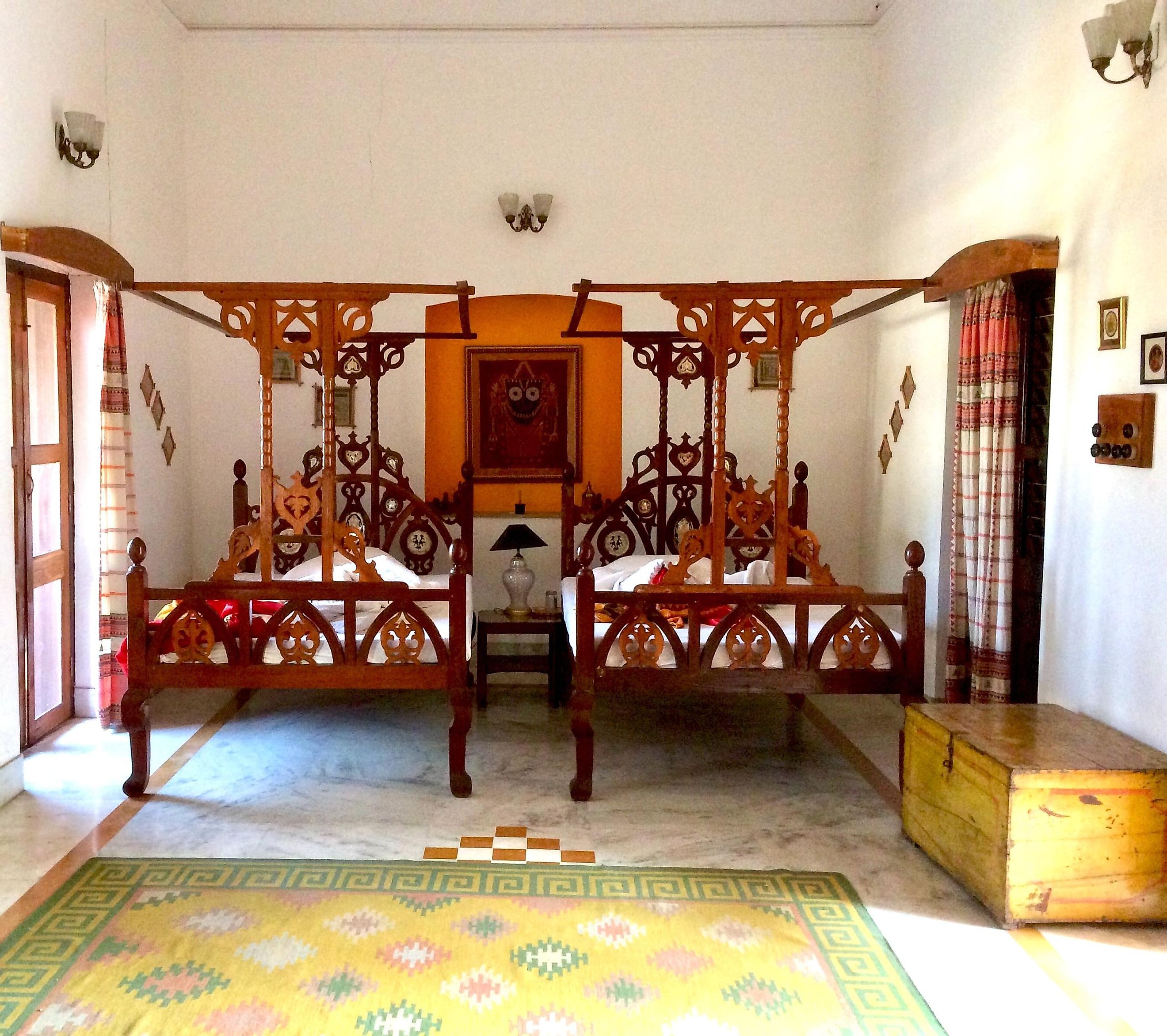 A room with antique furniture at the Dhenkanal Palace Heritage Homestay in Dhenkanal, Orissa. Photo credit: Arijit Nag.
Heritage Hotels: A Unique Travel Experience

Today, palace-turned-hotels are flourishing all over India. So, how are these heritage retreats different from the modern-day luxury hotels?
Braj Keshari Deb spoke to World Atlas about some of these unique differences. He comes from a ruling family of Aul, Orissa, and owns the Killa Aul, a 16th-century palace that has been converted to a heritage homestay. He had the following to say:
"Our heritage homestay is different from all other modern-day luxury hotels and the reason lies in the age of the building and the history of our palace. It narrates the story of a bygone era."
It is indeed true. India's palace turned hotels allow visitors to escape time altogether. Such palaces are architectural masterpieces with majestic staircases, custom-crafted chandeliers, antique furniture, priceless paintings and statues, gracious courtyards and sprawling gardens. In many such palaces, guests experience the opportunity to interact with the descendants of royal families. They also get a taste of local flavors, dance and song performances just like the maharajahs did for centuries.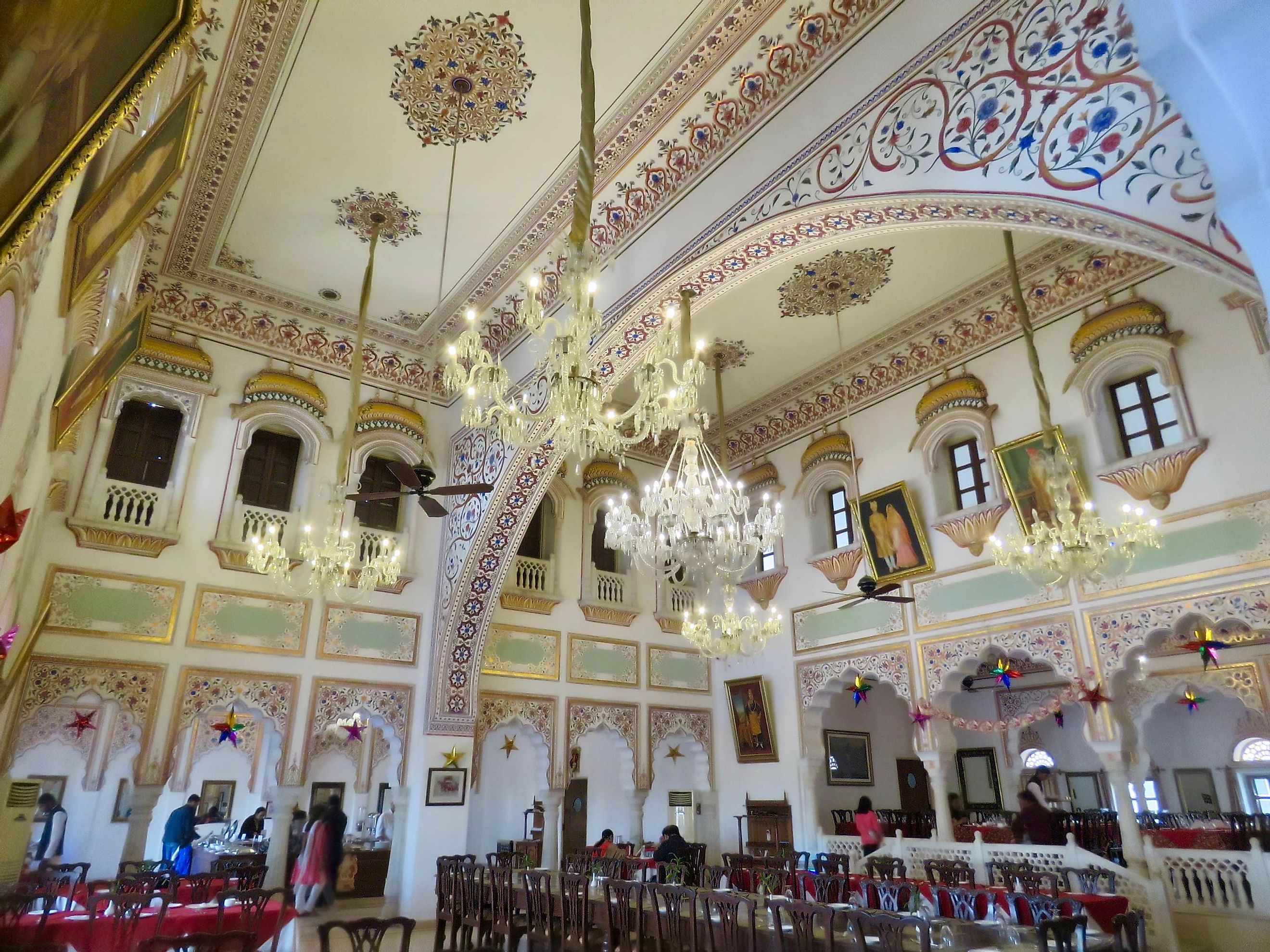 The dining hall at Laxmi Vilas Palace heritage hotel in Bharatpur. Photo credit: Arijit Nag.
"Unlike modern-day luxury hotels, every heritage hotel is unique and has its own story that guests love to learn about," highlights Meenal Kumari. "We narrate stories of our rich past to our curious guests and treat them with local flavors, cooked using recipes preserved for centuries in our royal kitchen," she adds.

The Benefits of Heritage Hotels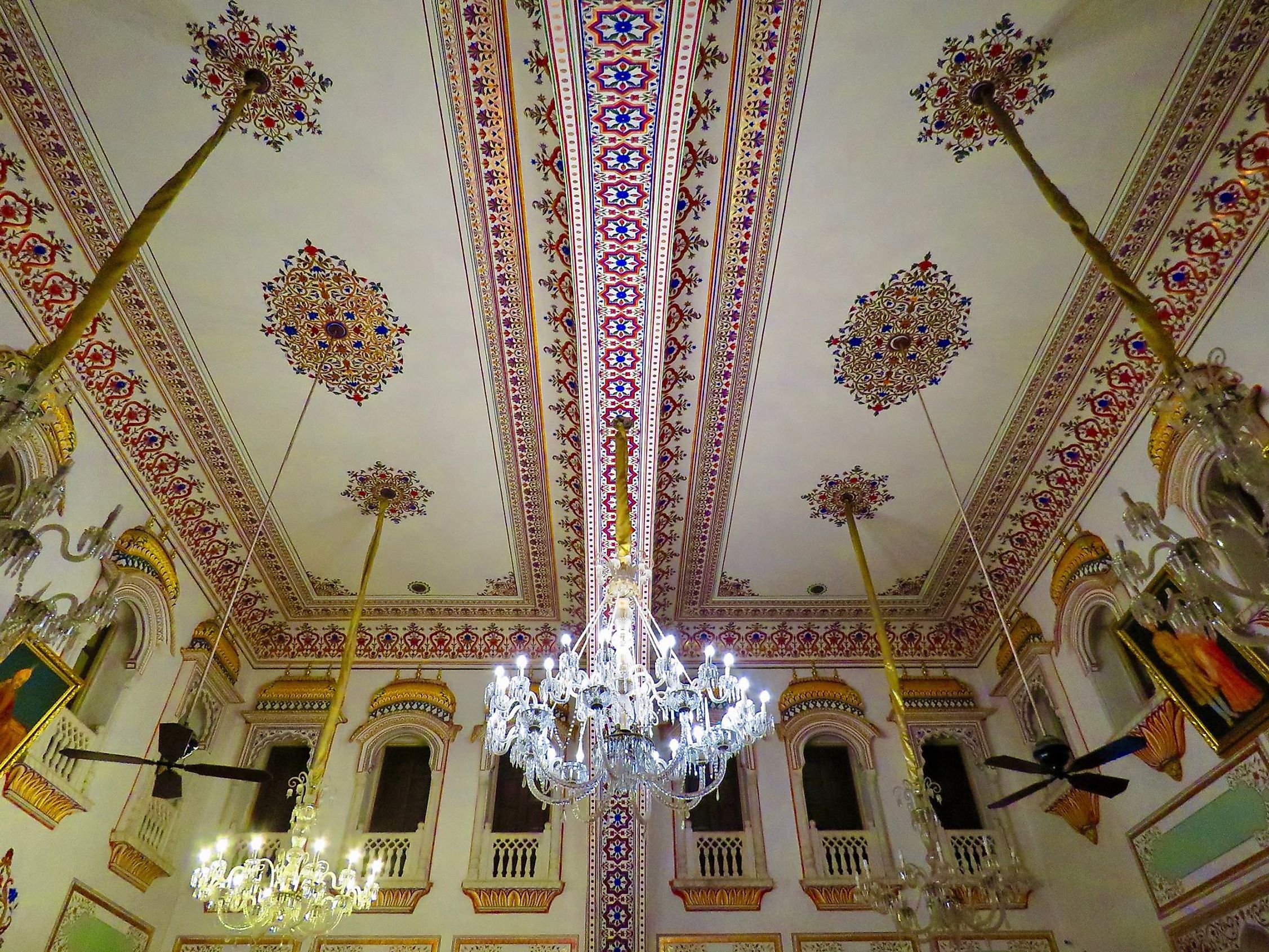 A chandelier hanging from the ceiling of the dining hall at the Laxmi Vilas Palace Heritage Hotel in Bharatpur. Photo credit: Arijit Nag.
The owners of such heritage hotels believe that the conversion of heritage properties into hotels strike a perfect balance between commercial gains and the conservation of heritage. It is not just the property and the culture of the royal family that is conserved in the process. Owners believe that the entire local community benefits from such projects in a holistic manner.
"Local artisans and craftsmen living around the heritage hotels benefit greatly as tourism provides an opportunity for selling their products. Employment is generated for locals by serving in these properties. As owners, we feel proud that we are contributing towards the growth of our local communities," says Braj Keshari Deb.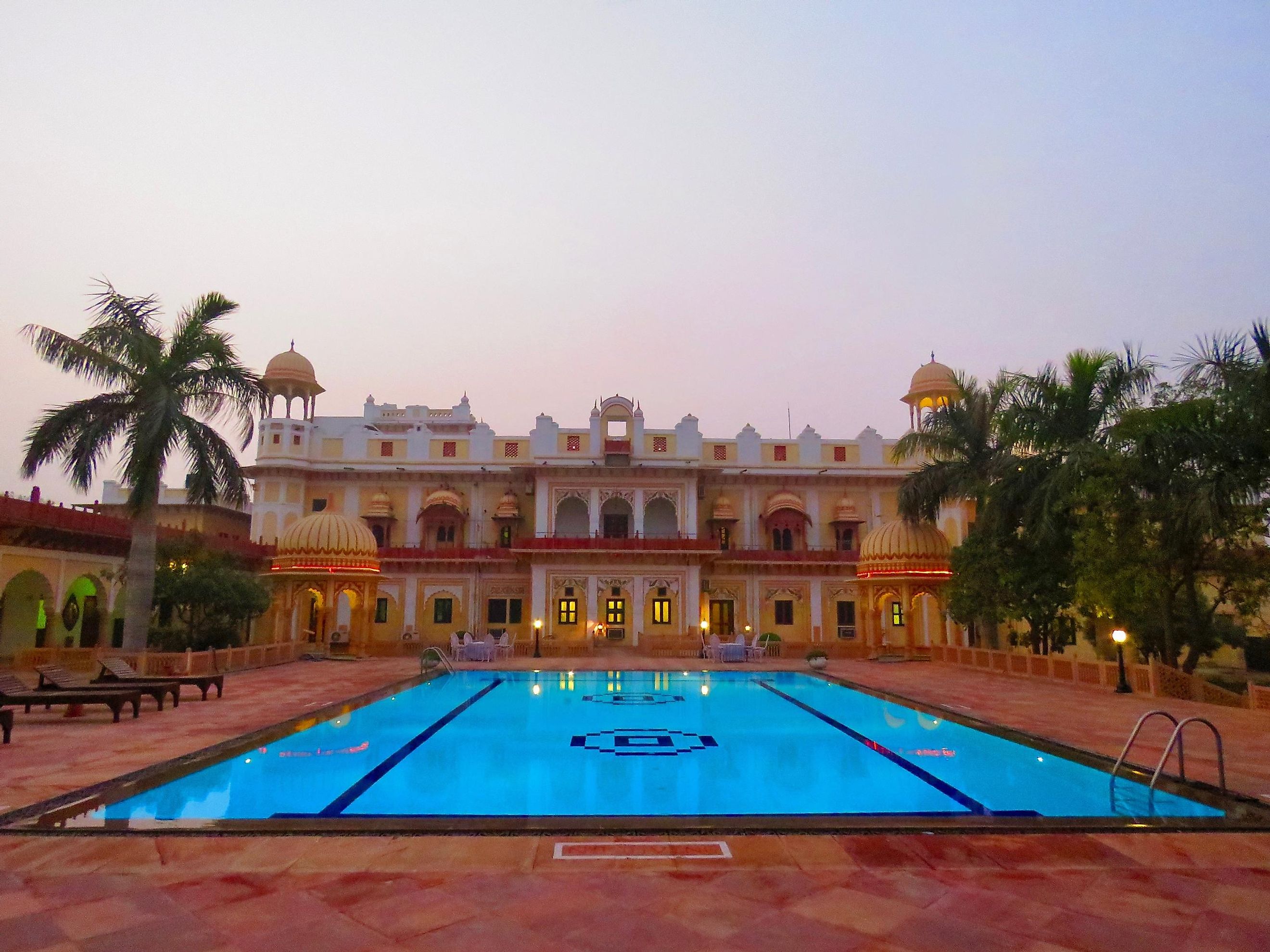 The swimming pool at the Laxmi Vilas Palace Heritage Hotel in Bharatpur. Photo credit: Arijit Nag.
For guests staying at these heritage properties, it is a completely new and overwhelming experience.
"You feel like a royal guest, not just a visitor. It is like living a fairytale life once you step into an Indian palace," A Kolkata resident named Anamika, who had recently stayed in a palace-turned-hotel in West Bengal, had to say about her experience.It is like being part of something special that is to stay for centuries to come," she says.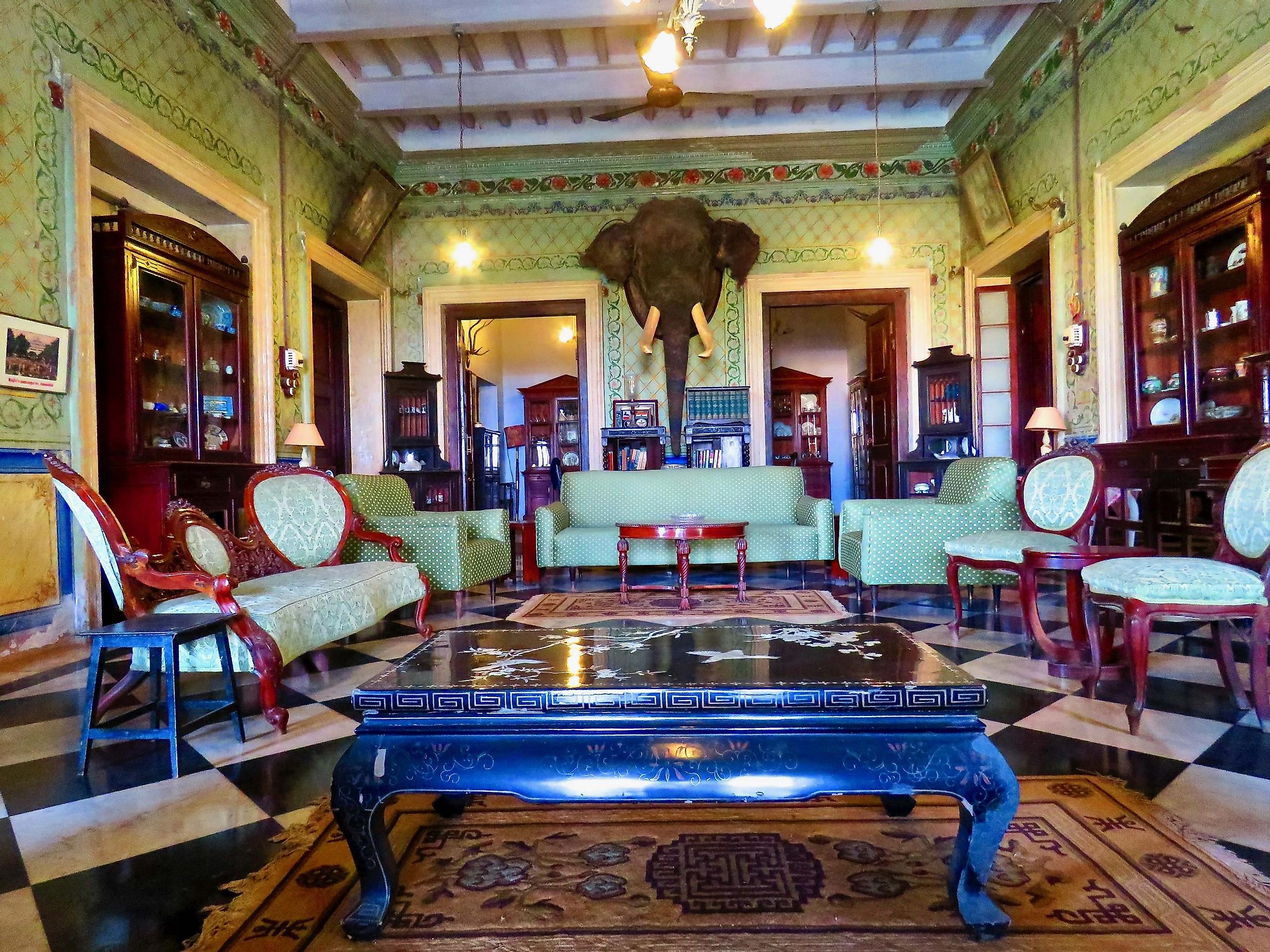 The entrance hall of the Dhenkanal Palace Heritage Homestay. Photo credit: Arijit Nag.
India's heritage hotels help travelers surge through the passage of time enticed with royal lavishness. It also helps them feel like king or queen without costing a fortune. Such properties also safely conserve centuries of Indian history and portray India's magnificent past when the land was known to the world as the "sone ki chidiya" or the "golden bird".

**
Dr. Oishimaya Sen Nag is a freelance writer and editor from Kolkata, India. She loves to participate in wildlife conservation activities and to explore new places and cultures.