World
Why Do the Hong Kong Protests Continue?

The Hong Kong protests have been ongoing since June, and show no signs of stopping. What are the reasons for this?
Published On

November 11, 2019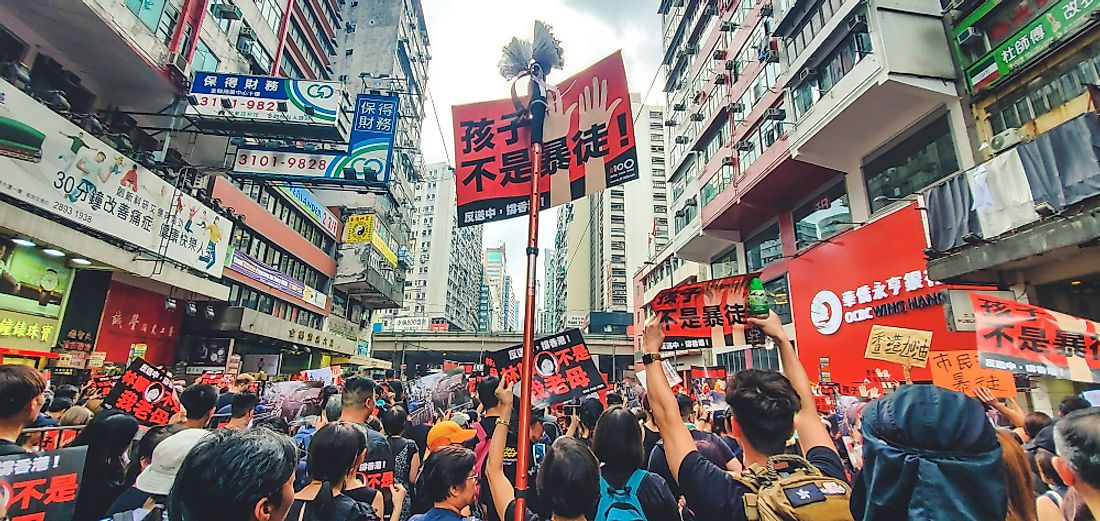 Warning: this article contains some graphic descriptions of violence.
There are few places that have made news headlines in 2019 as much as Hong Kong.

The Pacific archipelago, which is a Special Administrative District of China, has seen clashes between groups of pro-democracy protestors and their pro-Beijing counterparts, as well as Hong Kong police officers.
The latest spurts of violence have included shots fired by police officers, tear gas diffused during business hours, and even a protestor set on fire. Throughout all of the reports of chaos, it can be hard to determine what exactly is going on in one of the world's most important financial cities. Here is an overview of the Hong Kong protests.
Why Did the Protests Begin?
The Hong Kong protests have been going on since June 2019. They first came to be after a bill was presented that would allow extradition to China, called the Fugitive Offenders Amendment Bill. What this means is that those accused of criminal activity in Hong Kong could be sent back to China.
Hong Kong, which was a former British colony, was returned to China in 1997 but has enjoyed a large degree of autonomy since then. Many Hong Kongers feared that the bill would allow mainland China to have more control over their territory, and could put those who openly oppose the Chinese government in danger of repercussion.
While the protests were initially peaceful, they seem to have taken on a more violent tone as of late August 2019.
Although the extradition bill has now been withdrawn, the protestors have not yet backed down. This is because they have four other conditions that the government has yet to satisfy.
What are the Demands of the Hong Kong Protestors?

Aside from the elimination of the extradition bill, the five demands of Hong Kong protestors are as follows:
1. The ability to elect their own leaders.
2. Amnesty for all who have been criminally charged during the protests.
3. A reclassification of the protestors as "rioters".
4. An inquiry into police brutality and violence overseen by an independent party.
What Violence Has Been Happening in the Protests?
While the protests started off peacefully, it wasn't long before tensions continued to rise past their boiling point.
In as early as July, protestors stormed and vandalized Hong Kong's parliament. In August, protestors turned their attention towards the Hong Kong airport, leading to the cancellation of hundreds of flights and general unrest.

There have been three reported instances of shots fired against protesters by Hong Kong police officers: first on October 1, then on October 4, and finally on November 11.
There were reports of a police officer driving a motorcycle into crowds of protestors. This officer has reportedly now been suspended.
Also on November 11, a pro-Beijing supporter was doused in gasoline. He remains hospitalized in critical condition.

How Many People Have Died in the Hong Kong Protests?

There have been ten fatalities linked to the protests, nine of which were civilians who died by suicide, and one young student who fell to his death from a parking garage.
Who is In Charge of the Hong Kong Protests?
It's hard to say.
The protests have been described as "leader-less". Many of the protestors are young, and many of them students.
Have the Protests Affected Hong Kong's Economy?
Hong Kong has currently slipped into a recession. Retail spending is reportedly down across the entire city, and the real estate industry is suffering from buyer reluctance. Tourism, which has traditionally served an important role in the finances of Hong Kong, is down substantially, with many countries (including the United States and Canada) issuing travel warnings against Hong Kong to their citizens.
Hong Kong Chief Executive Carrie Lam has condemned the violence and warned protestors that the government has no plans to give into demands.