Travel
In Defence of Public Art

The costly reality of public art projects often leaves critics skeptical. However, public art is instrumental in defining a city's identity – a concept now more important than ever as cities compete on the global stage.
Published On

November 20, 2017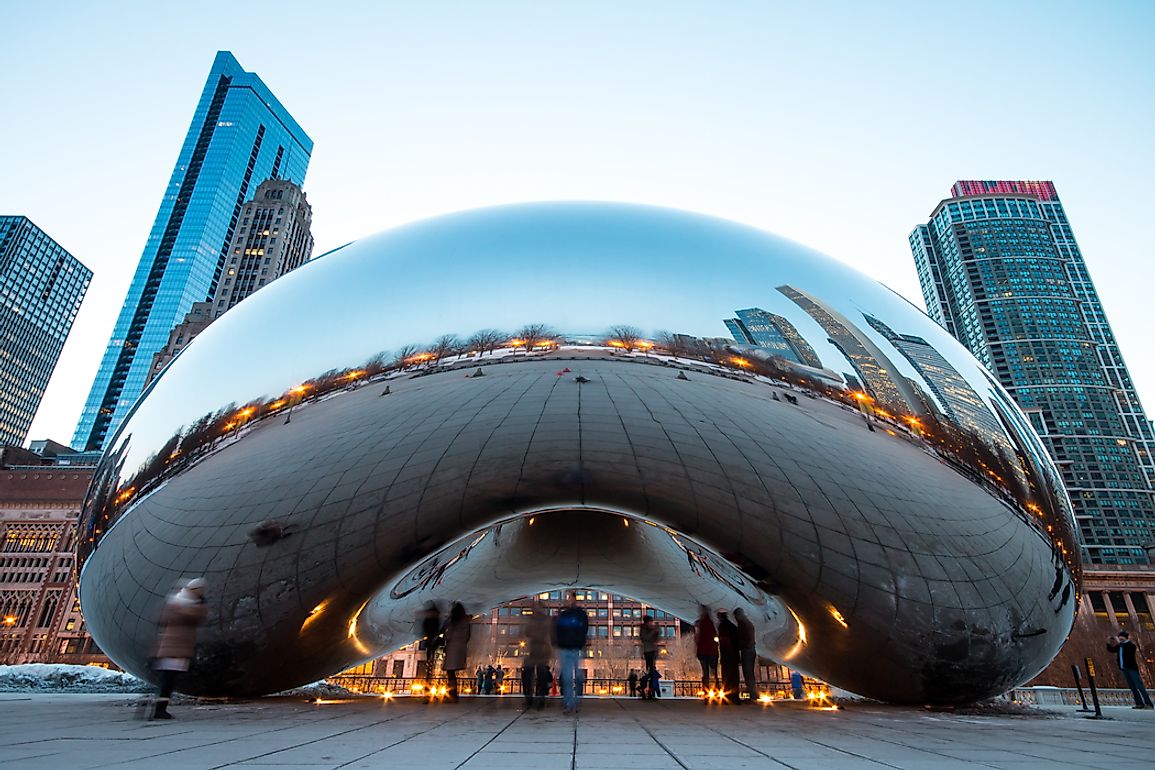 After visiting a new city, what is it that you walk away remembering?
Maybe it's the pleasant weather. It could even be a meal from a restaurant whose name you can't remember, but to whom your taste buds will always be grateful. It's possible that you will also remember the generosity of the people, who helped you orient yourself when you needed direction. These things are sure to leave a mark on anyone who spends time in an urban environment, but there is one more factor that may strongly affect your experience, and which you may not even be aware of. This factor is public art. And it's all around us.
Public Art in America: The Philadelphia Example
It may not be common knowledge, but when it comes to public art, even the more decorated cities of the world owe much to Philadelphia. The northeastern American city is known for its collection of public art – in particular, for its statues. The real trailblazing occurred, however, in 1959, when the city mandated that a certain percentage of the city budget be dedicated to the creation of public art pieces. It was the first ruling of its kind in the country.
It makes sense then today that Philadelphia is the home of the Association for Public Art (aPA), a "museum without walls" which promotes public art and its importance through accessible and immersive programs.
World Atlas reached out to the aPA to learn more about their mission.
"In our 140+ year history, we have continued to commission, preserve, interpret, and promote public art in Philadelphia", Caitlin Martin, the Media and Communications Manger for the aPA told World Atlas. "Philadelphia has one of the largest collections of outdoor sculpture in the United States, but often times this cultural resource goes unnoticed. Because public art is accessible to anyone, anytime – free to all and no ticketing required – it is an ideal cultural gateway experience."
Through walking tours, the aPA believes that public art can be interpreted and enjoyed by its target audience: everyone.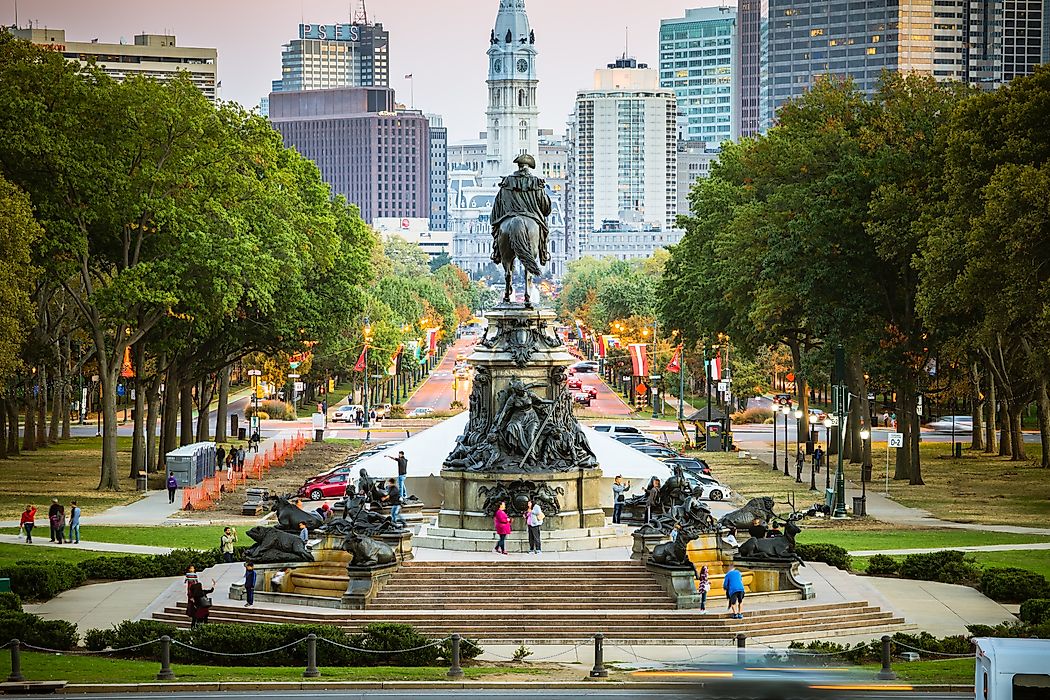 The Eakins Oval is sometimes called the "Champs-Élysées of Philadelphia". In the center is the Washington Monument, one of many statues found in the city. Editorial credit: Pabkov / Shutterstock.com.
Although the case of Philadelphia presents a moving argument for why public art is important, its phenomenon is not restricted to one city, or even to one country. Rather, the benefits of public art are now more global than ever before, and there is one main driving force behind this: social media.
#Citybranding
In the age of social media, the city has become a brand.
This notion has been a reality for some time now, spread by tourism campaigns and regional stereotypes. We all know about the surf lifestyle of Los Angeles, the shopping malls of Dubai, the trendy secret bars of Tokyo. Within the realm of social media and hyperactive sharing, the idea that a place means something, and that it isn't just a place, has spread like wildfire.
In the most conspicuous of examples, we have New York City. Would New York really be New York without the Statue of Liberty? That's public art. Perhaps the example of Paris is even more endearing. Would the City of Lights hold the reputation of the most romantic city in the world if it weren't for the iconic Eiffel Tower – which is arguably also a public art piece?
Even less celebrated public art plays a role in how we define cityscapes. The world's highest public arc installation, the "Spire of Dublin", though not a universally recognized landmark, still generates enough interest to deem it worthy of photographing. "Fearless Girl", one of Manhattan's newest sculptures, has also been garnered a fair amount of fame in its short lifespan.
To prove this point, we took a look at some of the hashtags for popular public art installations on Instagram. The aforementioned "Spire of Dublin" was tagged a total of 3,355 times at the time of our investigation. "Fearless Girl" had nearly 50,000 tags. Seattle's "Hammering Man", another public art installation that may be known to local audiences but whose existence isn't necessarily well-known, had been tagged more than 2,000 times.
It's impressive to note how Chicago's "Cloud Gate", one of the most famous public art installations in the country if not the world, has gathered more than half a million tags between its official name and its non-official but colloquial name of "the Bean" (interestingly enough, it appears that Instagram users prefer the latter title).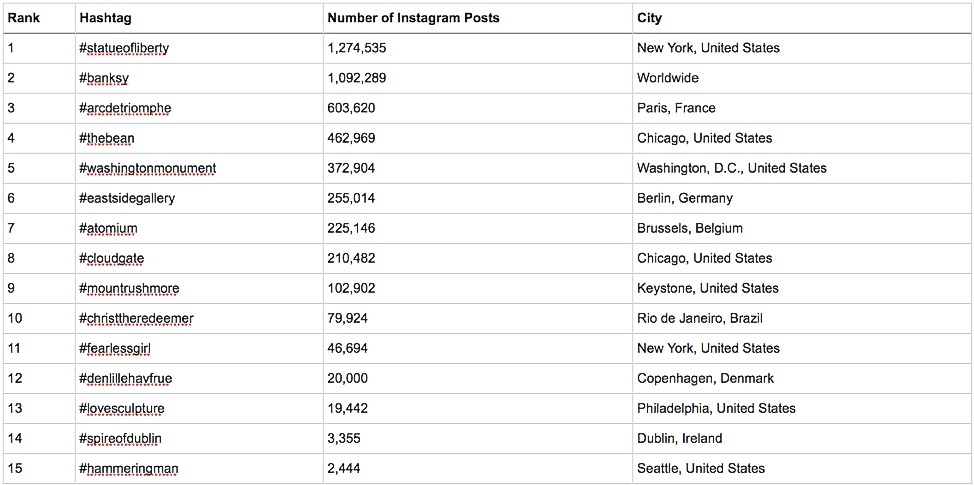 A collection of public art installations from around the world. Gathering tags on popular social media site Instagram helps paint a picture of how important public art is to the idea of placemaking in the expressive era of social media.

Public Art and Placemaking
Jane Jacobs wrote about the idea of "placemaking" in the 1960s, citing the importance of inviting public spaces within city life. Though placemaking can be achieved through a variety of means, it's easy to see why public art would contribute to the idea of pleasant urban spaces. In his iconic work "the Image of the City", Kevin Lynch spoke about landmarks as one of the most important ways that city dwellers understand and process the cities in which they live.
In the current day, we are on the move more than ever before, and the moves involve greater distances. We travel globally en masse much more than any other generation. Landmarks no longer just exist to serve the local population, but also have an important role in the way that the city is perceived by visitors from far and wide which in turn powers a city's global reputation.
The Arguments Against Public Art
Despite this strong argument for public art and the power it can have in shaping the identify of the city, there is no denying that there are some challenges facing the generation of it. As public art is usually paid for through tax dollars, the concept itself is inherently problematic - how does one make a project that is not only paid for by everyone, but represents everyone as well? Is doing this even possible?
Possible or not, there have definitely been some blunders. There was the the sculpture of the traffic lights that just caused mass confusion in the streets of London. Or the gigantic blue circle installed in Calgary, which led to the city's mayor even calling it "awful". There is even the duck sculpture so divisive that it spurred petitions urging its removal.
Regardless of these controversies, public art is important, and cities around the world have warmed up to this idea. Aside from Philadelphia, other jurisdictions who have at least some of their budget dedicated to public art spending include Seattle, Hawaii, Toronto, Quebec, Canberra, and San Francisco. Notably, these places are also ones who are known for their impressive art scenes. Of course, whether the public art budget allocation is the cause or effect of this is still up for debate. One thing is clear, however – without even speaking, public art is being heard.
**
Rachel Cribby is a writer and editor based in Montreal.