Day in the Life
What is it Like to Live in Finland?
Are you thinking about making the move to Finland? Here is one local's account of what day-to-day life is like in this Nordic country.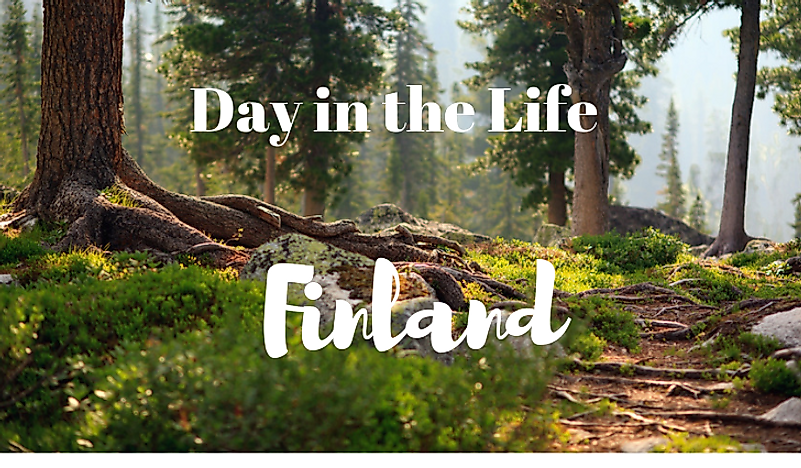 For our "Day in the Life" series, here is an account of the events of a typical day in a small town in rural western Finland.
Midnight: The light is inky in the hallway but even at this hour in May, I don't need a light to go the toilet. Through the window, the sky is indigo blue behind the dark tree silhouettes.
03:00: I stir and peek out with one eye. Even with the so-called blackout curtains I can see the light leaking into my room. It's not dark, but as it isn't quite full day light, I understand it is early enough to keep sleeping.
7:30: It's time to wake up. For breakfast, grown-ups tend to eat simple sandwiches of butter and cheese on rye while children might have oatmeal or wheat porridge on a school day. During the weekend we are more likely to make waffles or plattar (flat pancakes like French crepes). But these warm breakfast items are seen more as a treat than "real food," which is usually based on whole grains.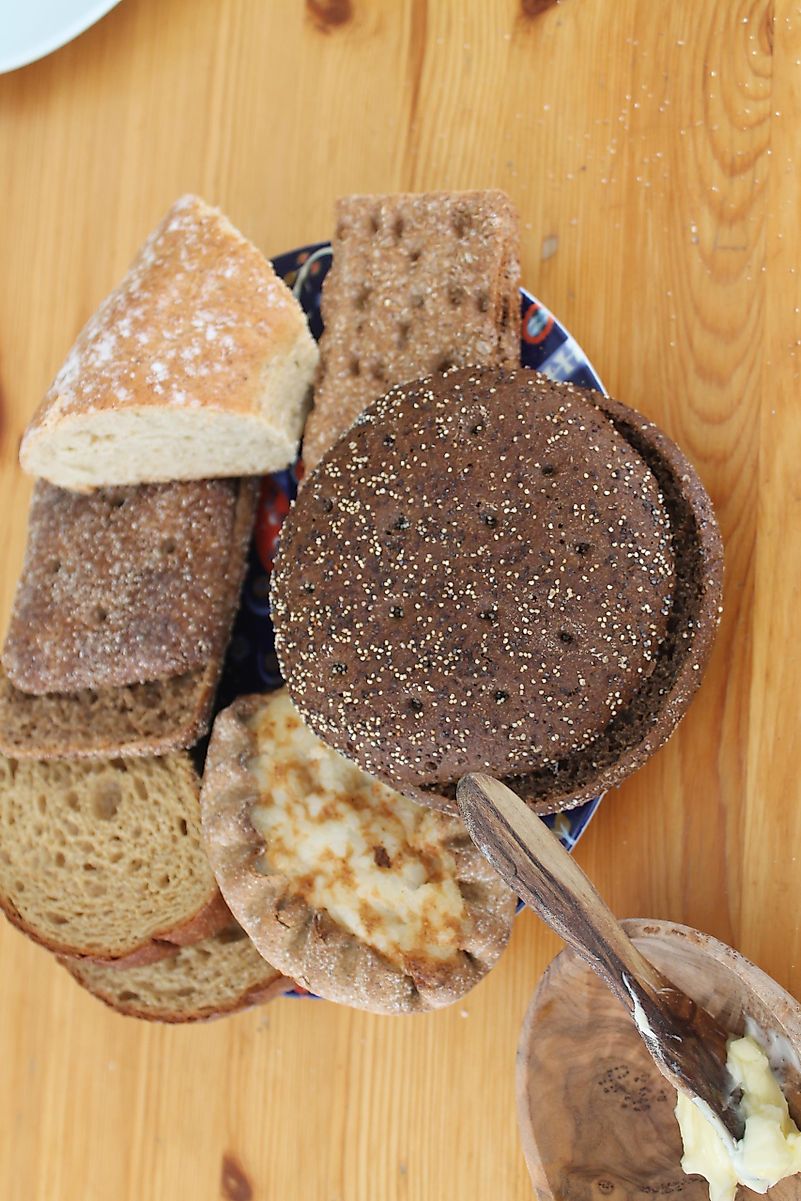 Multiple Rye Bread Options. Some form of dark rye bread is nearly always on the menu in the morning as well as offered as a filler at most other meals besides.
Our community is rural – there isn't a single stop light! Although some of the homes are clustered together, very few homes are overlooked and most yards back onto forest or empty land on at least one side. Our house backs onto a river and we enjoy the view every morning as we eat our breakfast.
8:15: The habit of early morning physical activity is encouraged, both through cultural habit as well as structurally. The children put on outside clothes and helmets as they get ready to ride their bikes the two kilometers to school. As it is spring, this is less cumbersome than when it is cold! Fresh air is seen as a basic need for good health and most people try to take a walk or do some other outdoor activity every single day. Children living less than three km from their school are not provided with transportation, and from first grade most are expected to get to school on their own.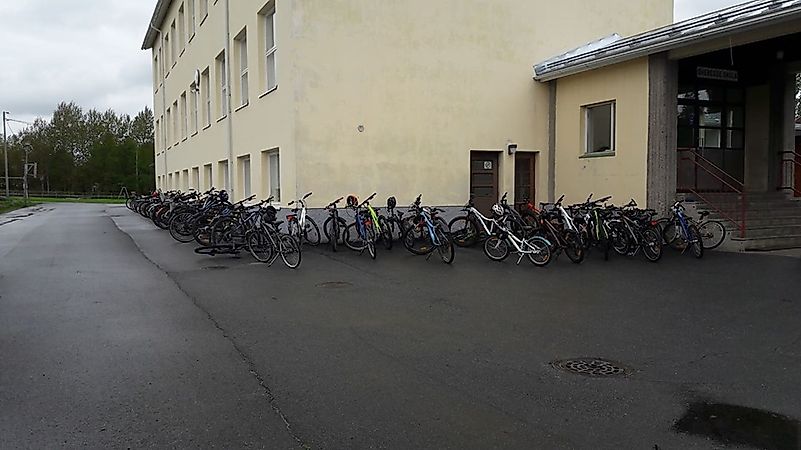 Bikes outside of a Finnish school.
Finnish children qualify for a ride if they are more than three km away from school – though not all of them use it even if they qualify, as they prefer the flexibility of their own bikes. Out in the country this service tends to be provided by 12-seater taxis for elementary students living further away from school and buses come to take secondary children and adults alike to town. Even in cities, Finland doesn't have designated school buses; instead school transportation is integrated with other public transportation.
9:00: This is a possible time for an elementary student to begin school, though schedules can vary day to day. The hours a student spends in class each week gradually increases each year, but younger students tend to be in school only a few hours each day.
Bikes are left mostly free-standing, but neatly, out in front of the school. Not only are bikes there, but helmets too, just casually hanging from handlebars; no locks in sight. In the wintertime skis and other equipment are equally out in the open.
Shoes are left along with outside clothes in designated areas near entries. Hence our love of knitted socks. Once the outside layers come off, the standard of dress in school is Nordic cozy. Finns in general value comfort and utility. Higher quality Scandinavian brands with colorful prints are prized, while matching or even coordinating colors are optional.
In our little village, there are no clothing stores. We have only one shop for food and a bit of an old fashioned mercantile, so you can get an emergency pair of socks or gloves and there are some goods for knitting and gardening. But most shopping is done in the town of 11,000 about 20 minutes away or in periodical trips to "real" cities such as Vasa (more than an hour away) or perhaps for a very special occasion down south to the bigger metropolitan areas of Finland. Anyway, as most people stick to the options more or less nearby that means you see the same items on several kids. There is also a very relaxed, open attitude towards hand-me-downs and the circular economy thrives in the form of organized clothing sales and the loppis [thrift stores] in town.
Onlookers might describe classes as calm and efficient with a notable number of transitions. Rain or shine, 15 minutes of every hour and for a longer period at least once a day, students are outside. Students refer to their instructors by their first names and typically will have the same teacher for two years in a row to deepen relationships and maximize academic growth. Hallways begin each year blank and are slowly filled in with the students' showcased work. There are also glass cabinets to display the three-dimensional crafts required of each grade level.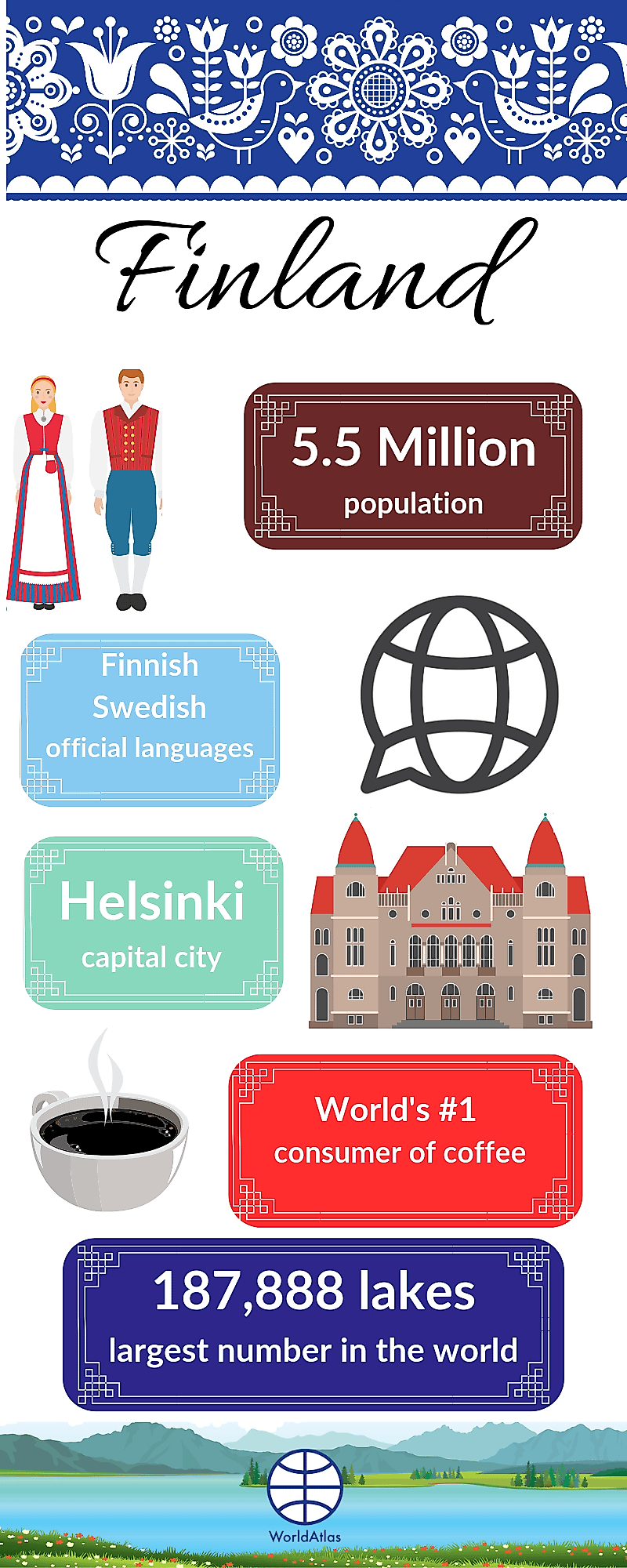 11:00: All students are given lunch for free. This dates back to post-war times and Finns are proud of it. They have weeks in the village where they celebrate old fashioned food and expose the children to the typical meals of decades past. But today typical meals include a baked fish and potato casserole or sausage soup or meatballs with mashed potatoes. Hard rye crackers and butter are normally offered along with a small selection of fresh vegetables and/or fruit every day. Friday is a "special" meal of either porridge (rice or white) or fish soup -- porridge is the greater treat for the kids because they are offered jam, but fish soup is also a favorite. Everyone eats this hot meal, kids and grownups are all treated alike and all are welcome to eat their fill. Kids are considered old enough to serve themselves from the first grade. They are responsible for a quiet, civil demeanor in the lunch hall. It is notable that the same kitchen serves the retirement home in the same cul de sac as the school – again, people are treated the same no matter their age or means.
11:30: The last, most stressful, class of the day. The dreaded dictamen. All the spelling and punctuation must be perfect to get full marks! By design, Finnish children are not given too much homework, but they are expected to do their best on any assignments given. Parents are very much still held accountable for children's behavior and attitude at school.
12:00: School is finished for many grades, though the older ones might still have a lesson to go. Two, maybe three, taxis wait for their riders. A few cars idle with parents looking forward to weekend plans. Aside from special events such as parades, funerals or weddings, this is as close to a "traffic jam" as you are likely to see in our village.
Students file out, some scattering quickly finding their waiting vehicles or moving with purpose to their bikes. Others linger. Plans are made, pick up games of football happen, last minute invitations are made.
12:20 We make a stop at the shop, it isn't so cold that we need to leave the car running but we don't bother taking the keys with us as we pop in to pick out our treats. There is a baby sleeping in her stroller as we pass, although all we see is the wide box on wheels well draped with blankets. Finnish babies typically take their longest nap out of doors, in all weather.
Inside the store smells of roasted chicken, which is done once a week and might make a tasty treat for some families' fredagsmys ("cosy' Friday"). But we are here for sausages to grill and then treats like salmiak candy and chips for our Friday screen time later. It isn't unusual for this stop to take a half an hour or more as you meet friends and have a bit of a catch up after the busy week.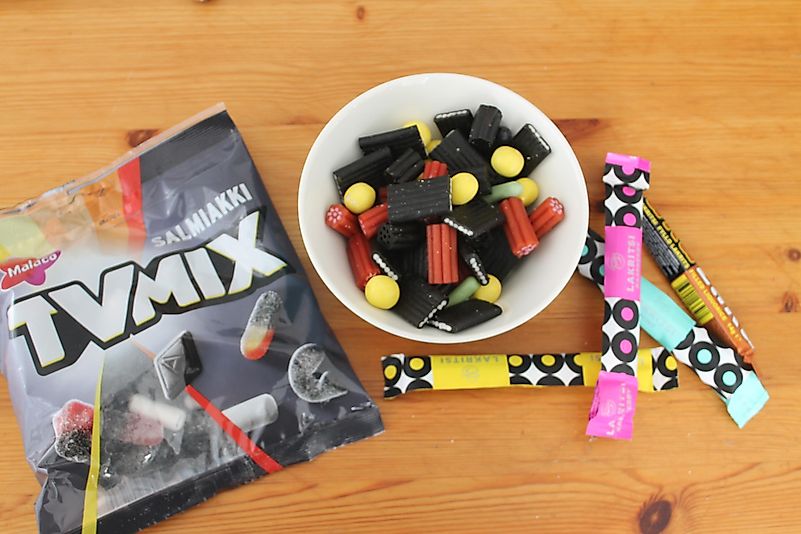 Finnish salmiak candy.
13:00 We gather ourselves a bit at home with a fika before deciding to go enjoy the weather with a walk. Fika in our house means coffee or tea and a pastry, homemade when possible. Baking here often includes berries from the forest or crisp cookies flavored with cardamom.
14:30: Our spot is a public one beside one of the areas many lakes, but at about 20 minutes' drive away from home it is considered a bit out of the way. There are trails in the heather and berry picking spots here. Depending on conditions and inclination, you can fish from the pier or take out a little boat. In the winter people ski on the frozen lake.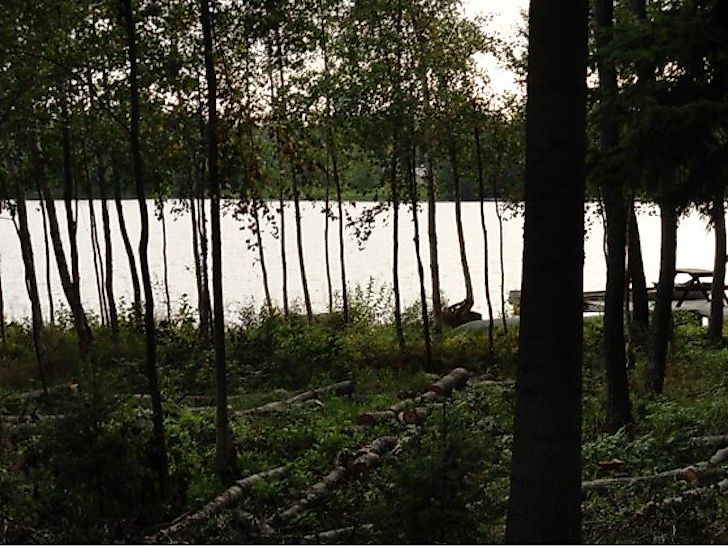 There are rough benches around a fire and an open covered picnic table. There might be firewood, but most people bring their own. Normally if you come you light a fire and grill sausages to enjoy out in the fresh air. The smoke also helps discourage the gnats and mosquitos that are an inevitable part of the warm weather in Finland.
Grilling spots, shelters, and even cabins dot the forest here. The "Everyman's Right" in Finland codifies the cultural expectation of keeping these spaces free and open to all.
We might have gone to our own summer cabin this weekend like more and more of our friends are starting to do as the weather warms. But we have to take a boat to get to ours and there is a football tournament tomorrow, so it wasn't worth it.
17:00: We go home in time for the kids to have time to relax and get ready for their disco at the community hall tonight. While our village doesn't have any restaurants or regular nightlife there is a robust social scene. Events and get-togethers are especially abundant for children and families. Teenagers though, tend to go to town for entertainment like movies or concerts or clubs.
As the kids ride their bikes to the community hall for the dance, it is relatively quiet in the house. We enjoy fredagsmys, which means hanging out with family and watching tv while you eat treats and chill.
21:15: It's still light when the kids come back from the dance. For an evening snack while we wait for the sauna to heat up, we eat bond öst (squeaky cheese) and cloudberry jam.
21:30: We finish up the evening with the alternating hot and cold of a good Finnish sauna.
10:30: Although it is still light, we drink our berry juice feeling relaxed and sleepy.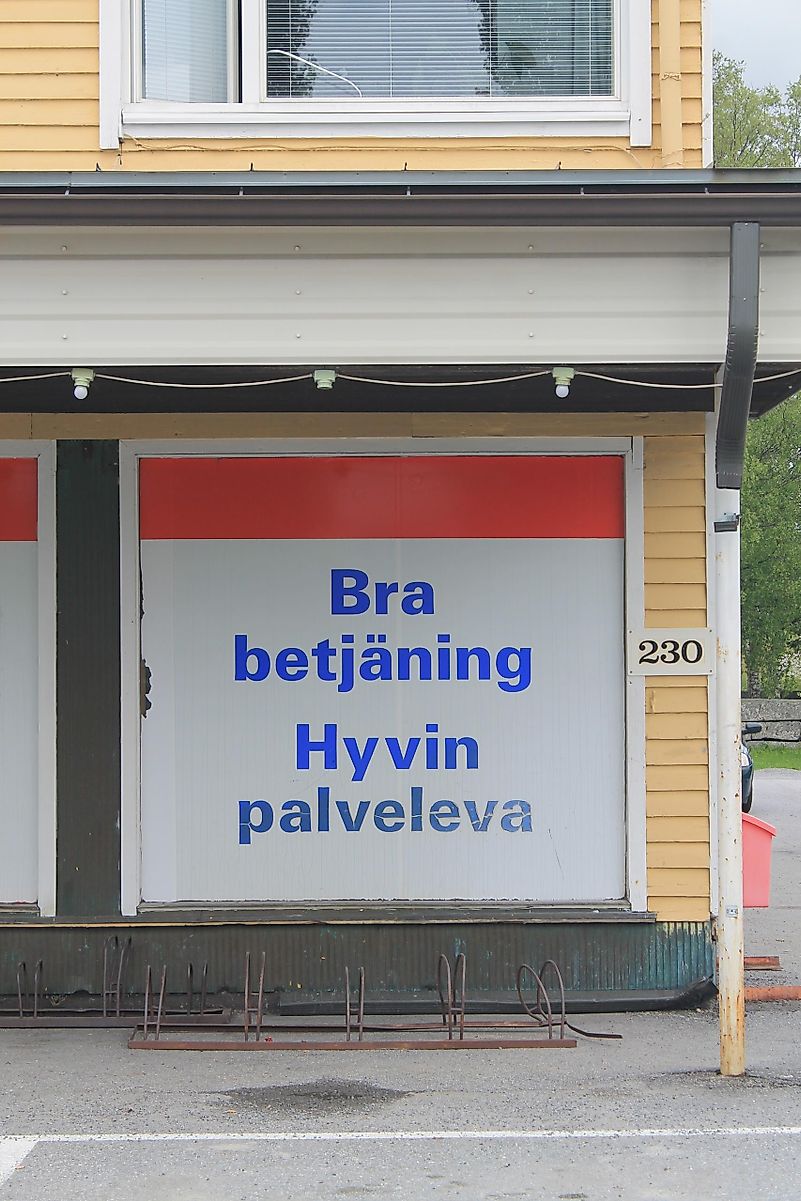 A sign showing Swedish text alongside Finnish. In this village, as well as some other areas of Finland, Swedish is the primary language used.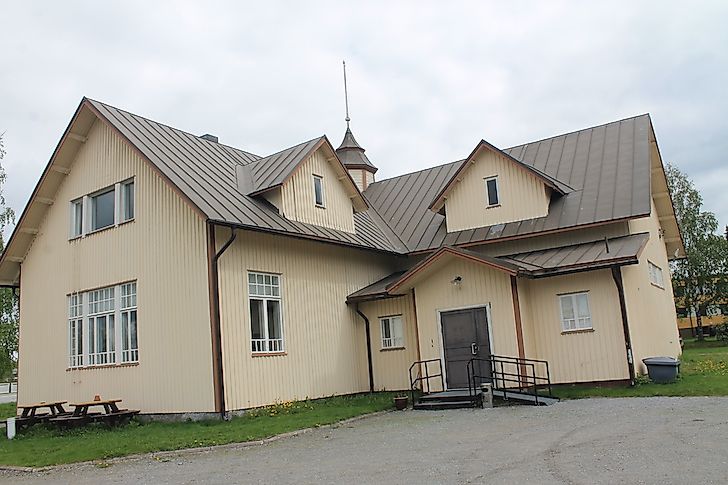 In this Finnish village, like many places in the country, the community center is the heart of the community.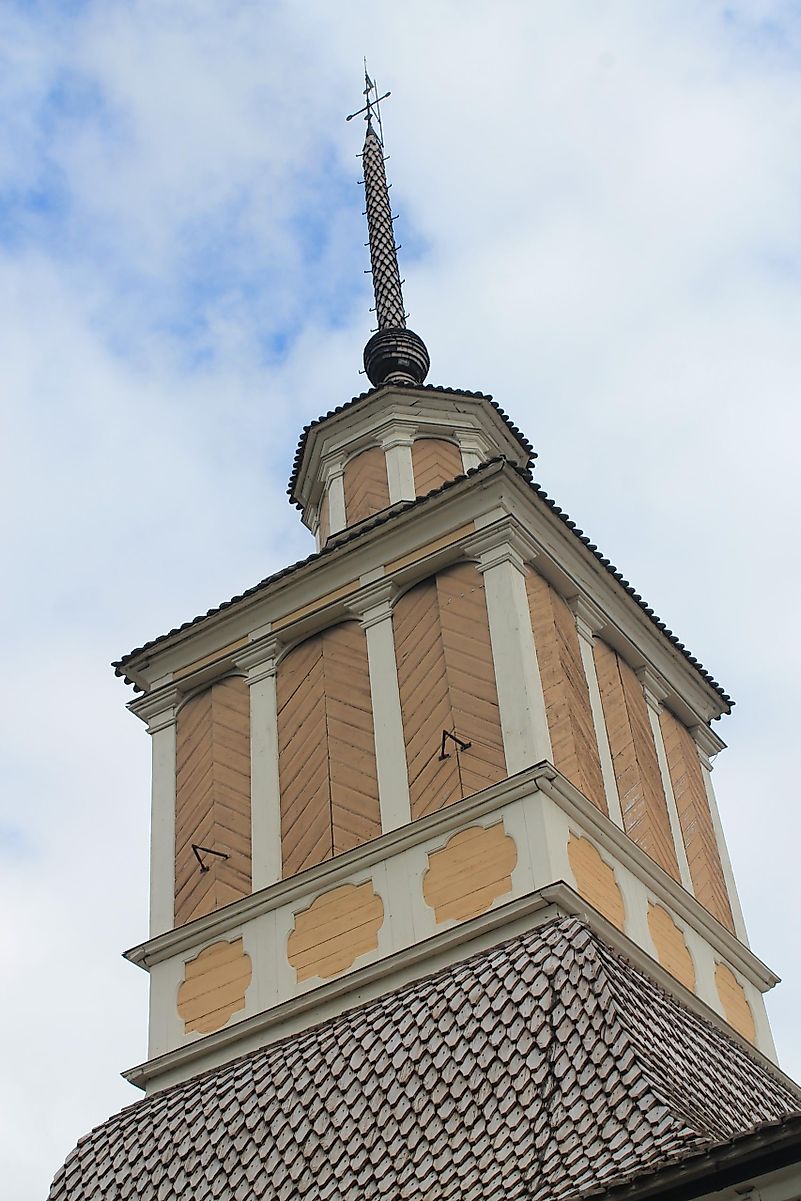 The top of a Lutheran church. In Finland, the primary religion is Lutheran Protestantism. However, many of the country's residents do not attend a church service of any kind.