Portugal Latitude and Longitude
Physical Map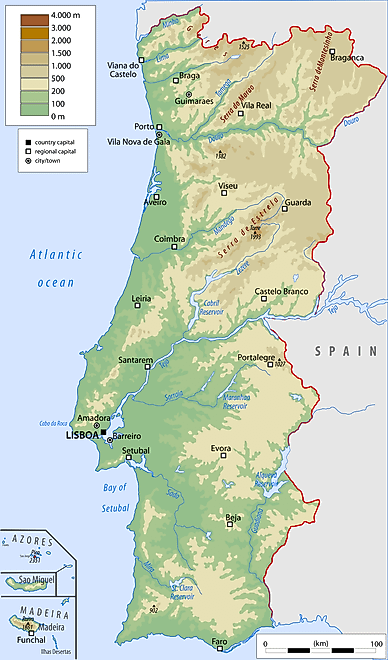 View Map
Portugal's Information
| | |
| --- | --- |
| Area | 92,090 km2 (#109) |
| Population | 10,221,415 (#82) |
| Population Density | 95 people/km2 |
| GDP PPP | $328.25 Billion |
| GDP Per Capita | $31,965 |
| Currency | Euro (EUR) |
| Government Type | Semi-presidential Republic |
| Largest Cities | |
More on Portugal
The highest point in continental Portugal is Torre, which is a point in the Serra da Estrela mountains measuring 6,539 feet (1,993 metres). In all Portuguese territory, Mount Pico in the Azores is the highest point at 7,713 feet (2,531 metres). Mount Azores is an active stratovolcano.
The lowest point in Portugal is at sea level. Portugal has a coastline that measures 1,114.74 miles (1,794 kilometres).
The northernmost point in Portugal is a village called Cevide (coordinates: 42.154058, -8.198415). The village is found in Minho-Lima in northern Portugal near the Spanish border. The closest major city is Cristoval.
The easternmost point in Portugal is Ifanes e Paradela (coordinates: 41.574886, -6.190217). It is a small village of only around 300 inhabitants. It is found near the border of Spain near the town of Miranda do Douro, a region well-known for having its own language, Mirandese.
The southernmost point of mainland Portugal is Cabo de Santa Maria (coordinates: 36.960158, -7.887096). Cabo de Santa Maria is located in Faro, a district well-known for its Mediterranean flair and sandy beaches. The southernmost point in all Portuguese land is Ilhéu de Fora (coordinates: 30.031234, -16.057757). It is located on the archipelago of Madeira.
The westernmost point in mainland Portugal is Cabo da Roca in Sintra (coordinates: 38.780963, -9.500552). It is the westernmost point in all of continental Europe. The westernmost point in all of Portugal is found in the Azores at Ilhéu do Monchique (coordinates: 39.496105, -31.274871).
This page was last updated on June 29, 2018.