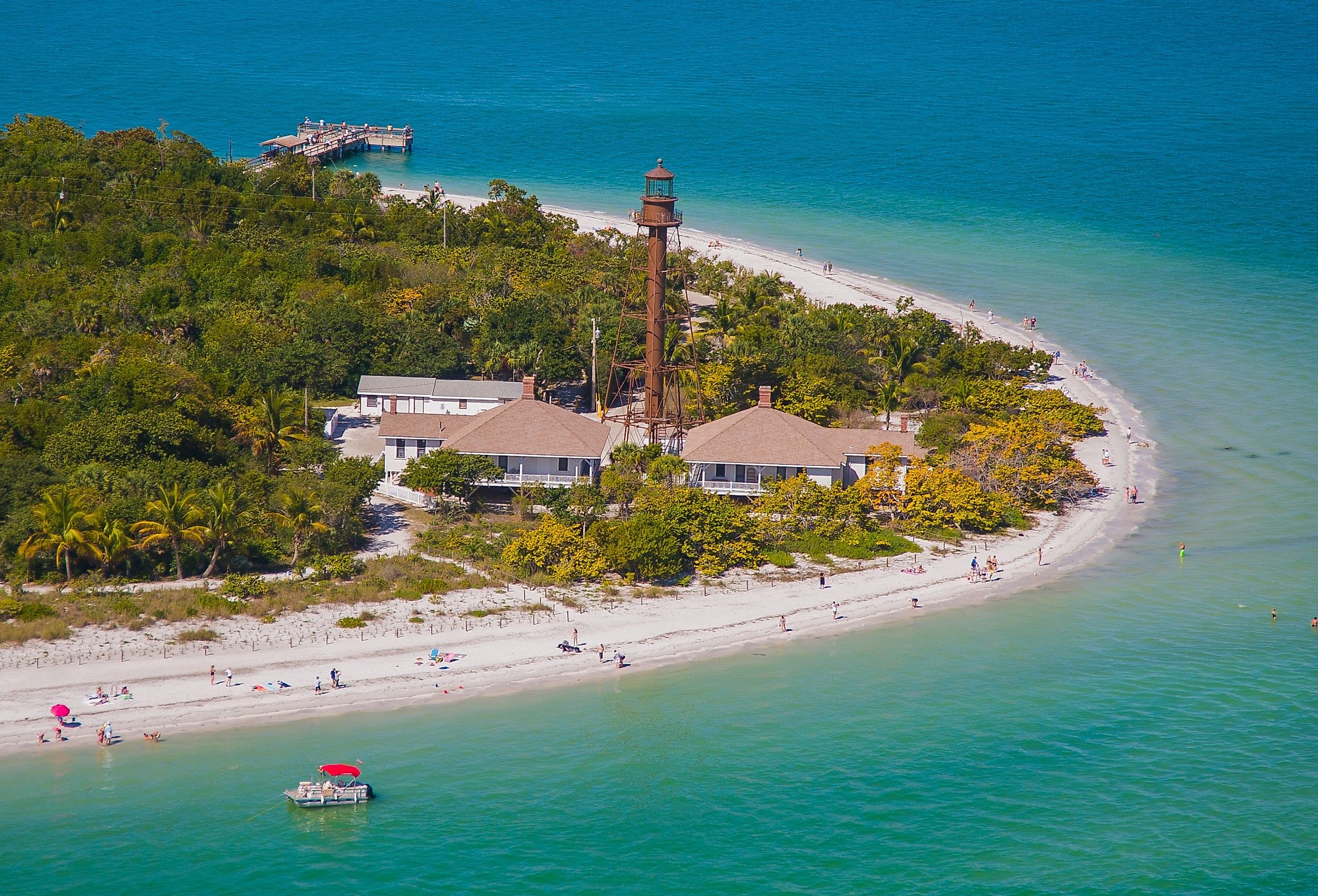 The 11 Most Picturesque Small Towns on Florida's Paradise Coast
Florida's Gulf Coast is not just about bustling cities and crowded theme parks. It is also home to numerous picturesque small towns with charm and tranquility, especially along the southern shores. These hidden gems, tucked along Florida's Paradise Coast, offer a refreshing escape from the hustle and bustle, allowing visitors to see themselves in Florida's natural beauty. From quaint coastal towns with pristine beaches to historic districts filled with boutique shops and art galleries, these small towns offer an adventure into the deep south of the Sunshine State.
Ave Maria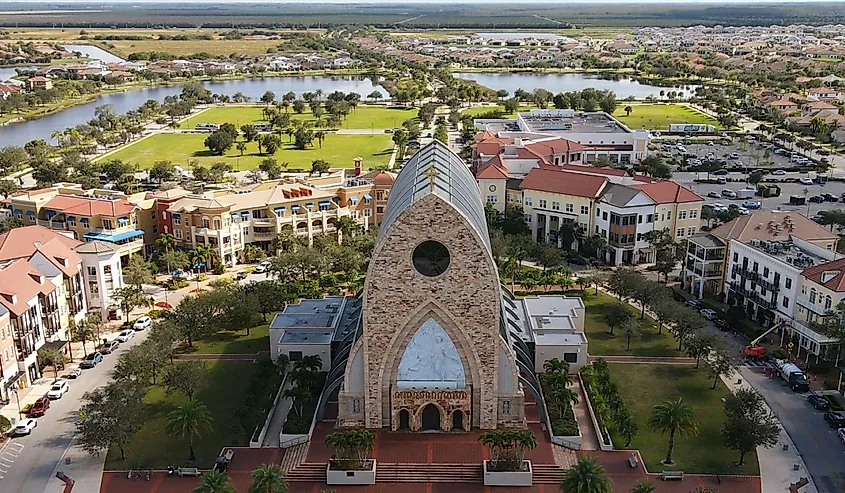 Nestled in Collier County, Florida, Ave Maria is a picturesque town known for its serene setting and strong community bonds. Ave Maria offers a blend of residential living, educational institutions, and recreational opportunities. The town revolves around Ave Maria University, a Catholic liberal arts college that fosters a vibrant cultural and intellectual atmosphere. Visitors can explore the charming downtown area, featuring local shops, inviting restaurants like The Bean of Ave Maria and The Pub & Grill at Ave Maria, and community gathering spaces like the Ave Maria Town Center.
The stunning Ave Maria Oratory serves as a centerpiece, providing a place for reflection and spiritual nourishment. Outdoor enthusiasts can enjoy the town's parks and green spaces, including the Panther Run Golf Club and Ave Maria Water Park. With its tranquil ambiance, close-knit community, and dedication to education and quality of life, Ave Maria presents an ideal destination for residents and visitors seeking a peaceful and engaging experience.
Immokalee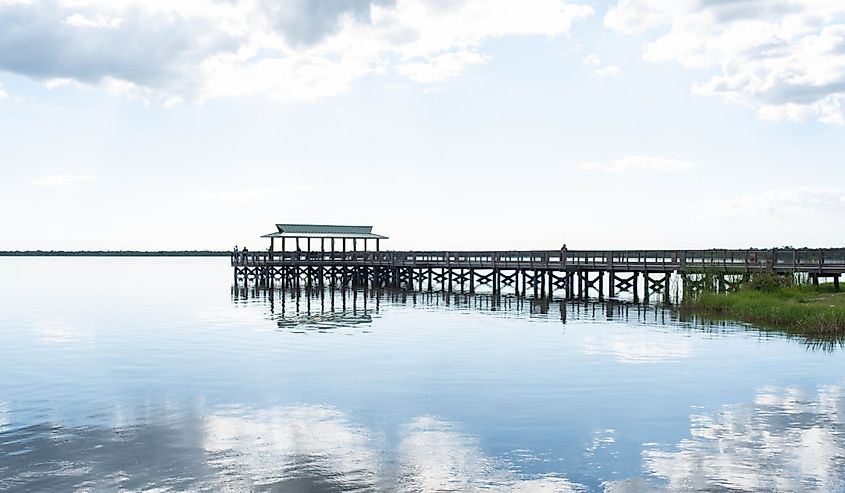 Immokalee, set in Collier County, Florida, is a vibrant town known for its diverse cultural heritage and agricultural significance. With a population of around 25,000 residents, Immokalee offers a unique glimpse into the lives of its hardworking community and provides visitors with an authentic Florida experience. Explore the town's bustling farmers' market, where you can find fresh produce, local crafts, and traditional foods that reflect the area's agricultural roots.
Experience the rich cultural tapestry by visiting the Seminole Casino Hotel, which showcases the vibrant Seminole culture through gaming, dining, and live entertainment. Discover the natural beauty of the nearby Corkscrew Swamp Sanctuary, a haven for birdwatching and nature enthusiasts with its diverse wildlife and scenic boardwalks. Immokalee's close-knit community, cultural heritage, and natural wonders make it a captivating destination for those seeking an off-the-beaten-path experience in Florida.
Fort Myers Beach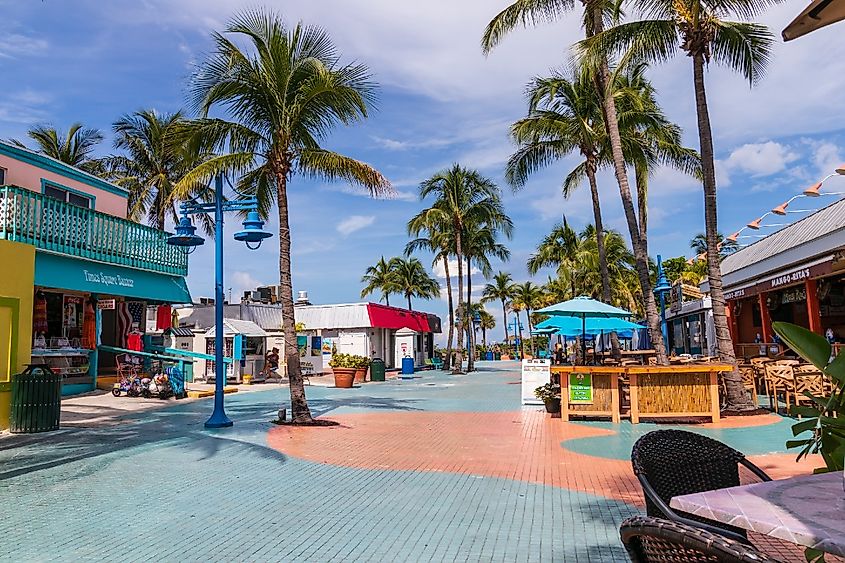 Fort Myers Beach, situated on Estero Island in Southwest Florida, is a bustling coastal town renowned for its pristine beaches, vibrant atmosphere, and abundant recreational opportunities. Sink your toes into the soft sandy shores and dip in the warm waters of the Gulf of Mexico, making the most of the ideal conditions for sunbathing, swimming, and engaging in various water sports.
Take a stroll along Times Square, the vibrant hub of the town's entertainment district, where you'll discover an array of shops. Check out delightful culinary experiences at popular establishments like Nervous Nellie's, serving up delicious seafood and waterfront views, or sample a variety of flavors at the Smokin' Oyster Brewery. Discover the natural beauty of Bowditch Point Park, offering panoramic coastline views, birdwatching opportunities, and peaceful fishing spots. Experience the vibrant nightlife, with numerous bars and live music venues where you can dance the night away.
Naples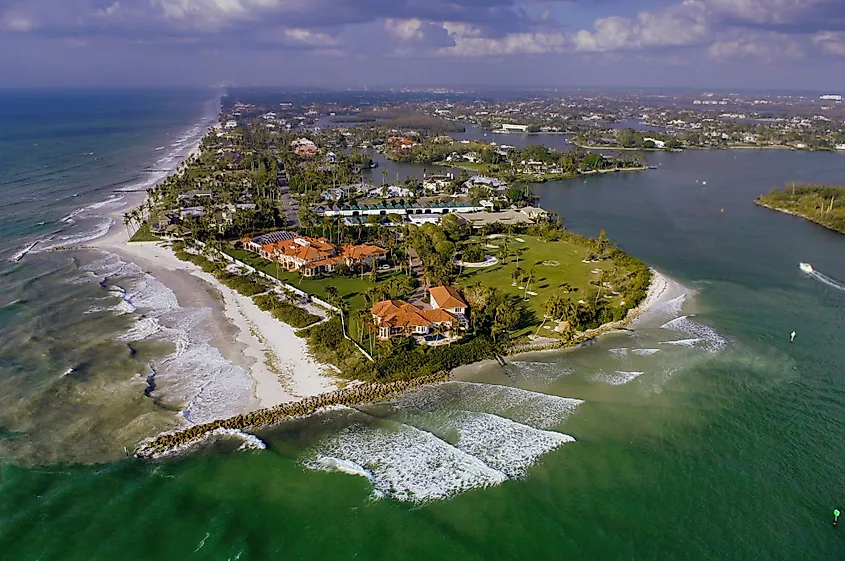 Naples is a picturesque town tucked away along the Gulf of Mexico, renowned for its pristine beaches and upscale charm. Explore the vibrant shopping district of 5th Avenue South, where you'll find a diverse range of unique shops and boutiques, including Marissa Collections, Gardner Colby Gallery, and Provident Jewelry, offering designer clothing, artisanal goods, and exquisite jewelry.
Visitors can stroll along the iconic Naples Pier, which extends into the turquoise waters and provides panoramic coastline views. Don't miss the opportunity to visit the Naples Botanical Garden, a lush oasis featuring beautifully landscaped gardens and a diverse collection of tropical plants. With its stunning natural beauty and refined ambiance, and attractions like the Naples Zoo, Naples is a true paradise for nature lovers and luxury seekers.
Sanibel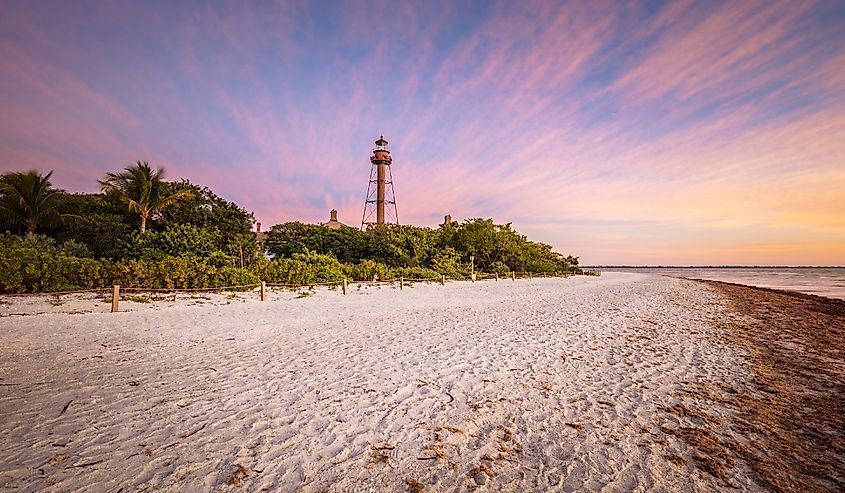 Sanibel Island, positioned off the coast of Southwest Florida, is a captivating destination renowned for its pristine beaches, abundant wildlife, and natural beauty. With its laid-back island atmosphere and a population of around 7,000 residents, Sanibel offers a peaceful retreat for nature lovers and beach enthusiasts. Explore the world-renowned beaches known for their shell-strewn shores and spectacular sunsets. Go to the JN "Ding" Darling National Wildlife Refuge, where you can spot a diverse array of bird species and other fascinating wildlife.
Experience the island's unique ecosystem by cycling along the more than 25 miles of scenic bike paths or kayaking through the tranquil mangrove trails. Check out charming boutiques like Suncatcher's Dream and art galleries like Tower Gallery in the vibrant Periwinkle Place. With its unspoiled natural landscapes, inviting ambiance, and many recreational activities, Sanibel Island offers a serene and picturesque getaway for visitors of all ages.
Moore Haven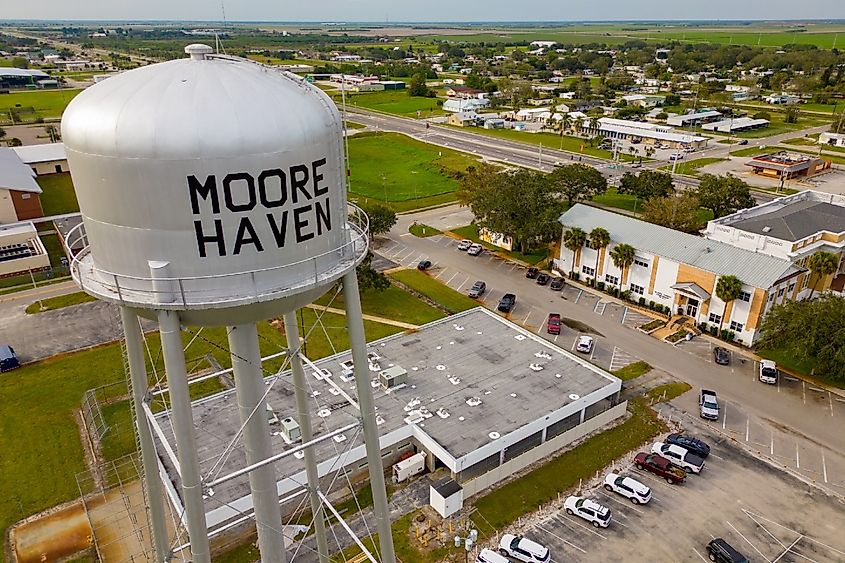 Moore Haven, perched on the banks of the Caloosahatchee River in Glades County, Florida, is a charming town with a population of around 1,700 residents. This small, close-knit community offers a peaceful retreat with its scenic beauty and tranquil atmosphere. Take a leisurely stroll along the riverfront promenade, where you can enjoy stunning views of the river and witness picturesque sunsets.
Outdoor enthusiasts will enjoy fishing, boating, and kayaking in Lake Okeechobee, the largest freshwater lake in Florida, just a short drive away. Don't miss the opportunity to visit the Ortona Locks, part of the Okeechobee Waterway, and marvel at the engineering marvels that control water flow in the region. Moore Haven's tranquil setting, friendly community, and proximity to natural wonders make it a delightful destination for those seeking a serene getaway in the heart of southern Florida.
Marco Island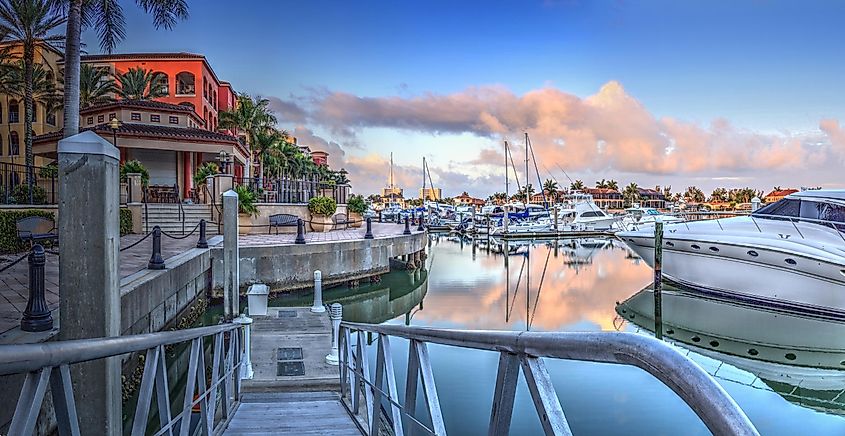 Marco Island is a serene paradise renowned for its pristine beaches, vibrant shops, and delectable dining experiences. Explore the lively Marco Walk Plaza, where a variety of shops and restaurants offer beachwear, unique souvenirs, and a diverse culinary scene.
Experience the natural beauty of Tigertail Beach, with its tranquil waters and picturesque dunes. Embark on a scenic boat tour through the breathtaking Ten Thousand Islands, home to abundant wildlife. Dine at CJ's on the Bay or savor gourmet Italian cuisine at Sale e Pepe. Whether seeking relaxation, outdoor adventures, or culinary delights, Marco Island provides an idyllic getaway for all.
Everglades City
Situated at the gateway to Everglades National Park, Everglades City is a charming town with rich history and natural beauty. Explore the Smallwood Store Museum, a historic landmark preserving the town's pioneer past and providing a glimpse into its cultural heritage. Embark on an exhilarating airboat tour through the Everglades, exploring the stunning wetlands, diverse wildlife, and landscapes.
Learn about the delicate ecosystem and the importance of conservation. After your adventure, savor the flavors of the sea at waterfront restaurants with fresh stone crab claws and succulent gulf shrimp. With its rustic charm, historical significance, and proximity to the mesmerizing Everglades, Everglades City is a perfect destination for nature enthusiasts, history buffs, and those seeking an immersive experience in this extraordinary natural wonder.
Punta Gorda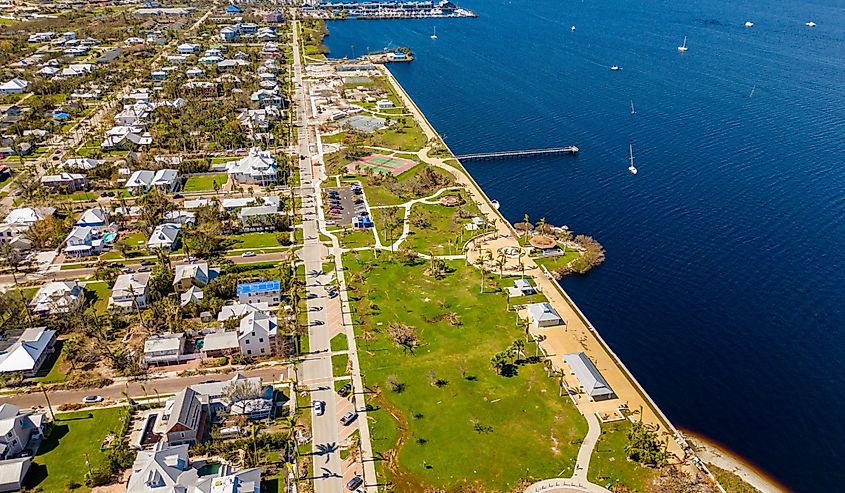 Punta Gorda, located in Charlotte County, Florida, is a charming waterfront town known for its historical features, beautiful harbor, and friendly community. With a population of around 20,000 residents, Punta Gorda offers a tranquil and laid-back atmosphere. Explore the historic downtown area, lined with colorful buildings and boutique shops where you can find unique gifts, local artwork, and a wide selection of books. Stroll along the scenic waterfront promenade, taking in the panoramic views of Charlotte Harbor and the Peace River.
Visit Fishermen's Village, a waterfront shopping and dining complex, where you can browse through shops like Sandman Book Company, dine at waterfront restaurants like Harpoon Harry's, and enjoy live entertainment at the center stage. For nature enthusiasts, explore the expansive Charlotte Harbor Preserve State Park, with its diverse wildlife, hiking trails, and opportunities for kayaking and fishing. Don't miss the chance to attend community events such as the weekly Farmers Market at Taylor Street or the annual Punta Gorda Wine & Jazz Festival. With its quaint charm, scenic beauty, and welcoming community, Punta Gorda offers a delightful coastal experience for residents and visitors alike.
Saint James City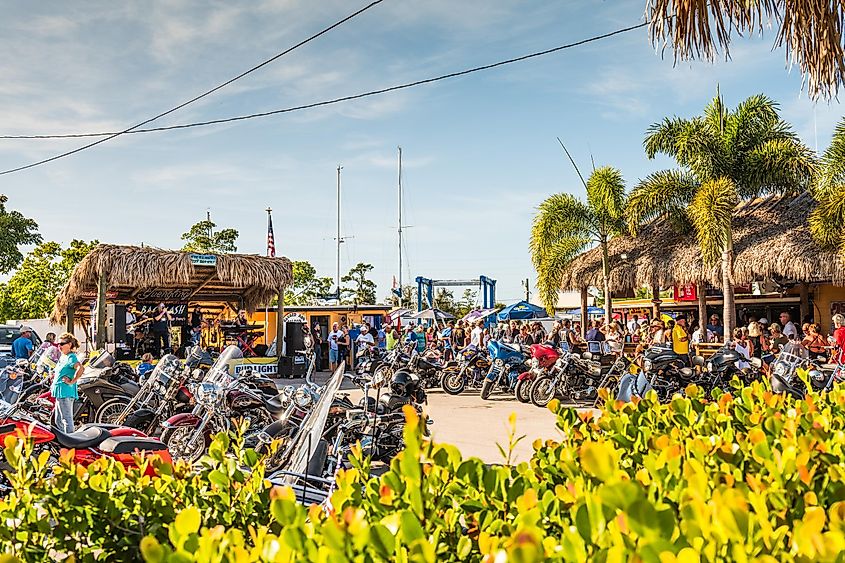 Saint James City, situated on Pine Island in Lee County, Florida, is a hidden gem known for its laid-back atmosphere, waterfront views, and natural beauty. With around 4,000 residents, Saint James City offers a peaceful retreat for those seeking a relaxed coastal lifestyle. Explore the scenic waterfront area, where you can enjoy picturesque views of the Caloosahatchee River and the Gulf of Mexico. Take a leisurely boat ride or go fishing in the surrounding waters, known for their abundant marine life.
Discover the unique shops and boutiques along Stringfellow Road, where you can find locally made crafts, artwork, and tropical-themed gifts. Dine on fresh seafood at waterfront restaurants like the Waterfront Restaurant or Woody's Waterside, where you can savor delicious meals while enjoying waterfront dining experiences. For nature lovers, visit the nearby Matlacha Pass National Wildlife Refuge, home to diverse bird species and other wildlife. With its relaxed atmosphere, natural landscapes, and waterfront charm, Saint James City provides a tranquil and idyllic coastal experience for residents and visitors alike.
Estero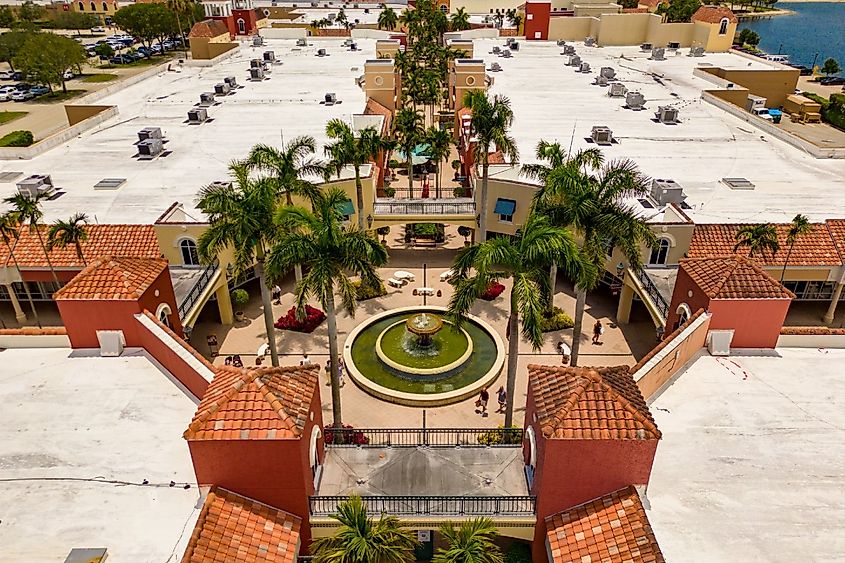 Estero, located in Lee County, Florida, is a vibrant town known for its beautiful landscapes, outdoor activities, and friendly community. With a population of around 35,000 residents, Estero offers a blend of natural beauty and modern amenities. Explore the stunning natural surroundings at Koreshan State Park, where you can hike along scenic trails, kayak in the Estero River, and learn about the area's rich history.
Visit Miromar Outlets, a premier shopping destination with a wide selection of designer and brand-name stores. Enjoy a round of golf at one of the many championship golf courses in the area, or spend a day at the beach at nearby Bonita Beach Park. Try out various dining options, from local seafood restaurants to international cuisine. With its proximity to the Gulf of Mexico, Estero is also a popular spot for boating and fishing enthusiasts.
Florida's Paradise Coast is home to many small towns that capture the essence of its natural beauty, history, and local culture. These deep southern towns offer a glimpse into a different side of Florida, where tranquility and charm reign supreme. Whether you seek a relaxing beach getaway, a stroll through historic streets, or local art and cuisine, these small towns have it all. So, next time you plan a trip to Florida, consider exploring these hidden treasures and discovering the true beauty of the Sunshine State.