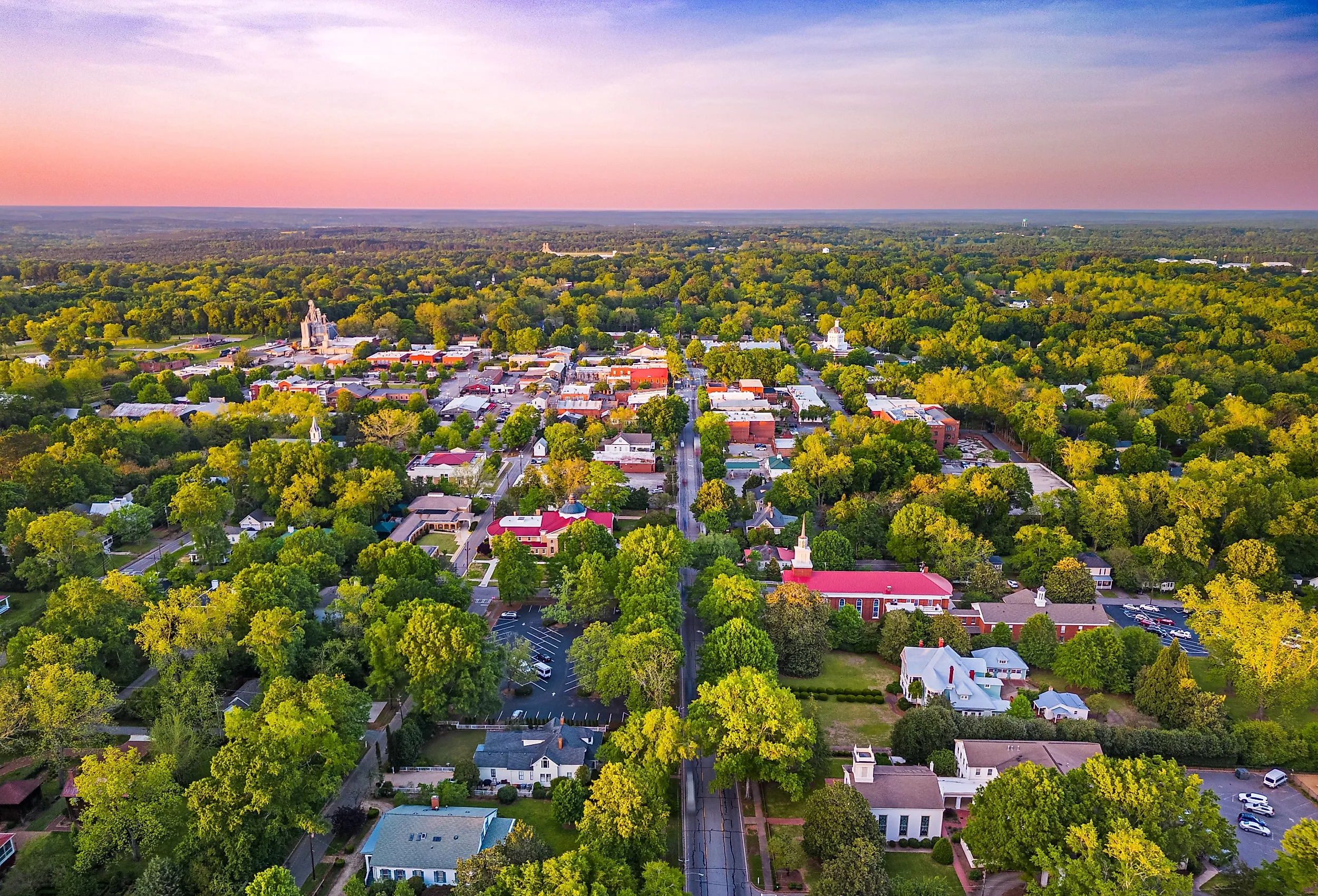 8 Cutest Small Towns in Georgia
Georgia is famous for its long history, hospitable Southerners, and picturesque landscapes. Apart from its bustling metropolises, the state is also home to several alluring small towns that are worth discovering. From the lower reaches of the Appalachian Mountains to the level coastal plains, Georgia's small towns brag exceptional topographical qualities such as ponds, streams, mountains, and state parks. Each town bestows its definite style, with a natural grace that will enthrall your soul. Therefore, stuff your bags and ready yourself for an unforgettable escapade as you can discover what makes these towns outshine the other parts of Georgia!
Dahlonega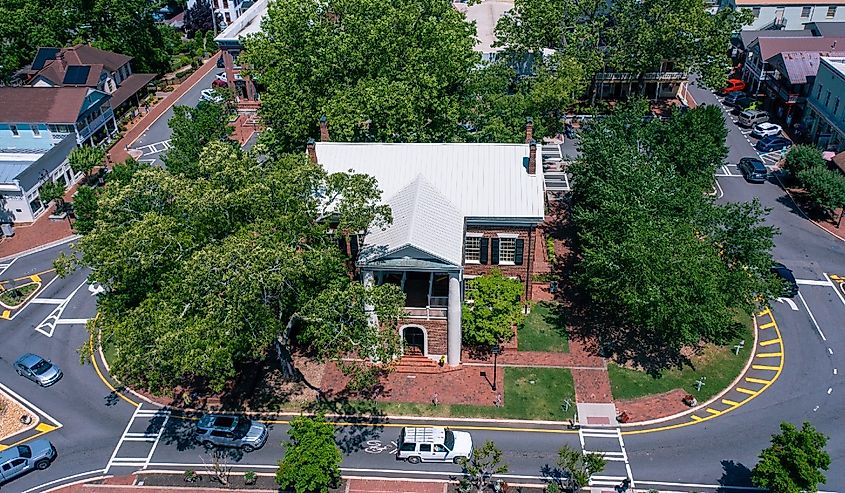 Enclosed by the foothills of the North Georgia mountains, Dahlonega stands as a beautiful town renowned for its ancient grace and natural allure. What makes Dahlonega special is the merging of mountains and waterways, creating a gorgeous landscape that attracts outdoorsy people and nature lovers alike. The city rests near the Chattahoochee National Forest, offering an infinite number of trails for hiking, cycling, and camping. The Chestatee and Etowah Rivers course around Dahlonega, providing a wealth of chances for angling, canoeing, and tubing. Dahlonega is famous for its gold mining past, and guests can still attempt panning for gold in nearby streams. With its magnificent mountain views, gleaming rivers, and abundant history, Dahlonega is a rare small town that unites excitement and elegance.
Madison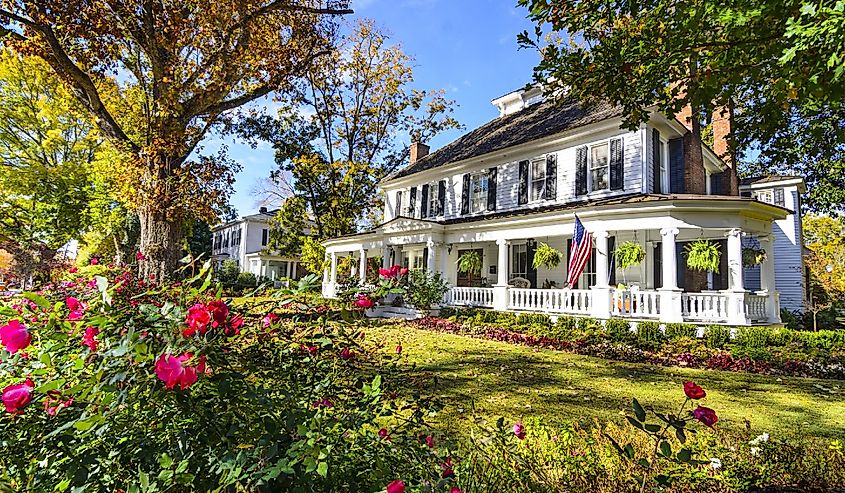 Nestled in the midst of Georgia's venerable antebellum route, Madison is a city that radiates Southern grace and attractiveness. One of the city's most remarkable characteristics is its long-standing antebellum architecture, with more than 100 ancient homes and edifices enrolled in the National Register of Historic Places. Traversing Madison is like time-traveling, with its tree-lined streets, stately mansions, and conserved downtown. The town is also known for its picturesque lakes and rivers, including Lake Oconee and the Oconee River, which render possibilities for boating, fishing, and other aquatic activities. Madison is also home to a few state parks, such as Hard Labor Creek State Park and Oconee National Forest, where vacationers can investigate miles of trails and take pleasure in the beauty of Georgia's natural scenery. With its mixture of Southern appeal, historical architecture, and stunning scenery, Madison is an extraordinary small burg in Georgia.
Blue Ridge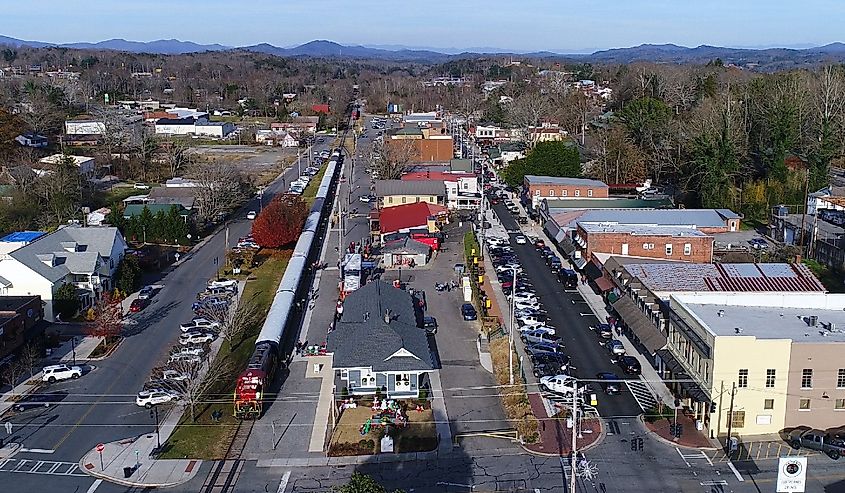 Concealed in the North Georgia peaks, Blue Ridge is a diminutive village that provides a flawless retreat into nature's entertainment. What creates Blue Ridge stand out is its breathtaking mountain panoramas, spotless rivers, and the plethora of outdoor recreational prospects. The municipality lies close to the Chattahoochee National Forest, supplying an abundance of hiking and cycling trails, as well as camping and angling spots. One of the highlights of Blue Ridge is the Toccoa River, which courses through the town and is a much-visited area for tubing, canoeing, and trout fishing. The hamlet is also renowned for its scenic Blue Ridge Lake, encircled by overgrown woodlands and granting avenues for boating, swimming, and picnicking. Apart from its natural elegance, Blue Ridge also showcases a nice downtown area with exclusive stores, art galleries, and eateries, as well as a storied railway that offers picturesque train rides through the mountains. With its ideal mountain backdrop, outdoor experiences, and small-town allure, Blue Ridge is a diamond in the heart of the North Georgia mountains.
Helen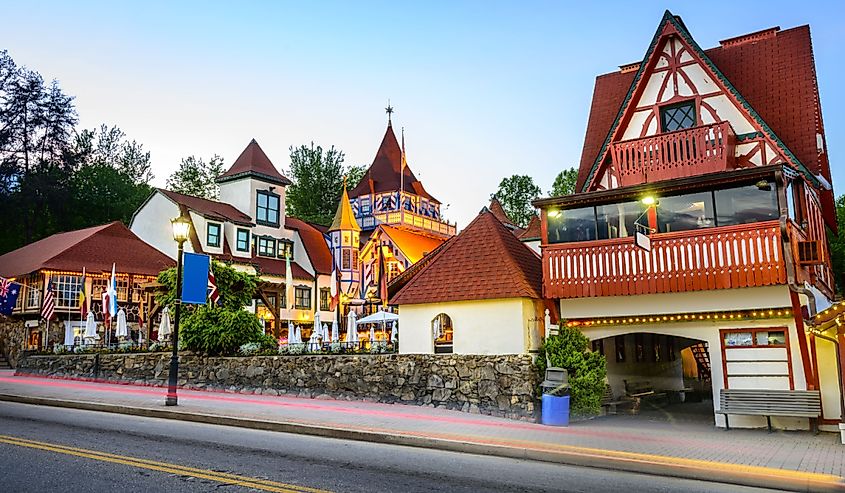 Tucked away in the Blue Ridge Mountains of northern Georgia is the tiny town of Helen, a perfect embodiment of an Alpine village from Europe. Famous for its picturesque edifices with baskets of flowers, cobblestone avenues, and usual German festivities and occurrences year-round, Helen is a unique Bavarian-inspired gem. Furthermore, Helen lies alongside the Chattahoochee River, allowing for tubing, fishing, and enjoyable riverside strolls. The surrounding hills present a wealth of chances for trekking, cycling, and admiring the natural beauty of the area. In addition to its peculiar Bavarian ambiance and gorgeous mountainous scenery, Helen is home to numerous state parks, like Unicoi State Park and Smithgall Woods State Park, where visitors can relish hiking, camping, and wildlife watching. Helen is a small city in Georgia, boasting an extraordinary Bavarian atmosphere and stunning mountain surroundings.
Thomasville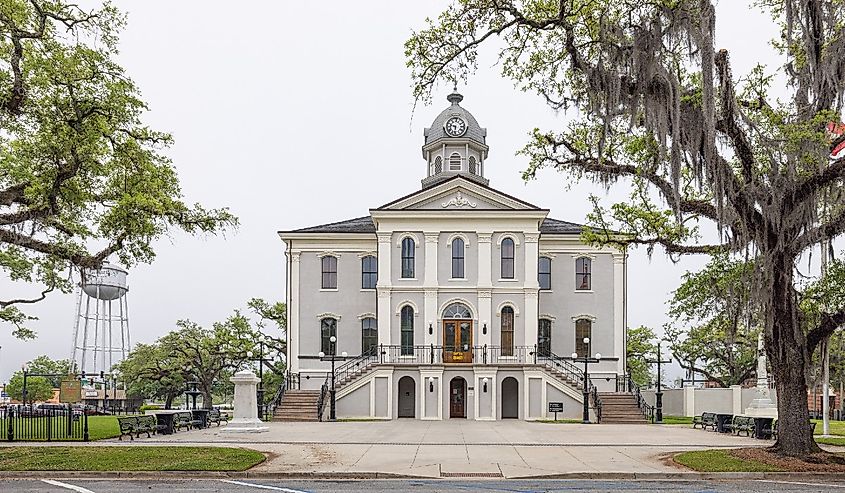 Nestled in the southern region of Georgia, Thomasville is a small town acclaimed for its Southern hospitality, quaint magnetism, and natural exquisiteness. It is famous for its picturesque downtown space with its tree-lined avenues, classic dwellings, and particular stores and eateries. It is also encompassed by plenty of natural loveliness, counting the impressive Pebble Hill Estate, a sweeping estate with ravishing gardens, wildlife, and walking tracks. Additionally, the town has many nearby lakes and rivers, such as Cherokee Lake and the Ochlockonee River, providing occasions for fishing, boating, and wildlife observation. With its mellow natural glory, Southern magic, and historical sights, Thomasville is an obscure gem in Georgia that offers a tranquil refuge from the buzz of everyday life.
St. Marys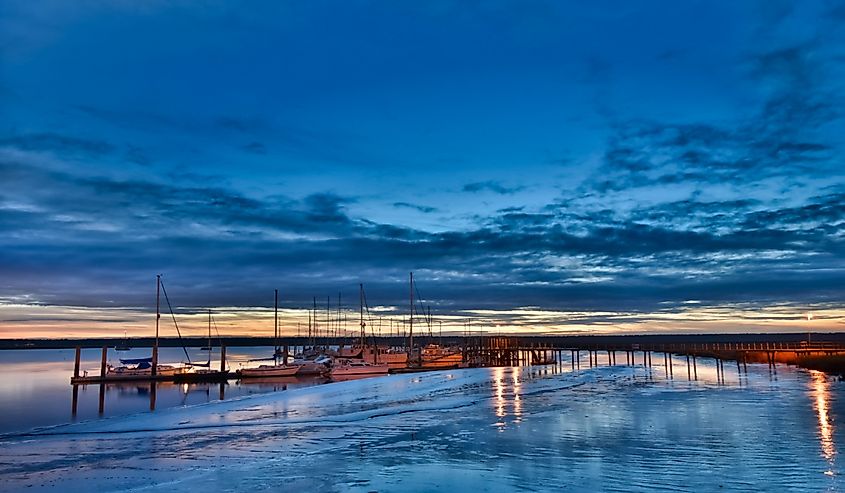 Situated along the shore of southeastern Georgia, St. Marys is a diminutive city renowned for its seafront enchantment, unpolluted streams, and grand past. The municipality lines the St. Marys River, which serves as the boundary between Georgia and Florida and offers chances for sailing, fishing, and paddling. St. Marys is also a passage to the immaculate Cumberland Island, a National Seashore and haven to feral horses, unspoiled beaches, and maritime forests. St. Marys is likewise home to several ancient sites, including the St. Marys Submarine Museum, which displays the town's naval history, and the Cumberland Island National Seashore Museum, which provides knowledge about the island's natural and cultural heritage. Visitors to St. Marys can also take a picturesque ferry ride to Cumberland Island to explore its untouched beaches, venerable oak trees, and old ruins. With its seaside location, winsome downtown, and access to unsullied streams and natural wonders, St. Marys is a small town that provides a perfect mix of tranquillity and excitement.
Covington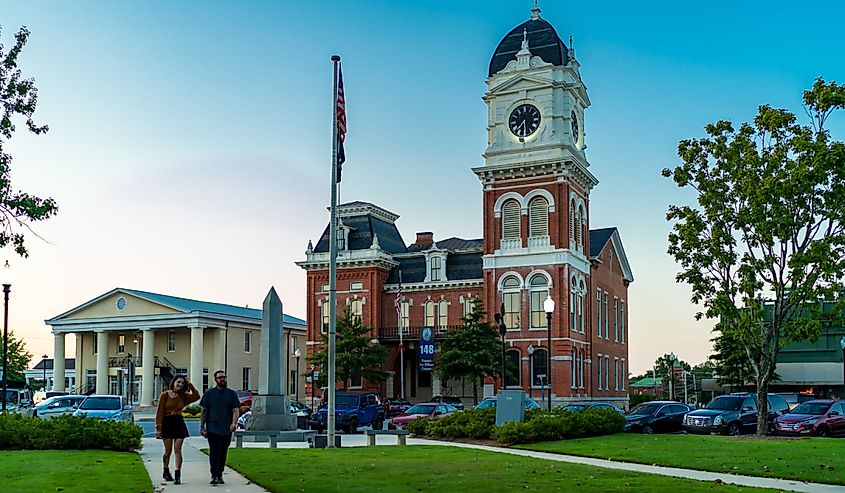 Situated outside of Atlanta, Covington is a pleasing city well-known for its antique architecture and lively downtown. The city's old-fashioned downtown ornaments with retained buildings, chic shops, and regional restaurants, furnish an appealing and cordial ambiance. Nature buffs can traverse the close-by Oxford College of Emory University, which offers captivating grounds and paths. Covington is also renowned for its lively art milieu, with different art galleries, ateliers, and auditoriums highlighting local aptitude. The city holds many fetes and occasions throughout the year, such as the Covington Art Walk and the Covington Ghost Tours, which bring to its cultural exuberance. Covington's quaint atmosphere and venerable architecture make it an uncommon and winsome spot for voyagers searching for a mix of history, culture, and natural beauty.
Tifton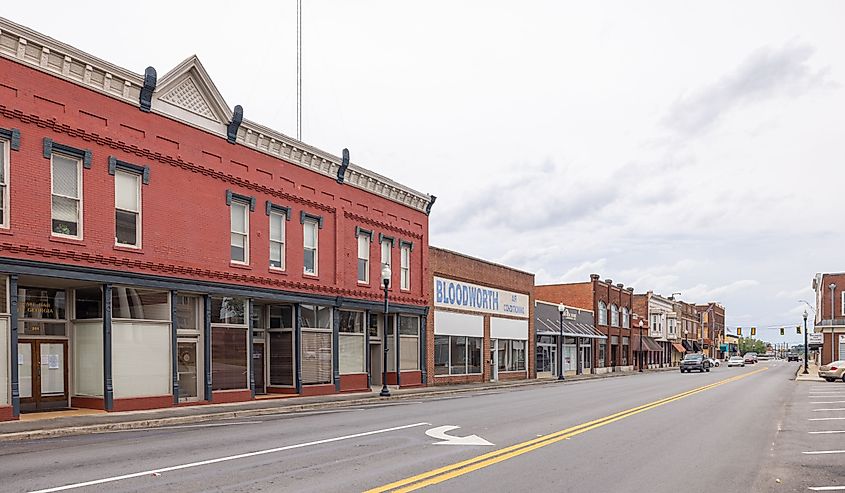 Tifton, located in the southern area of Georgia, is famous for its farming heritage and congenial Southern amiability. The countryside encompasses abundant plantations, manufacturing cotton, legumes, pecans, and other crops. Tourists can discover Tifton's agrarian tale at the Georgia Museum of Agriculture and Historic Village. The downtown area of Tifton is filled with protected ancient architecture, particular boutiques, and local eateries, providing a glimpse into the city's past and present. The town also carries out many fiestas and events, such as the live spectacles at the Tift Theatre for the Performing Arts and the Tifton Farmers Market, adding to its community spirit. Nature admirers can investigate the nearby Fulwood Park and Agrirama Lake, offering possibilities for angling, boating, and picnicking. With its deep-rooted agricultural past, friendly atmosphere, and charming downtown, Tifton presents an authentic portrayal of Southern grace and hospitality.
Georgia is full of small towns that are abundant in natural splendor, cultural heritage, and inviting friendliness. These towns stand out as some of the most darling miniature towns in Georgia, each with its peculiar characteristics and highlights. From Dahlonega's idyllic mountain backdrop and vintage downtown to Madison's captivating pre-Civil War design and renowned gardens, these towns present an enjoyable escape from the hectic energy of metropolitan life. Therefore, if you are in search of a holiday to relish the cute appeal of little-town Georgia, think about visiting these lovable miniature towns and making long-lasting memories in the one-of-a-kind and picturesque destinations that Georgia has to offer.