Politics
Who Will Donald Trump Appoint To The U.S. Supreme Court?
In Fall of 2016, President-Elect Donald Trump released a list of prospective nominees to the U.S. Supreme Court.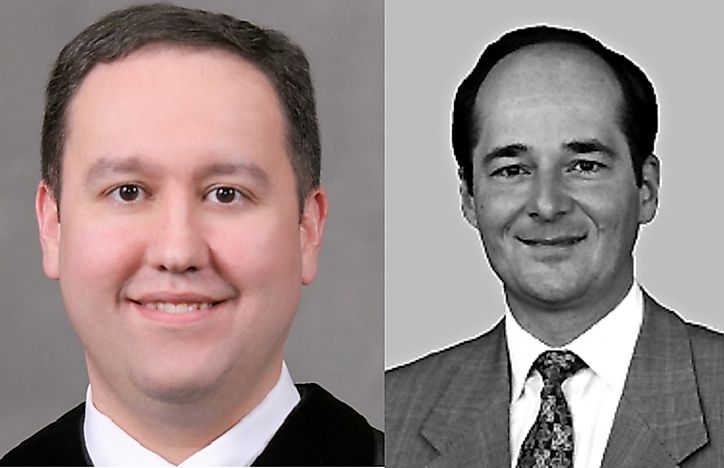 In January of 2017, Donald Trump will take the reigns as the 45th President of the United States of America. One of his first responsibilities will be to nominate a new justice to the U.S. Supreme Court. Before his November 8th election victory, President-Elect Trump had released a list of twenty one prospective nominees. It included various judges from state Supreme Courts, District Courts, Circuit Courts, Courts of Appeals, as well as a U.S. Senator.
Trump's Most Likely Supreme Court Nominees
Among the State Supreme Court Judges on President-Elect Trump's list are two women. One of these women is Allison Eid from Colorado. Eid's government experience includes working with then President Ronald Reagan's speechwriter in the Department of Education, working as a law clerk for Supreme Court Justice Clarence Thomas, serving on the Permanent Committee for the Oliver Wendell Holmes Devise, being appointed Solicitor General of Colorado, and then serving as the 95th Justice of the Colorado Supreme Court.
Joan Larsen is the only other female state Supreme Court judge. Larsen, who's from Michigan, previously worked with the late Justice Antonin Scalia.

Florida native Charles Canady is a Yale Law School graduate and served in Congress from 1993 to 2001. Canady is known for his staunch right to life beliefs and is considered to have come up with the term "partial-birth abortion" in conjunction with the Partial-Birth Abortion Ban Act of 1995. Canady's stance on abortion lines up well with President-Elect Trump's conservative views on this controversial matter.
Before taking on his current position, David Stras served as a clerk for Justice Clarence Thomas. Stras is also thought to be Minnesota's first Jewish Supreme Court Justice.
Born in Texas, Don Willett was involved in then-Governor George W. Bush's 1996 administration in the role of Director of Research and Special Projects. Willettt's strong religious beliefs play a major role in both his personal life as well as political career. Willett assisted the President as part of the White House Office of Faith-Based and Community Initiatives. In 2003, he also participated in developing the PROTECT ACT aimed at safeguarding children.
Edward Mansfield is known to be a hard line conservative with traditional beliefs on issues such as same sex marriage and gender equality. Both of these positions meld well with President- Elect Trump's own political views.
Keith Blackwell was appointed to Georgia's highest court in 2012.
Robert Young has described himself as a traditionalist who ascribes to a formal interpretation of the law. Young is an African American conservative who has worked to protect and uphold the US Constitution, a priority he shares with President-Elect Trump.
Utah native Thomas Rex Lee graduated from Brigham Young University, as well as from the University of Chicago. Lee once clerked for Justice Clarence Thomas. His brother and fellow Mormon Utah Senator Mike Lee is also on Trump's list of possible Supreme Court appointees.
Other Potential Candidates for Appointment By Trump
Other Supreme Court candidates include a couple of judges currently serving in the U.S. District Court system. Amul Thapar previously served as an assistant US Attorney in Washington from 1999 to 2000 before entering private practice in Ohio. Thapar also sat on various subcommittees dealing with important issues such as terrorism, national security, child exploitation, and violent crime.
Another possible nominee, Frederico Moreno, is originally from Venezuela and currently serves as a District Judge for the Southern District of Florida.
Among the U.S. Circuit Court Judges on President-Elect Trump's candidate list are included Diane Sykes, who was nominated to the Seventh Circuit by former President George H. W. Bush, and Raymond Gruender, who was nominated for his post on the Eighth Circuit by George W. Bush in 2004.
Born in New Jersey, Raymond Kethledge was elected to the American Law Institute and works as an Adviser on the Restatement Third, the Law of Consumer Contracts.
Another possible nominee, Steven Colloton, is a graduate of Yale and Princeton, and had previously served as a law clerk for Chief Justice William H. Rehnquist.
Third Circuit Judge Thomas Hardiman was nominated for his judicial position by George W. Bush.
William Pryor is a Southerner known for having strong religious beliefs. If Pryor were to be appointed to the Supreme Court there's no doubt that this action would please Trump's Evangelical supporters.
President-Elect Trump's list of possible nominees also includes three judges from U.S. Courts of Appeals. Margaret Ryan studied law at the University of Notre Dame under the Marine Corps Law Education Program. She currently serves as a Court of Appeals Judge for the Armed Forces. Neil Gorsuch was appointed by George W. Bush in 2006. Lastly, Timothy Tymkovich, who was born in Colorado, currently serves as the Chief Justice of the US Court of Appeal for the Tenth Circuit.
Tough Choices to Be Made
Early on in his term, President-Elect Trump will have a great many important decisions to make. One of the most important will be to fill the vacant seat in the highest court in the land left by Antonin Scalia in 2016, and this decision will influence the direction of the American judicial system, and the direction of the nation as a whole, for years to come.

| | |
| --- | --- |
| Donald Trump's Likely Supreme Court Appointment Candidates | Current Credentials |
| Allison Eid | Colorado Supreme Court Justice |
| Amul Thapar | U.S. District Court Judge for the Eastern District of Kentucky |
| Charles Canady | Florida Supreme Court Justice and former Congressman |
| David Stras | Minnesota Supreme Court Justice |
| Diane Sykes | 7th Circuit Judge |
| Don Willett | Texas Supreme Court Justice |
| Edward Mansfield | Iowa Supreme Court Justice |
| Frederico Moreno | U.S. District Court Judge for the Southern District of Florida |
| Joan Larsen | Michigan Supreme Court Justice |
| Keith Blackwell | Georgia Supreme Court Justice |
| Margaret Ryan | U.S. Court of Appeals Judge for the Armed Forces |
| Mike Lee | U.S. Senator from Utah |
| Neil Gorsuch | U.S. Court of Appeals Judge for the Tenth Circuit |
| Raymond Gruender | 8th Circuit Judge |
| Raymond Kethledge | 6th Circuit |
| Robert Young | Chief Justice of the Michigan Supreme Court |
| Steven Colloton | 8th Circuit Judge |
| Thomas Hardiman | 3rd Circuit Judge |
| Thomas Rex Lee | Utah Supreme Court |
| Timothy Tymkovich | Chief Judge of the U.S. Court of Appeals for the Tenth Circuit |
| William Pryor | 11th Circuit Judge |