Politics
Hillary Rodham Clinton - 2016 U.S. Presidential Candidate
In 2016, the former First Lady, New York Senator, and Secretary of States hopes to become the first female President of the United States of America.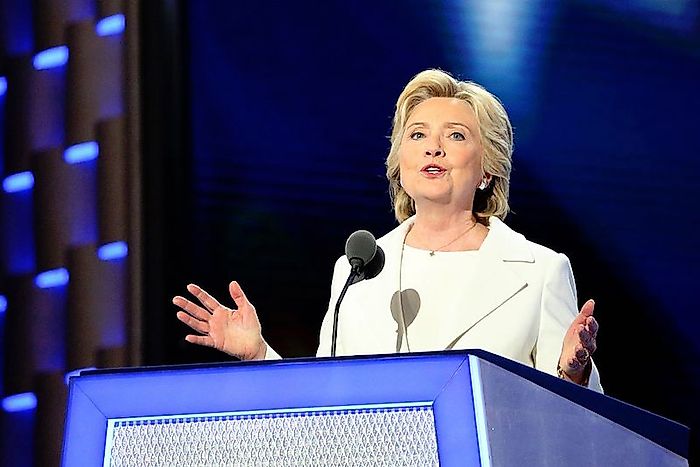 Hillary Clinton is the 2016 Democratic Party nominee for US presidency. She is a former first lady, Secretary of State, and Congress- woman. She is a woman of vaunted American achievements and firsts. However, she is also a polarizing figure to her critics and admirers.
5. Early Life
Hillary Clinton was born Hillary Diane Rodham on October 26, 1947, in Chicago Illinois to Hugh and Dorothy Howell Rodham. She is the eldest of three children, the other two being brothers. Hillary's father, a Republican, owned a small drapery fabric business, and her mother was a homemaker. When she was three years, the Rodham family moved to a two story brick house Park Ridge Suburb in Chicago. At a young age, Hillary actively participated in her local Methodist Church, and also demonstrated an interest in politics. Through her parents, she learned frugality, hard work, self-reliance, service to others and country, and love for God. Hillary's mother taught her to be ambitious, brave, and fight back against bullies and value learning, according to a Public Broadcasting Service (PBS) account. She attended Wellesley College where she majored in political science and graduated in 1969. She then attended Yale Law School. Here she met Bill Clinton, before graduating with honors in 1973.
4. Rise to Prominence
On October 11, 1975, Hillary married Bill Clinton. Bill was then elected as Arkansas Attorney General as she worked on the successful Jimmy Carter 1976 presidential campaign. Hillary then worked at Rose Law Firm in Little Rock and became the first woman partner according to PBS. She also served on boards of corporations like Wal-Mart, and nonprofit organizations. Her rise to Arkansas political prominence began when her husband, Bill Clinton, was elected as Arkansas Governor for five terms beginning 1978.
In 1980 she gave birth to daughter Chelsea Clinton. In the early eighties Hillary won various awards within Arkansas, and in 1988 and 1991, was listed among the most influential 100 lawyers in America, by the National Law Journal. In 1999, as Bill Clinton's term was ending, she became New York Senator in the year 2000 and was reelected in 2006. When Obama assumed the presidential office in January 2009 after defeating Hillary for the Democratic Party presidential nomination, he appointed Hillary as Secretary of State. After Senate confirmation, she served as the 67th Secretary of State from January 21, 2009, until February 1, 2013. On April 12, 2015, she announced her second intention to run for US president on a Democratic Party ticket and won the nomination
3. Career Achievements
Throughout her public service career, Hillary Clinton has had notable achievements and firsts. When Bill Clinton came to office in 1993, she became the first First Lady to have a postgraduate degree, have a professional career, and her office in the White House West Wing, according to PBS. Hillary was also appointed by President Clinton as head of the botched National Health Care Reform Task Force after he assumed office. Nonetheless, that made her the first, First Lady since Eleanor Roosevelt to be active in national policy making.In 1994, Hillary helped create the Department of Justice's Office on Violence against Women. She was also the vocal advocate for women's rights as First Lady, traveling to over 80 countries trumpeting them. In 1997 Hillary supported passage of the State Children's Health Insurance Program to expand health insurance for children, in low-income families. She was also vital to the enactment of a legislation to remove children from abusive situations. When her appointment as Secretary of State by President Obama, Hillary became the first former First Lady, to serve in the US presidential cabinet.
2. Challenges
Bill Clinton's prolonged ravenous infidelity ranks as among the major personal challenges Hillary Clinton has faced. Women like Gennifer Flowers, Paula Jones, Kathleen Willey, Juanita Broaddrick, and Monica Lewinsky are among the women to have accused Bill Clinton of sexual misconduct. Of those, Monica Lewinsky's claims led to Bill Clinton getting impeached as president, in 1998. It led to Hillary nearly walking out of their marriage but opted to stay. She also got mired in the 1979 failed Whitewater Real Estate Project while her husband was Arkansas governor which cost the federal government $73 million. She was subpoenaed in 1994 as First Lady, before a Grand Jury but was cleared.
The biggest dent to her political career which continues to dog her is the September 11, 2012, Benghazi incident. This is when Islamic militants overrun a U.S consulate in Libya, leading to the murder of Ambassador Christopher Stevens. She was blamed for the security lapses at the consulate and accepted responsibility. In March 2015 she was also implicated for using her personal email through a private server, to conduct her duties as Secretary of State, instead of federal government servers.Her critics argue this compromised the virtual dispatch of classified materials.The Benghazi and email incidents continue to dog her campaign run for the White House, in 2016.
1. 2016 U.S. Presidential Elections, Ongoing Work, and Legacy
On July 7, 2016, Hillary Clinton clinched the Democratic Party Presidential nomination defeating her closest rival Bernie Sanders. Winning the nomination made her the first woman in U.S history to get nominated on one of two major political parties in the U.S. On July 22, 2016, Hillary nominated junior U.S Senator, and attorney from Virginia, Tim Kaine as her Vice Presidential running mate. On her campaign trail, her husband, and former U.S President Bill Clinton has joined in and campaigned for her most notably on July 26, 2016, at the Democratic National Convention (DNC), with her daughter Chelsea. She has also enlisted President Obama's support who backed her 2016 presidential run at the DNC.
A polarizing figure in her public life, Hillary legacy is viewed as contrasting by right and left political commentators. One key moment as New York senator was her helping secure $21 billion for the redevelopment of the World Trade Center, after the September 11, 2001, attacks. Hillary also supported Iraq invasion but later criticized it due to the extended conflict. Such flip-flopping has always made her critics to not be so trusting of her and doubt her honesty. That has even made Donald Trump, her Republican presidential rival, nickname her crooked Hillary.