The Tallest Waterfalls in the US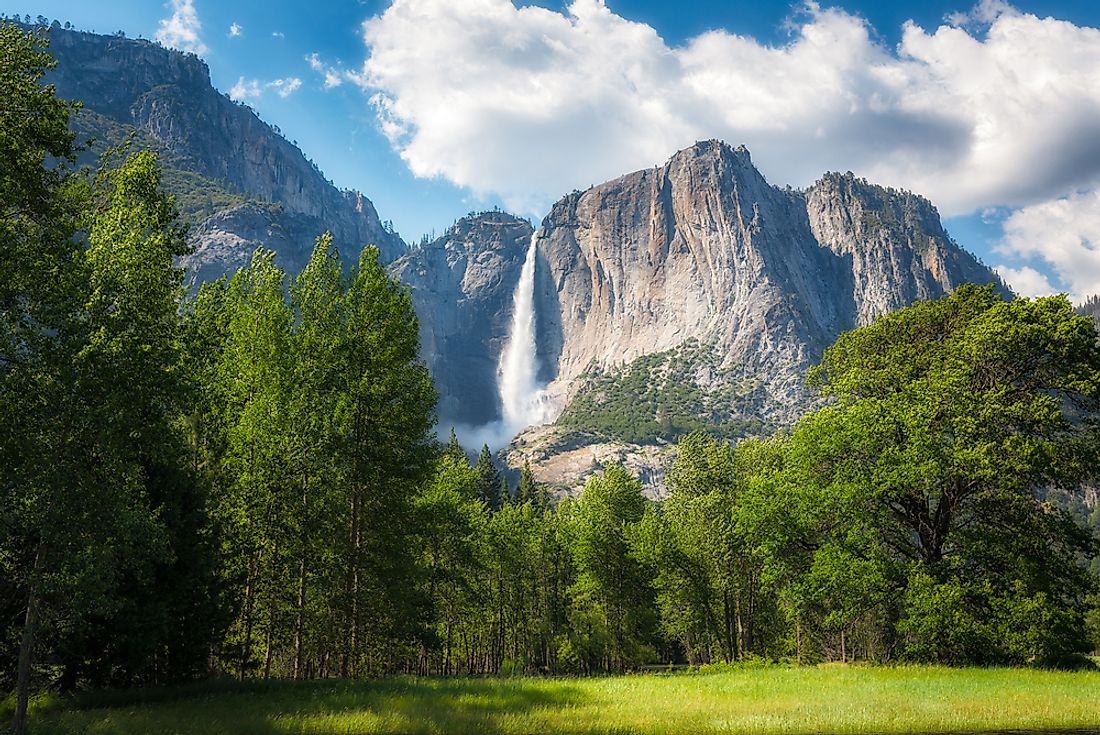 The tallest waterfall in the world is the Salto del Ángel in Venezuela with a height of about 3,230 feet. Within these falls, about 2,647 feet of this height is water dropping uninterrupted. In the United States, the highest waterfall is Olo'upena Falls, which has a height of 2,953 feet. 
Olo'upena Falls - 2,942 Feet
Olo'upena Falls are on Molokai in the Hawaiian islands. The falls are seasonal, ie, they do not appear throughout the entire year. The falling water is very thin. 
Pu'uka'oku Falls - 2,755 Feet
Pu'uka'oka Falls is also on the island of Molokai. It has a drop of a staggering 2,755 feet. 
Waihilau Falls - 2,598  Feet 
The third Hawaiian entry on this list, Waihilau Falls has a drop of 2,598 feet. It is found on the state's Big Island. 
Colonial Creek Falls - 2,585 Feet
Colonial Creek Falls is the fourth tallest waterfall in the US and the tallest waterfall in the contiguous states. It is found in Washington State. 
Yosemite Falls - 2,424 Feet 
This waterfall, in the Sierra Nevada of California, is a major attraction for tourists from all around the world. The water usually peaks in the later stages of spring, between May and June, after the melting of snow. Within the same area, on the valley's south side, the Sentinel Falls also drops from a height of about 2,000 feet between March and June with May being the peak flowing season. In other months of the year, some of the waterfalls in the area, including Yosemite Falls, have little water or dry up entirely by August.
Yosemite Falls dries up altogether every year except for extremely wet years. Late fall usually arrives with some storms that may rejuvenate the waterfall, which then freezes in the winter. People can observe the fall from several areas around the park such as Yosemite Village and Yosemite Valley Lodge. The waterfall comprises three subsections namely the Upper Yosemite Fall, the Middle Cascades, and the Lower Yosemite Fall.
Waterfalls in the United States By Height
| Rank | Waterfall | Height (Feet) | Location |
| --- | --- | --- | --- |
| 1 | Olo'upena Falls | 2,942 | Hawaii |
| 2 | Pu'uka'oku Falls | 2,755 | Hawaii |
| 3 | Waihilau Falls | 2,598 | Hawaii |
| 4 | Colonial Creek Falls | 2,585 | Washington |
| 5 | Johannesburg Falls | 2,463 | Washington |
| 6 | Yosemite Falls | 2,424 | California |
| 7 | Manawainui Falls | 2,358 | Hawaii |
| 8 | Avalanche Basin Falls | 2,320 | Montana |
| 9 | Harrison Basin Falls | 2,320 | Montana |
| 10 | Haloku Falls | 2,297 | Hawaii |