Society
What Type of Education System Does Australia Have?
State and territorial governments of Australia are primarily responsible for overseeing and funding the education system in Australia.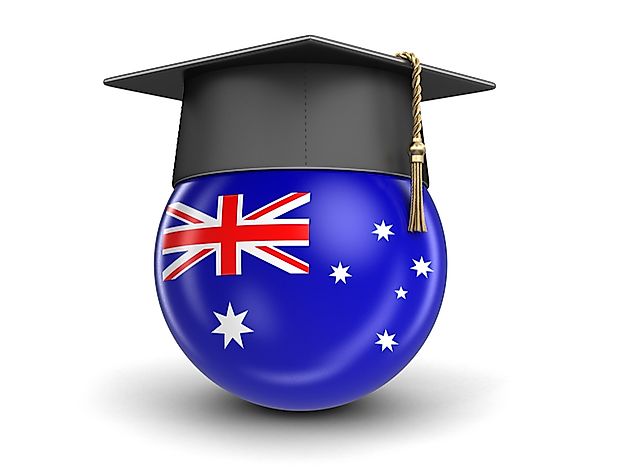 Overview of Education in Australia
The system of education in Australia begins in primary school and is followed by secondary school, and the post-secondary school, all of which can be provided by either private or public entities. The majority of students (60%) attend public schools during primary and secondary educational years. The states and territories of Australia are responsible for providing, managing, and writing policies for the public school system within their borders. Therefore, Australian students may begin studying between the ages of 4 and 6, when they attend a preschool or preparatory school and kindergarten. After this, they are required to continue studying until at least age 15, although in some territories the required age is 16 or 17. Most students graduate secondary school at 17 or 18 years of age. The academic year generally runs from January until December, as is the case in many countries located in the southern hemisphere.
The goal of schools in Australia is to provide a basic education and to prepare students for future careers and higher studies. Primary and secondary curricula includes courses of mathematics, English, arts, science and technology, society and the environment, foreign languages, and health and physical education. Each classroom has a limit of 30 students, all schools have computers and internet access, and programs are available for those with special needs or those who are high achievers.
Role of Government in Education
Although public education is the responsibility of states and territories, the federal government does provide some of the general funding required for this public service. In addition, the federal government is responsible for coordinating national educational goals. The Department of Education and Training oversees and carries out the legislation and regulations set forth for education at all levels. This department works within a number of areas, including: research grant, preschool educational policies, policy and coordination for international education, training and skills assessments, and career pathway programs.
States and territories create budgets for separate schools within their districts. In order to manage these schools, each state and territory has a board of education which implements policies concerning the academic curriculum, special education programs, teacher evaluations, certificates awarded, and overall school organization.
Post-Secondary Education in Australia
Once students receive a certificate of completion for secondary school, which may have various names depending on the state or territory, they may decide to attend post secondary school. Post-secondary education in Australia is available at a variety of institutions, including universities, vocational or technical schools, and community colleges. Admission to post-secondary schools generally depends on the academic performance achieved during the final two years of secondary school and the results obtained on the Tertiary Entrance Examination (TEE) score. Exam scores are accepted by all institutions of higher education within the country.
The government has established a framework of regulations for this level of education through the Australian Qualifications Framework. This regulation is overseen by Australia's Department of Industry together with state and territory-level governments. It outlines the expected accomplishments and knowledge that should be obtained from each level of post-secondary education.
This page was last updated on August 1, 2017.
Citations
Your MLA Citation
Your APA Citation
Your Chicago Citation
Your Harvard Citation
Remember to italicize the title of this article in your Harvard citation.