Hackathon is a type of event where students and professionals get together to work on an idea or a problem-solution and turn it into a prototype in just a few days. In a few days, they will go from the problem to a representation of the solution in the form of an app, a website, or a code.
Individual companies sometimes arrange hackathons, internal or external, when they need a renewed vision or aim to solve a stubborn problem. Facebook chat and the Facebook "like" button were invented during hackathons. 
What Can You Expect At A Hackathon
Hackathon is a very intense and challenging activity, but many people enjoy it and consider refreshing and fun. During meetings and conferences, talents assemble to discuss ideas and share their experiences; during hackathons, they try to solve problems "on the spot." They can produce prototypes of future products or address old challenges in new ways.
What is a hackathon experience like? Participants assemble at the chosen venue (a university, a conference hall, a hotel), create teams of professionals around specific projects, and start working. Tech hackathons are by far the most common. The collective experience includes a lot of excitement, a lot of free food and coffee, and very little sleep. After the time has run out, the teams present their projects and compete for prizes.
What Is The Advantage Of Hackathons?
Tech communities in the US believe than hackathons are mainly beneficial for the students. They can put their skills into practice, exercise teamwork, and practice working under pressure at high speeds. Hackathons also present a chance to be noticed by employers, showcase one's unique talent. Winning positions certainly look good on resumes and CVs.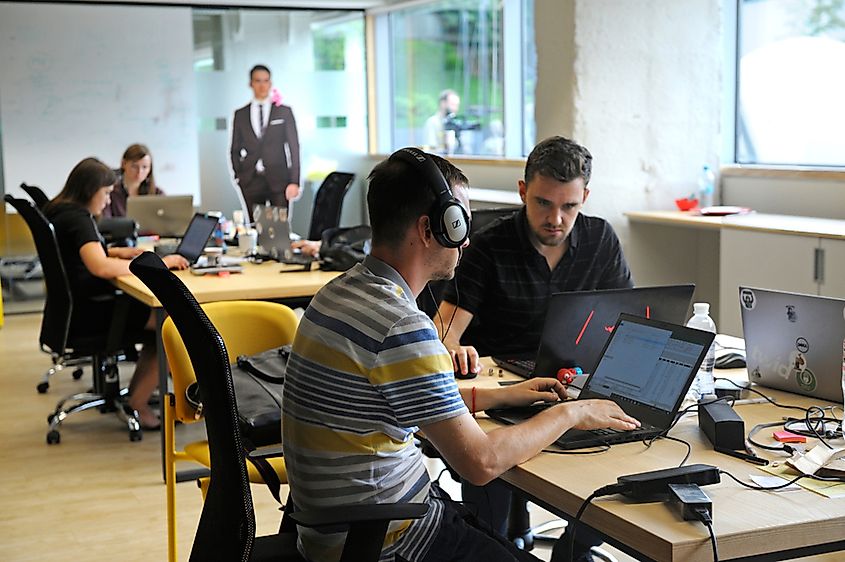 Hackathons are great for networking. Professionals form bonds while working together, can observe each others' working manner and approach, and exchange contacts. Hackathons are great for refreshing the knowledge of various technologies or learn new ones in action. Teams who search for new hires can meet them here.
Top US Hackathons 
The US welcomes multiple hackathons of various sizes, from local and thematic to international. Hackathons are typically free to attend, and many focus on critical environmental, sustainability, and social impact problems.
PennApps is the hackathon run by students of the University of Pennsylvania for other students from engineering and computer science specializations. This is one of the oldest hackathons held regularly every year.
MHacks is a prestigious hackathon run by the famous University of Michigan. It is also organized and managed by the student community. MIT is known for providing access to fantastic resources, mentorship, equipment, and encouraging unique solutions and creativity. 
TechCrunch Disrupt is a hackathon that is held in a variety of cities from New York to San Francisco. These hackathons do welcome students, but they are more focused on startups and products that can be attractive for investors and become future businesses. TechCrunch Disrupt is mainly technology-focused. 
Campus Party is an original combination of a conference, a hackathon, and a festival. Anyone related to or interested in technology or software can attend. Attendees can camp together for a week to work on various large-scale problems, to network, and to have fun. 
Of course, the US is not the only country that hosts hackathons. For example, China hosts a unique hackinit hackathon, which pays special attention to high school and young university students, and promotes inclusivity and cross-cultural cooperation.