Politics
What Happened at Donald Trump's Press Conference on February 16th?
President Trump addressed many issues at what is being called a historic press conference on the afternoon of February 16, 2017.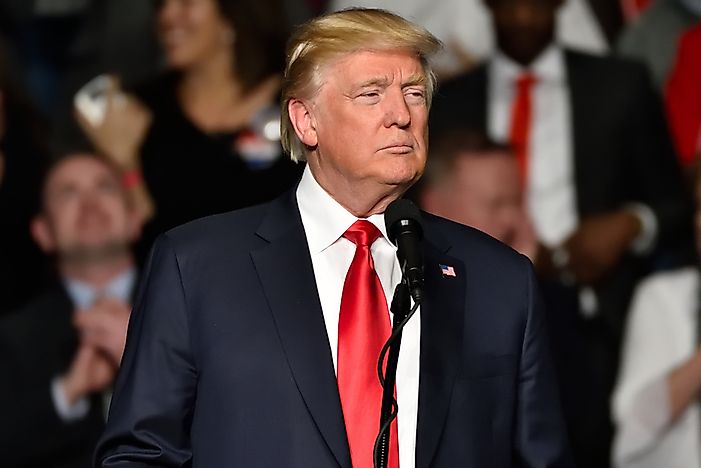 "I'm here today to update the American people on the incredible progress that has been made in the last four weeks since my inauguration", Trump said at a surprise press conference on February 16, 2017. The following is a collection of quotes said by President Trump, organized by topic.
On Paul Singer
"It's all about unification. We're unifying the party and hopefully we'll unify the country. It's very important to me. I've been talking about that for a long time, but it's very, very important to me. I thank Paul for being here, coming up to the office, he was very strong opponent, and now he's a very strong ally, and I appreciate that."
On the Economy
"There's been a tremendous surge of optimism in the business world, which means something different than it used to. Now it means it's good for jobs. Very different. Plants and factories are already starting to move back into the United States. Big league. Ford. General Motors."
On the Media
"I hope going forward we can be a little bit different, and maybe get along a little bit better, if that's possible. Maybe it's not and that's OK too. Unfortunately, much of the media in Washington, DC, along with New York, Los Angeles, in particular, speaks not for the people, but for the special interests and for those profiting off a very, very obviously broken system."

"Here's the thing. The public is — you know, they read newspapers, they see television, they watch. They don't know if it's true or false. Because they are not involved. I'm involved. I've been involved with the stuff all my life. But I'm involved. I know when you are telling the truth or when you are not. I just see many, many untruthful things."
"Look, I want to see an honest press. When I started out today by saying it's so important to the public to get an honest press. The public doesn't believe you people anymore."
On Former Government
"As you know, our administration inherited many problems across government and across the economy. To be honest, I inherited a mess."
"Just so you understand, we had a totally divided country for eight years, and long before that, in all fairness to President Obama, long before President Obama. We have had a very divided — I didn't come along and divide this country. "
"We went eight years with President Obama, and we went many years before President Obama. We lived in a divided nation, and I'm going to try — I will do everything within my power to fix that."
On The Military
"I will tell you, that is my — I would be so happy if we never had to use it, but our country will never have had a military like the military we're about to build and rebuild. We have the greatest people on earth in our military."
"They don't have the right equipment, and their equipment is old. I used it. I talked about it. At every stop. Depleted. It's depleted. It won't be depleted for long. One of the reasons I'm standing here instead of other people is, frankly, I talked about we have to have a strong military. "
On Uranium
"We had Hillary Clinton give Russia 20 percent of the uranium in our country. You know what uranium is, right? This thing called nuclear weapons, and other things. Like, lots of things are done with uranium, including some bad things. Nobody talks about that."
On Tightening Borders

"These are campaign promises. Some people are so surprised that we are having strong borders. Well that's what I've been talking about for a year and a half, strong borders. They are so surprised. Oh, he is having strong borders. Well, that's what I've been talking about to the press and everybody else."
On Trade
"Now look, fair trade. Not free. Fair. If a country is taking advantage of us, we're not going to let that happen anymore. You know, every country takes advantage of us, almost. I may be able to find a couple that don't, but for the most part, that would be a tough job for me to do."

On Michael Flynn
"You know, you can talk all you want about Russia, which was all, you know, "fake news" fabricated deal to try to make up for the loss of the Democrats and the press plays right into it. In fact, I saw a couple of the people supposedly involved with all of this. They know nothing about it, never in Russia, never made a phone call, never received a phone call. It's all fake news. It's all fake news."
On Tax Reform and Obamacare
"Tax reform's going to happen fairly quickly. We are doing Obamacare, we are in the final stages. We should be submitting the initial plan in March, early March, I would say. And we have to, as you know, statutorily and for reasons of budget. We have to go first. Frankly, the tax would be easier, in my opinion, but for statutory reasons and for budgetary reasons, we have to submit the health care sooner, so we'll be submitting health care sometime in mid-March, and after that, we're going to come up, and we're doing very well on tax reform, yes."
On Russia
"I have nothing to do with Russia. Haven't made a phone call to Russia in years, don't speak to people in Russia, not that I wouldn't, but I just have nobody to speak to."

On Cities
"We'll be announcing the order in a little while and I would rather let the order speak for itself, but it will be something that I think will be very good for everybody concerned, but we'll talk to you about that after we do the announcement. As far as the inner cities, as you know, I was very strong on the inner cities during the campaign. So we are going to be working very hard on the inner cities, having to do with education, having to do with crime. We're going to try and fix as quickly as possible — but you know it takes a long time, it's taken a hundred years or more for some of the places to — evolve, and they evolved, many of them, very badly[...]"