Politics
Tim Kaine - 2016 U.S. Vice Presidential Nominee
The Democratic Senator and former Virginia Governor has been selected as Hillary Clinton's running mate in the 2016 U.S. Presidential Election.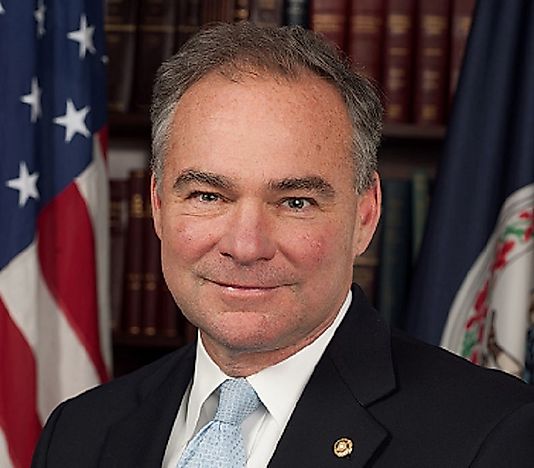 5. Early Life
Timothy Michael Kaine was born on February 28th, 1958, in the city of St.Paul, Minnesota, but spent most of his childhood growing up in Kansas City, Missouri. He attended Rockhurst High School, which was a all-boys Jesuit school, since Kaine is a Jesuit Catholic. After graduating high school, he went to college at the University of Missouri, where he received a bachelors degree in economics. Kaine then got accept to Harvard Law School, but after a year off studying to go be a missionary, heading a Jesuit technical school in Honduras. It was also in Honduras where he truly mastered the Spanish language, becoming the fluent speaker he is today. After earning his Doctor of Law Degree (J.D.) from Harvard in 1983, Kaine moved to Richmond, Virginia where he opened his own legal practice and became a practicing lawyer for the next 17 years of his life. A year later he married he wife Anne Holton and they have had three children. In 1987, he also started teaching part-time on the side at the University of Richmond.
4. Rise to Prominence
In 1994, Kaine made his first foray into politics when he was elected to the Richmond City Council. In 1998, Kaine was elected to be the Mayor of Richmond. He served on the city council and as Mayor of the city until 2001, when he was elected to be Virginia's Lieutenant Governor. This role also meant that he presided as the President of the Virginia State Senate. After serving as Lieutenant Governor, Kaine ran for the governorship in 2005 and defeated his Republican opponent. Shortly after Kaine was inaugurated in 2006, he was selected with the honor of giving the Democrats rebuttal to President Bush's State of the Union address. He became the chairman of the Democratic National Committee in 2009 and stepped down from the position two years later in 2011. After serving one term as Governor, Kaine decided to run for a Virginia U.S. Senate seat. Kaine defeated his Republican challenger and was inaugurated in 2013 as a Virginia U.S. Senator, a position that he has held since then.
3. Career Achievements
Before he entered politics, Kaine helped to found the Virginia Coalition to End Homelessness, and he was also a board member of the Virginia chapter of Housing Opportunities Made Equal. When he was Mayor of Richmond, he had a big part in creating and implementing Project Exile, which was a law aimed at reducing gun related violence. During his time as Governor of Virginia he was able to balance the states budget and invest in the state's infrastructure. Since being elected as a U.S. Senator, Kaine has been a part of the U.S. Senate's Armed Services, Foreign Relations, Aging, and Budget Committees. He is also the first Senator in American history to deliver a speech in Spanish on the floor of the Senate. He also introduced the Troop Talent Act of 2013, which helps troops to transition to the civilian workplace. He also helped to coauthor the Iran Nuclear Agreement Review Act of 2015 and he is the founder and current co-chair of the Career and Technical Education Caucus.
2. Challenges
While Governor of Virginia, Kaine had to fight against a great deal of the partisan gridlock that gripped the state during his term. For the most part, this made it a struggle for major legislation to be pushed through during his time as Governor. During his time as the chairman of the Democratic National Committee, the party suffered significant losses in the House and Senate in the 2010 midterm elections.
1. 2016 U.S. Presidential Elections, Ongoing Work, and Legacy
On July 22nd, 2016, Democratic nominee for President Hillary Clinton announced that she had selected Tim Kaine to be her running mate as Vice President. A few days later, Kaine was officially nominated at the Democratic National Convention as the candidate for Vice President. Kaine is the first Senator from Virginia to be on a major party's ticket since John Tyler in 1840. Kaine is going to spend the next few months alternating between spending time on the campaign trail, stumping for Hillary Clinton and fulfilling his duties as a Senator. From his time as a Governor and Senator for Virginia, Kaine is seen as being a centrist figure, media savvy, detail oriented and having a keen interest in studying and developing policy.