Society
Thomas Boni Yayi, President of Benin - World Leaders in History
Though he has been threatened with violence and coups, for the most part Yayi is considered a good leader by his people.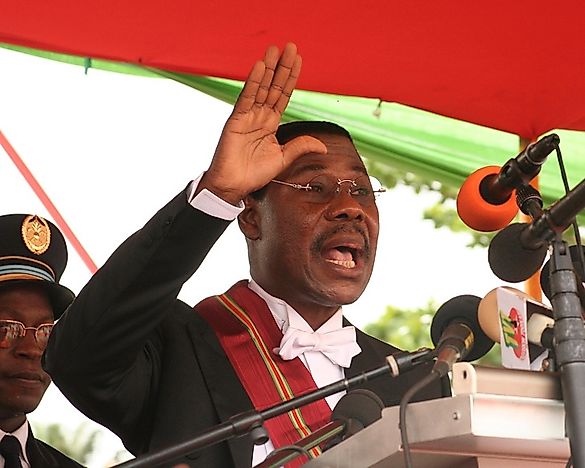 Early Life
Thomas Yaji Boni was born on July 1st, 1951 in Tchaourou, in present-day Benin, which was then the French colony of Dahomey. He studied in Parakou and then studied at the National University of Benin, where he received a Master's Degree in Economics. After attaining his Master's, he went to pursue further studies in Senegal, and received another Master's Degree in Economics from the Chieikh Anta Diop University. He then attended the University of Orleans in France and Paris Dauphine University, and received a Doctorate Degree in Economics in 1976. After earning his Doctorate degree, Boni worked at the Benin Commercial Bank, the Central Bank of West African States, and the West African Development Bank as well.
Rise to Power
Boni ran in the Presidential Election in Benin in March of 2006 as one of 26 candidates. He promised to systematically reform and modernize the economy, as well as to make access to employment more fair and inclusive. His background in economics convinced people that he was able to develop their economy and realize his promises. He entered the final run against Soglo's Party for Democratic Renewal candidate, Adrien Hougbedji, with Boni eventually receiving the vast majority of the vote to become the President of Benin. He was elected again as President in the 2011 Election, and still holds the office today.
Contributions
During his presidency, Boni has helped to stabilize and strengthen democracy in Benin. He has ensured that its constitution is respected and followed, that elections are free, fair, and frequent, and that the Beninese governmental system as a whole is well in place and using good practices. Boni has also carried out educational reforms, including abolishing all school fees and making education more accessible, especially to people in rural areas. He helped to protect local indigenous languages while at the same time making sure that French is also taught at school. He also installed the "Bamako Initiative", which has introduced community-based healthcare reforms in rural areas and has made health services more accessible to all.
Challenges
The biggest challenge to Boni is the health situation in Benin, as its malnutrition rate and mortality rate are still very high, and HIV and AIDS remain to be major threats. Meanwhile, Boni has faced many challenges to his power since he became the President. Lack of solid support for him in the parliament has made it hard to pass many of his agenda items. At the same time, his foremost opponent, the aforementioned Houngbedji, enjoyed considerable support in the Beninese Parliament. Boni won the 2011 election by a very slim margin. Boni had also been met with an attempted assassination and a coup, though he has survived and pressed on despite such measures.
The Present Day and Legacy
Boni is generally considered a popular leader, and he has left a remarkable legacy after being the President for 10 years. His efforts are reflected in the 2013 Ibrahim Index of African governance, which measures the state of governance across the African continent. Benin ranked 18th out of 52 countries, and was the best in the categories of Safety and Rule of Law, as well as Participation and Human Rights. Under Boni's guidance, Benin has also maintained an impressive records in terms of freedom of speech and freedom of information, and is therefore considered one of the most free countries in all of Africa.