Society
The United States Coast Guard (USCG)
The U.S. Coast Guard upholds both American military interests and Americans' safety in domestic waters and abroad.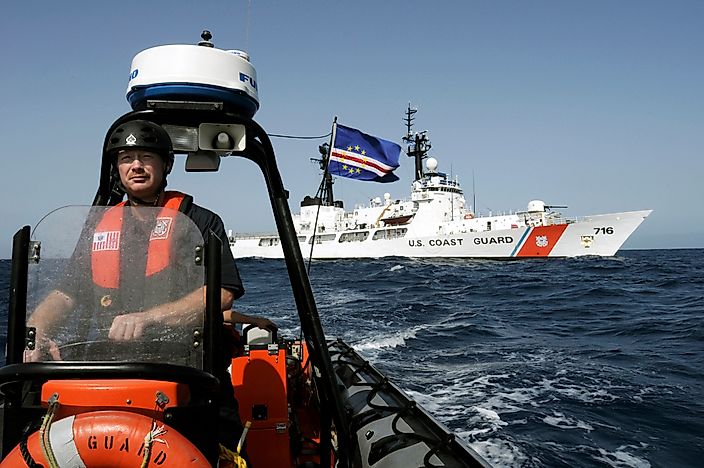 Introduction

The US Coast Guard is the oldest continuing uniformed armed services of the United States. During peacetime, it serves under the US Department of Homeland Security but in times of war, it is under the US Department of the Navy. In 1917 and 1941, during both world wars, it served on behalf of the US Navy. The US Coast Guard upholds both American military interests and Americans' safety in domestic waters and abroad. Alexander Hamilton created the US Coast Guard on August 4, 1790, as Revenue Marine (collector of custom duties in US seaports). In 1860, it was renamed, US Revenue Cutter Service. It was merged with the US Life Saving Service in 1915 to evolve into the US Coast Guard today.
U.S. Coast Guard Installations
The US Coast Guard headquarters is in southeast Washington, DC. Coast Guard Bases, Coast Guard Air Stations, and US Coast Guard Yard are all under Coast Guard Sectors. Personnel training is accomplished at the United States Coast Guard Academy, Coast Guard Aviation Technical Training Center, Coast Guard Aviation Training Center Mobile, Training Center Cape May, Training Center Yorktown, and Training Center Petaluma. Its focus in training is in the US Coastline defense, search and rescue, and law enforcement at sea. In its history, the US Coast Guard has participated in all wars that the US has been involved with abroad from 1790 to the Iraq and Afghanistan wars. Its current deployment capacity is 42,000 active duty; 8,000 reservists; 32,000 auxiliary personnel; 9,000 civilians; 2,000+ seacraft; 200+ aircraft.
Notable Personnel
The correct term for US Coast Guard personnel is Coast Guardsmen. Signalman First Class Douglas Albert Munro became the only Coast Guardsman to be awarded the Medal of Honor posthumously. The list of notable US Coast Guardsmen is a tradition that the service can be proud of as one of five US armed services. Two former guardsmen aviators, Commander Bruce E. Melnick and Captain Daniel C. Burbank, served as NASA astronauts. Many other guardsmen achieved fame and prestige such as writer Alex Haley, pugilist Jack Dempsey, golfer Arnold Palmer, tennis star Jack Kramer, and actor Beau Bridges. Among guardsmen in notable government service were: Vice Admiral Thad Allen, Admiral James Loy, Carlton Skinner, G. William Miller, and Vice Admiral Harvey E, Johnson, Jr.
Notable Achievements
The US Coast Guard is an achievement in itself as the oldest armed services among the five uniformed armed services of the United States. Its creation and service predate the Marine and Navy armed services in the country. The US Coast Guard operates the International Ice Patrol (c. 1914) that monitors icebergs positions and movements in the Arctic and Atlantic for the safety of international vessels in the trans-Atlantic region. One of its programs is illegal immigration control by patrolling US coastlines to stop illegal immigrants from entering US territories. It also patrols US ports, waterways, and gathers intelligence. In international territories, it plays a support position to the US Armed Forces.
The United States Coast Guard (USCG)
| | |
| --- | --- |
| U.S. Coast Guard | Facts |
| Current Strength | 42,000 active duty; 8,000 reservists; 32,000 auxillary personnel; 9,000 civilians; 2,000+ seacraft; 200+ aircraft |
| Headquarters | Washington, District of Columbia, U.S.A. |
| Role | Coastline defense, search and rescue, and law enforcement at sea. |
| Founding | August 4th, 1790 |
| Governing Body | U.S. Department of Homeland Security |