The Tallest Waterfalls In Norway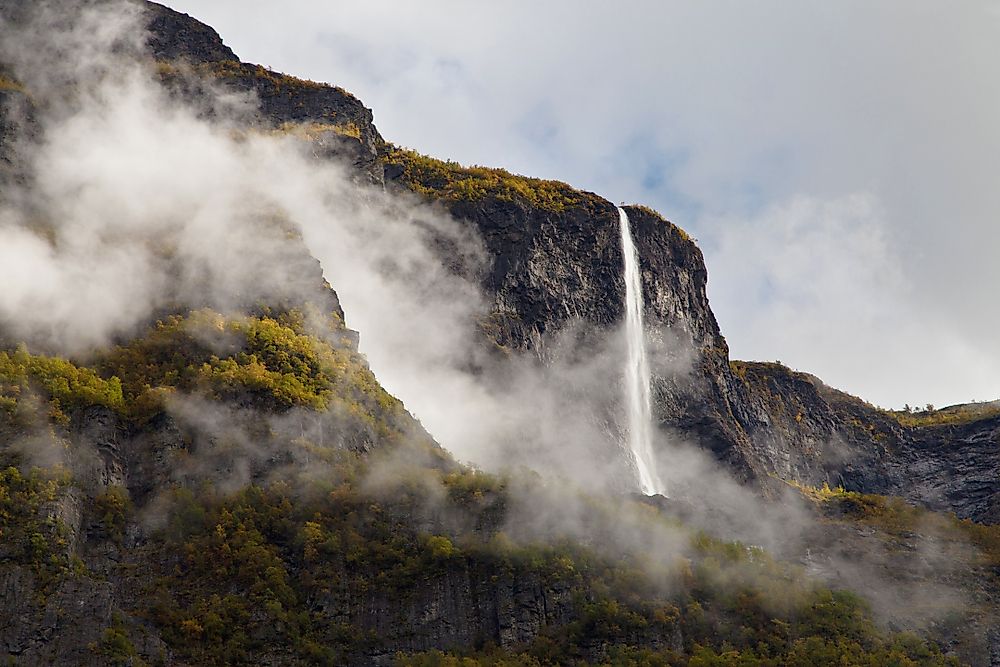 Waterfalls have always fascinated humans. Spectacular waterfalls are major natural attractions for tourists in countries across the world. Norway is one such country that is blessed with a plethora of breathtaking waterfalls. Some of these waterfalls are among the tallest in the world.
The Five Tallest Waterfalls In Norway
1. Kjelfossen
Kjelfossen is Norway's highest waterfall and the world's 18th tallest one. It is located close to the Gudvangen village in the Sogn og Fjordane county. The waterfall has a height of 840 meters. There are actually three waterfalls at the same site of which the highest one is Kjelfossen. It is located to the left. The middle falls is called Vetle Kjelfoss and the one to the right is possibly unnamed. The E16 highway provides a view of the Kjelfossen.
2. Mardalsfossen
Norway's second tallest waterfall, the Mardalsfossen, is 705 meters tall. It is located in the Møre og Romsdal county's Nesset municipality. It is depicted in the coat of arms of Nesset. The falls are formed when the Mardøla drops down the edge of a hanging valley into the Lake Eikesdalsvatnet below. The Mardalsfossen is a tiered waterfall meaning it does not fall in one large drop but has two long drops and several smaller ones before it reaches the lake. The width of the waterfall is 79 ft. Sadly, the waterfall is allowed to fall only during the summer tourist season. At other times, the waters of the fall are diverted for hydroelectricity generation.
3. Mongefossen
Located in the Møre og Romsdal's Rauma Municipality, the 700 meters high Mongefossen is Norway's third highest waterfall. It has an average width of 75 ft and is located at an elevation of 3,000 ft. This waterfall is formed on the Rauma River. Due to the diversion of the waters of this fall for hydroelectricity generation, the water flow has been greatly reduced. The railway station of the Rauma Line located near the waterfalls offers a spectacular view of the Mongefossen.
4. Vedalsfossen
The Vedalsfossen is the fourth highest Norwegian waterfall. It has a height of 650 meters. The waterfall falls in a series of drops with the highest vertical drop being 200 meters tall. The waterfall is supplied by snowmelt from the Hardangervidda mountain plateau.
5. Opo (Ullensvang)
Another waterfall in Norway also has the same height as the Vedalsfossen. The Opo waterfall is also 650 meters tall.
Norway's High Waterfalls Are A Source Of Hydroelectricity
Nearly 99% of the total electric power produced in Norway is in the form of hydroelectricity. The energy of many of the waterfalls of Norway is thus trapped to generate hydroelectricity.
The Tallest Waterfalls In Norway
| Rank | Waterfall | Height (in meters) |
| --- | --- | --- |
| 1 | Kjelfossen | 840 |
| 2 | Mardalsfossen | 705 |
| 3 | Mongefossen | 700 |
| 4 | Vedalsfossen | 650 |
| 5 | Opo (Ullensvang) | 650 |