Examples of Mughal Architecture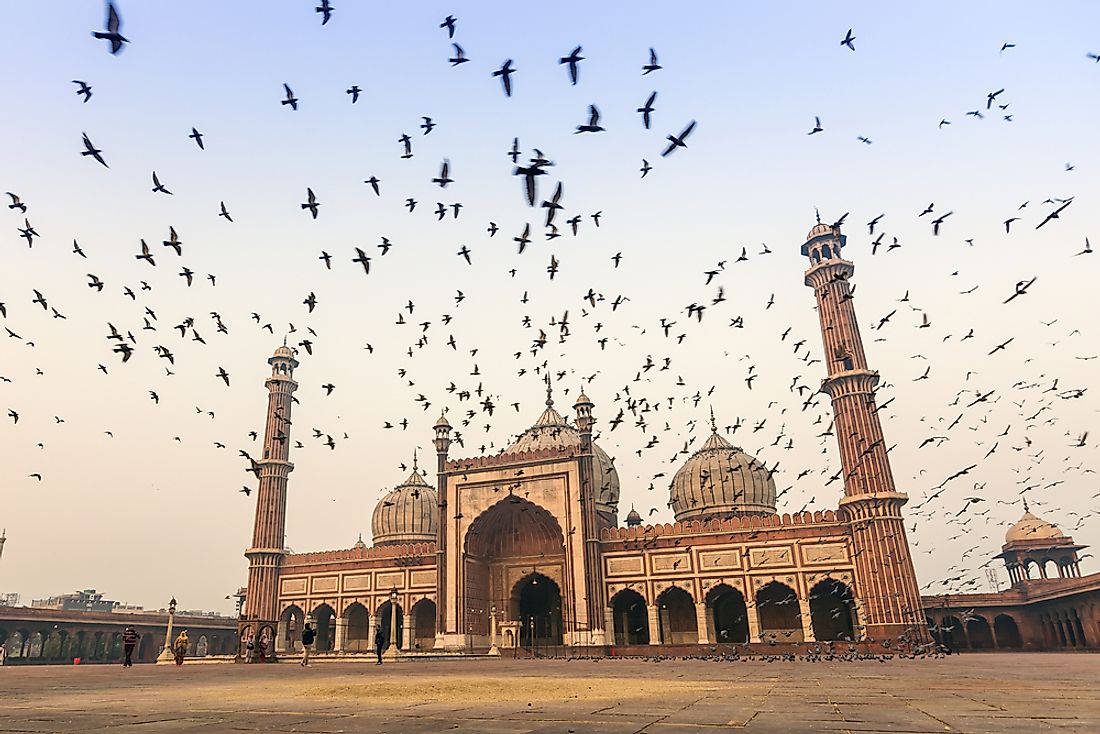 The Mughal Empire ruled throughout present-day India and Pakistan during the 16th and 17th centuries and descended from the Mongol empire of Turkestan in the 15th century. The Mughals were an Islamic empire. However, the rulers tolerated other religions and most did not force conversions. This empire is responsible for spreading Muslim art, faith, and culture. They introduced an educational system focused on student learning and created the Urdu language (a mix of Persian, Arabic, and Hindi). One of their most fascinating contributions was the mark they left on architectures. Several of these buildings still stand today, visited by thousands of tourists who come to take in the sheer beauty of Mughal architecture. This article inspects some of the most famous of these buildings.
The Unique Features Of Mughal Architecture
Mughal architecture combined Islamic, Persian, Turkish, and Indian styles of the time and most buildings share general characteristics. Viewers can identify these structures by their wide domes, flanked by tall towers. Akbar, the first long-ruling Mughal emperor, built far and wide. It was under his rule that the Mughal style began to take shape.
Agra Fort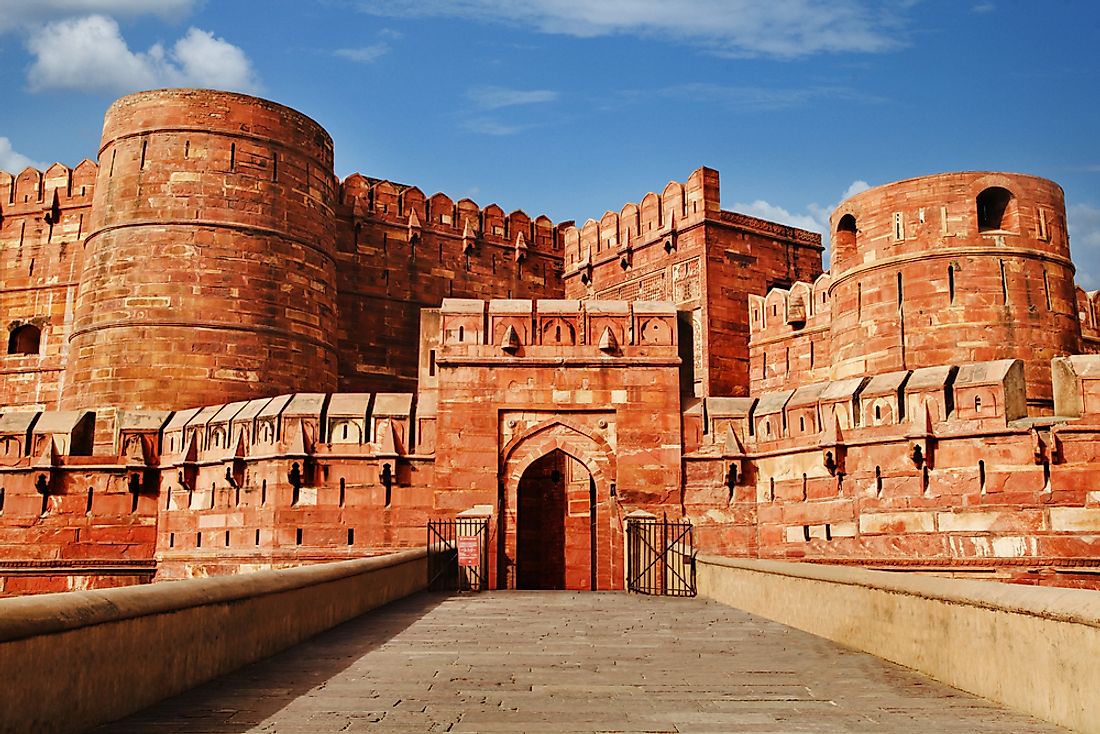 An example of Mughal architecture is the Agra Fort which is located in Agra in the state of Uttar Pradesh in India and was constructed in 1565. Today, this amazing structure is a UNESCO World Heritage Site, but in its day, was the imperial residence of the Mughals. The fort is so large that it is often considered a walled city; it was built in a semi-circular fashion and is filled with confusing twists and turns. Once visitors enter, they are greeted by scalloped archways, open plazas, and lush gardens. One of the most interesting rooms is referred to as the mirror room and is full of intricate tilework with small pieces of mirror woven throughout the room. One can imagine how it sparkles when filled with light.
Taj Mahal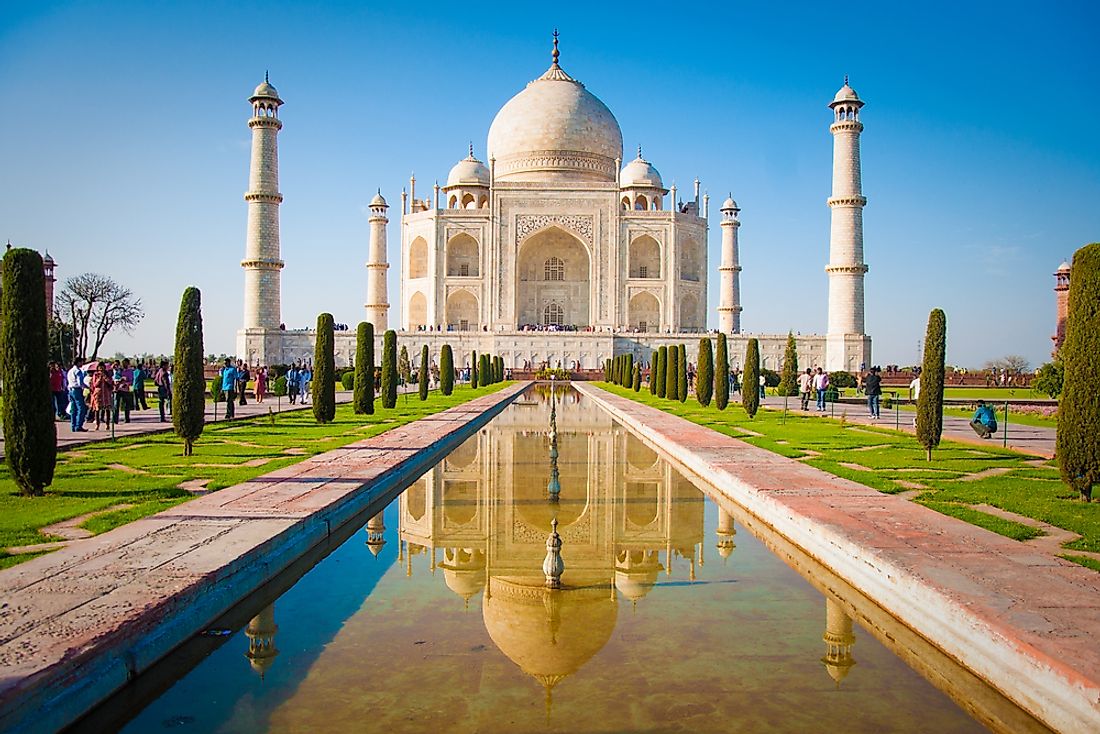 Most people visit Agra in order to see the Taj Mahal, which is about 1.5 miles northwest of the Agra Fort. The Taj Mahal is considered by most to be the best example of Mughal monuments and receives over 7 million visitors a day. This iconic structure was built of white marble and has distinct wide domes, surrounded by beautiful gardens and reflecting pools. Emperor Shah Jahan built the monument to immortalize his love for his favorite wife who tragically died during childbirth in 1631. Over 20,000 stone carvers and masons came from all over to work on this astounding monument. Aside from the perfect marble walls, complex artwork is found all around the palace. From inlaid precious stones to detailed carvings, visitors can witness the tribute of love and adoration that is the Taj Mahal.
Jama Masjid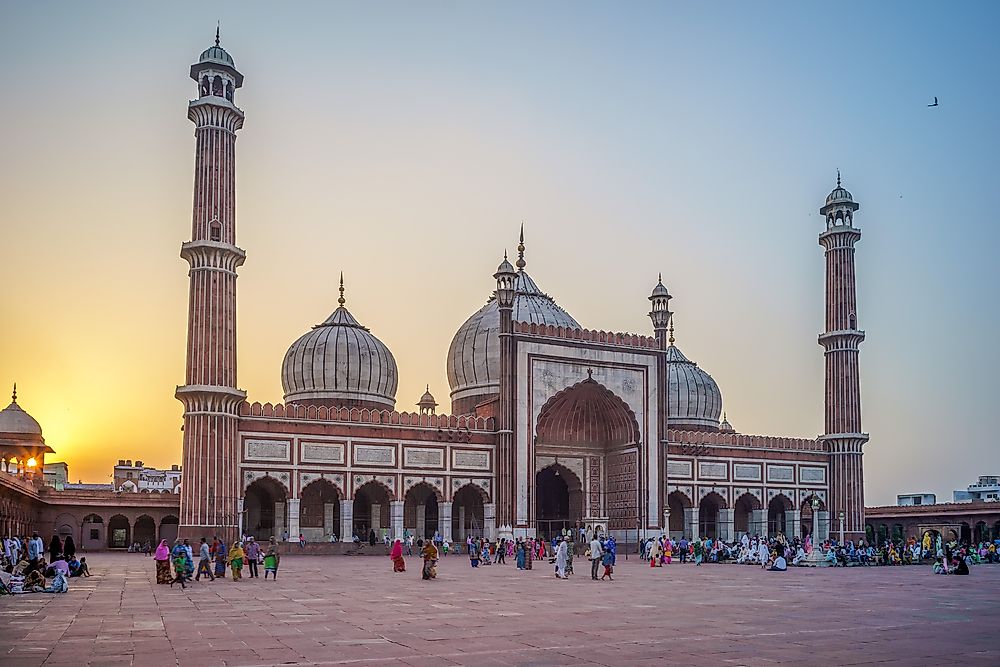 Leaving Agra and moving into New Delhi, visitors find more architecture sanctioned by Emperor Shah Jahan. The Jama Masjid was finished in 1656. The mosque is so large that the courtyard can hold more than 25,000 people. Tourists recognize this building by the white marble and red sandstone stripes that decorate the exterior walls. The interior hosts 3 of the classical, Mughal domes and the outside corners have two tall minarets for announcing the call to prayer. This mosque is an awe-inducing building, if not for its absolute enormous size than for its attention to detail. Tourists love to come here for the serene ambiance it provides, in stark contrast with the city surrounding it.
Tourism Opportunities
All of the Mughal architectures, including those buildings listed below, deserves to be appreciated in person. Neither picture or written descriptions could ever do justice to their beauty. Any trip to the Indian sub-continent would not be complete without at least visiting a few of these gorgeous monuments. For those truly interested in the Mughal dynasty and all of its contributions to modern day India and Pakistan, tour packages are available. Many tourism agencies offer Mughal Empire themed trips to take visitors through the temples, palaces, mosques, and monuments that once were housed in a unique kingdom.
The Mughal Architectural Marvels Of India And Pakistan
Name Of Architecture
Commissioned By

(Name of Mughal Ruler)

Location
Agra Fort
Akbar
Agra, Uttar Pradesh, India
Great Humayun's Tomb
Akbar
Delhi, India
Buland Darwaza
Akbar
Fatehpur Sikri, Uttar Pradesh, India
Haramsara
Akbar
Fatehpur Sikri, Uttar Pradesh, India
Jodha Bai's Palace
Akbar
Fatehpur Sikri, Uttar Pradesh, India
Taj Mahal
Shah Jahan
Agra, Uttar Pradesh, India
Moti Masjid
Shah Jahan
Lahore, Pakistan
Jama Masjid
Shah Jahan
Delhi, India
Red Fort
Shah Jahan
Delhi, India
Wazir Khan Mosque
Shah Jahan
Lahore, Pakistan
Shalimar Gardens
Shah Jahan
Lahore, Pakistan
Badshahi Mosque
Aurangzeb
Lahore, Pakistan