Politics
The Life And Career Of Donald J. Trump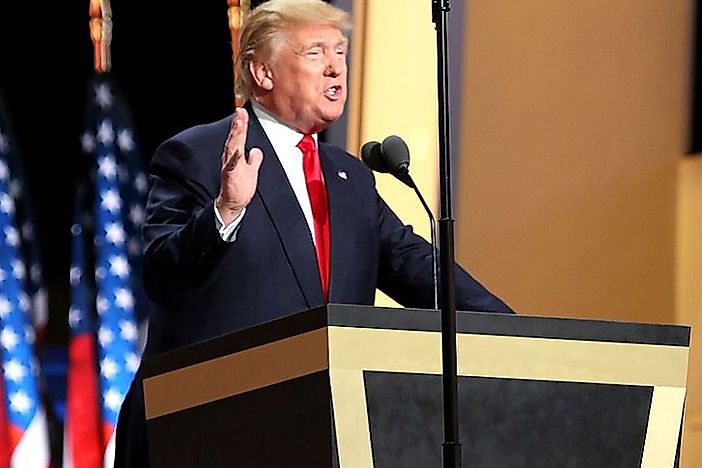 Donald Trump is an American businessman known for his brash persona, showmanship, and "take no prisoners" approach. He is also the 2016 Republican Party U.S. Presidential nominee. His critics loathe him, while his supporters love him to the core, for his hard-line, unapologetic attitude.
5. Early Life
Donald John Trump is a flamboyant TV personality, real estate tycoon, and the 2016 Republican Party U.S. Presidential nominee. Trump was born in Queens, New York on June 14th, 1946 to Frederick and Mary Anne Trump, being the fourth of five children. His father was a real estate developer within Queens, Staten Island and Brooklyn. When Trump was 13, he was sent to the New York Military Academy as an attempt to rein in on his energetic and aggressive personality. At the academy, he excelled academically and socially to become a standout athlete, and student leader by 1964 when he graduated.Trump then enrolled at Fordham University, but two years later transferred to Wharton School of Finance where he graduated in 1968 with an economics degree.He has been married three times and has five children. His third wife is Melanie Knauss.
4. Rise to Prominence
Trump's rise to prominence began in early 1970s as a real estate developer involved in lucrative, though at times controversial, real estate development projects in New York. In 1973, he garnered national attention after accusations of violating the Fair Housing Act by the Justice Department for discriminating against blacks. In 1974 Trump in a controversial deal, acquired the broke Commodore Hotel and turned it into the Grand Hyatt, earning him national notoriety. In the 1990s his marriages, affairs, divorces, and debts were widely publicized in tabloids. In 2004, his TV show the apprentice garnered Trump not only national but international fame. In his lifetime Trump supported candidates from the Democratic, Republican and Independent parties. In 1999, he attempted to run for presidency as an independent but performed poorly. In 2012 he mulled a run on a Republican ticket but didn't. But on June 16th 2015 Trump announced his intention to run for presidency on a Republican Party. Critics dismissed his attempts but by May 2016, he had defeated all his Republican Party opponents, including Ted Cruz, Jeb Bush, and Marco Rubio, and clinched the nomination.
3. Career Achievements
Besides the "Apprentice" reality television show and winning the Republican nomination in 2016, Donald Trump has had other successes. His earliest success albeit controversial, was acquiring the Commodore Hotel in 1974, then in disrepair, and after six years of construction turned it into the magnificent Grand Hyatt Hotel. In 1980 he broke the ground on the today's famous Trump Tower. The lavish tower with trendy restaurants, condos, and stores opened in 1983 and is treasured to date. In 1986, after authorization by Mayor Ed Koch, Trump renovated the Wollman Rink spending less than the 3 million budget set by $750,000. In 1995 he purchased the 40 Wall Street for a million dollars, renovated it for $35 million, today its worth over $500 million. Trump Place housing development with 5700 apartments, which sits on 25 acres of space along Hudson River is another of Trump's boom ventures. In 2005, he bought the former Chicago Sun Times Headquarters for $73 million, redeveloped it to be the second tallest building in Chicago. Today, it houses a luxurious hotel, condos, restaurants, and shops.
2. Challenges
In spite of his affluence and colorful life, Donald Trump has faced several failures. In 1988, he bought the Eastern Air Shuttle renaming Trump Airlines and packaging it as a luxury airline. It folded in 1992 in debt.The Trump Vodka he founded in 2006 stopped production in 2011. The Atlantic City Trump Casinos he had 28 percent stake filed for bankruptcy for the fourth time in 2014. Other failures include a monopoly game, Trump Magazine, Trump Steaks, GoTrump travel search engine, Trump University, and Trump Mortgage. But Trump's biggest business failure occurred in 1990 when, due to the bursting real estate bubble, he came into a debt estimated at over $1 billion in 1990 money. In the 1990s he was also mired in affairs with a mistress. That caused the collapse of his marriage to Ivana in 1992. He married the mistress Marla Maples in 1993 but they divorced in 1999. Within the Republican Party before winning the nomination there was attempts by the establishment to stop him from being the party's flag bearer.
1. 2016 U.S. Presidential Elections, Ongoing Work, and Legacy
Since winning the Republican U.S. Presidential nomination following the 2016 Republican Primary Elections, which he dominated with his brash persona and crude language, Trump has been campaigning against the Democratic nominee, Hillary Clinton. On July 14th, 2016, Trump tapped conservative and evangelical Michael Richard Pence, the Indiana Governor and former attorney, to be his running mate. Since then, Trump has been campaigning with Pence or separately seeking to reach the minorities, undecided voters even in the Democratic Party. Trump brashness has managed to outshine his verbal gaffes and crude vitriol, directed at critics. Many of his supporters are attracted by his "take no prisoners" attitude and for brushing aside political correctness. He has managed to portray Mrs. Clinton as an untrustworthy candidate due to her past conduct deemed by critics as crooked. Should he win or lose the election Trump's legacy as a presidential nominee will go down in US history as the most controversial. This in part due to his unconventional style of campaigning characterized by personal attacks, crude language use against his critics and defiance of following the Republican establishment rules. As a businessman his critics view him as overrated but his supporters view him as shrewd.